Today's Artist Birthday: Yayoi Kusama (草間 彌生 or 弥生 Kusama Yayoi, born March 22, 1929), multifaceted artist and writer
---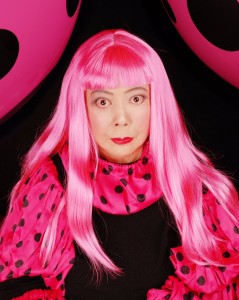 Throughout her career, the artist Yayoi Kusama has worked in a wide variety of media, including painting, collage, scat sculpture, performance art, and environmental installations, most of which exhibit her thematic interest in psychedelic colors, repetition and pattern. A precursor of the pop art, minimalist and feminist art movements, Kusama influenced contemporaries such as Andy Warhol and Claes Oldenburg. Although largely forgotten after departing the New York art scene in the early 1970s, Kusama is now acknowledged as one of the most important living artists to come out of Japan, and an essential voice of the avant-garde.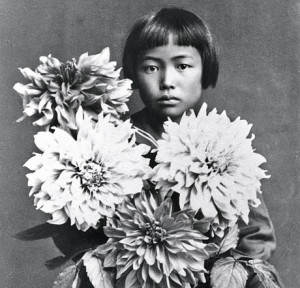 Born in Matsumoto, Nagano, into an upper-middle-class family of seedling merchants, Kusama started creating art at an early age. She has experienced hallucinations and severe obsessive thoughts since childhood, often of a suicidal nature. She claims that as a small child she suffered severe physical abuse by her mother. In 1948, she left home to enter senior class at Kyoto Municipal School of Arts and Crafts, where she studied Nihonga painting, a rigorous formal style developed during the Meiji period; she graduated the following year. She hated the rigidities of the master-disciple system where students were supposed to imbibe tradition through the sensei. "When I think of my life in Kyoto," she is quoted as saying, "I feel like vomiting." Frustrated with this distinctly Japanese style, she became interested in the European and American avant-garde, staging several solo exhibitions of her paintings in Matsumoto and Tokyo during the 1950s.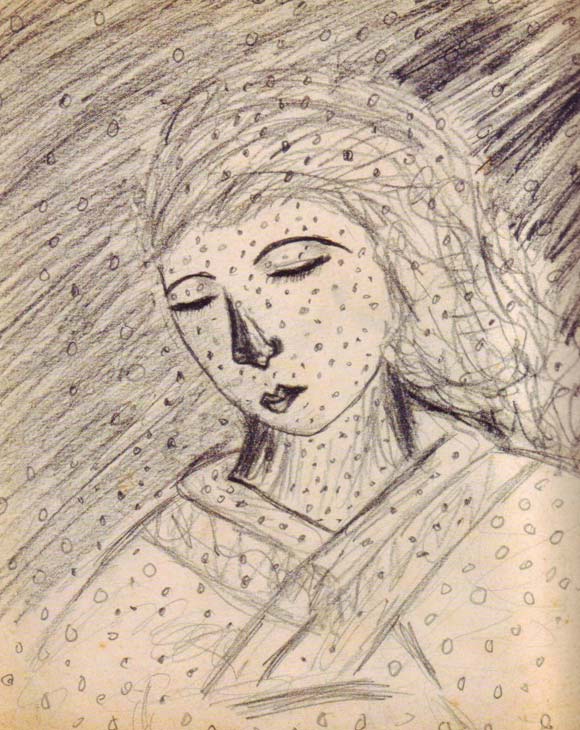 It was during this period that she began covering surfaces (walls, floors, canvases, and later, household objects and naked assistants) with the polka dots that would become a trademark of her work. The vast fields of polka dots, or "infinity nets," as she called them, were taken directly from her hallucinations. The earliest recorded work in which she incorporated these dots was a drawing in 1939 at age 10, in which the image of a Japanese woman in a kimono, presumed to be the artist's mother, is completely covered by spots. Her first series of large-scale, sometimes more than 30 ft-long canvas paintings, Infinity Nets, were entirely covered in a sequence of nets and dots that alluded to hallucinatory visions. In the early 1960s Kusama began to cover items such as ladders, shoes and chairs with white phallic protrusions. Despite the micromanaged intricacy of the drawings, she turned them out fast and in bulk, establishing a rhythm of productivity she still maintains. She established other habits too, like having herself routinely photographed with new work.
Since 1963, Kusama has continued her series of Mirror/Infinity rooms. In these complex installations, purpose-built rooms lined with mirrored glass contain scores of neon coloured balls, hanging at various heights above the viewer. Standing inside on a small platform, light is repeatedly reflected off the mirrored surfaces to create the illusion of a never-ending space.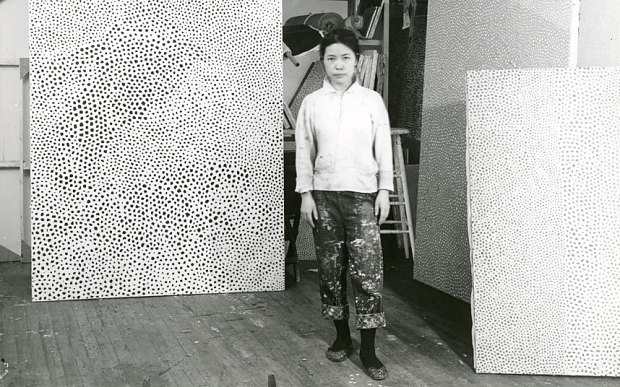 In 1957 she moved to the United States, settling down in New York City after developing a friendship with painter Georgia O'Keefe. During her time in the U.S., she quickly established her reputation as a leader in the avant-garde movement. By 1966, she was experimenting with room-size, freestanding installations that incorporated mirrors, lights, and piped-in music. Though she was very well known, she did not profit financially from her work. Around this time, Kusama was hospitalized regularly from overwork, and O'Keeffe convinced her own dealer Edith Herbert to purchase several works in order to help Kusama stave off financial hardship.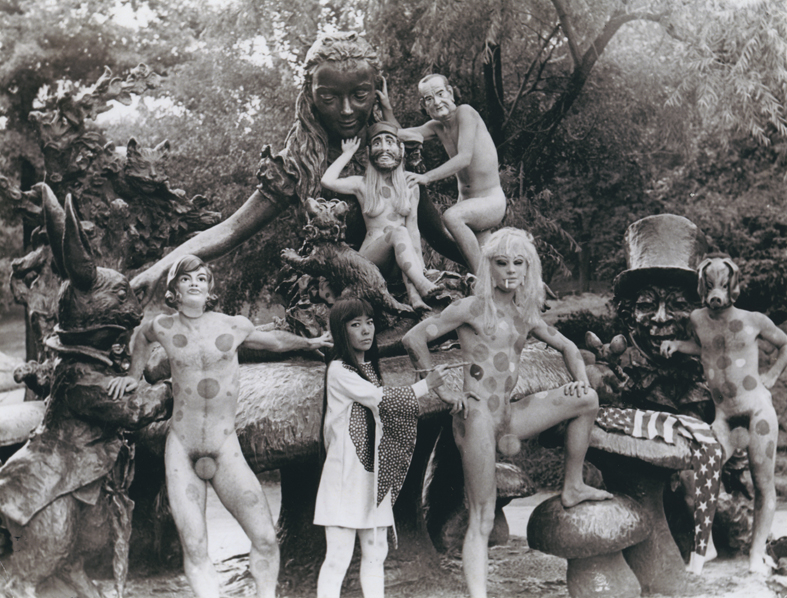 Kusama organized outlandish happenings in conspicuous spots like Central Park and the Brooklyn Bridge, often involving nudity and designed to protest the Vietnam War. In one, she wrote an open letter to Richard Nixon offering to have vigorous sex with him if he would stop the Vietnam war. Between 1967 and 1969 she concentrated on performances held with the maximum publicity, usually involving Kusama painting polka dots on her naked performers, as in the Grand Orgy to Awaken the Dead at the MOMA (1969), which took place at the Sculpture Garden of the Museum of Modern Art. In 1968, Kusama presided over the happening Homosexual Wedding at the Church of Self-obliteration in 33 Walker Street in New York, and performed alongside Fleetwood Mac and Country Joe and the Fish at the Fillmore East, New York City. She opened naked painting studios and a gay social club called the Kusama 'Omophile Kompany (kok).
In 1973, Kusama moved back to her native Japan, where she found the art scene far more conservative than that in New York. She became an art dealer, but her business folded after several years, and after experiencing psychiatric problems, in 1977 she voluntarily admitted herself to a mental hospital in Tokyo, where she has spent the rest of her life. From here, she has continued to produce artworks in a variety of mediums, as well as launching a literary career by publishing several novels, a poetry collection and an autobiography.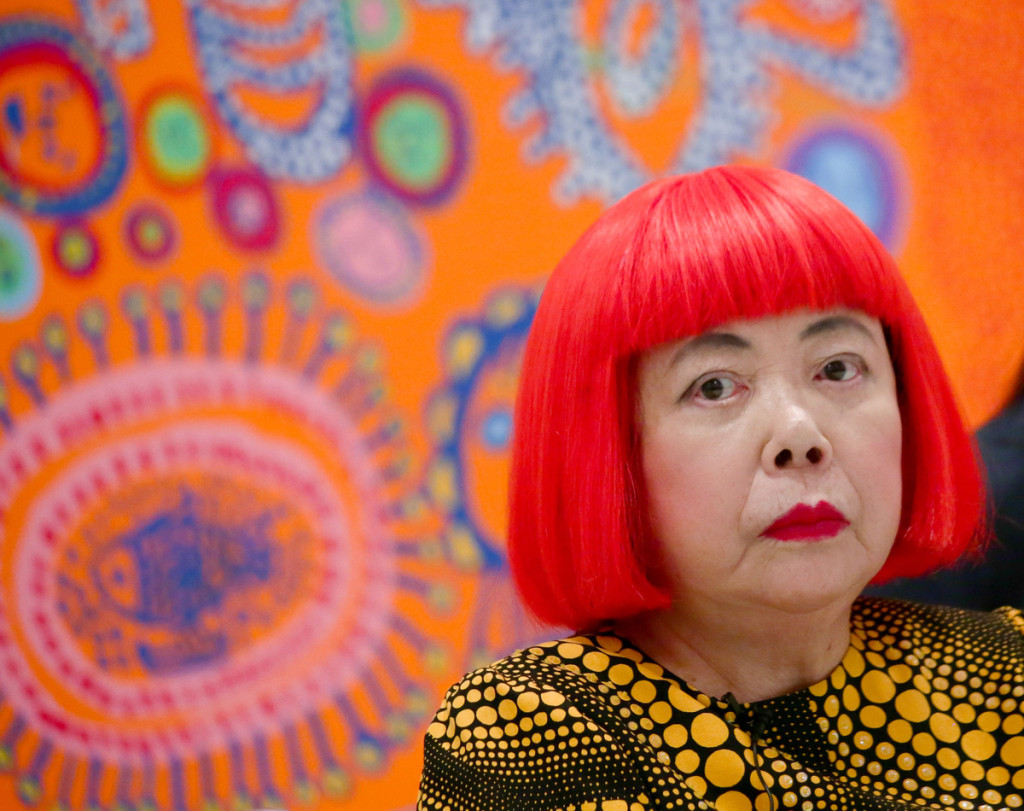 Kusama's work is based in conceptual art and shows some attributes of feminism, minimalism, surrealism, Art Brut, pop art, and abstract expressionism, and is infused with autobiographical, psychological, and sexual content. Kusama is also a published novelist and poet, and has created notable work in film and fashion design. Major retrospectives of her work have been held at the Museum of Modern Art in 1998, the Whitney Museum in 2012, and Tate Modern in 2012. In 2006, she received a Women's Caucus for Art Lifetime Achievement Award. In 2008, Christie's New York sold a work by her for $5.1 million, then a record for a living female artist. In 2015 Artsy named her one of the Top 10 Living Artists of 2015.
Quotations from Yayoi Kusama:
 "If it were not for art, I would have killed myself a long time ago."
Regarding her 1954 painting titled Flower (D.S.P.S),
"One day I was looking at the red flower patterns of the tablecloth on a table, and when I looked up I saw the same pattern covering the ceiling, the windows and the walls, and finally all over the room, my body and the universe. I felt as if I had begun to self-obliterate, to revolve in the infinity of endless time and the absoluteness of space, and be reduced to nothingness. As I realized it was actually happening and not just in my imagination, I was frightened. I knew I had to run away lest I should be deprived of my life by the spell of the red flowers. I ran desperately up the stairs. The steps below me began to fall apart and I fell down the stairs straining my ankle."
"A polka-dot has the form of the sun, which is a symbol of the energy of the whole world and our living life, and also the form of the moon, which is calm. Round, soft, colorful, senseless and unknowing. Polka-dots become movement … Polka dots are a way to infinity."
---
(Edited from: https://en.wikipedia.org/wiki/Yayoi_Kusama)
---