Today's Artist Birthday: Willem de Kooning
Willem de Kooning (April 24, 1904 – March 19, 1997) was a Dutch American abstract expressionist artist who was born in Rotterdam, the Netherlands. In the post-World War II era, he painted in a style that came to be referred to as Abstract expressionism or Action painting, and was part of a group of artists that came to be known as the New York School. Other painters in this group included Jackson Pollock, Elaine de Kooning, and Mark Rothko.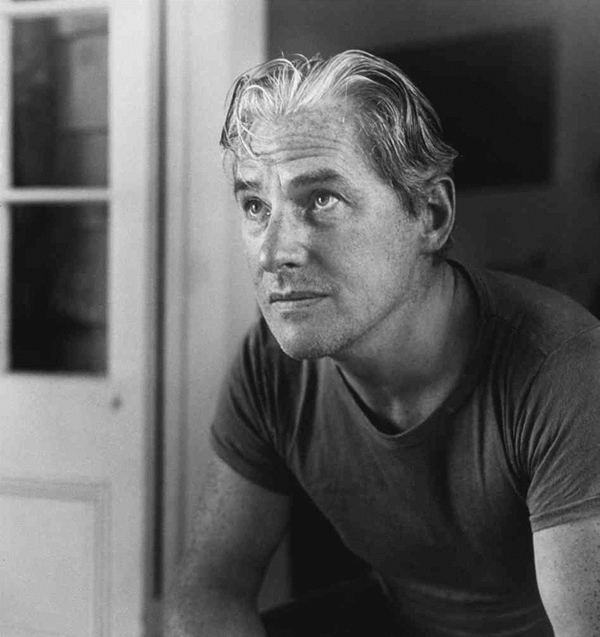 Willem de Kooning was born in Rotterdam, in South Holland in the Netherlands, on April 24, 1904. His parents, Leendert de Kooning and Cornelia Nobel, were divorced in 1907, and de Kooning lived first with his father and then with his mother. He left school in 1916 and became an apprentice in a firm of commercial artists. Until 1924 he attended evening classes at the Academie van Beeldende Kunsten en Technische Wetenschappen, the academy of fine arts and applied sciences of Rotterdam, now the Willem de Kooning Academie.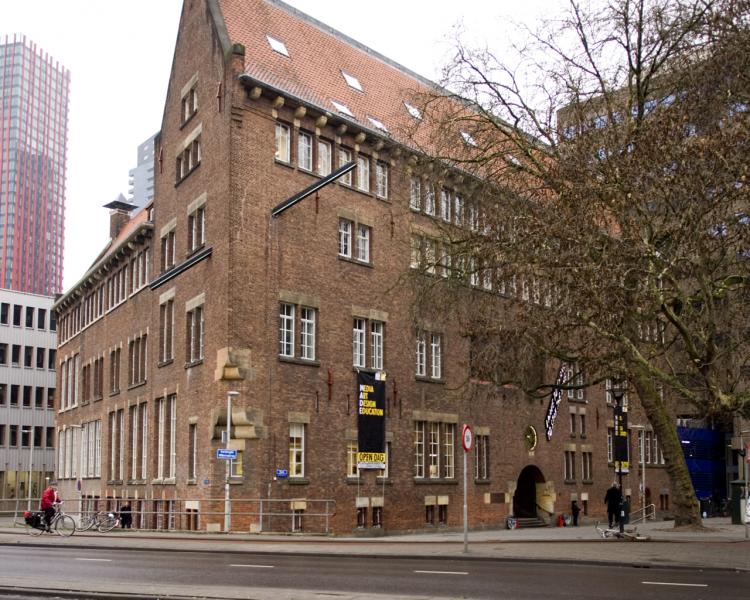 In 1926 de Kooning travelled to the United States as a stowaway on the Shelley, a British freighter bound for Argentina, and on August 15 landed at Newport News, Virginia. He stayed at the Dutch Seamen's Home in Hoboken and found work as a house-painter. In 1927 he moved to Manhattan, where he had a studio on West Forty-fourth Street. He supported himself with jobs in carpentry, house-painting and commercial art.
He began painting in his free time; in 1928 he joined the art colony at Woodstock, New York. He also began to meet some of the Modernist artists active in Manhattan. Among them were Stuart Davis, the Armenian Arshile Gorky and the Russian John Graham, who together de Kooning called the "Three Musketeers". Gorky, who de Kooning first met at the home of Misha Reznikoff, became a close friend and, for at least ten years, an important influence. Balcomb Greene said that "de Kooning virtually worshipped Gorky"; according to Aristodimos Kaldis, "Gorky was de Kooning's master". De Kooning's drawing "Self-portrait with Imaginary Brother," from about 1938, may show him with Gorky; the pose of the figures is that of a photograph of Gorky with Peter Busa in about 1936.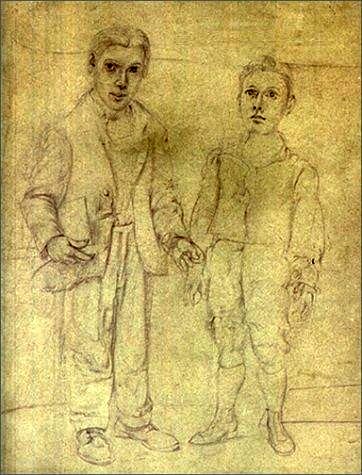 But it was Franz Kline, blessed with a charm, grace, intelligence and wit which more than matched de Kooning's, who became his closest friend from 1939 on. Following Gorky's suicide in 1948, Kline and de Kooning drew even closer together, united by wit, a passion for girls and a love of drink. It was an intense period as Kline's favorite meeting time in his favorite bar being 11pm, after his late-starting working day was over. By then, de Kooning had married Elaine Fried (a tumultuous, on again-off again relationship that lasted until her death in 1989), a New York painter of considerable style and intelligence who devoted herself to de Kooning's success and wellbeing. But by 1956, Kline and de Kooning were exchanging girlfriends at a regular pace, so much so, that it raised enough eyebrows and quietly raised questions about the true nature of the relationship between the two.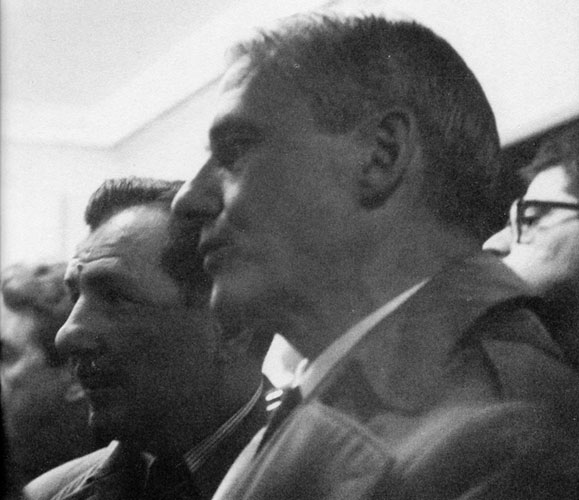 De Kooning joined the Artists Union in 1934, and in 1935 was employed in the Federal Art Project of the Works Progress Administration, for which he designed a number of murals including some for the Williamsburg Federal Housing Project in Brooklyn. None of them were executed, but a sketch for one was included in New Horizons in American Art at the Museum of Modern Art, his first group show. In 1936, he had to leave the Federal Art Project because he did not have American citizenship, thus he began to work full-time as an artist, earning income from commissions and by giving lessons.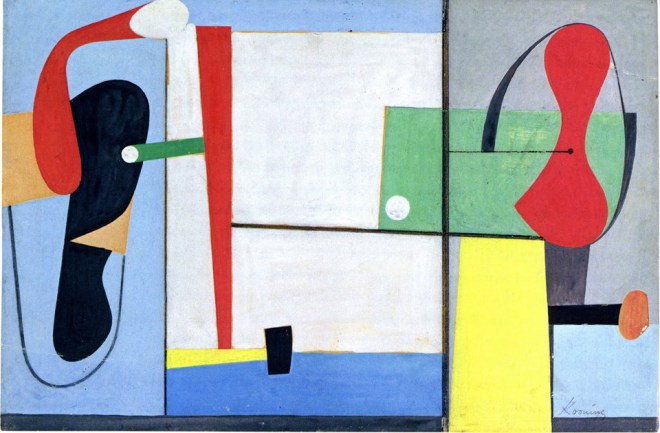 De Kooning's paintings of the 1930s and early 1940s are abstract still-lifes characterised by geometric or biomorphic shapes and strong colours. They show the influence of his friends Davis, Gorky and Graham, but also of Arp, Joan Miró, Mondrian and Picasso. In the same years de Kooning also painted a series of solitary male figures, either standing or seated, against undefined backgrounds; many of these are unfinished.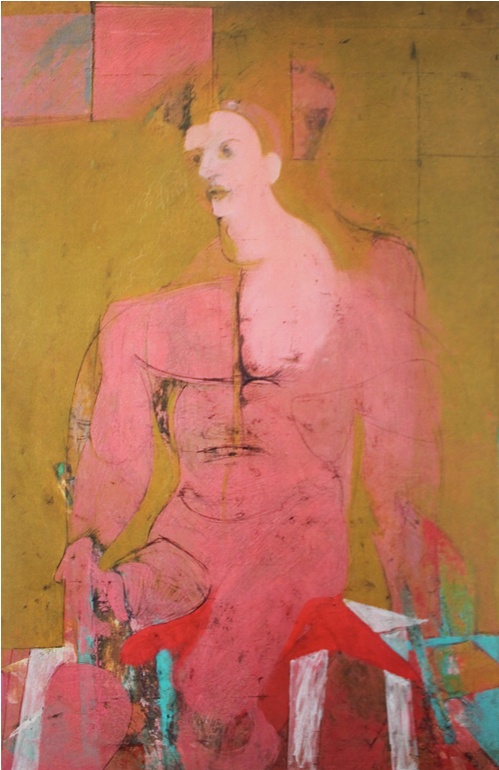 By 1946 he had begun a series of black and white paintings, which he would continue into 1949. During this period he had his first one-man show at the Charles Egan Gallery; it consisted largely of black and white works, although a few has passages of bright color. His "Black Paintings" are important to the history of Abstract Expressionism for their densely impacted forms, their mixed media, and their technique.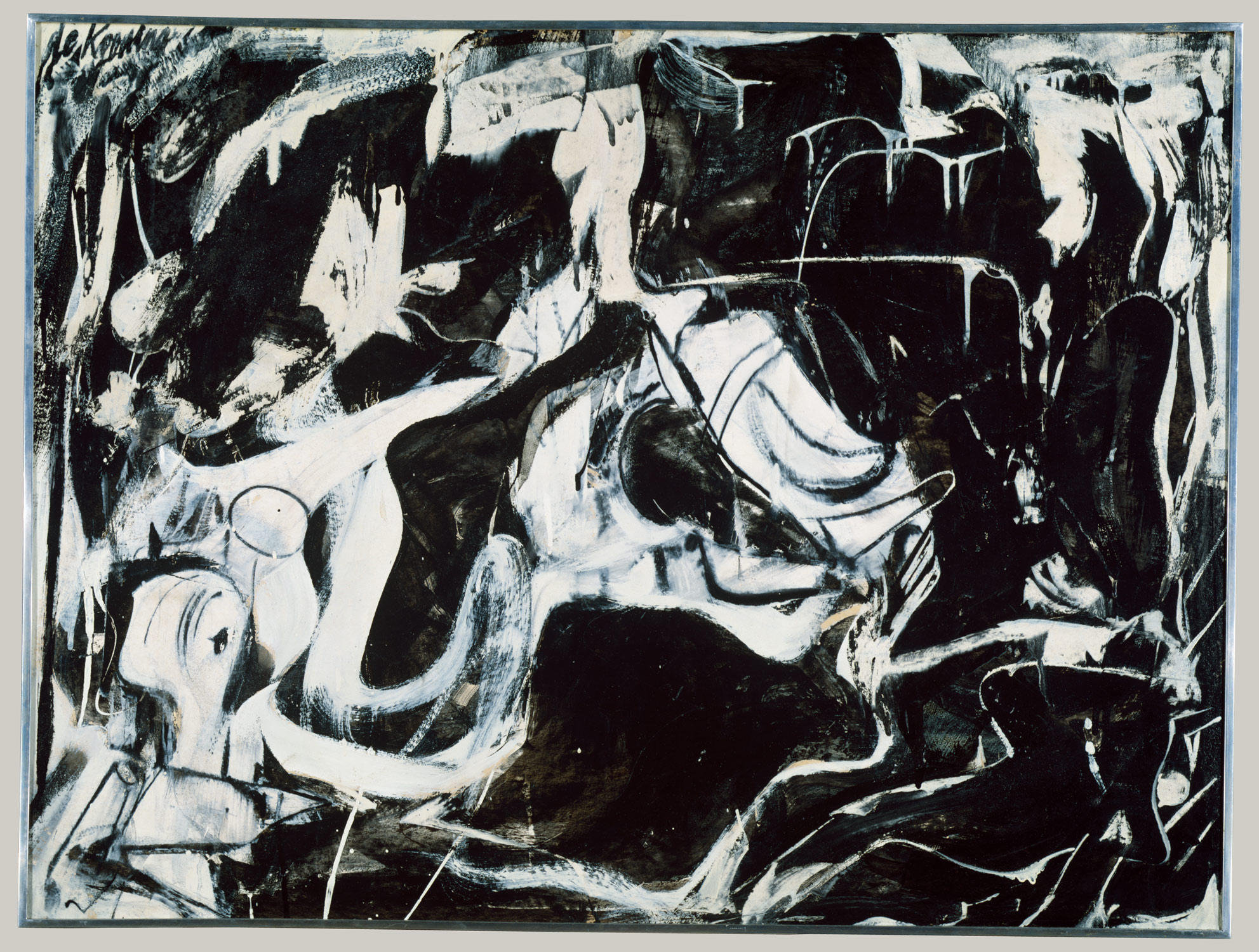 De Kooning's well-known "Woman" series, begun in the late 1940's and culminating in "Woman VI," owes much to Picasso, not least in the aggressive, penetrative breaking apart of the figure, and the spaces around it. Picasso's late works show signs that he, in turn, saw images of works by Pollock and de Kooning. De Kooning led the 1950s' art world to a new level known as the American Abstract Expressionism. The female figure is an important symbol for his art career and his own life.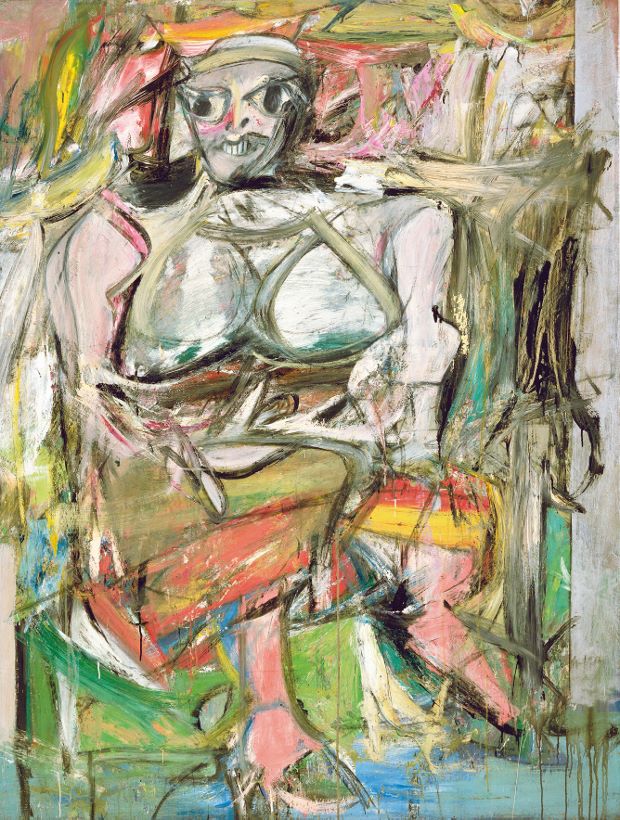 The female figure became the tonic note to which he returned again and again in his long career, and from this preoccupation came many of his most hotly contested works: the toothy, blowzy images of the late 1940's, 50's and 60's, which have been described every which way: as sexist and pornographic, affectionate and funny, or all these things at once. They are garish high-heeled figures with puckered lips and fuchsia nails, bulging eyes and bulging breasts, painted with an almost vicious enthusiasm.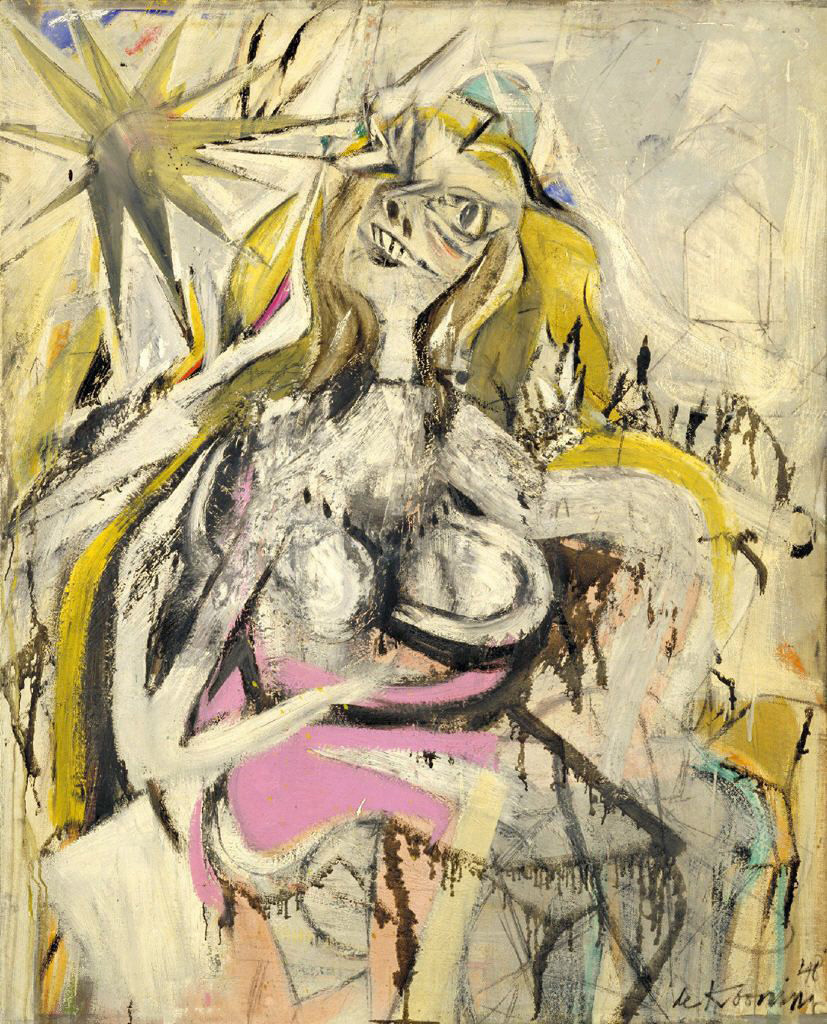 "They look vociferous and ferocious, and I think it had to do with the idea of the idol, the oracle and above all the hilariousness of it," Mr. de Kooning once said. "I do think that if I don't look upon life that way, I won't know how to keep on being around."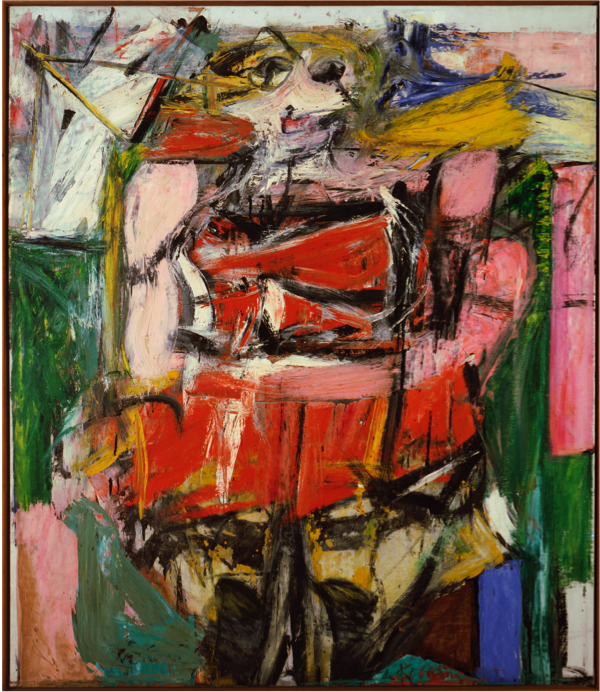 In 1963, he moved out of New York City to a permanent new home and studio at the Springs, in the Hamptons, not far from the studios of his friends Jackson Pollock and Lee Krasner. De Kooning's studio in its heyday seemed almost like the crowded dock of an affluent boat-builder.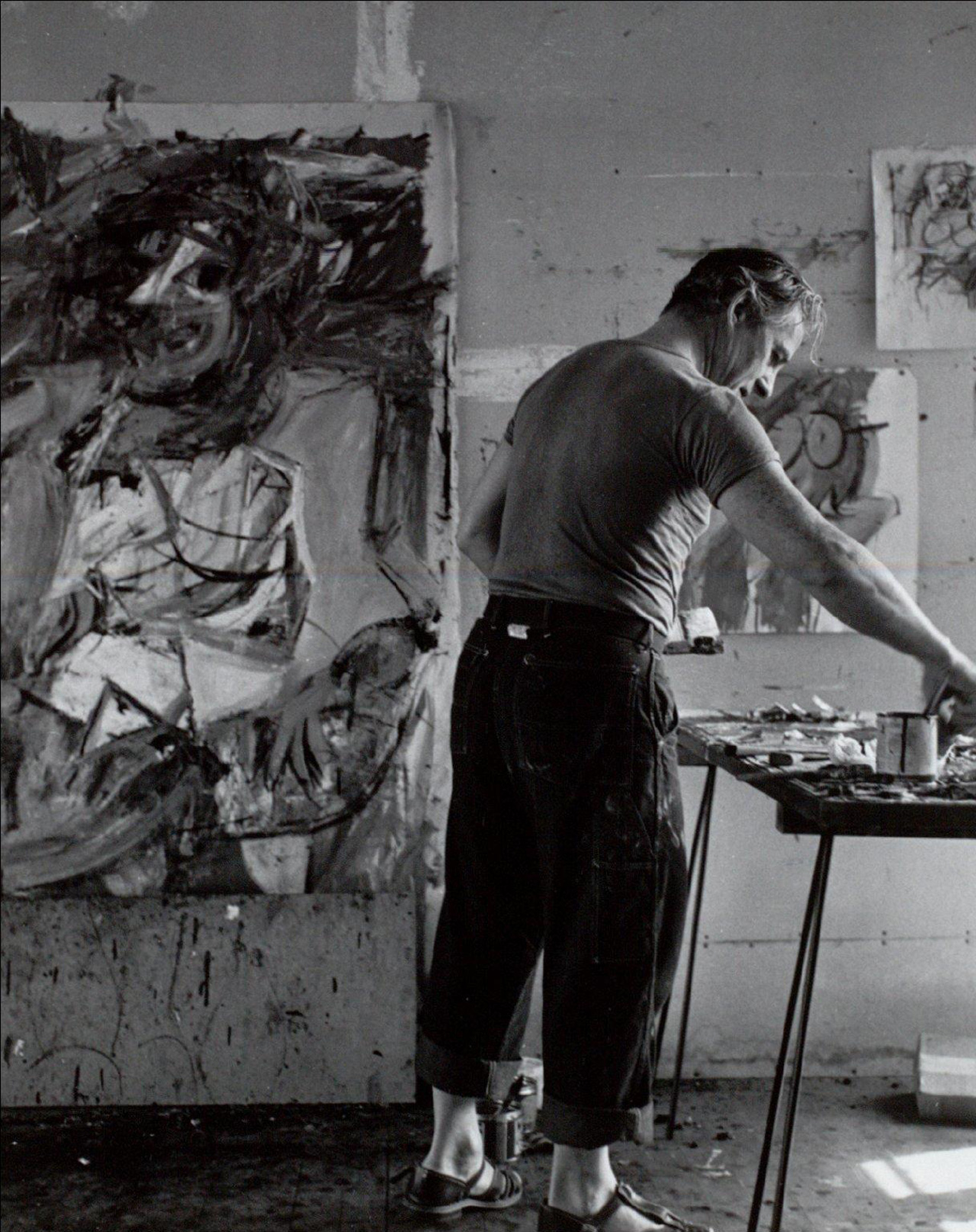 His peak was reached by 1980, and by then he had created a magisterial body of work, sensuous, always questing and probing, always saying something however obliquely about the human condition, the business of being alive, most noted by an exhibition at the Tate Gallery, curated by Nicholas Serota and David Sylvester, one of de Kooning's earliest and best champions in Europe.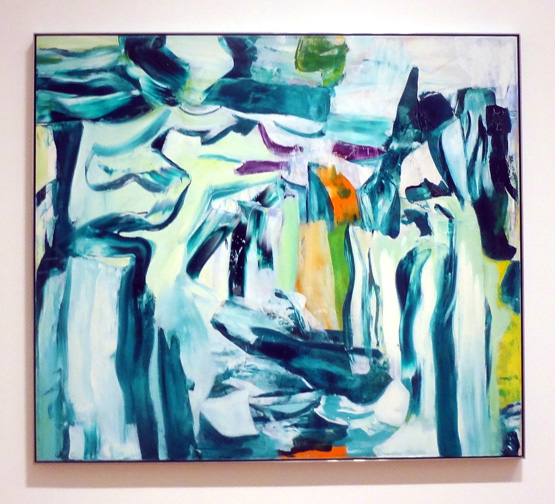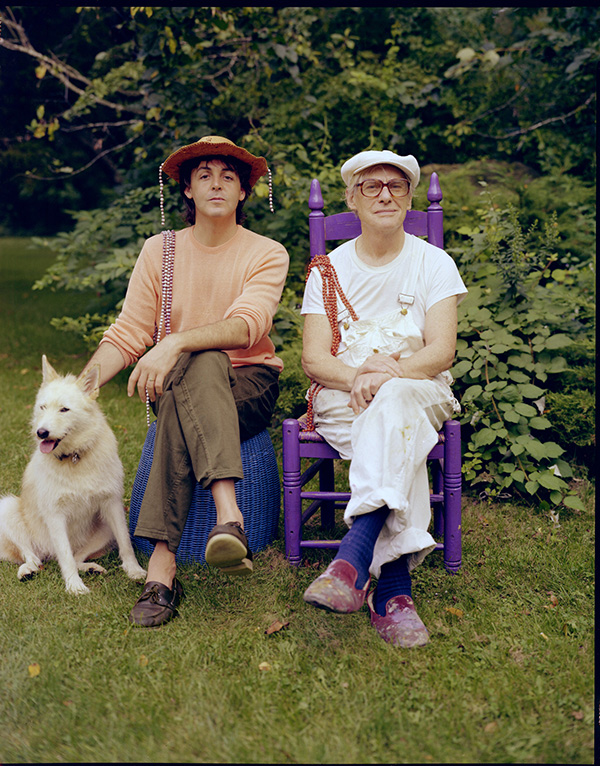 But by the mid 1980's de Kooning exhibited undeniable signs of dementia, exacerbated by alcoholism, and though they did not live together anymore, his wife Elaine took over his public image and kept his illness secret from not only the press but also his friends. He became a recluse, still working but with a great deal of the work being heavily guided (or possibly completed) by his patient assistants, Robert Chapman, Antoinette Gay, and Jennifer McLaughlin. When his wife died of cancer in 1989, he was never told, for fear of upsetting his already fragile state. He stopped painting in 1990 as his condition no longer permitted him to work.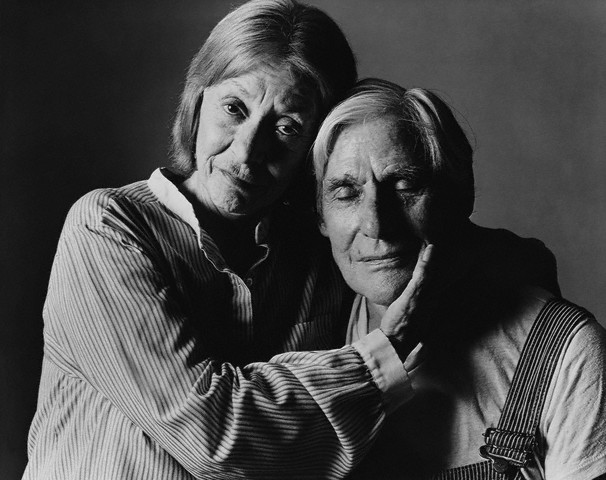 Willem de Kooning died of complications stemming from his ongoing Alzheimers and pneumonia, at his home in East Hampton, Long Island NY, at the age of 92. His funeral took place at Saint Luke's Episcopal Church in East Hampton. Many of his ex-girlfriends attended the funeral and his daughter, Lisa gave the eulogy. He was not buried, but cremated and though the whereabouts of his ashes are unknown, it is reputed that some of his ashes were to have joined Elaine's grave at the Green River Cemetery.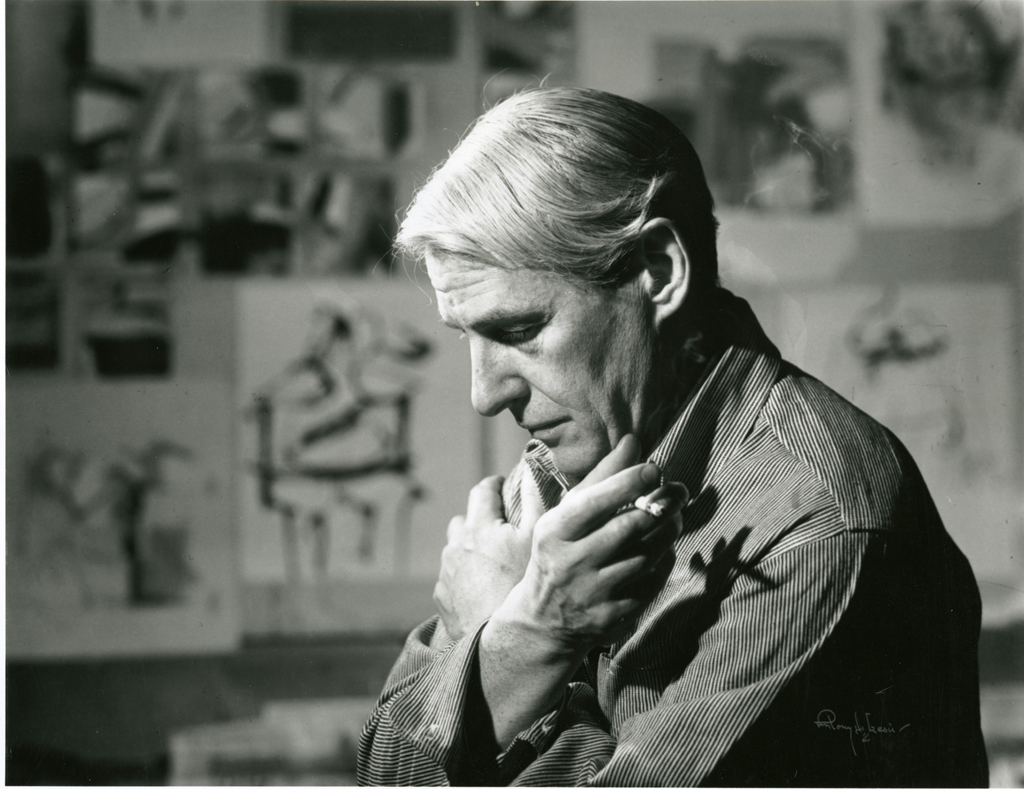 ---
Edited from:
https://en.wikipedia.org/wiki/Willem_de_Kooning
http://www.independent.co.uk/news/people/obituary-willem-de-kooning-1274106.html
http://www.nytimes.com/1997/03/20/arts/willem-de-kooning-dies-at-92-reshaped-us-art.html?pagewanted=all
http://www.warholstars.org/abstractexpressionism/timeline/abstractexpressionism80.html
---
see an error? click here to send corrections!
---