Also in 1938, Dalí unveiled "Rainy Taxi," a three-dimensional artwork, consisting of an actual automobile with two mannequin occupants. The piece was first displayed at the Galerie Beaux-Arts in Paris at the Exposition Internationale du Surréalisme, organised by André Breton and Paul Éluard. The Exposition was designed by artist Marcel Duchamp, who also served as host.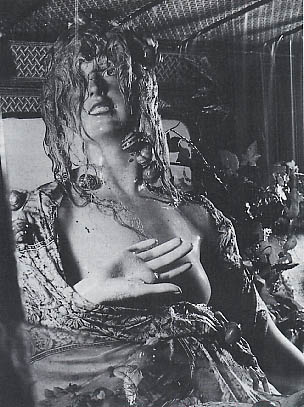 At the 1939 New York World's Fair, Dalí debuted his "Dream of Venus" surrealist pavilion, located in the Amusements Area of the exposition. It featured bizarre sculptures, statues, and live nude models in "costumes" made of fresh seafood, an event photographed by Horst P. Horst, George Platt Lynes and Murray Korman. Like most attractions in the Amusements Area, an admission fee was charged.
In 1939, André Breton coined the derogatory nickname "Avida Dollars", an anagram for "Salvador Dalí", which may be more or less translated as "eager for dollars". This was a derisive reference to the increasing commercialization of Dalí's work, and the perception that Dalí sought self-aggrandizement through fame and fortune. The Surrealists, many of whom were closely connected to the French Communist Party at the time, expelled him yet again from their movement. Some surrealists henceforth spoke of Dalí in the past tense, as if he were dead. The Surrealist movement and various members thereof would continue to issue extremely harsh polemics against Dalí until the time of his death, and beyond.
%
|
%
|
%
|
%
|
%
|
%
|
%
|
%
|
%
|
%
|
%
|
%
|
%
|
%
|
%
|
%
|
%
|
%