Dalí grew a flamboyant moustache, influenced by 17th-century Spanish master painter Diego Velázquez. The moustache became an iconic trademark of his appearance for the rest of his life.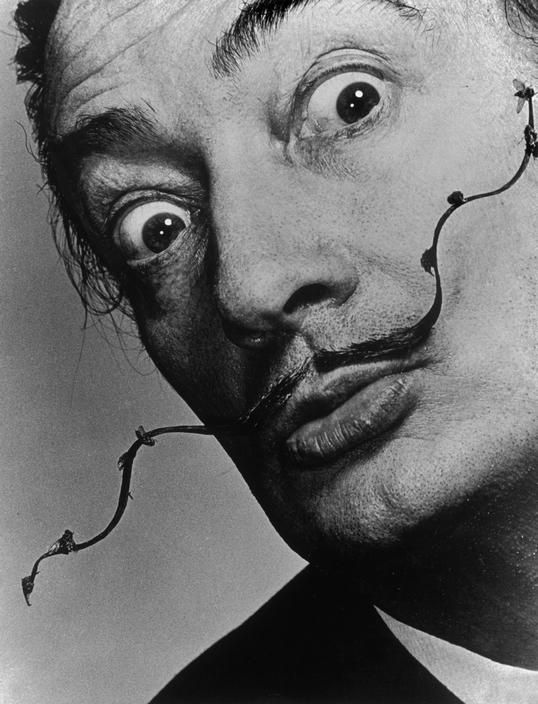 In 1929, Dalí collaborated with surrealist film director Luis Buñuel on the short film "Un Chien Andalou" (An Andalusian Dog). His main contribution was to help Buñuel write the script for the film. Also, in August 1929, Dalí met his lifelong and primary muse, inspiration, and future wife Gala, born Elena Ivanovna Diakonova. She was a Russian immigrant ten years his senior, who at that time was married to surrealist poet Paul Éluard. In the same year, Dalí had important professional exhibitions and officially joined the Surrealist group in the Montparnasse quarter of Paris. His work had already been heavily influenced by surrealism for two years. The Surrealists hailed what Dalí called his paranoiac-critical method of accessing the subconscious for greater artistic creativity. (See the whole film, restored in HD here.)
Meanwhile, Dalí's relationship with his father was close to rupture. Don Salvador Dalí y Cusi strongly disapproved of his son's romance with Gala, and saw his connection to the Surrealists as a bad influence on his morals. The final straw was when Don Salvador read in a Barcelona newspaper that his son had recently exhibited in Paris a drawing of the Sacred Heart of Jesus Christ, with a provocative inscription: "Sometimes, I spit for fun on my mother's portrait". Outraged, Don Salvador demanded that his son recant publicly. Dalí refused, perhaps out of fear of expulsion from the Surrealist group, and was violently thrown out of his paternal home on December 28, 1929. His father told him that he would be disinherited, and that he should never set foot in Cadaqués again. The following summer, Dalí and Gala rented a small fisherman's cabin in a nearby bay at Port Lligat. He bought the place, and over the years enlarged it by buying the neighboring fishermen cabins, gradually building his much beloved villa by the sea. Dalí's father would eventually relent and come to accept his son's companion.
%
|
%
|
%
|
%
|
%
|
%
|
%
|
%
|
%
|
%
|
%
|
%
|
%
|
%
|
%
|
%
|
%
|
%