Today's Artist Birthday: Raja Ravi Varma
Raja Ravi Varma Koil Thampuran (29 April 1848 – 2 October 1906) was a celebrated Indian painter and artist. He is considered among the greatest painters in the history of Indian art for a number of aesthetic and broader social reasons. Firstly, his works are held to be among the best examples of the fusion of European techniques with a purely Indian sensibility. While continuing the tradition and aesthetics of Indian art, his paintings employed the latest European academic art techniques of the day. Secondly, he was notable for making affordable lithographs of his paintings available to the public, which greatly enhanced his reach and influence as a painter and public figure. Indeed, his lithographs increased the involvement of common people with fine arts and defined artistic tastes among common people for several decades. In particular, his depictions of Hindu deities and episodes from the epics and Puranas have received profound acceptance from the public and are found, often as objects of worship, across the length and breadth of India.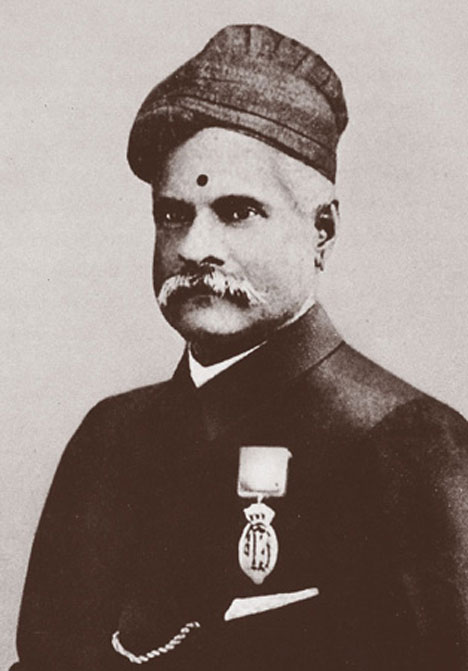 He was closely related to the royal family of Travancore in the deep south of India (Kerala and Tamil Nadu). Later in his life, two of his granddaughters were adopted into that royal family, and their descendants comprise the totality of the present royal family of Travancore, including the latest three Maharajas (Balarama Varma III, Marthanda Varma III and Rama Varma VII).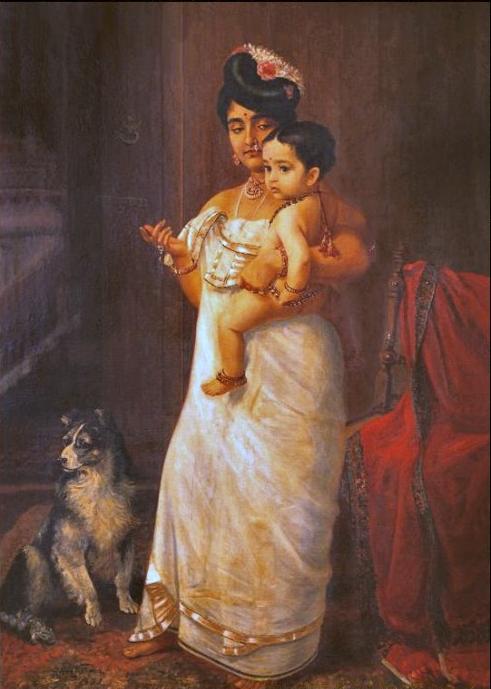 He was born at Kilimanoor palace in the state of Travancore (present-day Kerala) into an aristocratic family belonging to the Nair caste. The Nair caste follows the matrilineal Marumakkathayam system of reckoning lineage and succession.  He had three siblings, a sister named Mangala Bayi, and two brothers named Goda (born 1854) and Raja (born 1860), the latter also a painter.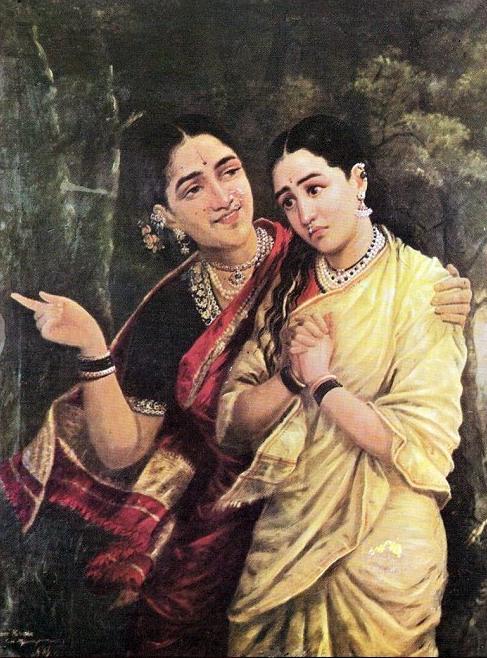 In 1866, at the age of 18, he was married to 12-year-old Bhageerthi Bayi (known formally as Pooruruttati Nal Bhageerathi Bayi Thampuratty) of the royal house of Mavelikkara, another major fief of Travancore kingdom. Notably, the house of Mavellikara was a branch of the Royal House of Travancore. Bhageerthi was the youngest of three sisters, and both of her elder sisters had been adopted into the royal family of Travancore in 1857. They were known as the Senior and Junior Rani of Attingal, and in their children became part of the succession to the throne of Travancore. Therefore, Ravi Varma's connection to the royal family became very close due to his marriage with Bhageerthi. In fact, due the matrilineal lineage, his children would be royal by birth. His marriage, which was arranged by their parents in the traditional Indian manner, was considered harmonious and successful for the most part.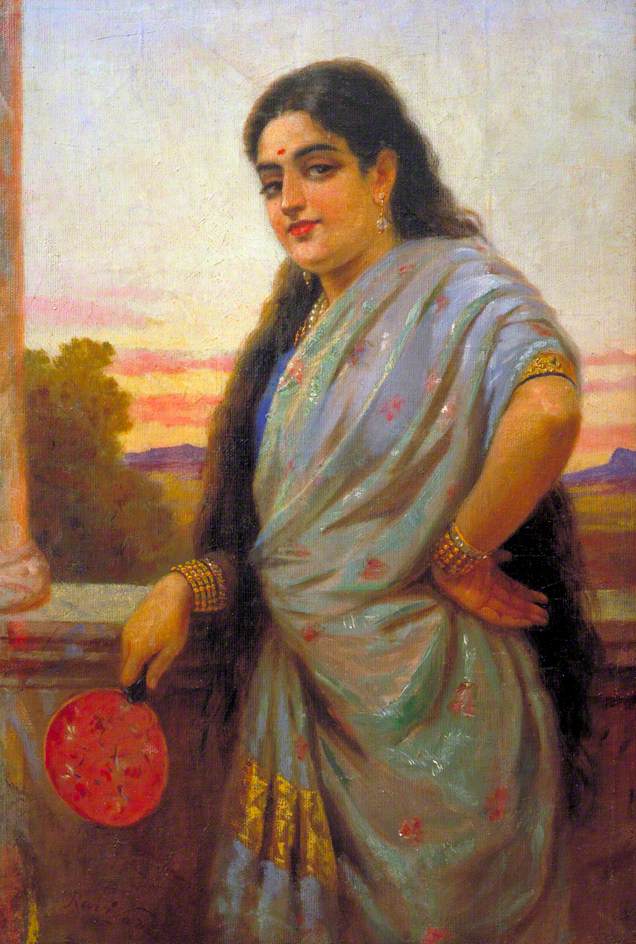 The couple had with five children,  two sons and three daughters. Their youngest son, Rama Varma (born 1879), inherited his father's artistic talent and studied at the JJ School of Arts, Mumbai. Their elder son, Kerala Varma (b.1876), disappeared in 1912. Officially, the story was that Kerala "was of an excessively spiritual temperament, and renounced the world," but there were rumors of foul play at the time, none of which were ever substantiated, but the young man was never seen again.
Varma's major patron was Ayilyam Thirunal, the then Maharajah of Travancore, and the young artist began formal training thereafter. He learned the basics of painting in Madurai. Later, he was trained in watercolor painting by Rama Swami Naidu and in oil painting by Dutch portraitist Theodor Jenson.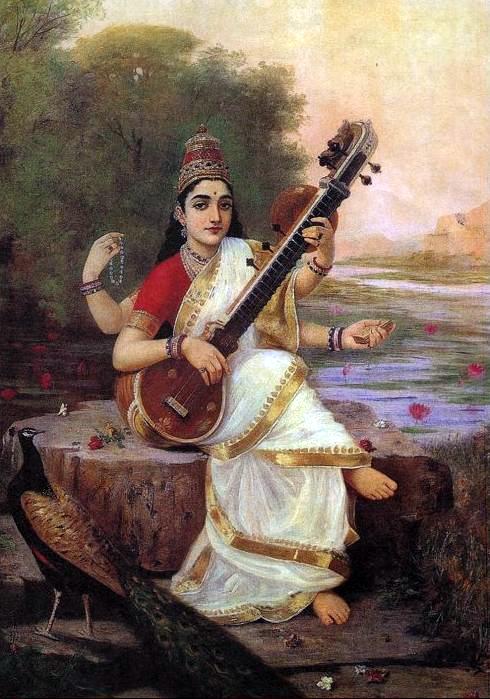 The British administrator Edgar Thurston was significant in promoting Varma's career. He received widespread acclaim after he won an award for an exhibition of his paintings at Vienna in 1873. His paintings were also sent to the World's Columbian Exposition held in Chicago in 1893 and he was awarded three gold medals.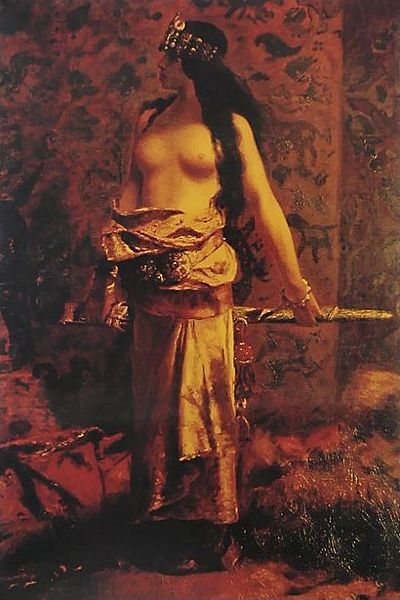 He travelled throughout India in search of subjects. He often modelled Hindu Goddesses on South Indian women, whom he considered beautiful. He is particularly noted for his paintings depicting episodes from the story of Dushyanta and Shakuntala, and Nala and Damayanti, from the Mahabharata. In fact, his representation of mythological characters has become a part of the Indian imagination of the epics.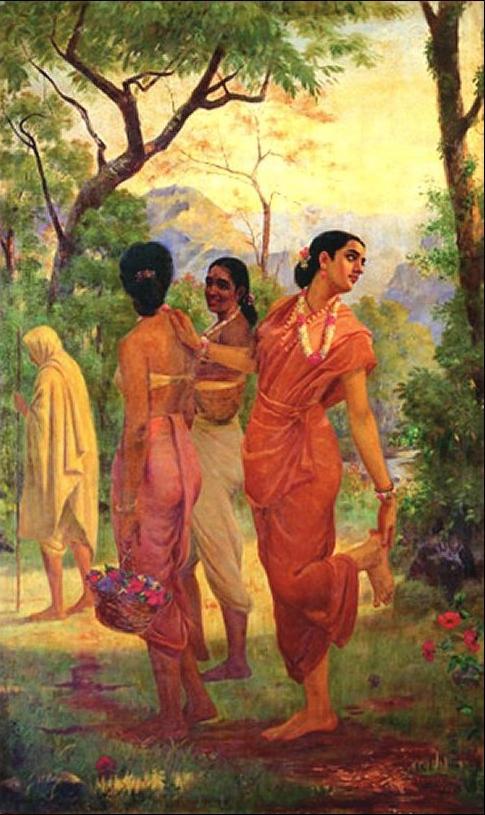 Widely accepted now as one of India's premier artists, in his day he was often criticized, not only for his ostentatious style, but his rebellious and decidedly unconventional approach to his subject matter. He was even charged at Bombay court with cases of obscenity, offending public morality and hurting religious and cultural sentiments of people. He was the first painter to visualize Gods and Goddesses in a human form, even painting semi-nudes of goddesses and apsaras, which drew enormous criticism on the grounds of hurting religious values. He stood his ground however, as he believed in his work and was inspired by the unexplored. Art has always been a debatable ground in India and Raja Ravi Varma was the first artist in Indian history to fight for what he believed in: art as a concept. His strong message to people was that art cannot be suppressed by subjugating oneself to the status quo . Ultimately, he was absolved of the charges brought against him and he is now considered the Father Of Modern Art in India because of his stance.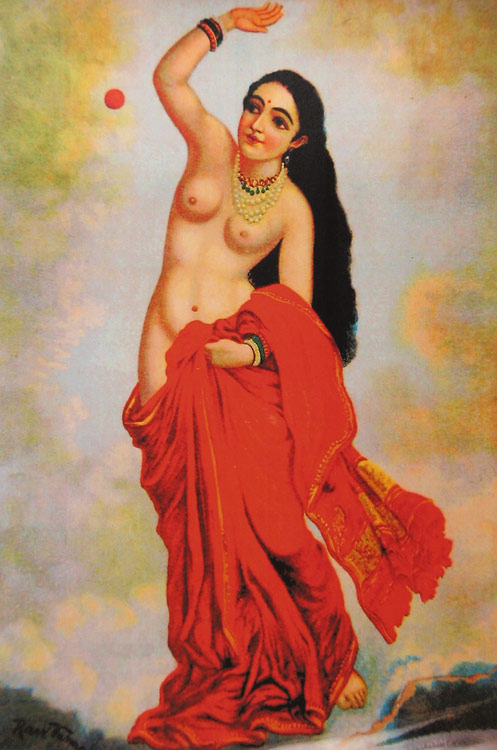 Other controversies shadowed the artist as well. One example was his relationship with his muse Sugandha, who posed nude for him for his paintings. It was rumored that Raja Ravi Varma fell in love with her and had a relationship with her despite the fact he was married and had children. He created many nude paintings of Sugandha which were supposed to be private but somehow became public.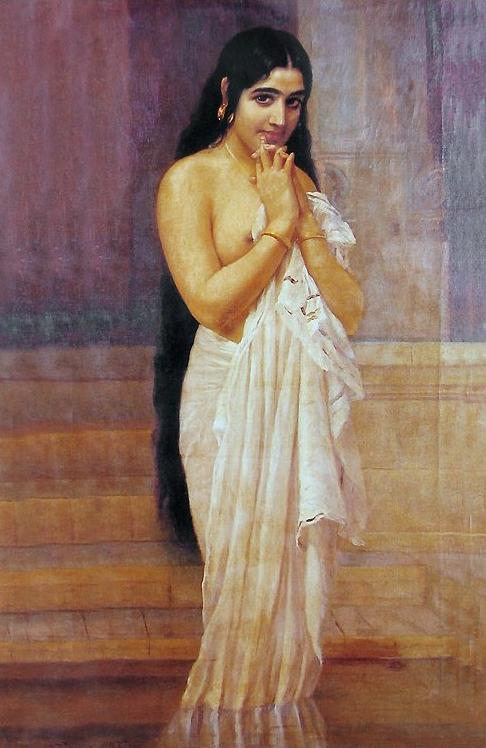 Raja Rama Varma passed away much too young, at the age of 54 in Attingal, India, as a result of an long fought battle with diabetes.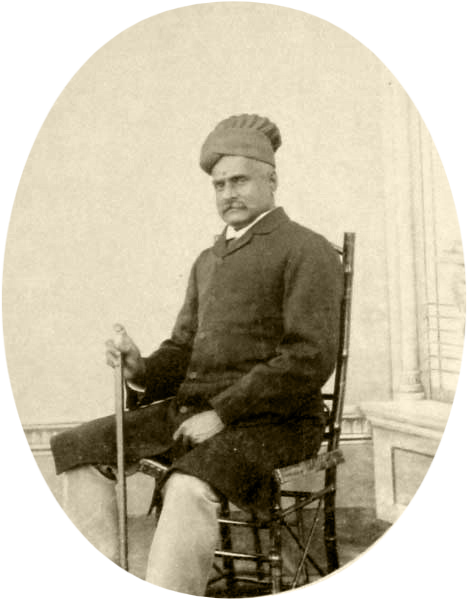 ---
Other works: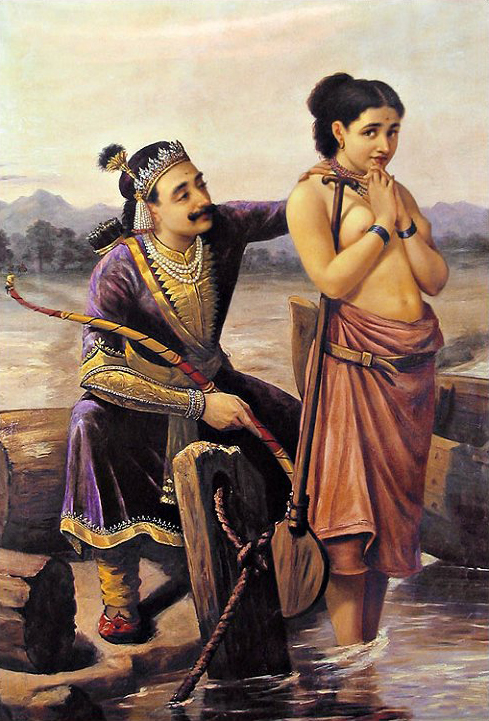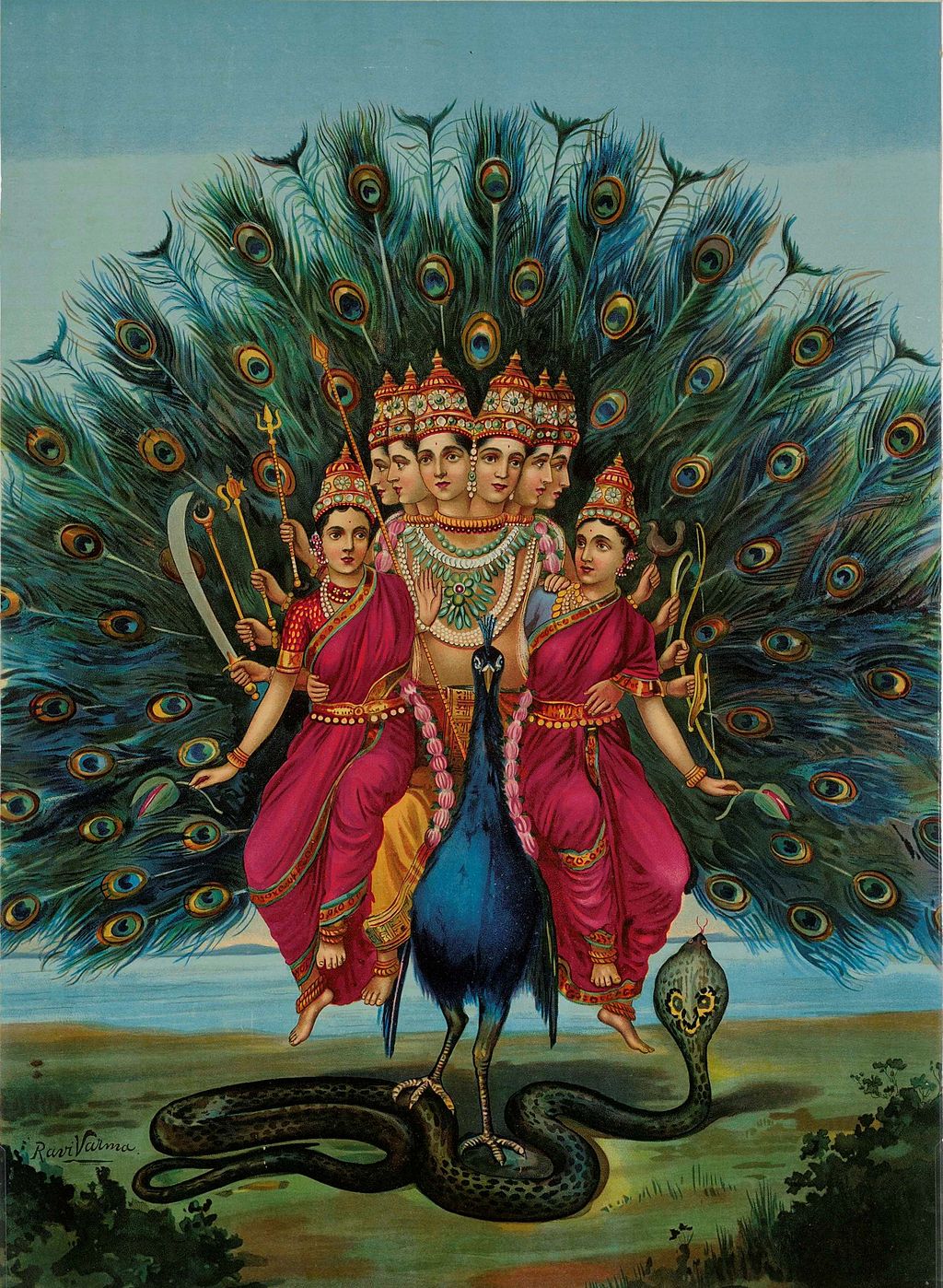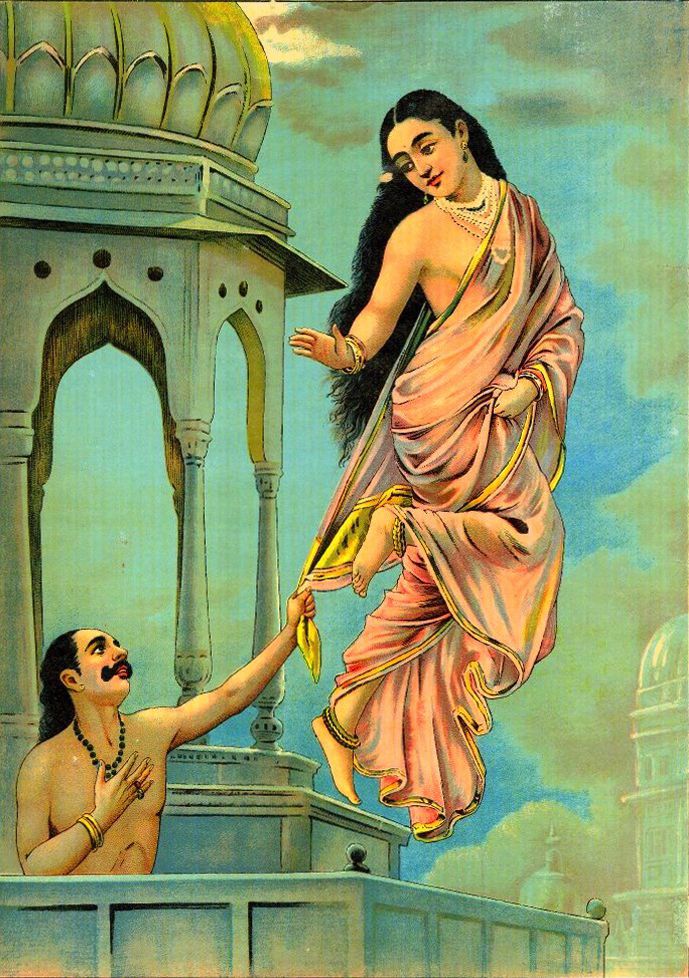 ---
Edited from:
---
see an error? click here to send corrections!
---