Today's Artist Birthday: Maxfield Parrish
Maxfield Parrish (July 25, 1870 – March 30, 1966) was an American painter and illustrator active in the first half of the 20th century. He is known for his distinctive saturated hues and idealized neo-classical imagery.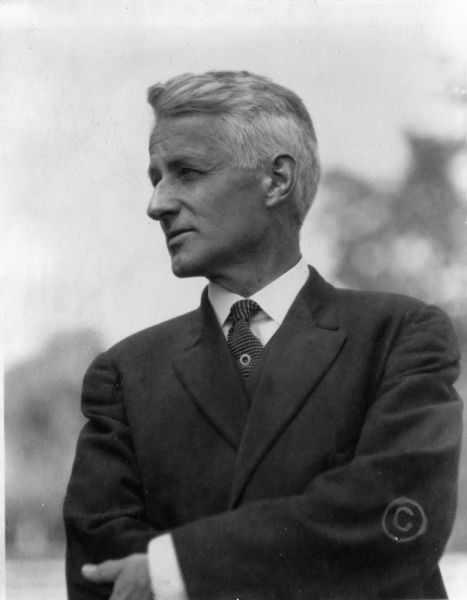 Born in Philadelphia, Pennsylvania, he was born into a Quaker community, the son of painter and etcher Stephen Parrish, and Elizabeth Bancroft. He began drawing for his own amusement as a child. His given name was Frederick Parrish, but he later adopted the maiden name of his paternal grandmother, Maxfield, as his middle name, and later as his professional name.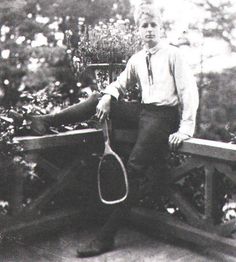 Young Parrish's parents encouraged his talent. In 1884, his parents took him to Europe, where they toured England, Italy, and France. Parrish was exposed to classical architecture and the paintings from the old masters. They returned to the United States in 1886. During their travels, however, Parrish had studied at the Paris school of art and design under the tutelage of a Dr. Kornemann.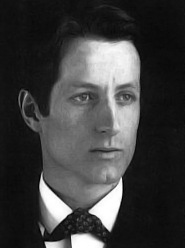 In 1888 he attended Haverford College, in Haverford, PA, where he studied architecture for two years. From 1892 to 1895, he studied at the Pennsylvania Academy of the Fine Arts to further his education in art, under the guidance of artists Robert Vonnoh and Thomas Pollock Anshutz.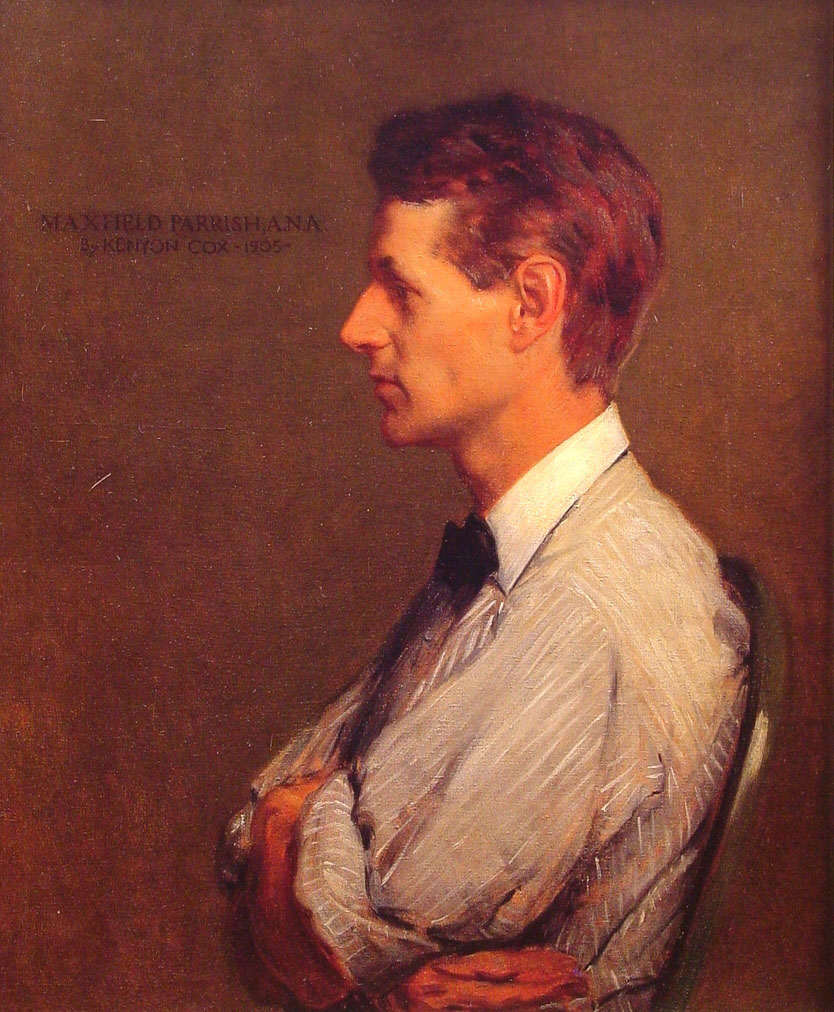 After graduating from the program, Parrish went to Annisquam, Massachusetts where he and his father shared a painting studio. With his father's encouragement, a year later he attended the Drexel Institute of Art, Science & Industry. While studying at Drexel, Parrish met his future wife, Lydia Austen. The couple was married on June 1, 1895 and moved to Philadelphia. They would go on to have four children together.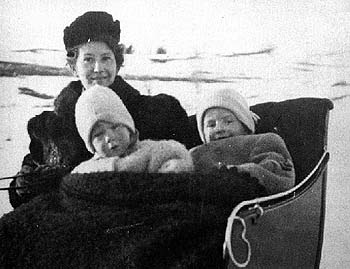 In 1898, Parrish moved with his wife to Cornish, New Hampshire and built a home that was later nicknamed "The Oaks." The home was surrounded by beautiful landscapes that inspired Parrish's drawings.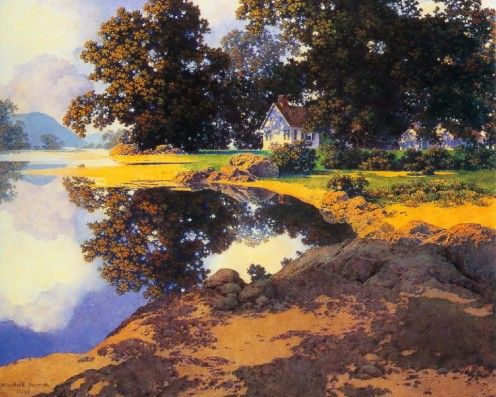 Parrish's early works were mostly in black and white, but ushered in an artistic career that lasted for more than half a century, and which helped shape the Golden Age of illustration and American visual arts. During his career, he produced almost 900 pieces or art including calendars, greeting cards, and magazine covers.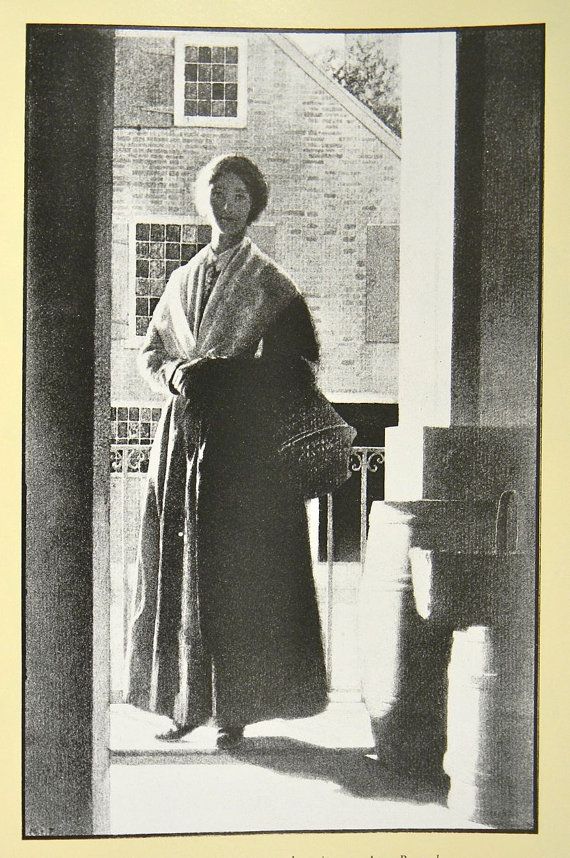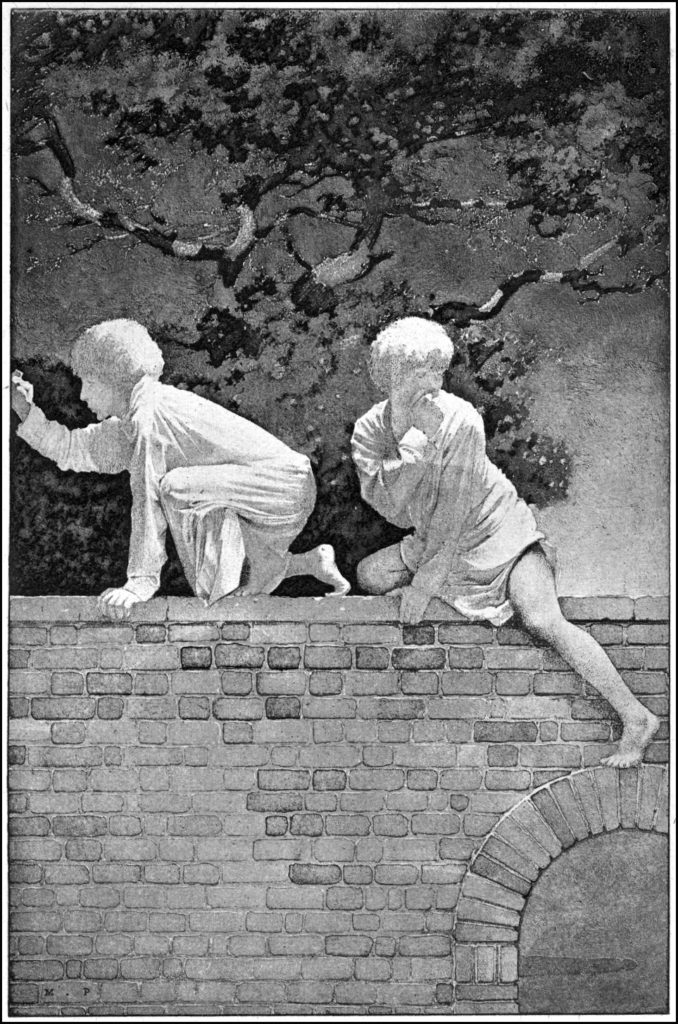 He suffered of tuberculosis for a time in 1890. While sick and basically bedridden, he used that time to experiment with his technique and discover how to mix oils and glazes to create the vibrant colors that we now associate with his work. From 1900 to 1902, he would paint in Saranac Lake, New York, and Hot Springs, Arizona to further recover from this long lasting and difficult illness.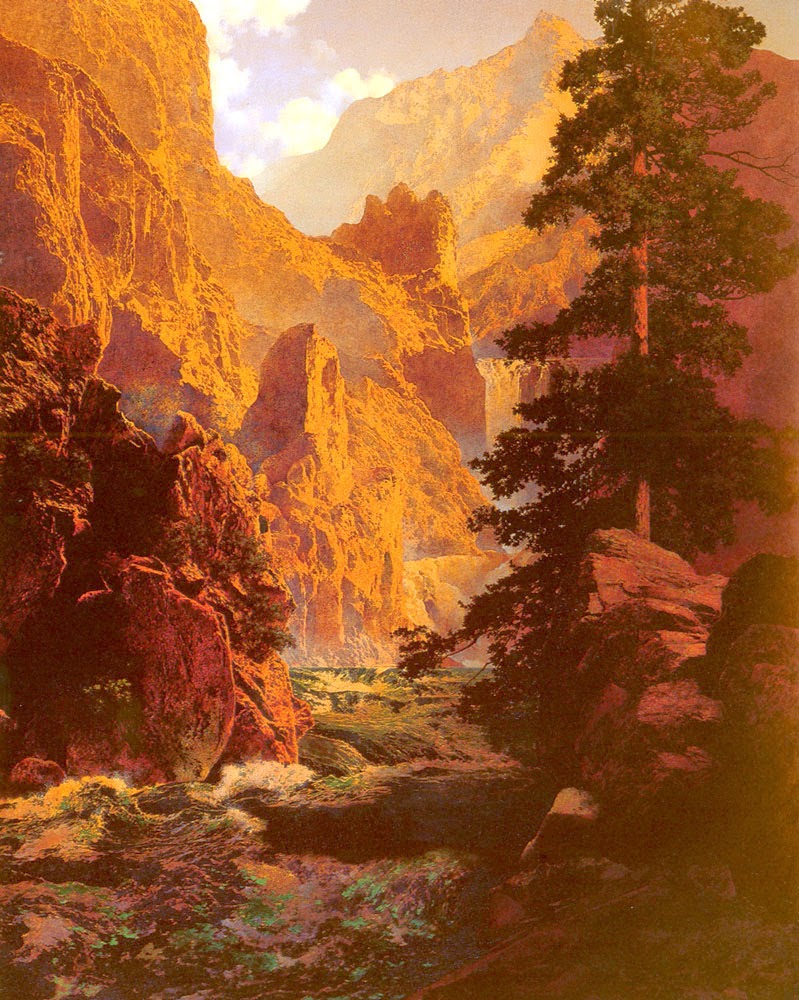 In 1885, his work was on the Easter edition of Harper's Bazaar, as well as other magazines such as Scribner's. He also illustrated a children's book in 1897, Mother Goose in Prose written by L. Frank Baum (author of The Wizard Of Oz). By 1900, Parrish was a member of the Society of American Artists.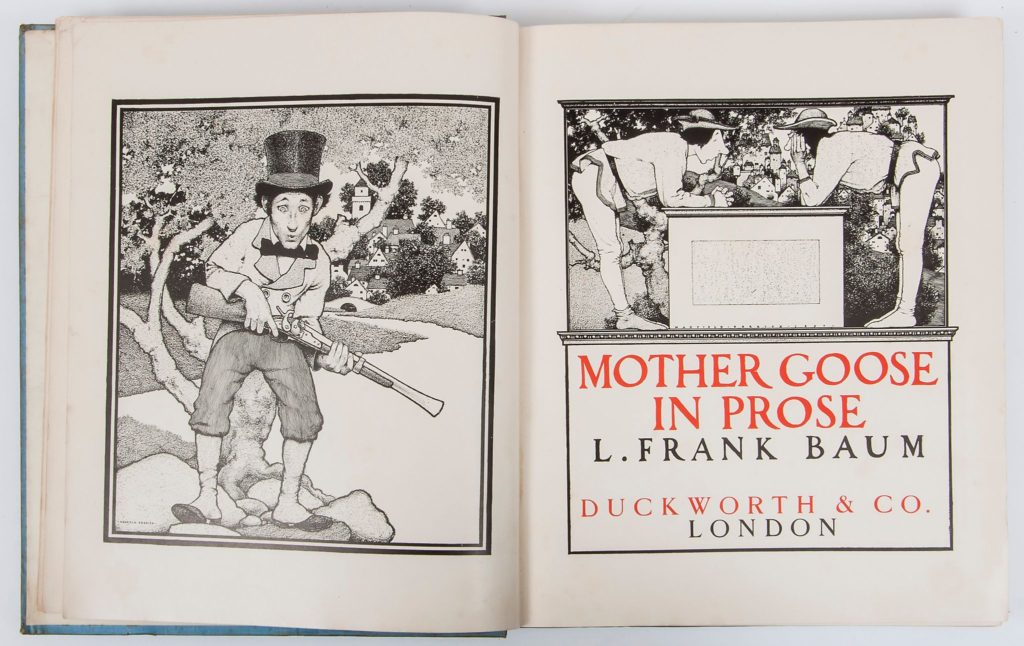 In 1903, having recovered most of his health, he traveled to Europe again to visit Italy. He and his wife Lydia had two small children at the time, and so to help his wife during in his absence, a 16 year old girl from a nearby farm town was hired as a nanny and household assistant to Mrs. Parrish. Her name was Susan Lewin, and soon after the artist's return from Europe, she would would begin modeling for many of Parrish's works, as Lydia no longer wished to model for him. She would also prove to be an important figure Parrish's personal history in the years to come.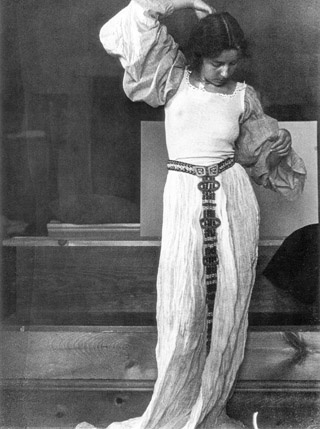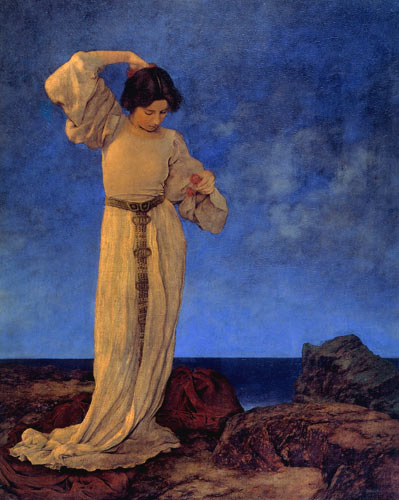 Parrish took many commissions for commercial art until the 1920s. His commercial art included many prestigious projects, among which were Eugene Field's Poems of Childhood in 1904, and such traditional works as Arabian Nights in 1909. Books illustrated by Parrish are featured in A Wonder Book and Tanglewood Tales in 1910, The Golden Treasury of Songs and Lyrics in 1911, and The Knave of Hearts in 1925.
Parrish worked with popular magazines throughout the 1910s and 1920s, including Hearst's and Life. He also worked with a number of advertising companies like Wanamaker's, Edison-Mazda Lamps, Colgate and Oneida Cutlery. Parrish worked with Colliers from 1904 to 1913. He also painted advertisements for D.M. Ferry Seed Company in 1916 and 1923, which helped him gain recognition in the eye of the public.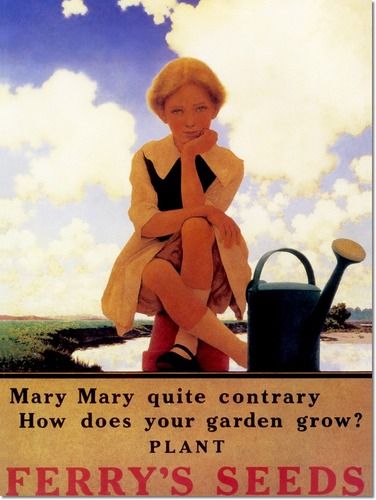 His most well-known art work is Daybreak which was produced in 1922, and is regarded as the most popular art print of the 20th century, based on number of prints made: one for every four American homes in the 20th century had a copy. According to The National Museum of American Illustration, it has outsold prints of Andy Warhol's Campbell's Soup Cans and Da Vinci's Last Supper, and it is still in print today.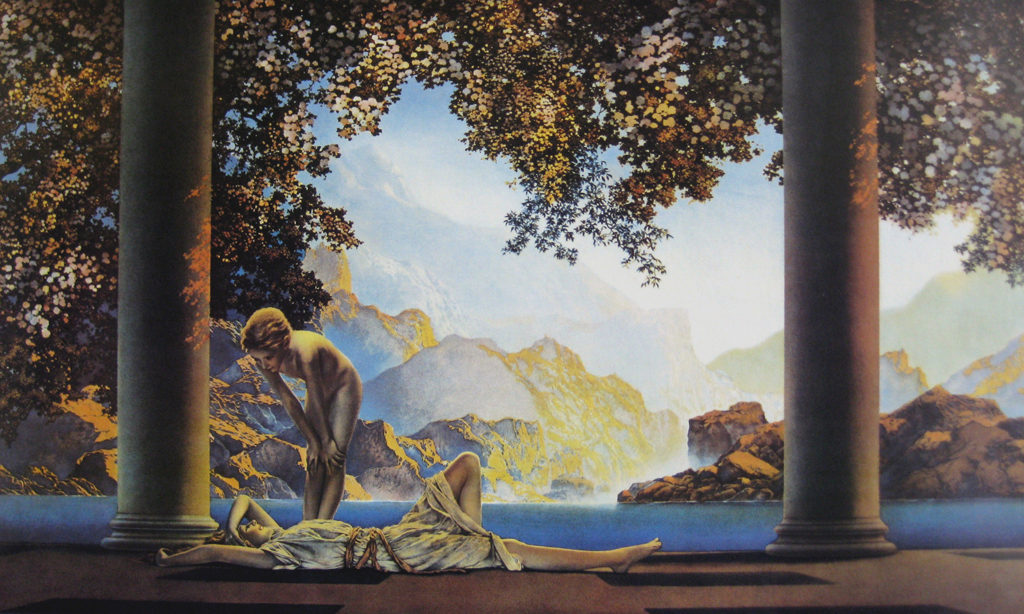 The painting itself has azure undertones of what would become known as "Parrish Blue." It features two female figures in a classical architecture and landscape scene. Painted using preparatory photographs, he used his regular models: Kitty Owen (granddaughter of William Jennings Bryan), Parrish's daughter Jean, and the aforementioned Susan Lewin. Only two figures appear in the completed painting, though pencil studies indicate that the artist originally intended a third near the righthand column.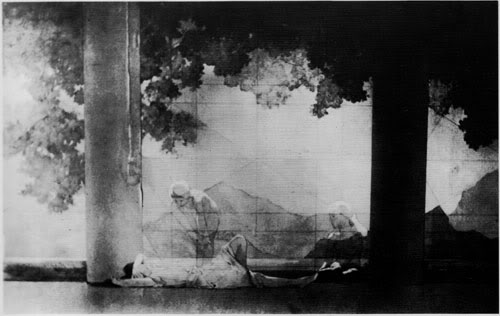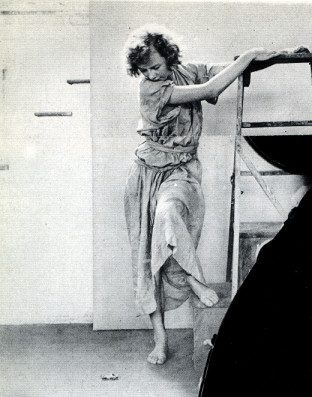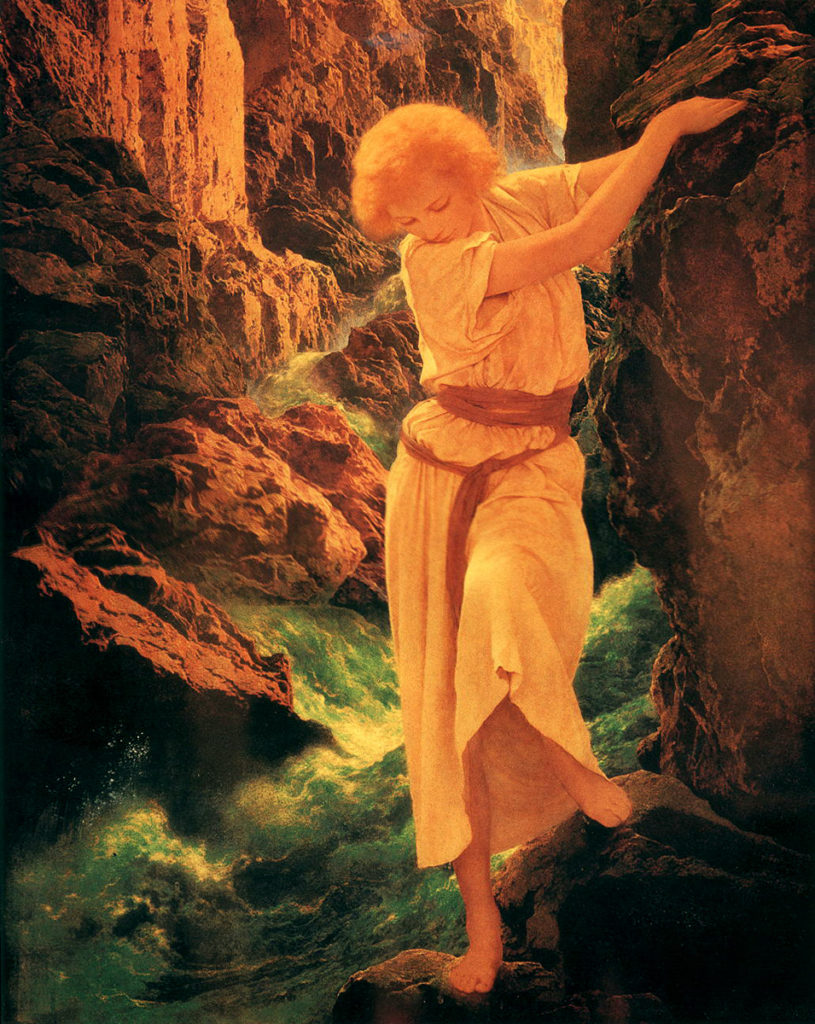 Decades later, in the 1980's, Daybreak work would see a resurgence in popularity. In 1983 the English rock band The Moody Blues used a variation of the Parrish painting Daybreak for its cover of their album The Present. In 1984, Dali's Car, the British New Wave project of Peter Murphy and Mick Karn, used Daybreak as the cover art of their only album, The Waking Hour.
Among the numerous advertising and creative designs that were to follow, in 1987 the movie poster for the wildly popular (and truly delightful) film, The Princess Bride, was based on Parrish's magnum opus, as well as the cover of Berke Breathed's 1985 comic collection Penguin Dreams and Stranger Things. Even Michael Jackson and his then wife Lisa Marie Presley referenced the work in their 1995 video for the song "You Are Not Alone."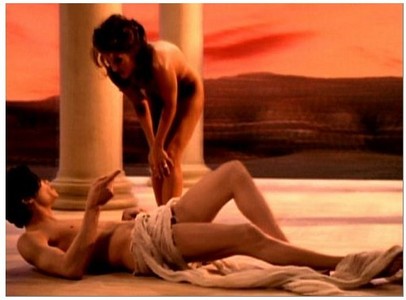 Since its creation, the original painting has always been in private ownership, and on May 25, 2006, it was purchased by a private collector at auction at Christie's for US $7.6 million, a record price for a Parrish painting.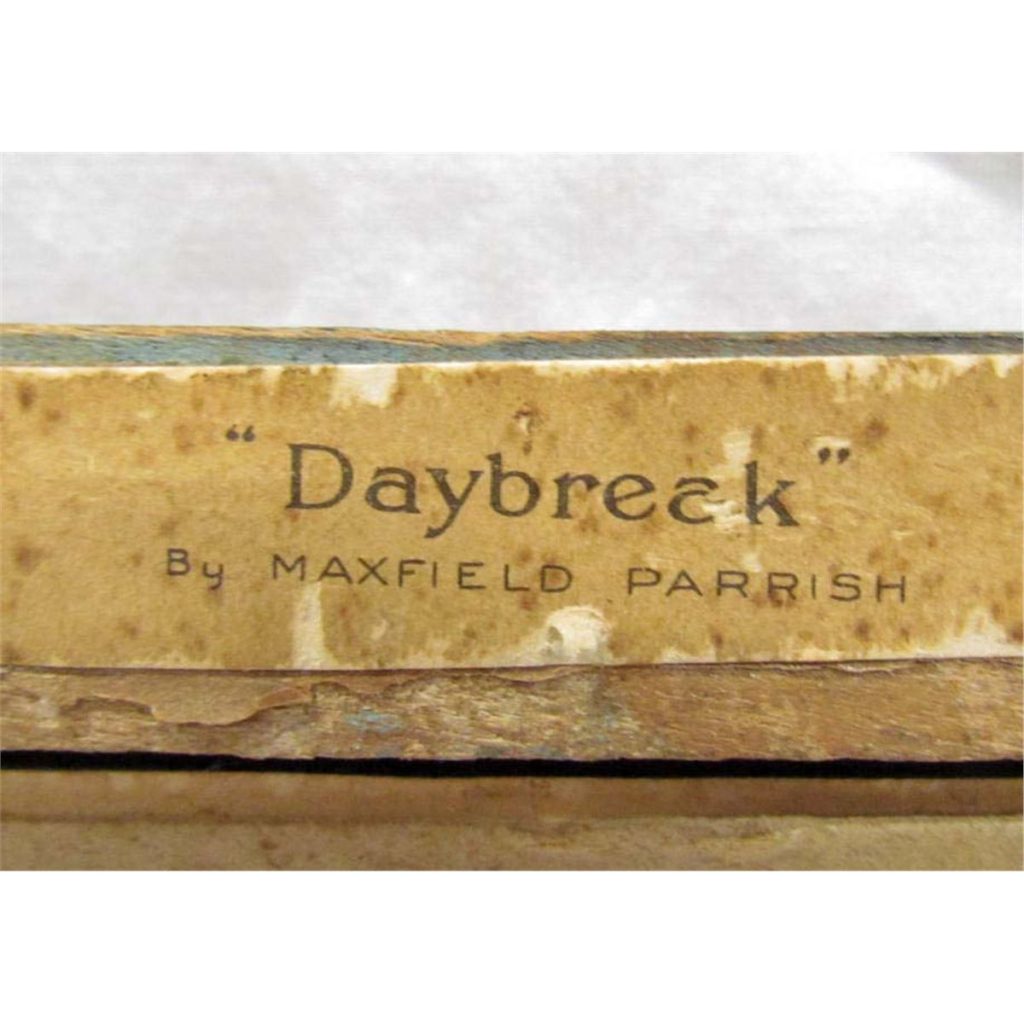 After the success of Daybreak however, Parrish turned away from illustration and concentrated on painting in the mid-1920s. He began working on large murals which often featured androgynous nudes in fantastical settings. His income however continued to be well supplemented by the royalties of posters and calendars that continued to sell that featured his works. Since 1910, Parrish was earning on average over $100,000 per year, at a time when the sale price of very nice homes was $2,000.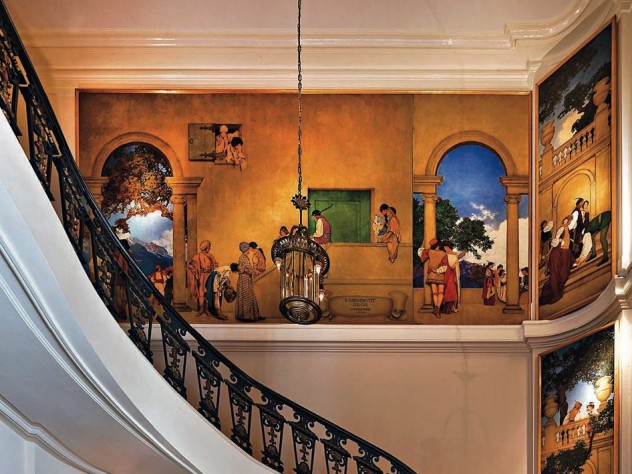 He also completed "Dream Garden," a Tiffany Glass mural, at the Curtis building in Philadelphia.[slideshow_deploy id='3753′]
In 1931, he declared to the Associated Press, "I'm done with girls on rocks", and opted instead to focus on landscapes. Though never as popular as his earlier works, he still managed to profit well from them. He would often build models of the landscapes he wished to paint, using various lighting setups before deciding on a preferred view, which he would photograph as a basis for the painting.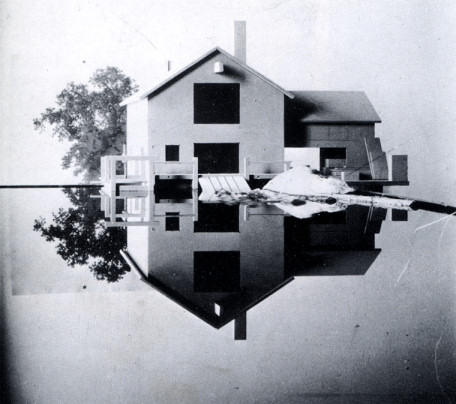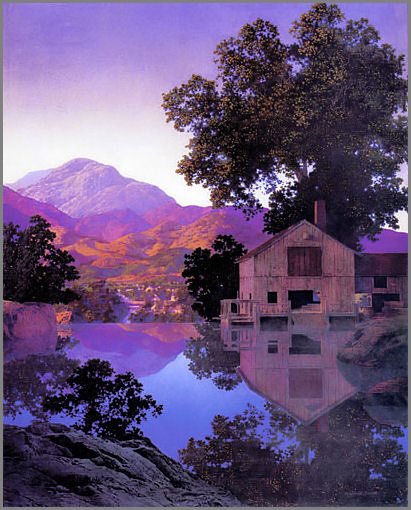 As for Parrish's personal life, the serene, inviting beauty he was able to transmit in his work was something he could never seem to offer any of the women in his life. This is most notable with his relationship with his wife, and his most loyal lover, Susan Lewin. Lewin had originally been hired at the age of 16 as a nanny for the Parrish family's young children, but by her early 20's she had become intensely involved romantically with the painter 17 years her senior.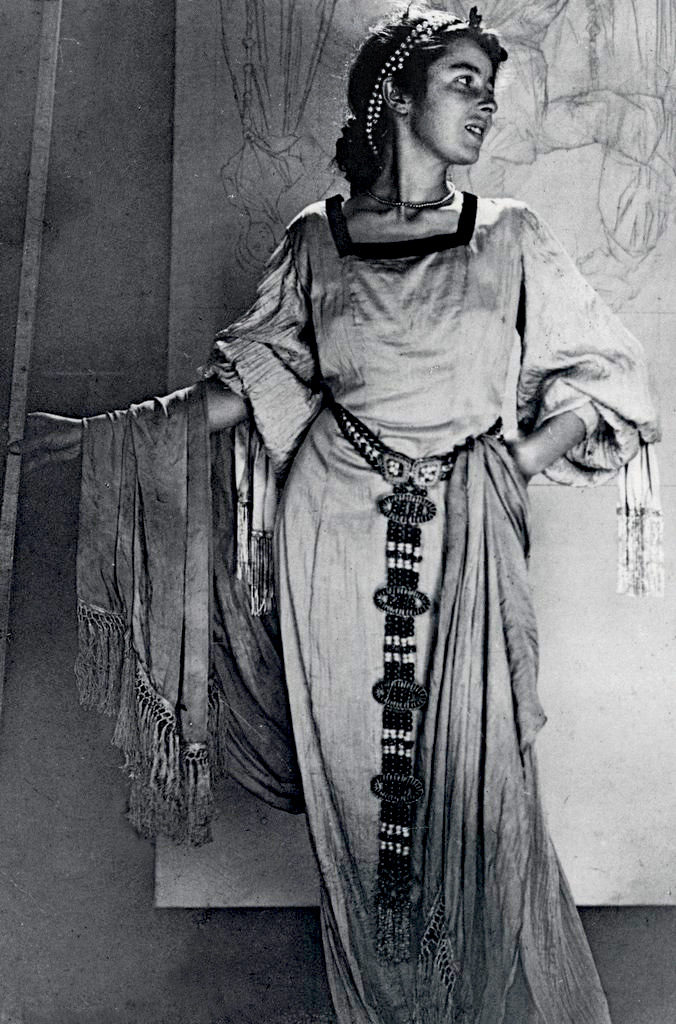 Seemingly equally enamored with Lewin, Parrish eventually moved out of the mansion where his wife and children stayed and set up residence in his art studio on the property, so that he and Lewin (who was now working as his assistant) could work closely together. Not long after his move to the studio, Parrish's wife began taking their children away on extended trips.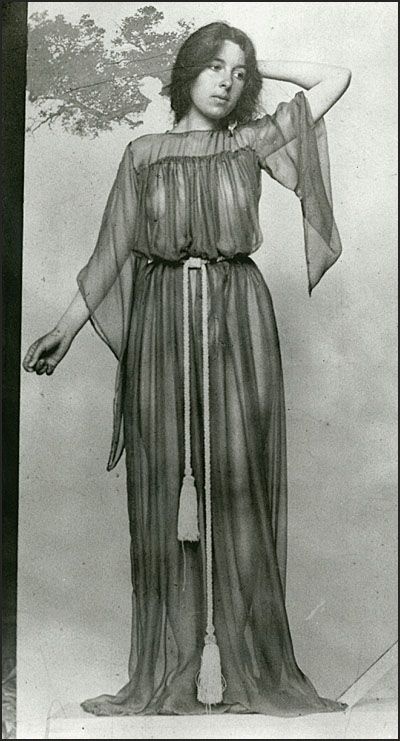 The villagers from the tiny farm town where Lewin was from, were scandalized by this living arrangement and even sent a delegation out to the estate to confront Parrish. But Parrish and Lewin both insisted that their relationship was purely Platonic. Much of what is now known about this relationship has been brought to light by the Parrish expert, author Alma Gilbert, in her well researched book "The Make-Believe World Of Maxfield Parrish and Sue Lewin."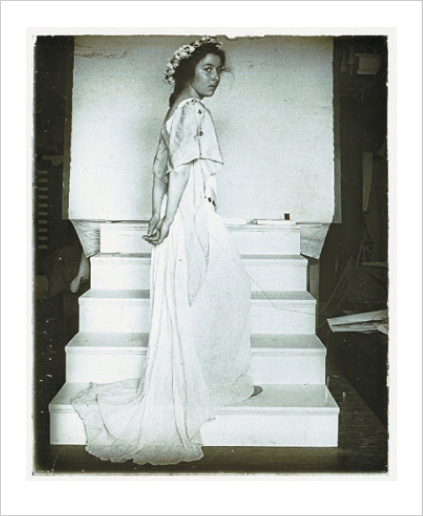 Propriety being of the utmost importance, to her dying day, Lewin was adamant, "I'll have you know that Mr. Parrish has never seen my bare knee." However, after Parrish and Lewin had passed away, construction workers at the estate found a secret compartment where Parrish had hidden the nude photographs he had taken of Lewin.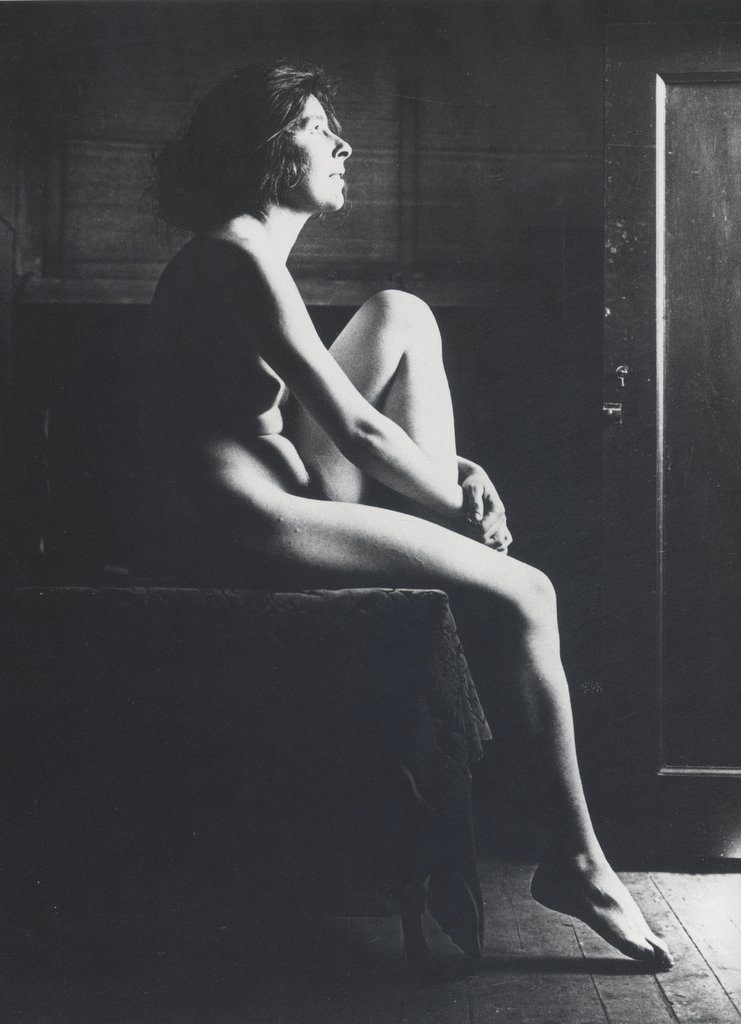 Lewin was not the only woman to have been the object of the painter's affections however. Rumors of random affairs have surfaced over the years, as well as 323 love letters recently discovered that he had written to Nancy Roelker, who was just 21 years old when she met the 66 year old Parrish in 1936. Parrish's letters to Roelker have survived, but Parrish destroyed Nancy's letters to him, fearing a scandal.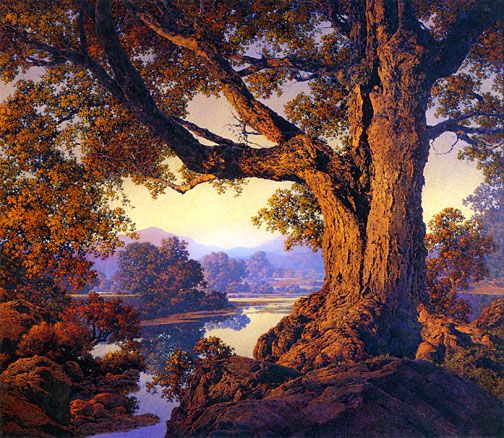 Susan Lewin was Parrish's constant companion for 55 years. Parrish's wife Lydia had died in 1953 leaving him free to marry Lewin. For seven years, Lewin waited, expecting him to propose and fulfill an understood promise of long ago. As no such romantic gesture was forthcoming, in 1965 at the age of 71, she proposed to him on his 90th birthday. However, he declined so she packed her bags, left the estate and went back to her village where she married her childhood sweetheart. The famed painter's final year was spent in that same estate, in Plainfield, New Hampshire, near the Cornish Art Colony, where he continued to paint until the day he died.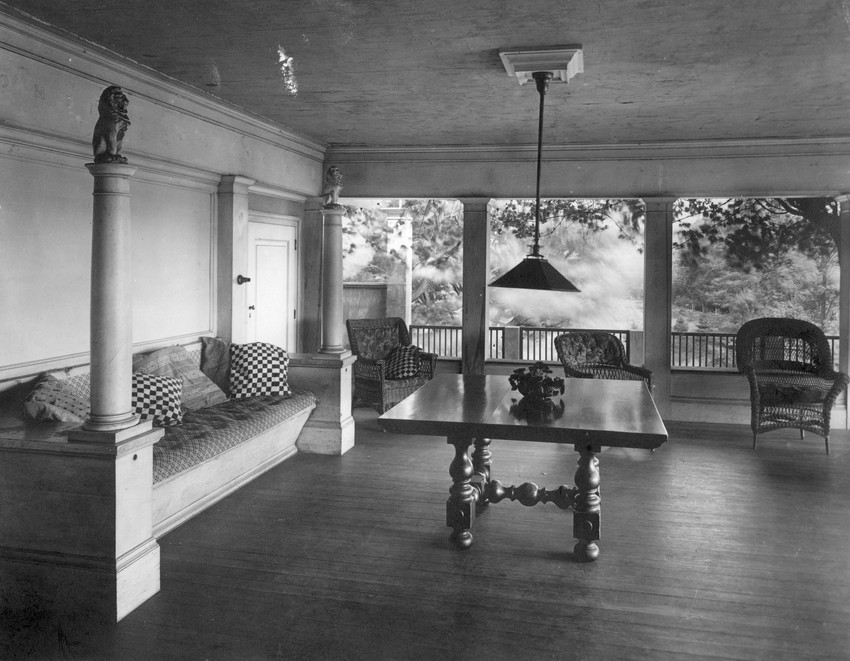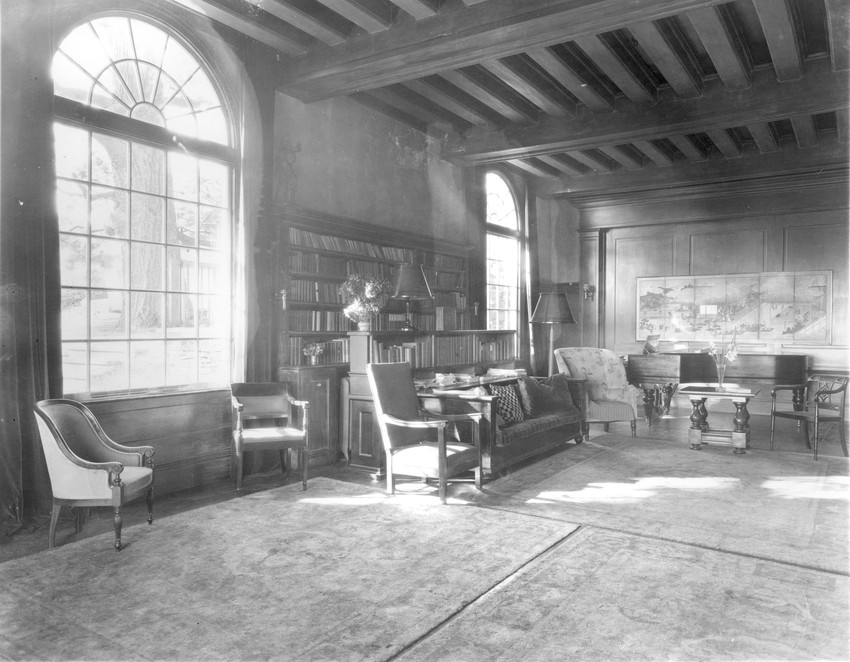 On March 20, 1966, Maxfield Parrish died alone, of unspecified causes, at his home. He was buried in a simple grave at the Plainfield Cemetery.
---
Edited from:
---
See also:
---
TML Arts aims for accuracy in content and functionality in posts.
Click the button below to let us know about typos, incorrect information, broken links, erroneous attribution,
or additional relative information.
---
---
---
---