Today's Artist Birthday: Matthew Barney (born March 25, 1967), multidisciplinary artist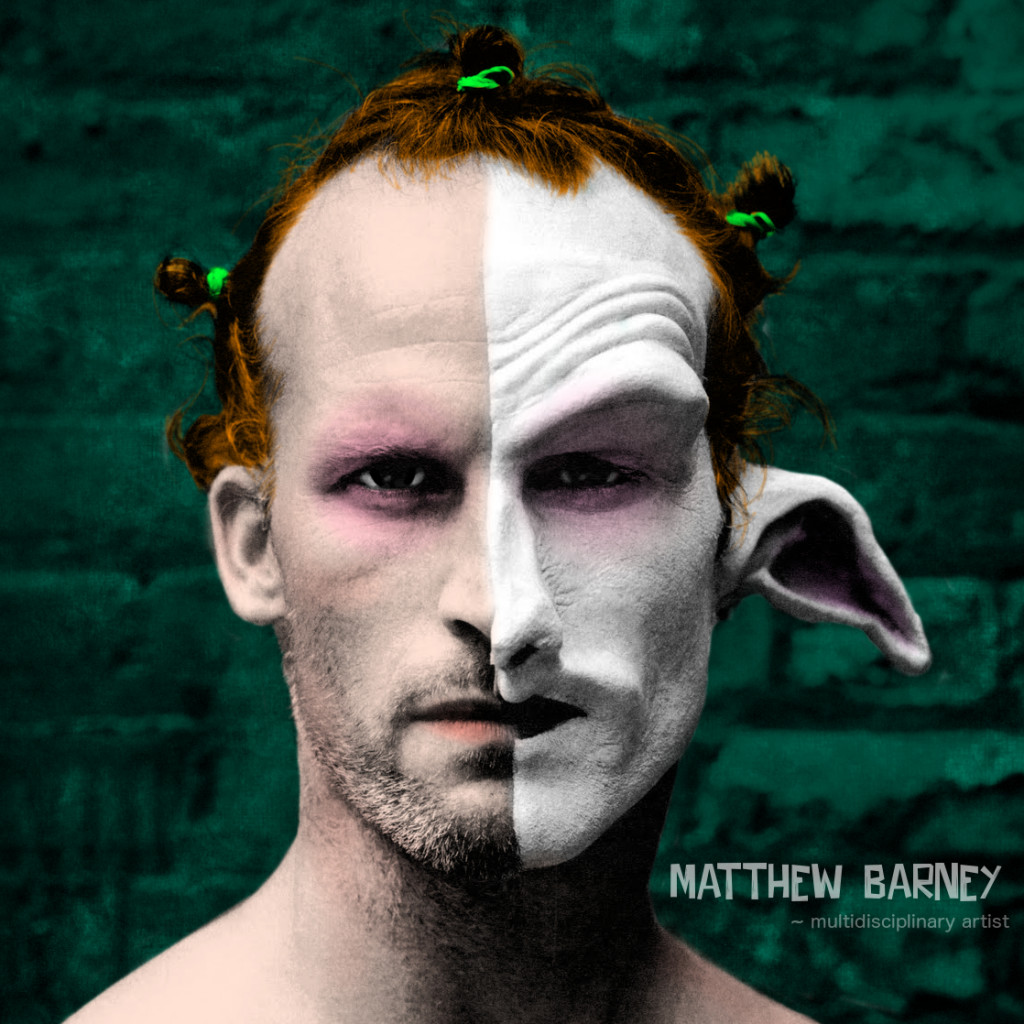 Matthew Barney is an American artist who works in sculpture, photography, drawing and film. His early works are sculptural installations combined with performance and video. Between 1994 and 2002 he created the The Cremaster Cycle, a series of five films described by Jonathan Jones in The Guardian as "one of the most imaginative and brilliant achievements in the history of avant-garde cinema." He is also known for his past relationship with Icelandic singer Björk.
Matthew Barney was born March 25, 1967,as the younger of two children in San Francisco, California, where he lived until he was 7. He lived in Boise, Idaho from 1973 to 1985, where his father got a job administering a catering service at Boise State University and where he attended elementary, middle, and high school. His parents divorced and his mother, an abstract painter, moved to New York City, where he would frequently visit. It was there where he was first introduced to the art scene.
Barney was recruited by Yale University in 1985 to play football and planned to go into pre-med, but he also intended to study art. In 1989, he graduated from Yale. His earliest works, created at Yale, were staged at the university's Payne Whitney Gymnasium. In the 1990s Barney moved to New York, where he worked as a catalog model, a career that helped him finance his early work as an artist.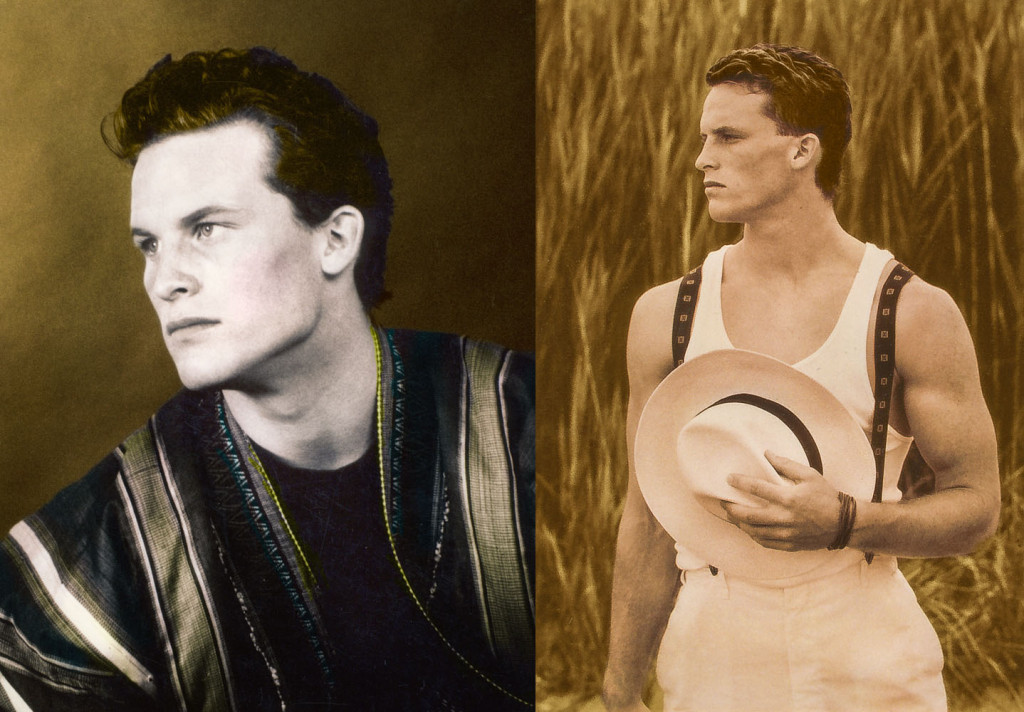 In 2002, Barney had a daughter with his then partner, the singer Björk, with whom he lived in a penthouse co-op in Brooklyn Heights. As of September 2013, Barney and Björk are no longer a couple; Björk chronicles the breakup in her 2015 album Vulnicura (on Amazon here). Barney still maintains a studio in Long Island City, Queens.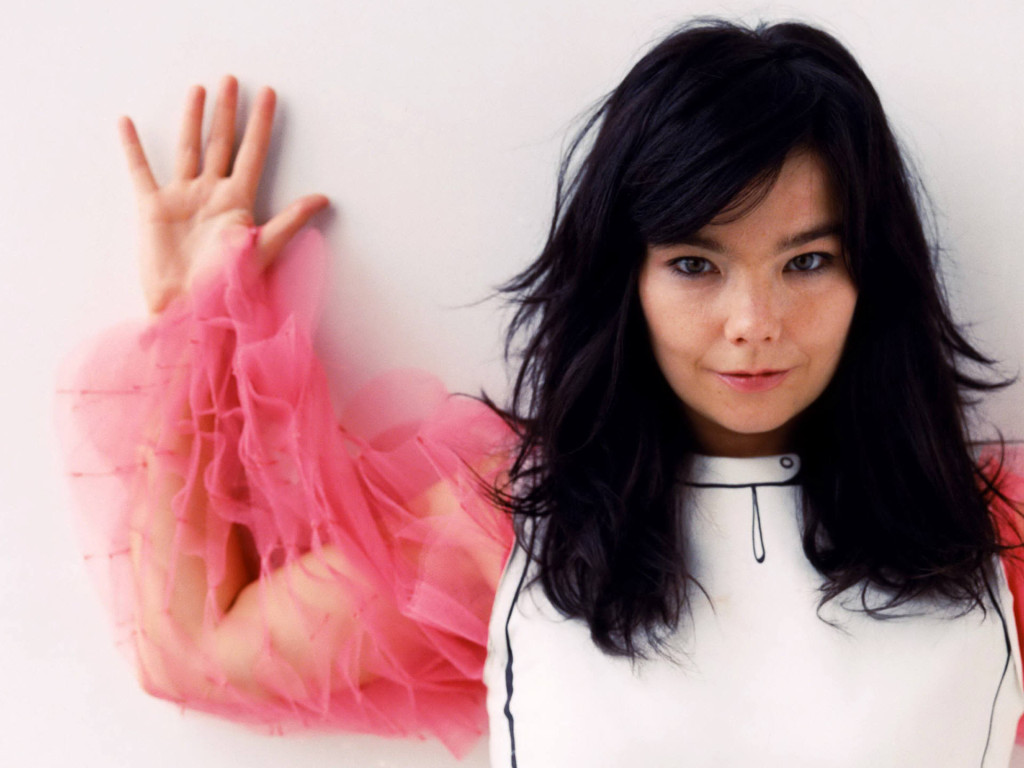 The ongoing Drawing Restraint series began in 1987 as a series of studio experiments, drawing upon an athletic model of development in which growth occurs only through restraint: the muscle encounters resistance, becomes engorged and is broken down, and in healing becomes stronger. In literally restraining the body while attempting to make a drawing, Drawing Restraint 1–6 (1987–89) were documentations made using video and photography. Drawing Restraint 7 marks the influx of narrative and characterization, resulting in a three channel video and a series of drawings and photographs, for which Barney was awarded the Aperto Prize in the 1993 Venice Biennale.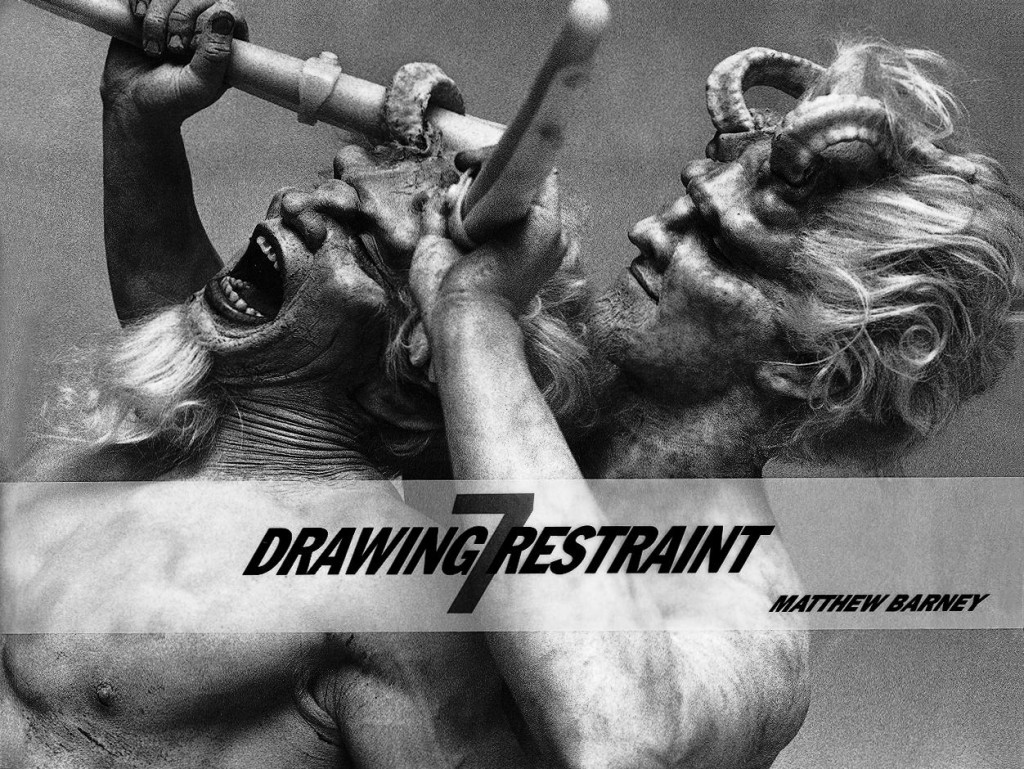 A series of ten vitrines containing drawings, Drawing Restraint 8 was included in the 2003 Venice Biennale and prefigured the narrative development for Drawing Restraint 9 (2005). A major project consisting of a feature-length film and soundtrack composed by Björk, large-scale sculptures, photographs and drawings, Drawing Restraint 9 was built upon themes such as the Shinto religion, the tea ceremony, the history of whaling, and the supplantation of blubber with refined petroleum for oil. A full-scale survey of Barney's work through Drawing Restraint 9 was held at the San Francisco Museum of Modern Art in 2006 and included over 150 objects of varying media. Drawing Restraint 10 – 16 (2005–07) are site-specific performances that recall the earlier Yale pieces.
Drawing Restraint 17 and 18 were performed at the Schaulager in Basel in 2010 in conjunction with the exhibition "Prayer Sheet with the Wound and the Nail," a survey of the Drawing Restraint series through Drawing Restraint 18.
Drawing Restraint 19 employs a skateboard as a drawing tool. A block of graphite is mounted beneath the skateboard deck on the front end of the board. A skater performs a nose manual (a wheelie on the nose of the board, leaning in the direction of movement) across a smooth surface, tipping the nose of the board forward and leaving behind a drawn graphite line. The piece was part of a benefit art show and auction titled "Good Wood Exhibit", raising awareness and funds for a Do-It-Yourself skate park project in Detroit, Michigan. The board was purchased by People Skate and Snowboard and it is displayed at their only location in Keego Harbor, Michigan.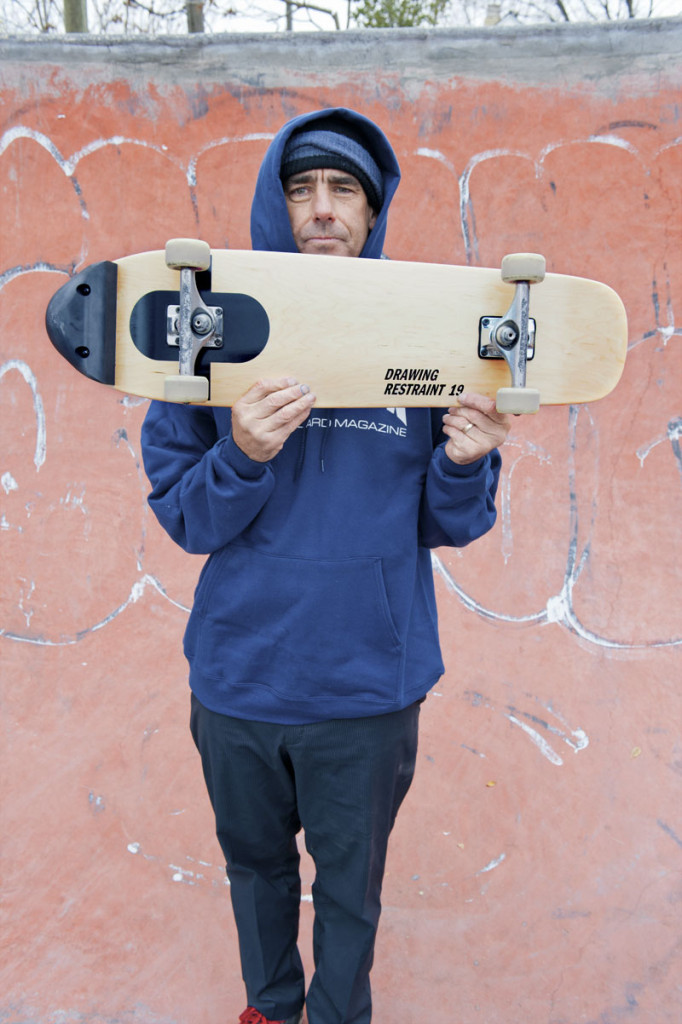 Barney's epic The Cremaster Cycle (1994–2002) is a project consisting of five feature-length films that explore processes of creation. His concentration in sculpture is accentuated by his use of video. Barney uses video to perfect his sculpture by evaluating positioning, lighting, size and shape, using video as a means to his end product of sculpture. Barney's long-time collaborator Jonathan Bepler composed and arranged the films' soundtracks. The cycle unfolds not just cinematically, but also through the photographs, drawings, sculptures, and installations the artist produces in conjunction with each episode. Its conceptual departure point is the male cremaster muscle, which controls testicular contractions in response to external stimuli.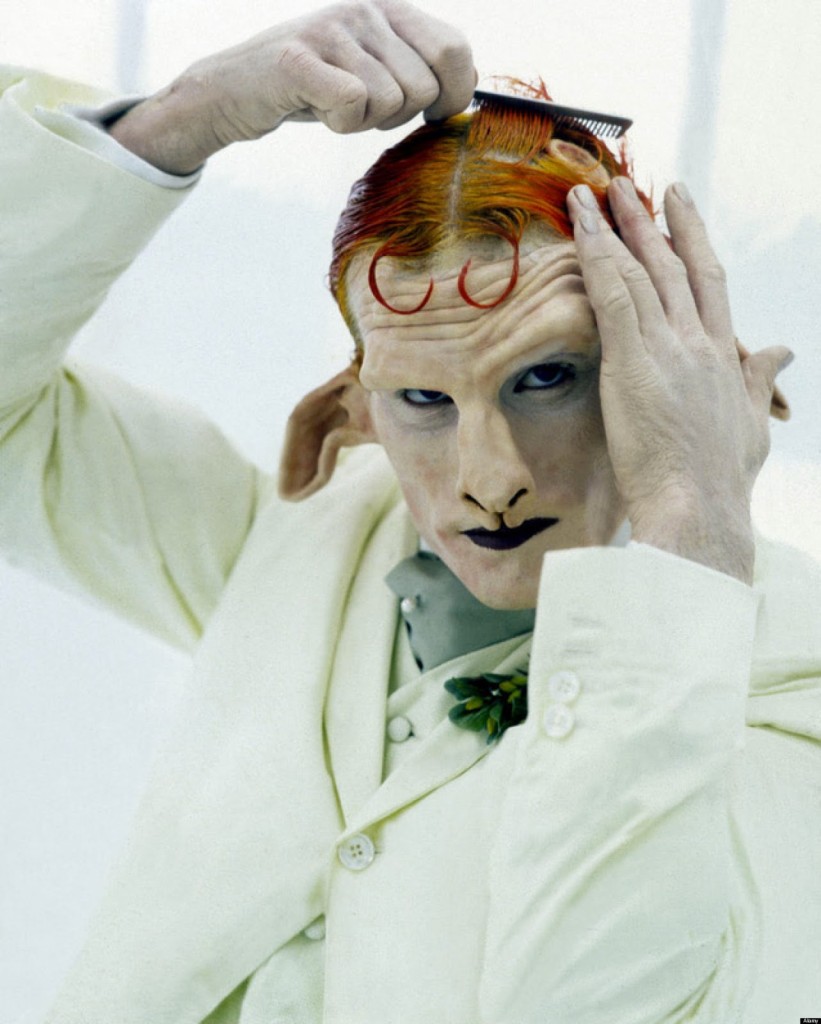 The project is rife with anatomical allusions to the position of the reproductive organs during the embryonic process of sexual differentiation: Cremaster 1 represents the most "ascended" or undifferentiated state, Cremaster 5 the most "descended" or differentiated. The cycle repeatedly returns to those moments during early sexual development in which the outcome of the process is still unknown. In Barney's metaphoric universe, these moments represent a condition of pure potentiality. As the cycle evolved over eight years, Barney looked beyond biology as a way to explore the creation of form, employing narrative models from other realms, such as biography, mythology, and geology. The photographs, drawings, and sculptures radiate outward from the narrative core of each film installment. Barney's photographs—framed in plastic and often arranged in diptychs and triptychs that distill moments from the plot—often emulate classical portraiture. His graphite and petroleum jelly drawings represent key aspects of the project's conceptual framework. The Walker Art Center is the only American institution to own the entire Cremaster Cycle.
Barney's most recent work, River Of Fundament, takes the form of a seven-act opera and is loosely based on Norman Mailer's novel Ancient Evenings. In collaboration with composer Jonathan Bepler, Barney combines traditional modes of narrative cinema with filmed elements of performance, sculpture, and opera, reconstructing Mailer's hypersexual story of Egyptian gods and the seven stages of reincarnation, alongside the rise and fall of the American car industry. Barney replaced the human body with the body of the 1967 Chrysler Imperial that was the central motif from his earlier film Cremaster 3. The film's central scene is an abstraction of Mailer's wake, set in a replica of the late author's apartment in Brooklyn Heights and featuring Maggie Gyllenhaal, Paul Giamatti, Elaine Stritch, Ellen Burstyn, Peter Donald Badalamenti II, Joan La Barbara, and jazz percussionist Milford Graves.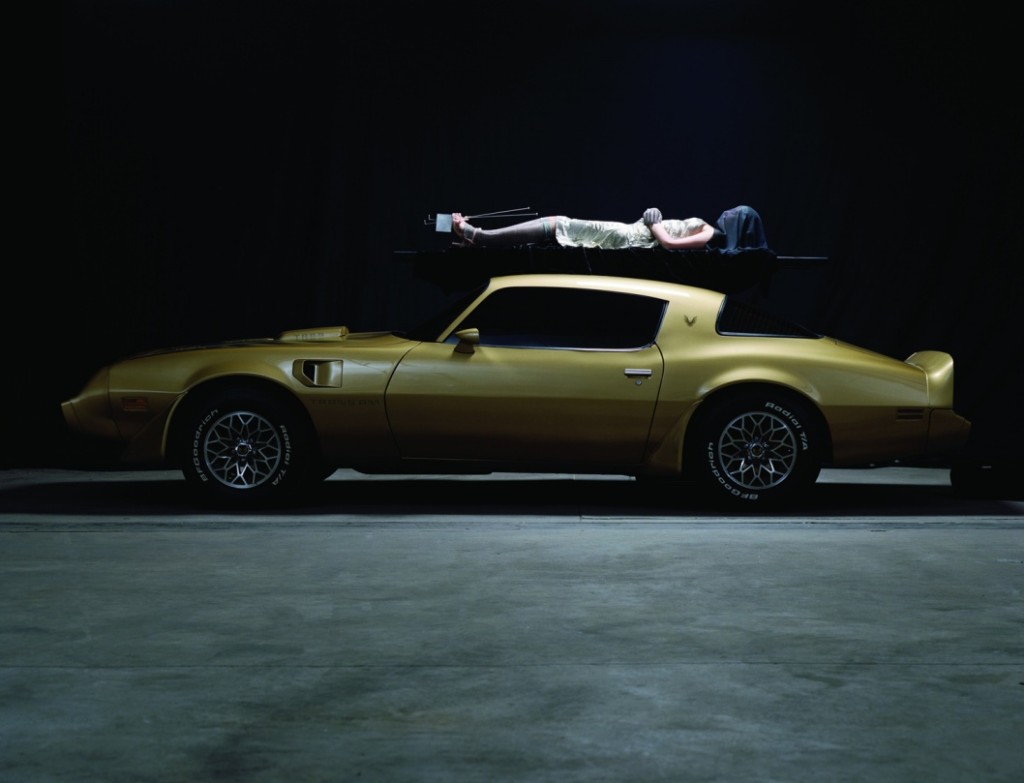 Barney has explored live performance before an audience. The pieces REN and Guardian of the Veil revisit the language of the Cremaster Cycle, via a ritualistic exploration of Egyptian symbolism inspired by Norman Mailer's novel Ancient Evenings. Guardian of the Veil took place on July 12, 2007 at the Manchester International Festival in England. REN took place on May 18, 2008 in Los Angeles. His most recent performance, KHU, the second part in his seven-part performance series in collaboration with Jonathan Bepler inspired by Ancient Evenings took place on October 2, 2010 in Detroit.
In June 2009, a collaboration between Barney and Elizabeth Peyton, entitled Blood of Two, was performed for the opening of the Deste Foundation's exhibition space, the Slaughterhouse, located on the Greek island Hydra. The two-hour performance involved divers retrieving from a nearby cove a vitrine containing drawings which had been submerged for months. A funeral-like procession of fishermen carried the case up a winding set of stairs. At one point, a dead shark was laid on the case, and the fishermen proceeded to the gallery space, carrying the case and shark, accompanied by the onlookers and a herd of goats. At the Slaughterhouse, the case was opened, water poured out, and the drawings revealed. The shark was eventually cooked and fed to the guests.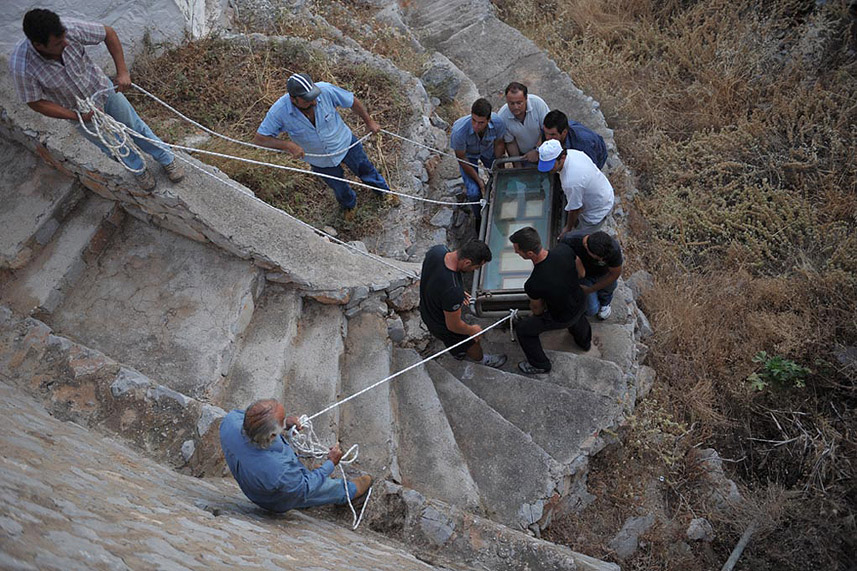 ---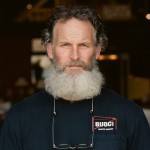 "Is Barney's work a new beginning for a new century?", asks Richard Lacayo, writing in Time. "It feels more like a very energetic longing for a beginning, in which all kinds of imagery have been put to the service of one man's intricate fantasy of return to the womb. Something lovely and exasperating is forever in formation there. Will he ever give birth?"
---
(Edited from: https://en.wikipedia.org/wiki/Matthew_Barney)