Mary Fuller: actress, writer
Mary Fuller (October 5, 1888 – December 9, 1973) was an American stage and silent film actress, and screenwriter.
Mary Claire Fuller was one of four daughters born in Washington, D.C., to Nora (nee Swing) and attorney, entrepreneur, and real estate developer Miles Fuller. Mary spent her childhood in a forward-thinking upper-middle class environment. Precocious, intelligent and very independent as a child, she was explored the arts, especially music, writing, and painting. Her parents were very successful in real estate, buying and selling land in the area around Washington, DC, eventually building their own fine home on Dorset Avenue in Bethesda, MD.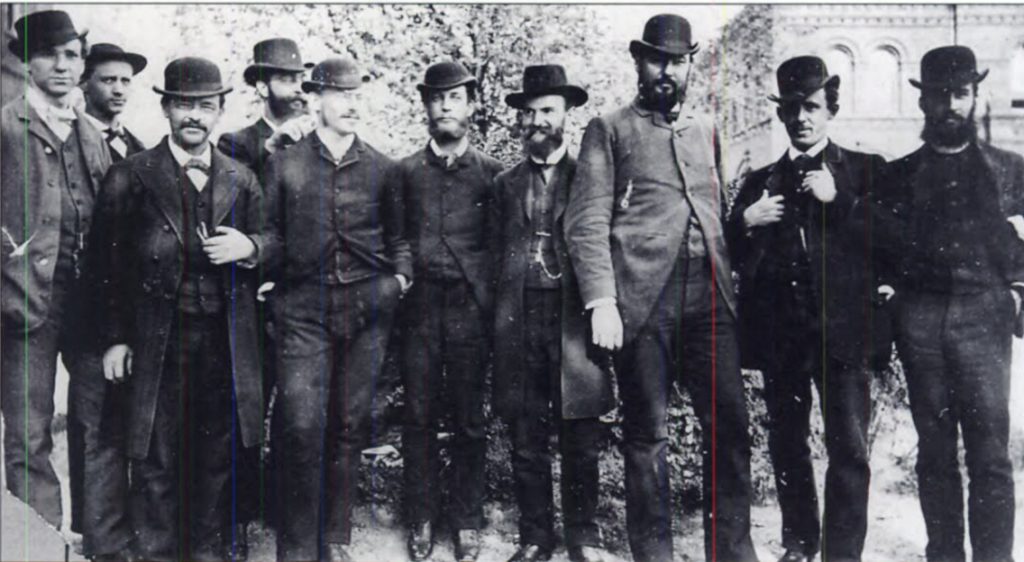 In 1899 however, the home was the scene of a tragic accident when one of the Fuller's servants, Fanny Jackson, accidentally tipped over a kerosene lamp, setting herself on fire. Though Nora grabbed a blanket and did her best to put the fire out, Fanny panicked and ran out into the yard where she fell and died of her injuries. This event would remain in Mary's mind for the rest of her life, instilling in her the fragility and brevity of life.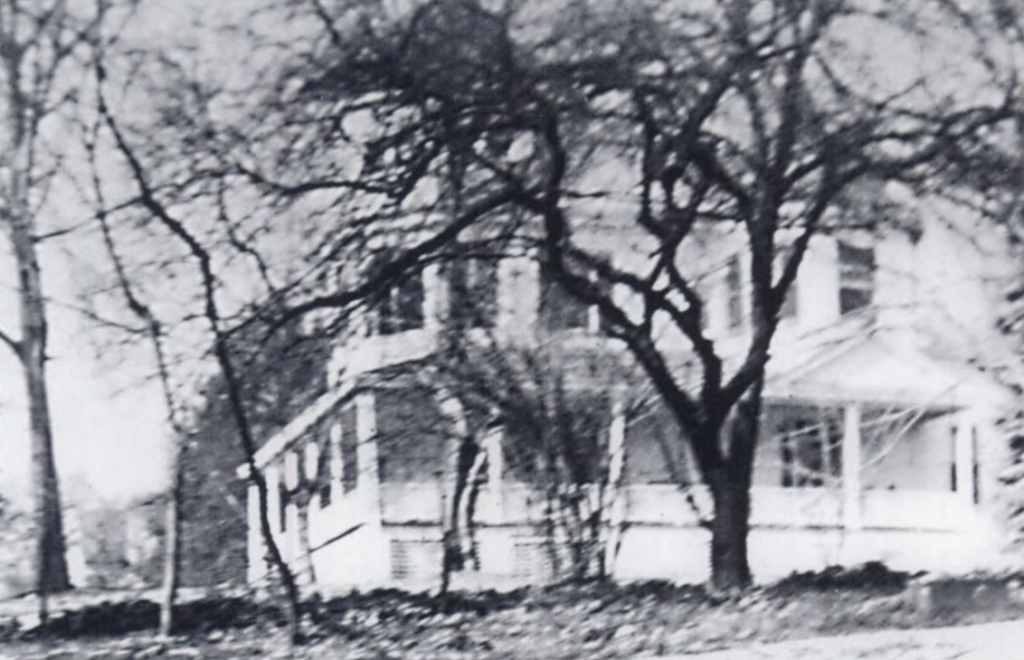 Her father was an early supporter of women's rights and independence, even opening a secretary school for women called "The Drillery," so as to provide the training necessary to enter the work force, a relatively new concept at the time. Sadly, in 1902, when Mary was 14, her beloved father, who had so encouraged his daughter's strength and creativity, suddenly died at the age of 44, leaving Nora to raise the girls alone. The death of her father impacted Mary deeply, and though he was gone, she vowed to herself to live the kind of life that would make him proud.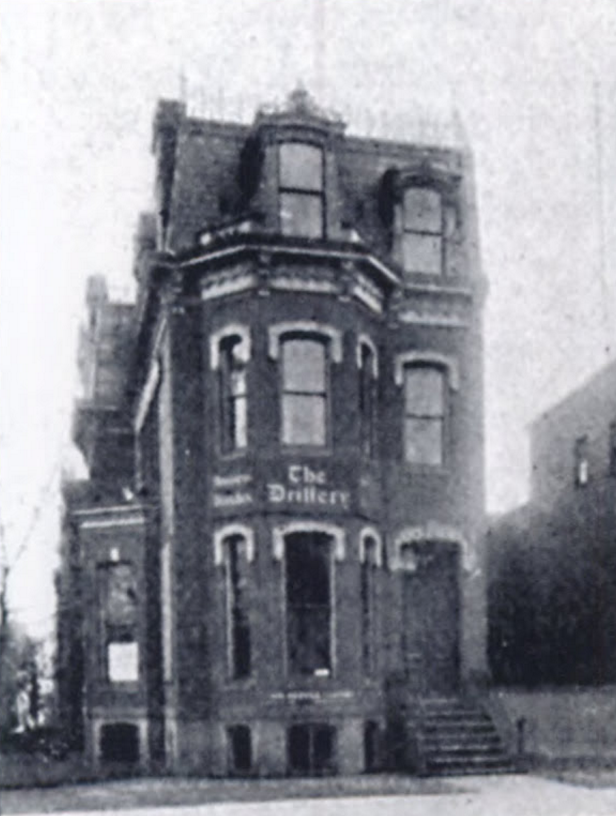 Nora recognized the immense talent in her daughter, and supported Mary's decision to take up acting as a profession. When she was 18 years old, Mary worked in a number of theatre troupes on the east coast, eventually landing a permanent spot with the traveling theatre group, the Lyceum Stock Company, based out of Toledo, Ohio. Mary's life would change forever in 1907, when she was in New York City with the Lyceum group and the troupe ran out of funds to continue travel, leaving the members stranded.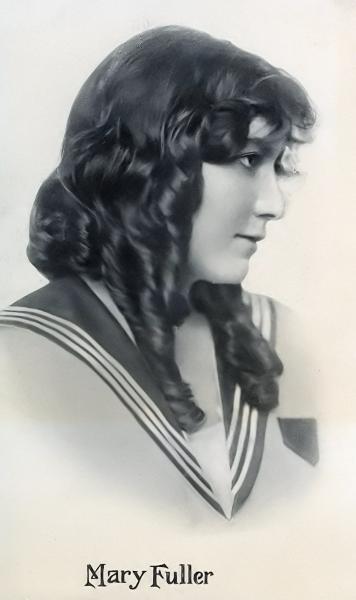 Pretty, petite, and with big beautiful eyes, Mary began networking quickly, and was told of a film studio that was looking for an actress to cast. She hurried across town to Vitagraph Studios in Brooklyn, auditioned, and was hired on the spot. Her first film was The Ugly Duckling (1907), a short film that serve as the first step on her journey to superstardom.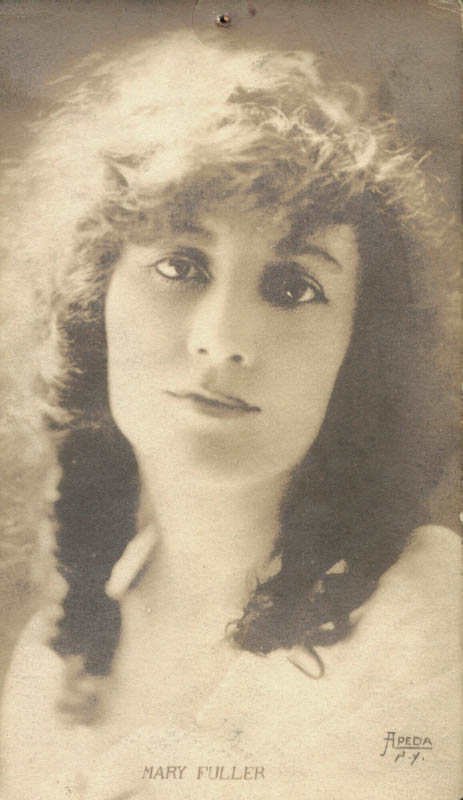 She worked for Vitagraph until 1910 when she signed an exclusive contract with Edison Studios. That same year, she appeared in the first horror film in history, Frankenstein, based on the Mary Shelley novel. The film became a sensation, not only for the sublime acting skills of the lovely protagonist, but also for its cutting edge special effects.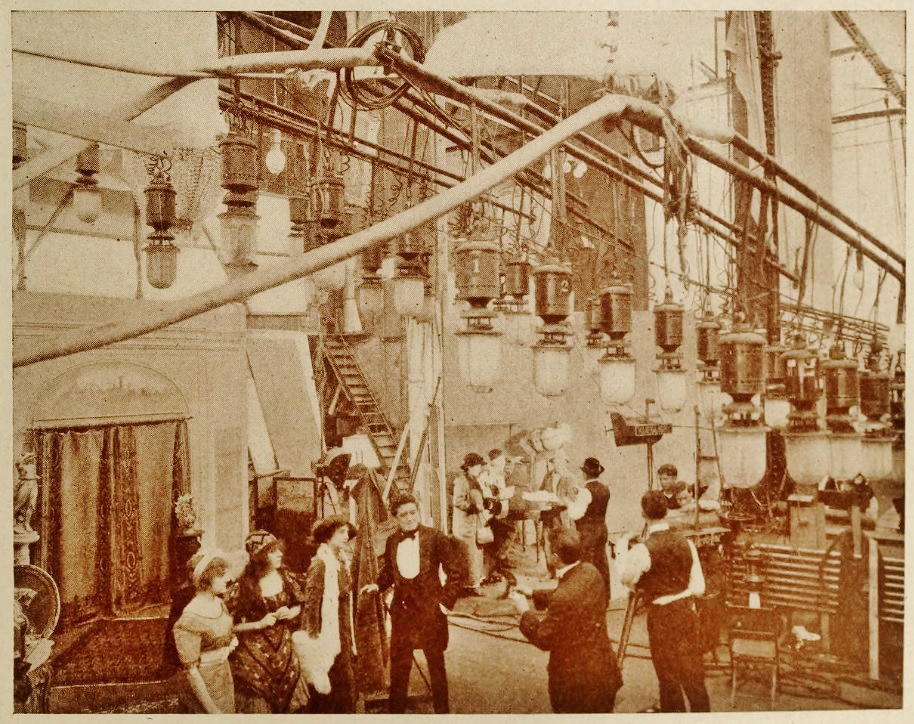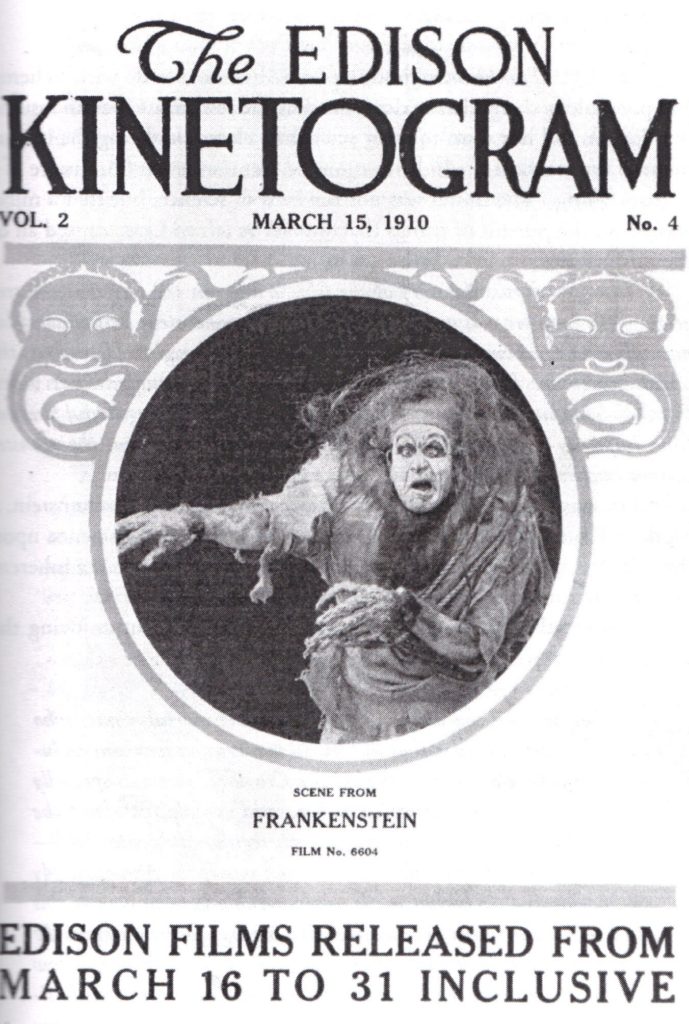 The creation of Frankenstein's monster was achieved by building a wood and papier-mâché model of the monster, complete with wires to move the head and arms. The model was then set on fire and filmed. In the movie, the sequence was shown in reverse, a technique not seen before, and one that succeeded in terrifying the audience. Numerous reports of frightened film-goers running from the theatre served as great PR, and the film was a smash hit.
In 1912, Edison Studios developed another revolutionary, new idea, that of the movie serial. Starring Mary Fuller, What Happened To Mary became an enormous success for the studio, as well as for the beautiful young actress. A monthly melodrama, each month for one year, audiences were treated to the adventures, and misadventures, of a girl named "Mary," and the dramatic events that happened to her. The chapters were entitled: #1: The Escape from Bondage; #2: Alone in New York; #3: Mary in Stage Land; #4: The Affair at Raynor's; #5: A Letter to the Princess; #6: A Clue to Her Parentage; #7: False to Their Trust; #8: A Will and a Way; #9: A Way to the Underworld; #10: The High Tide of Misfortune; #11: A Race to New York; #12: Fortune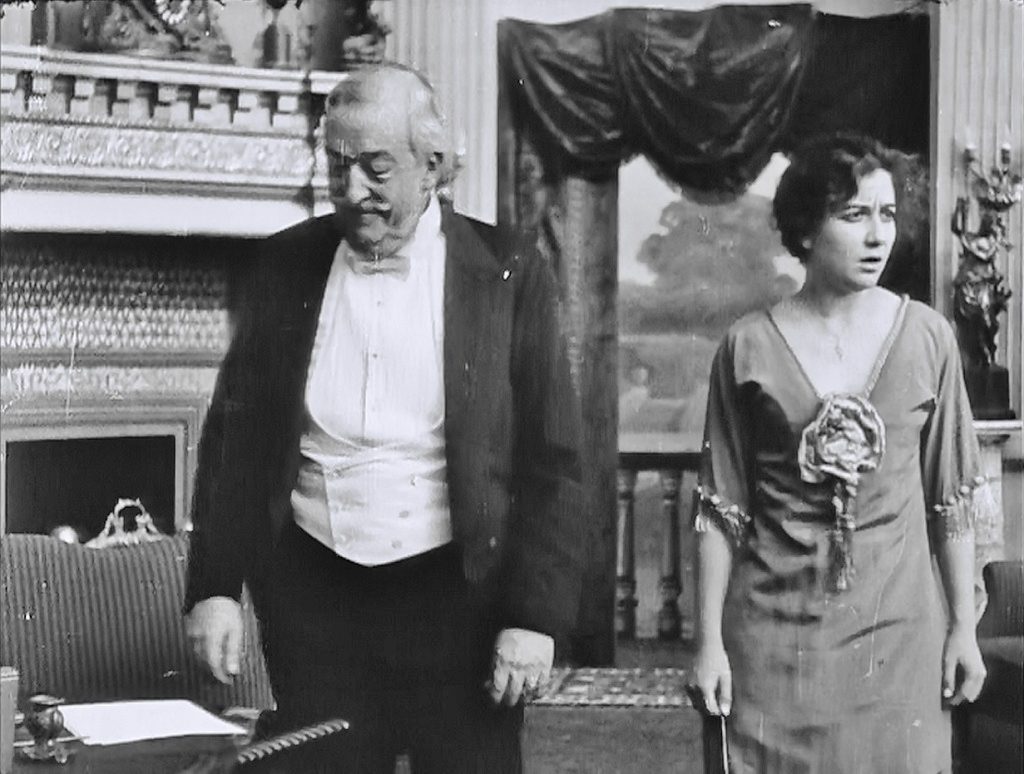 By 1914, Mary was the most famous movie star in the world. As silent films could be shown in any country simply by changing the language in the title cards of text, Mary Fuller became a global icon of style, grace, and glamour.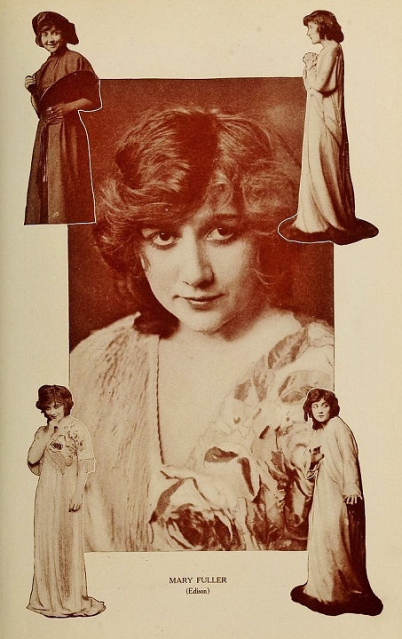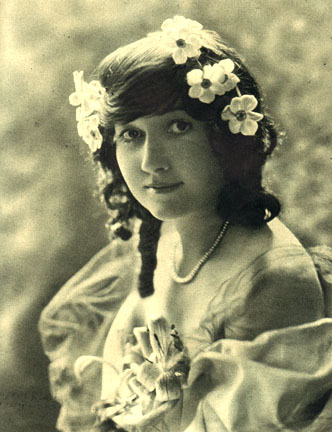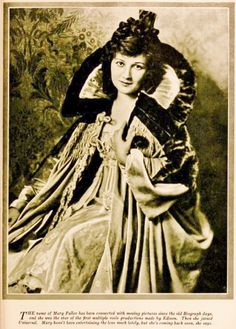 Never one to turn away from a challenge, Mary played a wide variety of roles, such as the pretty young witch in The Witch Girl, and Egyptian deity in A Daughter of the Nile, an intrepid reporter in The Active Life of Dolly of the Dailies (all in 1914), and the tragic Southern belle in Under Southern Skies (1915), her first feature-length production.
Mary was also a gifted writer, penning numerous magazine articles as well as dozens of screenplays, eight of which were made into films between 1913 and 1915: A Woodland Paradise (1913), The Prophecy (1913), When Greek Meets Greek (1913), When the Right Man Comes Along (1913), The Virtuoso (1914), The Viking Queen (1914), A Princess of the Desert (1914), The Golden Spider (1915). She was also the director of several of her films, a step that the later Mary Pickford would emulate.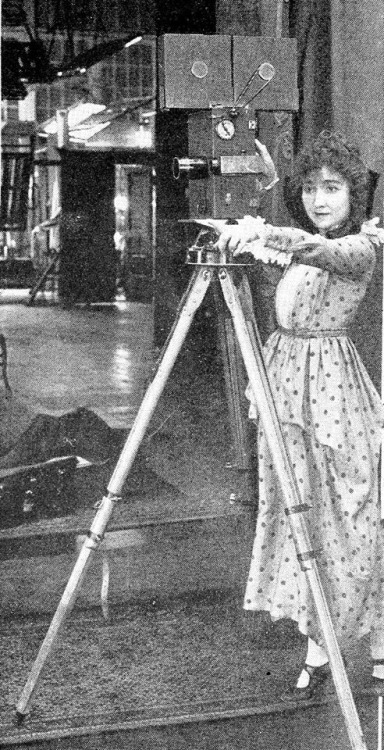 By 1917 however, Mary's career began to run into difficulty. Though still at the height of her fame, what audiences began to crave, was not what she was providing. With rising stars such as the seductive vamp Theda Bara, and the madcap comedy of Charlie Chaplin, Mary's overall "good-girl-next-door" reputation left movie-goers less thrilled. Her last few films were financial losses for her then contracted studio, Universal Pictures, and when her contract came up for renewal, it was allowed to expire.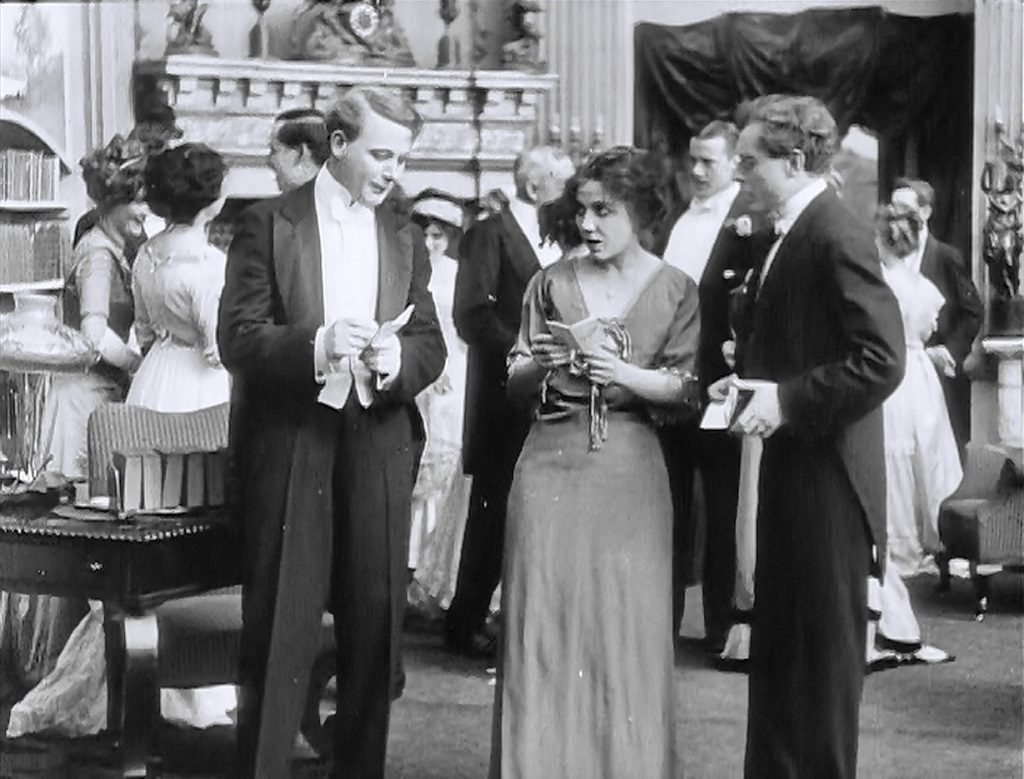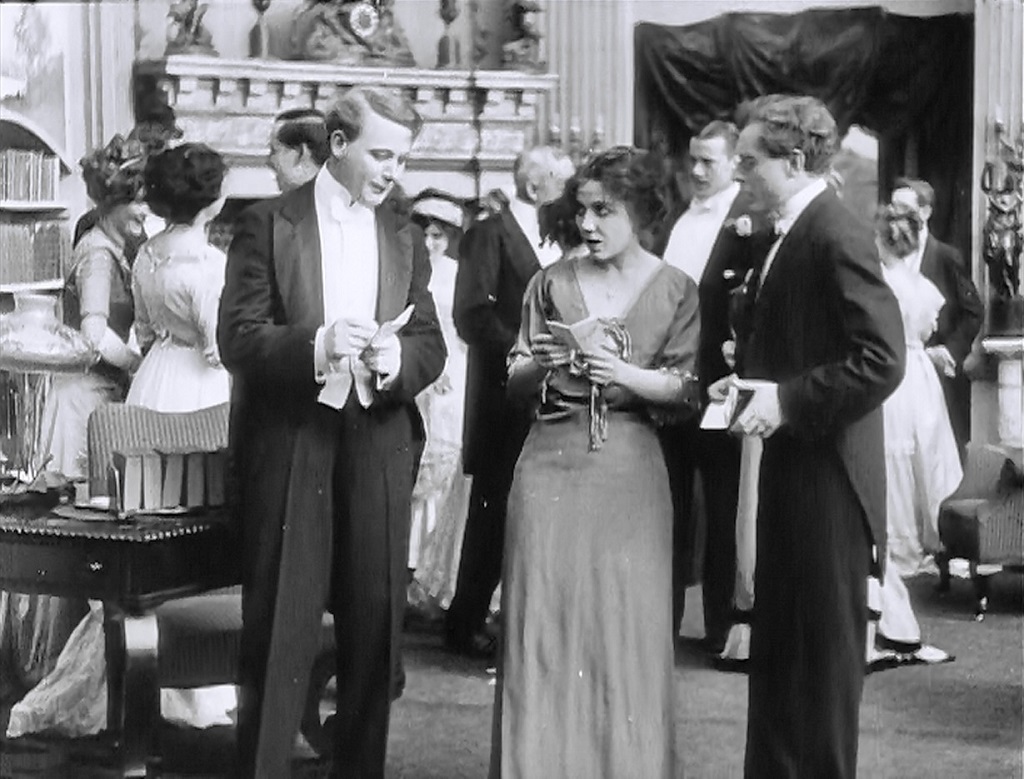 Though offered parts in various films at this time, Mary Fuller would adhere to her own personal standards and not bow to public or studio pressure, stating that the roles of women in film by the early 1920's had become "vulgar." Nudity, semi-nudity, and women increasingly being portrayed as helpless or dumb, Mary turned her back on Hollywood and decided to return to the theatre as a stage actress on Broadway.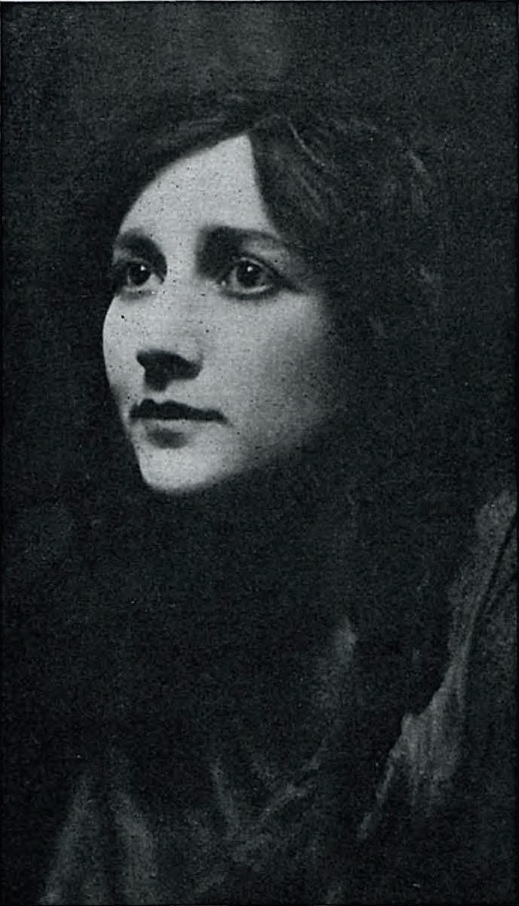 Unfortunately, the film-vs.-stage rivalry was already strong in those days, and the producers in New York considered her name too closely associated to films, and she was unable to find work. She returned to Washington, DC, and lived with her mother, where she led a rather reclusive life, painting and writing. But as far as the world was concerned, Mary Fuller had disappeared.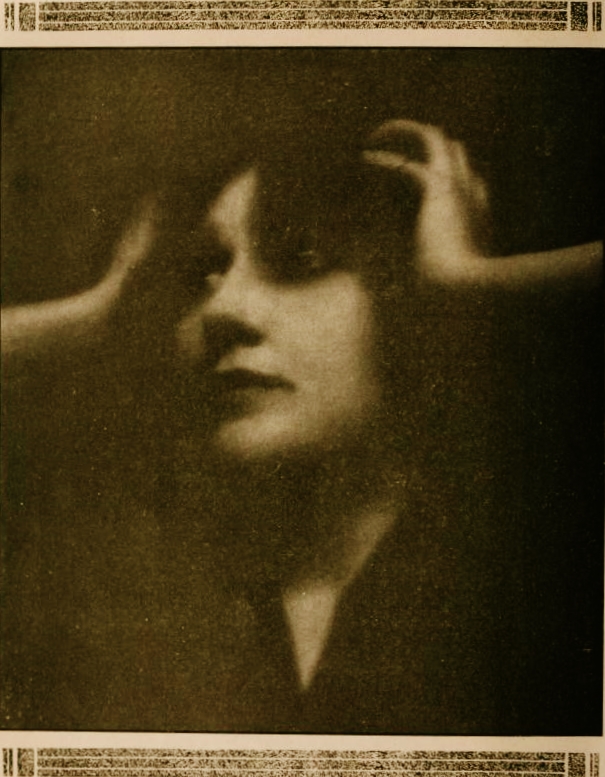 It is often reported that Mary had suffered a nervous breakdown after her career fell apart (or, as commonly reported but even less believably, after a failed love affair with a married man), and this was her motivation to live with her mother as a recluse. It has also been said that she had done well in the stock markets and had simply decided to retire, take care of her mother, and lead a peaceful life, away from the increasingly demanding public eye. There was no doubt however that she was a fragile personality, and Mary had reportedly always been plagued with a deep sense of loneliness, even when traveling internationally as the world's first movie star. One could argue that it was this loneliness that guided her to be with her family and the comfort of home.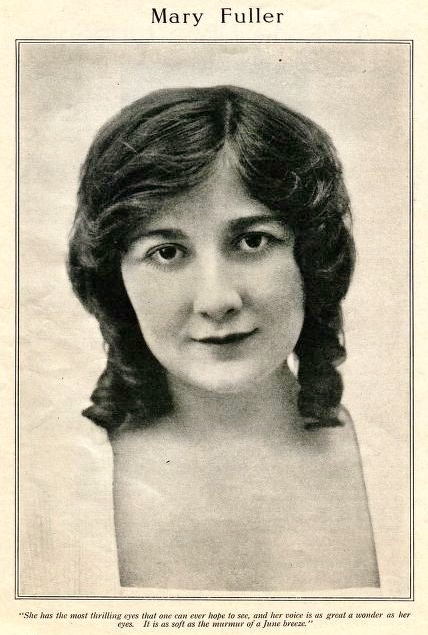 In 1926, at the encouragement of her mother and sisters, Mary tried unsuccessfully to restart her career in films. The business had changed too greatly and the name "Mary Fuller," in the mind of the public, was synonymous with silent films, by then considered an outdated art form. Discouraged, Mary returned to her mother's home and her descent into isolation truly began.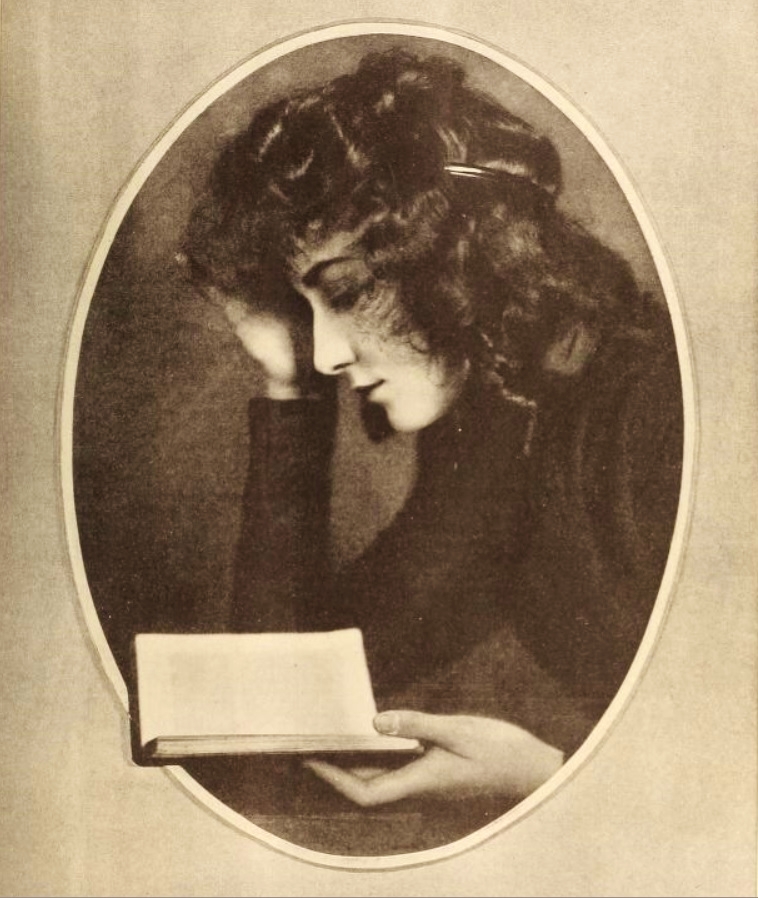 When her mother passed away in 1940, Mary moved in with one of her sisters. The death of her mother was incredibly hard on Mary's heart and mind, a blow from which she would never truly recover, allegedly bringing on a complete nervous breakdown. Mary lived with her sister until July of 1947, when her sister became very ill. The few remaining members of the Fuller family decided, to provide Mary with the adequate care she needed, it was necessary to admit her to the psychiatric care facility at St. Elizabeth's Hospital, in Washington, DC. Mary would spend the remaining 26 years of her life at St. Elizabeth's.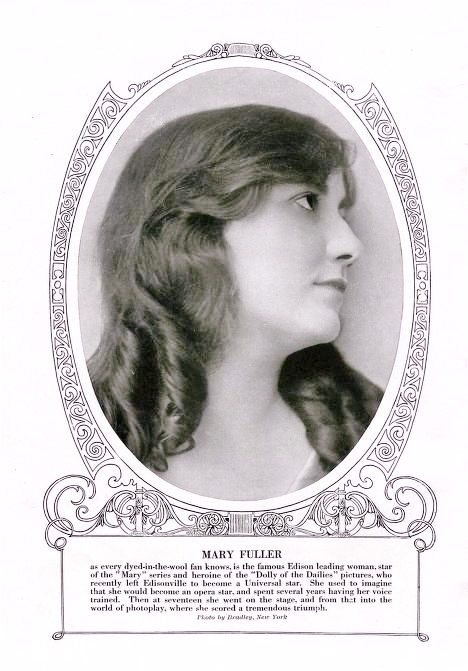 Mary Fuller died on December 9, 1973 of natural causes at the age of 85. When she passed away, the hospital was unable to locate any relatives, or anyone that would make arrangements for a funeral. She was buried alongside four indigent people in an anonymous grave owned by the city, a few days after her death, in Washington, DC's Historic Congressional Cemetery.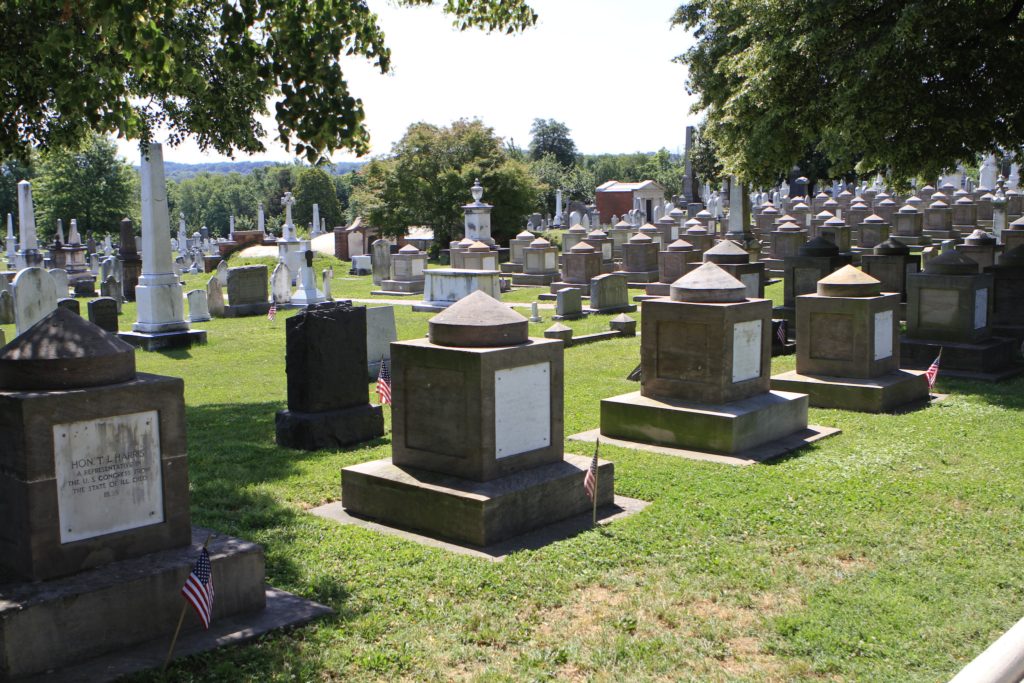 ---
Afterword
After living in Italy for 8 years, I moved to Washington, DC in 2009. My first job was a short stint as a waitress at one of DC's iconic diners, followed by a few months as a cheese and wine monger in a delightful specialty shop near Lincoln Park on Capitol Hill. After that, I was unbelievably fortunate enough to find myself working as the Office Manager at Congressional Cemetery. It was one of the most fascinating jobs I have ever held, and it was Mary Fuller that brought it to me.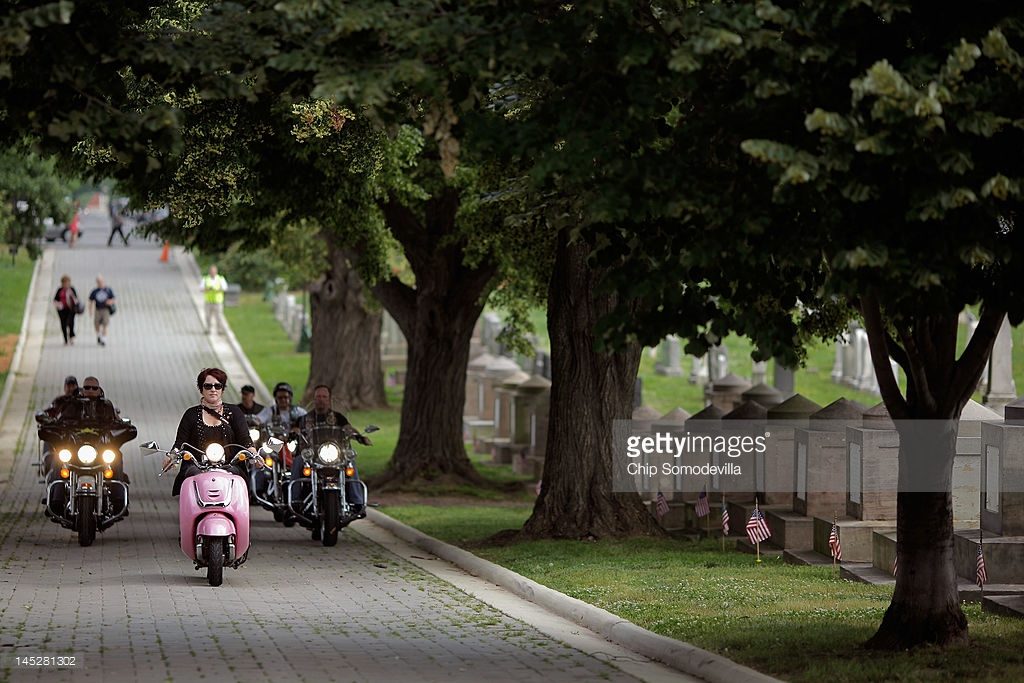 The apartment I had just moved into was across the street from the cemetery, and being a devout taphophile, I began to research the burial ground. Reading about the famous people buried at Congressional on Wikipedia, I ran across the entry "Mary Fuller: silent movie actress – unmarked grave," and I was intrigued. Who was this Mary Fuller? A movie star? And why on earth was she in an unmarked grave? And so, off I went to the cemetery office to find out more.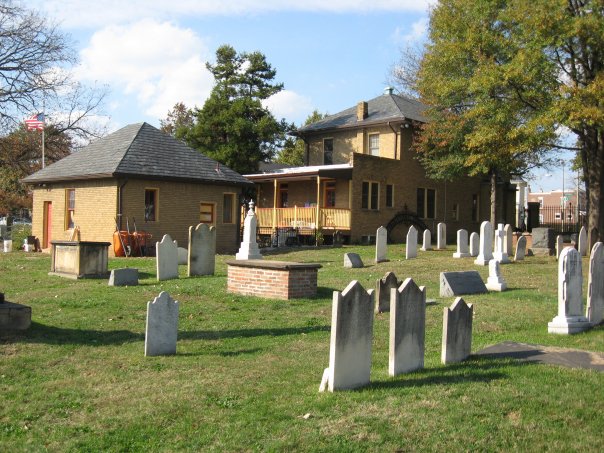 My research on Mary led to the cemetery hiring me as their first full-time Office Manager. My time there was absolutely unforgettable, and something for which I will always be grateful. I met people through that job that I will be friends with for the rest of my life, and was privileged to be a part so many incredible events, both small and large scale. Throughout, my interest in Mary never left, and I would often wander out to the, quiet, back of the cemetery to visit her grave, just to "chat" with her.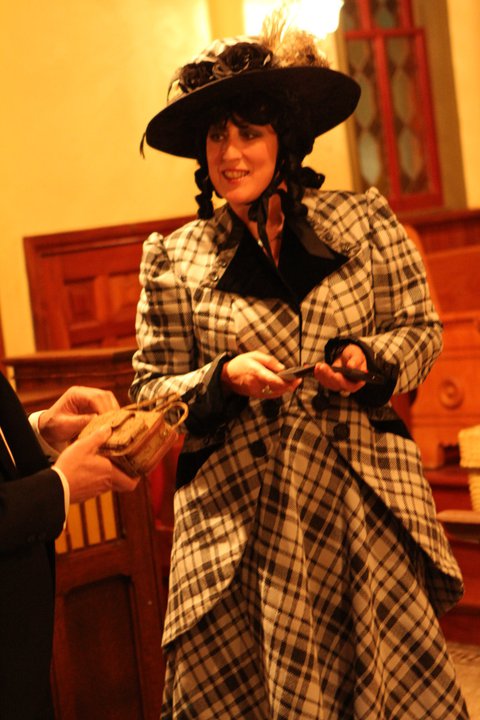 When my time at the cemetery came to a close in 2012, I was ready for my next adventure, but something felt "not finished" with regard to my friend Mary. So, I contacted a monument company in the area that I had dealt with, and discussed the purchase of a marker for Mary's grave. They were very kind people to work with, took my design for the memorial to heart, and before long there was a beautiful, rose-colored memorial bench installed on the site of her burial. It wasn't the seven story high sculpture and fountain ensemble with spotlights and a pool that I had wanted to give her, but I was pleased with the result. The bench was completed with a Hollywood Star of Fame on the front (as she well deserves it), and the quote, "A Personality of Eloquent Silence" adorning the top. The words come from her response during an interview at the height of her fame, when she was asked to briefly describe herself for the magazine's readers. It seemed fitting.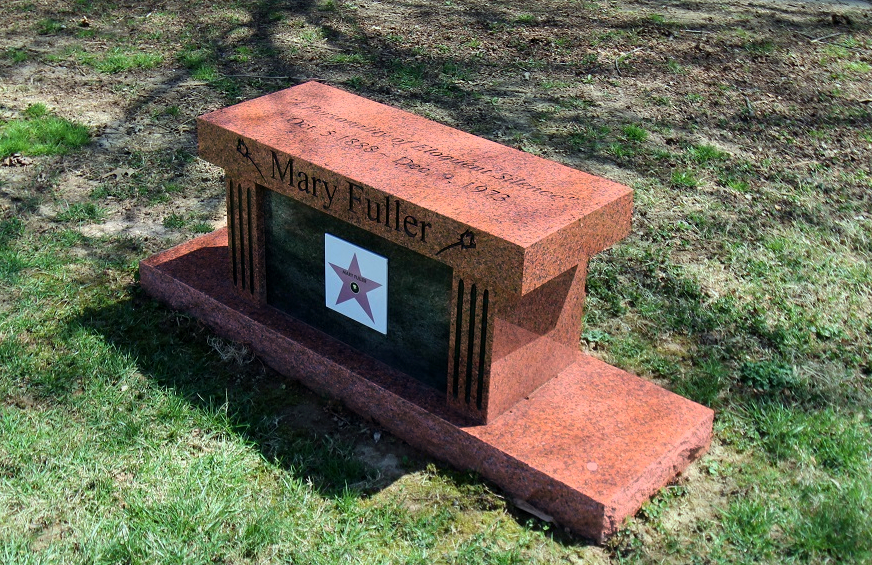 From time to time, I see photos of her memorial on the internet, with flowers or other gifts laid there in her memory. It makes my heart very happy to know that this fine, brave lady, the first real movie star in history, has well-wishing visitors come to see her on a regular basis. And it is my sincere wish, that wherever she is now, she no longer feels the loneliness that drained this star of her light when she was here.
---
~ Written by Terri Maxfield Lipp
---
Digital collage portrait by TMLipp
Created for The Artist Birthday Series:
Mary Fuller, October 5, 2016
(click image for full resolution)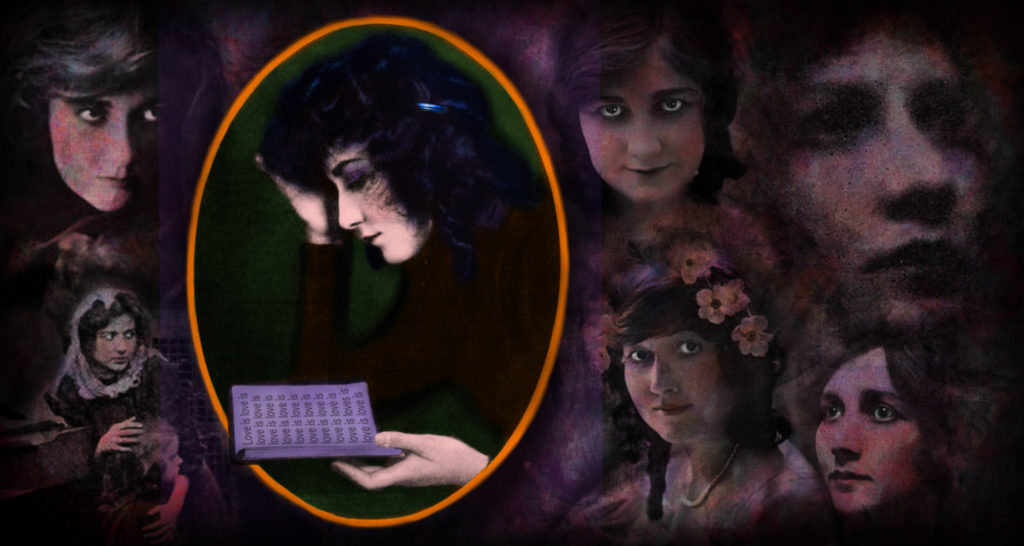 ---
TML Arts aims for accuracy in content and functionality in posts.
Click the button below to let us know about typos, incorrect information, broken links, erroneous attribution,
or additional relative information.
---
---
---
---