Stranded In The Spotlight
By: Terri Maxfield (Lipp)
As printed by Fra Noi magazine, Chicago IL
April 2008
Well, it seems the long, hard winter is finally over. Here in the central heart of Italy, flowers have again become exploding waves of color, dripping from every windowsill and balcony. Shop owners are dusting off the merchandise hidden from view these past cold months, and are re-opening their doors to embrace the torrent of tourism that comes with warmer weather. The tourists are returning to the hills of Italy, like flocks of swallows that mark the anticipated return of Spring. Every town and village prepares itself for another working season, with myriad fiere and festivals, in an attempt to catch the wandering traveler's eye, and lure them in to spend a bit of their holiday time and money.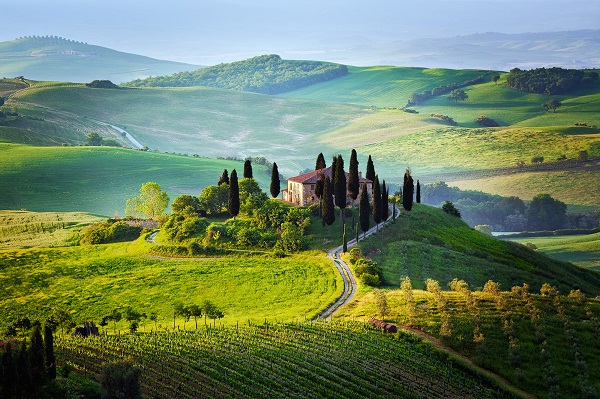 It has been through these festivals that I have not only found an occasional secondary source of income, thanks to my having been graciously deemed "fluent" in Italian, but also where I have enjoyed myself immensely. At smaller festivals, I've helped with translating for many happy travelers, and in their company, have eaten remarkable things, danced traditional dances, and on one occasion even been involved in a medieval sword fight. At larger festivals, I've worked as a translator as well, but perhaps in a more "professional" manner. For example, a couple of years ago, I was asked by an Italian writer friend of mine to accompany her to interview Bobby McFerrin, the musician of "Don't Worry, Be Happy" fame. His performance left me astounded. It was not the Top 40, pop music show I had expected, but rather, an amazing mix of world, jazz and classical music, sprinkled with sparkling moments of enchanting humor, that lifted my heart to the point of joy. After the show, I was thrilled and honored to speak with him, and translate the short interview my friend had requested. McFerrin was an elegant speaker, a very warm soul, and one musician that I would describe as genius, without feeling the least self-conscious about saying it.
Yes, festivals are fun…but, that's not always entirely true.
%
|
%
|
%
|
%
|
%
|
%
|
%
|
%
|
%
|
%
|
%
|
%
|
%
|
%