Today's Artist Birthday: Margo Hoff
Margo Hoff (1910-2008) was born and raised in Tulsa, Oklahoma, to parents Clarence Hoff, a carpenter, and Ada Hayes. The second of eight children, she began making art at an early age, modeling small figures from clay and earning a silver medal in free hand drawing at age 14. After two years at the University of Tulsa, she relocated to Chicago to study at the School of the Art Institute of Chicago (SAIC) in 1933.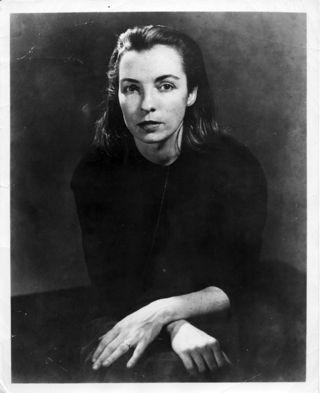 Her early style as a figurative painter was greatly influenced by Mexican painters of 1930s. She and her husband George Buehr (who was also an artist and teacher at SAIC) traveled to Mexico numerous times, often together with artist colleagues Frank Vavruska, Eleanor Coen, and Max Kahn. She developed a clean, linear style in multiple media: painting and printmaking, especially woodblock prints, having studied lithography and woodcut with Francis Chapin and Kahn.
%
|
%
|
%
|
%