Today's Artist Birthday: Marcel Duchamp
Marcel Duchamp (28 July 1887 – 2 October 1968) was a French, naturalized American painter, sculptor, chess player and writer whose work is associated with Cubism, conceptual art and Dada, although he was careful about his use of the term Dada and was not directly associated with Dada groups.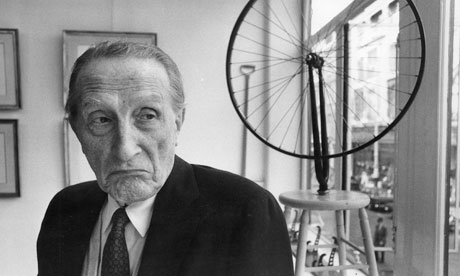 Duchamp is commonly regarded, along with Pablo Picasso and Henri Matisse, as one of the three artists who helped to define the revolutionary developments in the plastic arts in the opening decades of the twentieth century, responsible for significant developments in painting and sculpture. History, until as of late however, has overlooked many of the women that had equal (or arguably even more) influence on the direction of art in the 20th century, but thankfully today one begins to find more frequent information regarding such shining examples as Hannah Höch, Sophie Tauber-Arp, and the Baroness Elsa von Freytag-Loringhoven, to name just a few.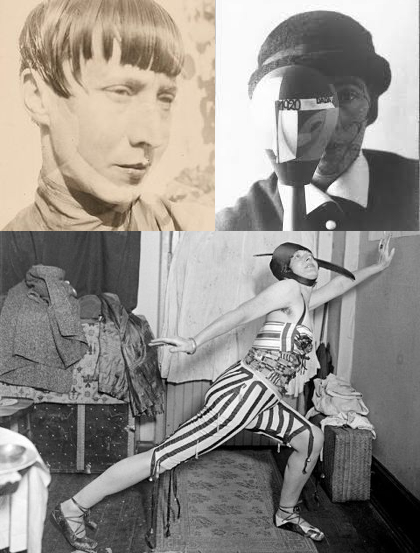 Born Henri-Robert-Marcel Duchamp in Blainville, Normandy, Duchamp was the son of a notary and the younger brother of the painter Jacques Villon and the Cubist sculptor Raymond Duchamp-Villon.
He studied at the Académie Julian in 1904-5. His early figure paintings were influenced by Matisse and Fauvism, but in 1911 he created a personal brand of Cubism combining earthy colors, mechanical and visceral forms, and a depiction of movement which owes as much to Futurism as to Cubism. His Nude Descending a Staircase, No.2, 1912 (Philadelphia Museum of Art), created a sensation at the 1913 New York Armory Show.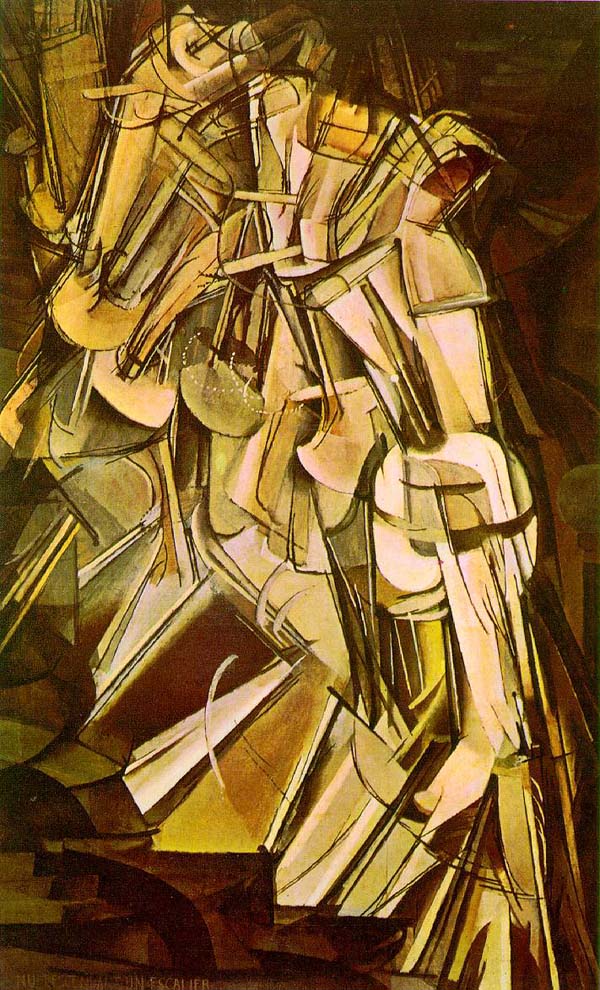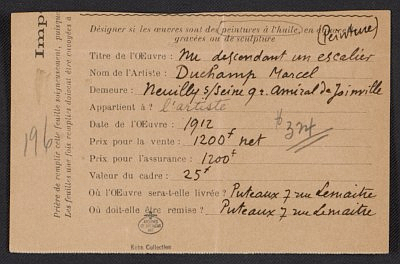 Duchamp did very little painting after 1912, but instead began creating 'readymades,' his first in 1913. These were ordinary objects of everyday use, sometimes slightly altered, and designated works of art by the artist. His earliest readymades included Bicycle Wheel (1913), a wheel mounted on a wooden stool, and a snow shovel entitled In Advance of the Broken Arm (1915).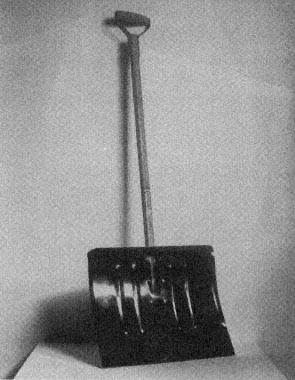 The best-known piece that has been attributed to him for decades is a urinal, titled Fountain, turned on its side and signed 'R. Mutt', which he submitted to an exhibition of the Society of Independent Artists in New York in 1917. The piece caused an aesthetic controversy, and the concept of the 'readymade' became associated with an assault on the conventional understanding of the nature and status of art.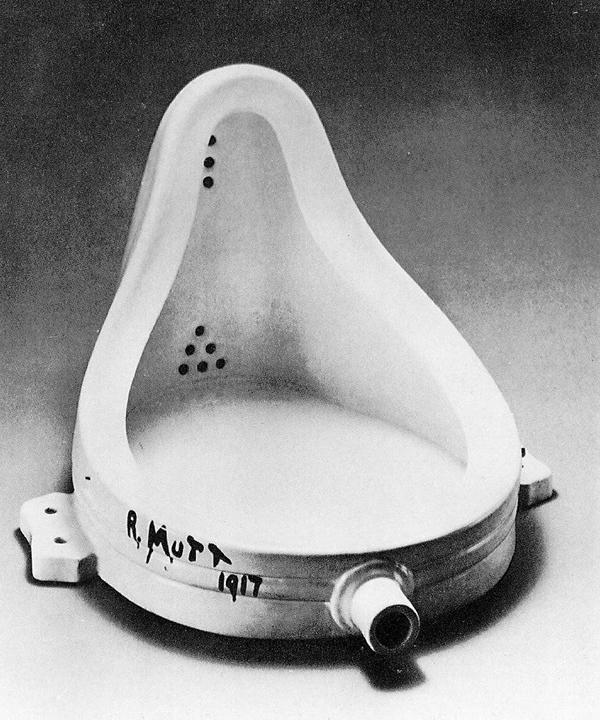 But is it true to say that Fountain was Duchamp's work? For quite some time there has been ample evidence that it is indeed not. For example, on April 11, 1917, Duchamp wrote to his sister Suzanne, "One of my female friends who had adopted the pseudonym Richard Mutt sent me a porcelain urinal as a sculpture; since there was nothing indecent about it, there was no reason to reject it." As he was already submitting the urinal under an assumed name, there does not seem to be a reason why he would lie to his sister about a "female friend". The strongest candidate to be this friend was Baroness Elsa von Freytag-Loringhoven, for many reasons.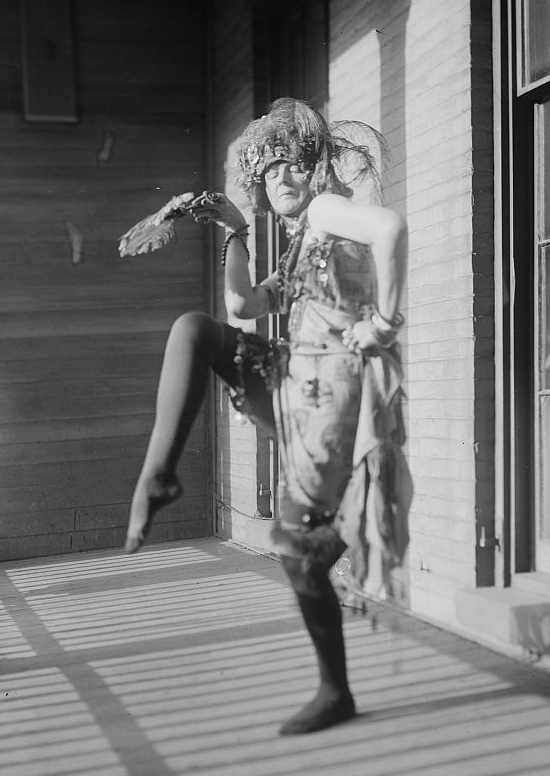 Contemporary newspaper reports claimed that "Richard Mutt" was from Philadelphia, and not coincidentally, that was where the Baroness was living at the time. Perhaps the clearest evidence (aside, of course, the letter to his sister stating the piece was not his), Duchamp did not claim credit for the piece until 30 years after its debut, after both the Baroness and the man who took the famous photograph of Fountain, were both dead. It is documented that Baroness Elsa had been finding objects in the street and declaring them to be works of art since before Duchamp hit upon the idea of "readymades," and it was only after his association with her that his begin to appear Fountain is base, crude, confrontational and funny, which are not typical aspects of Duchamp's work, but they summarize the Baroness, and her art, perfectly. To that point, even the pseudonym "R. Mutt" proves to be a pun. America had just entered the First World War, and Elsa was angry about both the rise in anti-German sentiment and the lack of the New York art world's response to the conflict, as one reads in her poetry and other writings. The urinal was signed "R. Mutt 1917", and to the German eye "R. Mutt" suggests armut, meaning poverty or, in the context of the exhibition, intellectual poverty.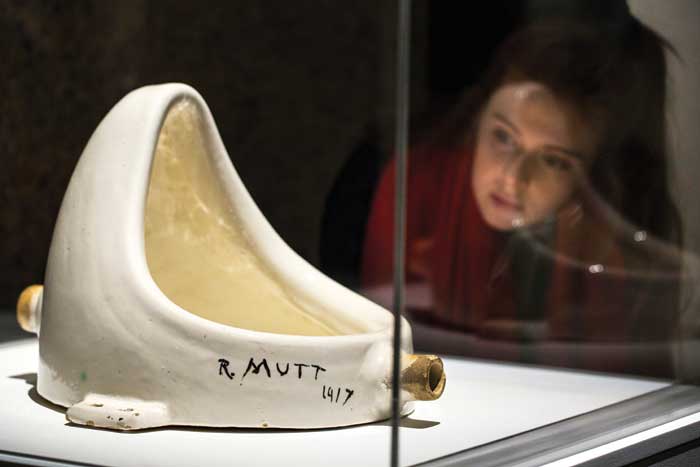 Finally, when the veracity of his claim was challenged, Duchamp claimed that he bought the urinal himself from the JL Mott Iron Works in New York. However, research has shown that this company never made, nor sold, that particular model of urinal.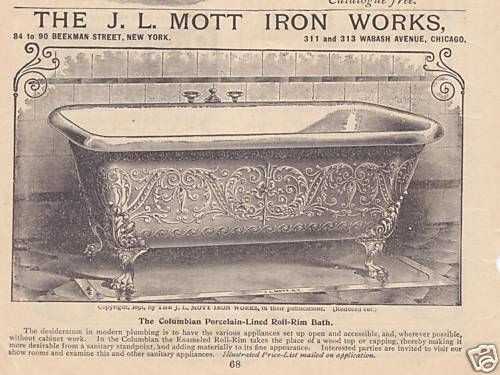 Before the 1917 exhibition, the Baroness' poetry often sang the praises of Duchamp, but in her later work he is referred to as "Marcel Dushit," and references her disillusionment with the man. In 1923 or 1924, during a period when Baroness Elsa felt abandoned by her friends and colleagues, she painted a mournful picture called Forgotten Like This Parapluie Am I By You – Faithless Bernice! The picture included a leg and foot of someone walking out of the frame, representing all the people who had walked out of her life. It also depicts a urinal, overflowing and spoiling the books on the floor, which had Duchamp's pipe balanced on the lip. The urinal has traditionally been interpreted as a simple reference to Duchamp. But looking at it as Fountain being Elsa's work, then his pipe resting on its lip becomes more meaningful. The image becomes emblematic of their spoiled relationship.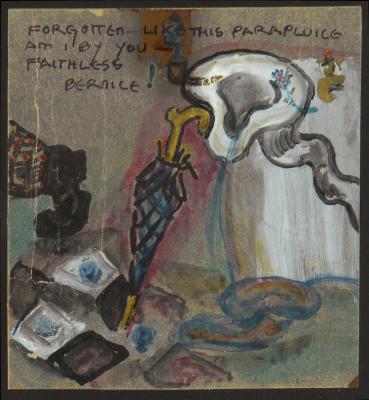 From 1915 to 1923, Duchamp lived in New York, in Paris from 1923 to 1942, and returned to New York in 1942. His friendship with Man Ray led to their publication of New York Dada in 1921. From 1915 to 1923 he worked on The Bride Stripped Bare by her Bachelors, Even (The Large Glass), which he considered his most important single work.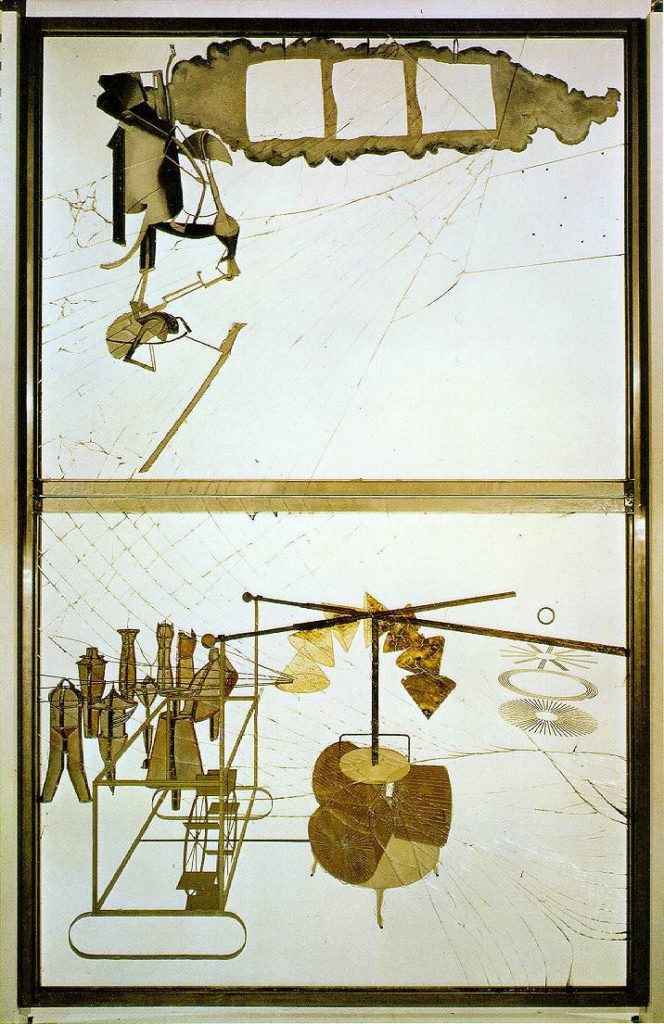 It was shown at the International Exhibition of Modern Art at the Brooklyn Museum in 1927, but was badly damaged on its return journey. Duchamp repaired and partially remade it in 1936, and the piece is now in the collection of the Philadelphia Museum of Art. Though he was no longer considered an "active artist," he continued to organize exhibitions, notably the Exposition Internationale du Surréalisme in Paris in 1938, with some installation work of his own.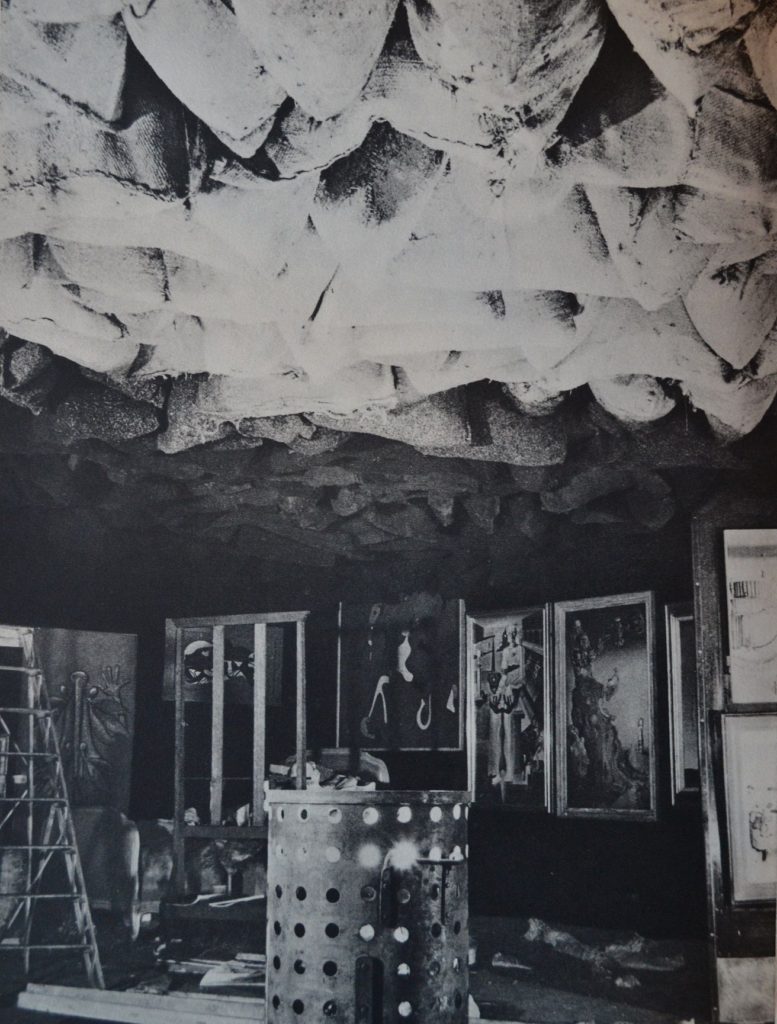 In the late 1920's his focus shifted from the art world to playing tournament chess. Duchamp left a legacy to chess in the form of an enigmatic endgame problem he composed in 1943. The problem was included in the announcement for Julian Levi's gallery exhibition Through the Big End of the Opera Glass, printed on translucent paper with the faint inscription: "White to play and win". Grandmasters and endgame specialists have since grappled with the problem, with most concluding that there is no solution.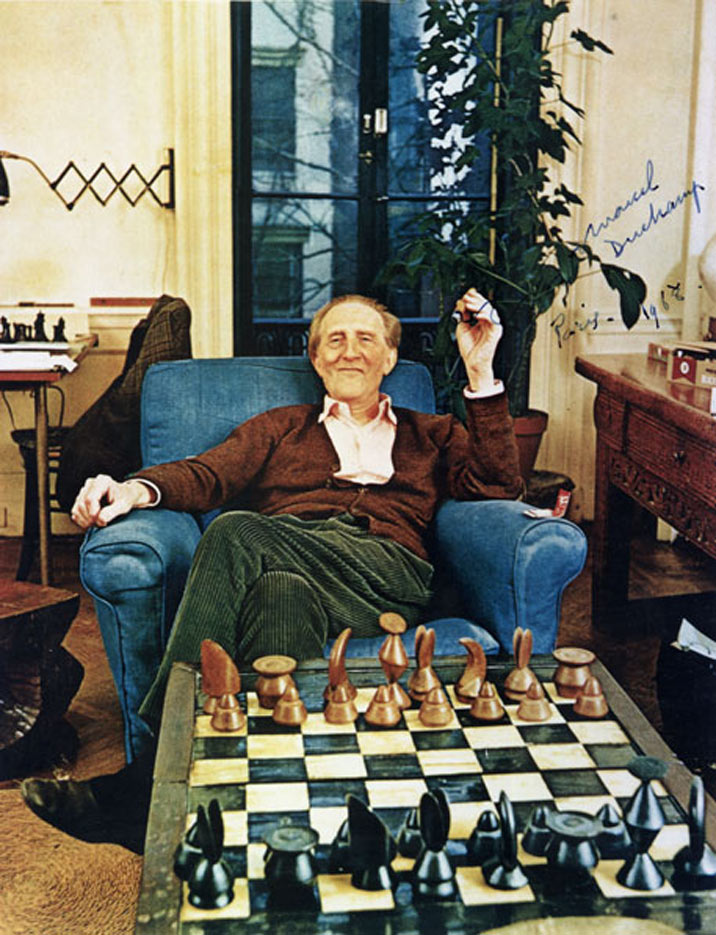 In the last twenty years of his life, he worked in secret on a three-dimensional realization of The Bride Stripped Bare by her Bachelors, Even, entitled Etant donnés, now at the Philadelphia Museum of Art. The piece is seen through a peephole in a door, lending a strange, almost disturbing voyeuristic feeling to the experience of viewing the faceless, nude female spread uncomfortably in the tall weeds, holding a lantern.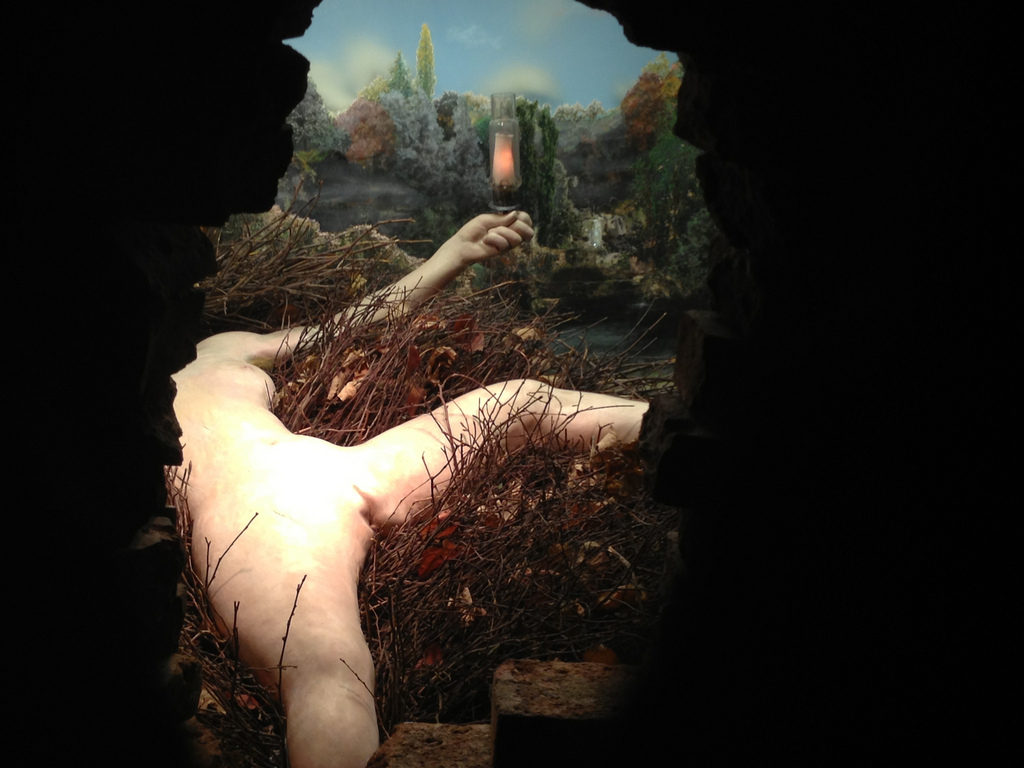 Duchamp died suddenly in the early morning of October 2, 1968, at his home in Neuilly-sur-Seine, France. After an evening dining at home with his friends Man Ray and Robert Lebel, Duchamp retired at 1:05 A.M., collapsed in his studio, and died instantly of heart failure. He was buried in the Rouen Cemetery, in Rouen, France, with the epitaph he had arranged for, "D'ailleurs, c'est toujours les autres qui meurent" ("Besides, it's always the others who die").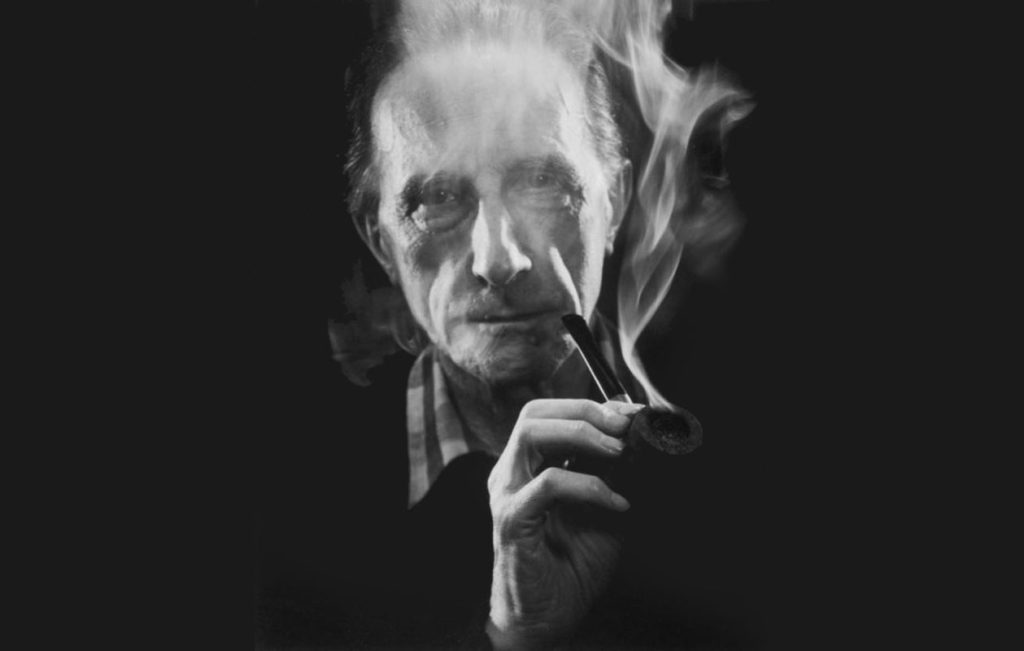 ---
Edited from:
---
TML Arts aims for accuracy in content and functionality in posts.
Click the button below to let us know about typos, incorrect information, broken links, erroneous attribution,
or additional relative information.
---
---
---
---