Luca Longobardi
– the Ruggine Project
Within nanoseconds of meeting Luca Longobardi for the first time, I felt as if I had taken some amazing curative and enlightening drug. I was attending the opening night of an art exhibition by the excruciatingly talented visual artist Fabio Timpanaro, and his work for this exhibition was his interpretation of the television series Twin Peaks, through its symbolism and themes. As I have lived long enough to have been obsessed with Twin Peaks when it first came out in 1990, I was very curious to see how Fabio had chosen to visualize these concepts. When I arrived, he was kind enough to give me a tour of the show and as we walked, we chatted about each of his stunning pieces. While moving through the gallery, I could not help but kinda lose my mind at how the music wafting through the space ideally complimented his work, and how deeply effective it was in creating the quirky/unnerving atmosphere that was Twin Peaks. At one point I had to stop and ask Fabio, "What IS this music? It's just…perfection…." I expected him to name someone I had never heard of, which he did, but I did not expect him to say, "and he's right outside. You have to meet him. Let me introduce you."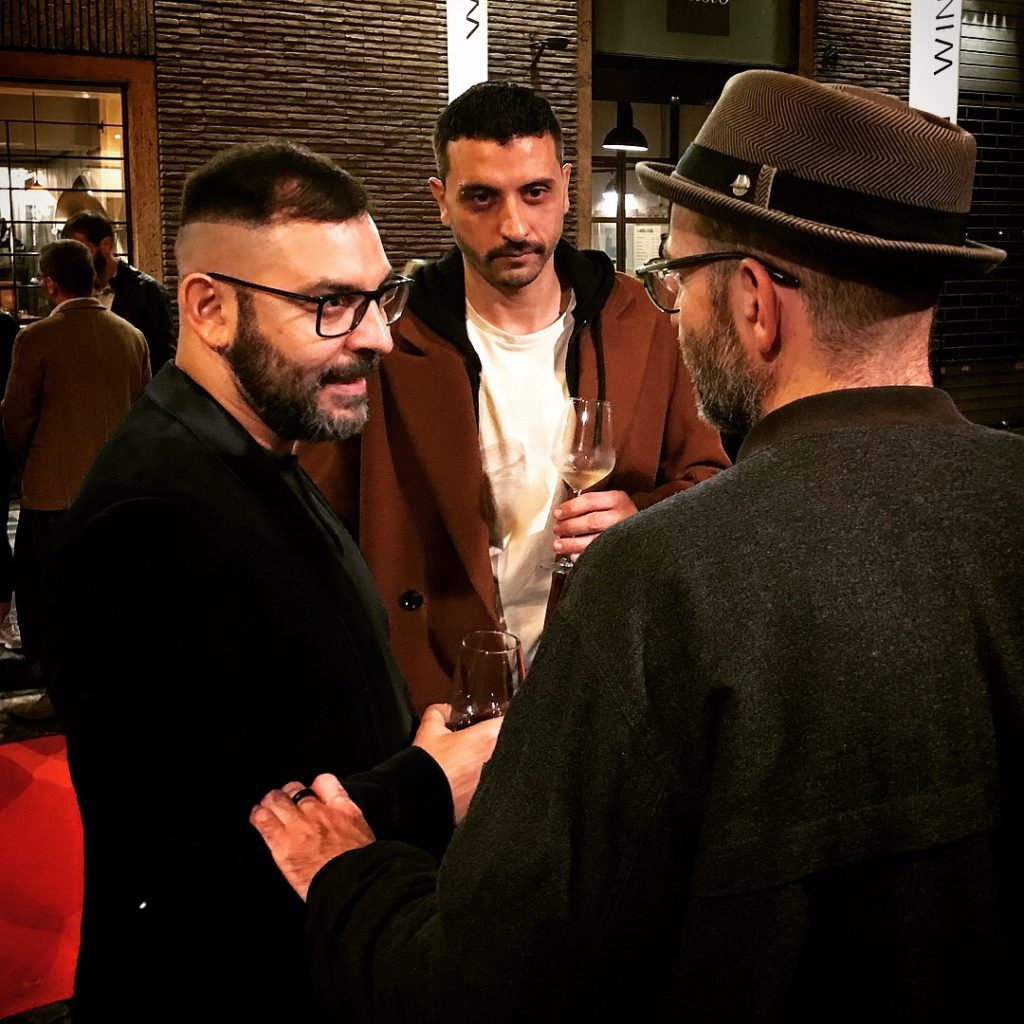 It was then that I was presented to Luca, and my first impression of him was that he was a very handsome gentleman with a chic, aesthetic style, and that he also radiated an almost overwhelmingly incredible amount of positive energy. Making the introductions, Fabio told Luca that I had been intrigued by his music in the gallery and asked him if he would explain to me a bit about how the piece came into being. Luca turned, looked me in the eyes, and I immediately felt as if I was meeting some magical woodland creature. It wasn't just his eyes that sparkled, it was his entire being. And for the next few minutes he patiently explained his process and the auditory symbolism within the work, while I stood there not really saying much at all, just listening and feeling really, really happy, awed by this man's talent and passion for what he does.
I saw him again a few times over the next few months at other exhibitions, and whenever he saw me he always made me feel so welcome, as if we had known each other for a very long time. Personally, this was much appreciated on my part, since moving to Rome two years before, I can't say as I had always felt particularly welcome. That's not Rome's fault, but my own capricious Destiny seemed to delight in toying with me from time to time after our move to the Eternal City. But every time I ran into this extraordinary musician, I seemed to forget about all that and just get completely, and blissfully, lost in his work, be it at an exhibition of art or one of his "secret location" concerts. (Below is just a snippet of one of those performances, where for this piece, he is accompanied by an old movie projector.)
Luca Longobardi was born in 1976 in the southern Italian town of San Lucido, in the region of Calabria. He graduated from the Conservatorio San Pietro a Majella in Naples with studies in Piano, Composition and Electronic Music. He then studied at the Manhattan School of Music in New York City, USA, under Maestro Zenon Fishbein, graduating cum laude with his Bachelor of Music in Piano Performance in December of 2000. In 2011, he completed his PhD in Digital Technologies and Methodologies for Research on Performance through the Department of Art History and Entertainment at La Sapienza University in Rome, Italy. His career since then has been multifaceted, working as a solo artist as well as in soloist with orchestra, or as part of chamber ensembles. He is a prolific composer as well, producing his first works under the guidance of Roberto De Simone, a fine example of which is his tribute to Donizetti as the ballet "Te Voglio Bene Assaje," performed at the Donizetti Festival in Bergamo, as well as the famed Scala in Milan.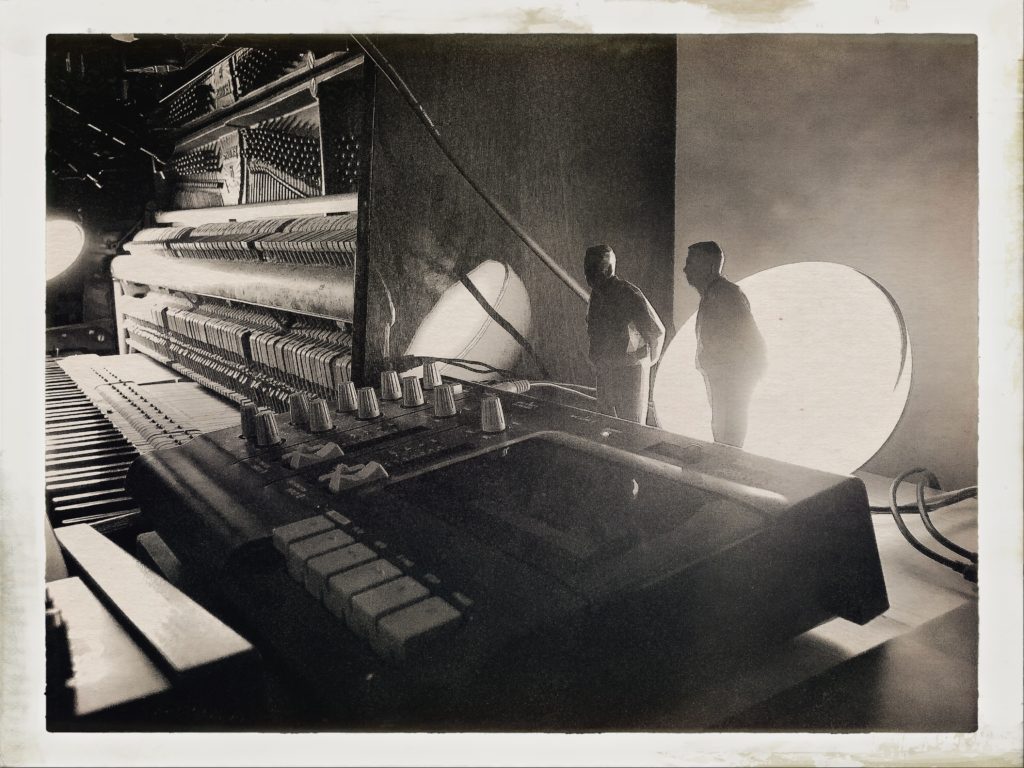 From 2002 to 2005 he was the rehearsal pianist at the Teatro San Carlo in Naples, under the direction of Elizabeth Terabust. It was through this experience that his interest in video direction, light design, and installation work began to flourish, and he began experimenting with mise-en-scene and other forms of created environments, combining sound and visual multimedia. In January 2011 he presented Showcase 29|33 MicroBasicMacro, a moveable live performance that combined music, action painting, and contemporary dance, effectively a performance that would adapt itself to its surroundings according to the space allowed and the audience attending. That same year he collaborated with choreographer Laura Martorana and together they created "Prima Del Piede, Il Passo," a dance based performance based on Erri de Luca's works designed for the Banch (Ballet Nacional Chileno).
In 2012 he began his collaborative work with Gianfranco Jannuzzi, Renato Gatto, and Massimiliano Siccardi who produced the immersive installation work "Carrières de Lumières," in Baux-de-Provence, in Southern France. Luca curated the music, choosing and editing pieces of the repertoire as well as creating the original soundtrack. His work within the realm of immersive artistic experience continued in 2016 when he composed the original soundtracks for the "Hundertwasser Experience" and "Werk In Progress" (seen below), the first two gorgeous projects of their kind at the Kunstkraftwerk in Leipzig, Germany.
Throughout it all, Luca has explored his interest in electronic experimentation, a passion that he has utilized in the production of numerous installations and collaborative creative works. His insightful concept of "sound vision" allows him to create environments that have both a personal and emotional impact for the participant during any of his multimedia performances and creations. To date he has published 12 recorded works, and makes his music publicly available in a variety of digital platforms such as Spotify, SoundCloud, and YouTube to name a few. His abundant output consists of numerous international multimedia installations, live concerts, and collaborations with artists in various creative genre.
His latest project is one of his most interesting however, collaborating with not only with creative minds from a variety of artistic genre but with his audience as well. This new project, entitled "Ruggine" ("Rust" in English), combines his love of the piano with his gift of creating musical environments that touch the soul, and will culminate in a documentary film, a series of live concerts, and a new album, all brought forth through what will be his own personal twist on a Kerouacian-type adventure.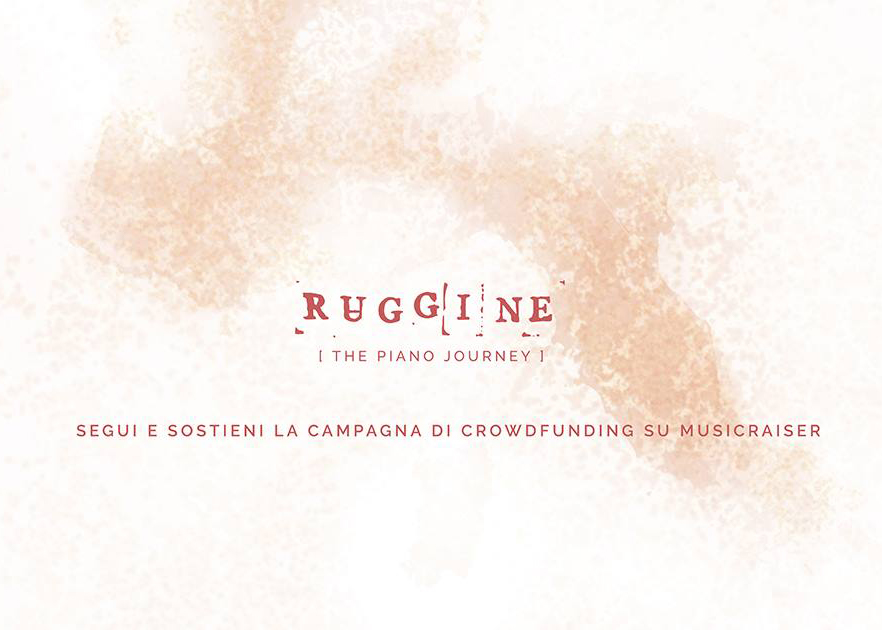 The whole project began earlier this year when Luca received a message from a friend:
"Dear Luca,
I have a Julius Feurich vertical piano from the early 1900's. I'd like to give it to you, but it is in Biarritz.
Yours,
Gigi Caciuleano"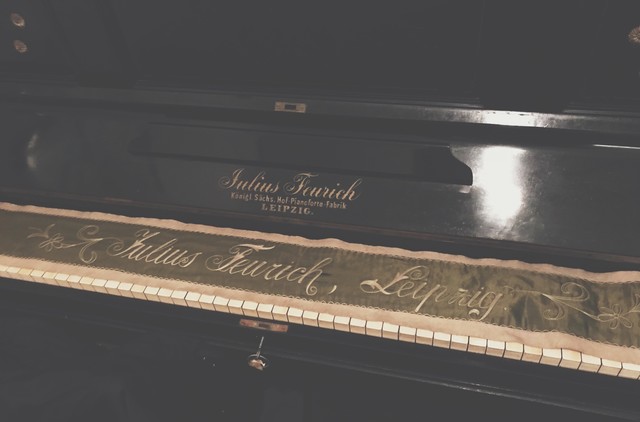 As the piano itself is breathtakingly beautiful, and Luca just so happened to be craving a new project, the idea for "Ruggine" was born. He explains, "Earlier this year I received as a gift, a splendid Julius Feurich upright piano. When I saw its photographs, a memory immediately came back to my mind: 'A trip is not made of places, but of people. Only people can give soul to places, by drawing with their eyes the path and the destination.' These were the words my uncle Sal said when we saw each other at the airport in New York, as soon as I moved there to study music. So, I imagined a trip from Biarritz, a beautiful French town on the ocean, to Rome; a white van that will become an itinerant stage; a journey that will become a road-movie. Every day a stopover in a little town along the way, every day a meeting with the people of the place, every day a small concert offered to them in order to allow the instrument, and me with it, to live the change."
This ambitious project, stupendous in its concept, does not come to fruition for free, as one may well imagine. Luca estimates the entire work will have a total cost of around €7000, which will cover the video footage, recordings of the live, impromptu concerts held in tiny French and Italian villages along the way, as well as the production of the final documentary that will preserve the journey, the experiences, and the music created during this unique road-trip. To offset some of the cost, he has started a crowdfunding campaign through MusicRaiser, a platform for musical artists to raise funds to finance their assorted creative objectives. His initial goal is to raise a minimum of €3000 through this platform, as this is the axis upon whether or not the project will go ahead. The more donations the better, but if the aimed-for €3000 is not met, then the project itself will fall through and another, intensely more boring method of transporting the piano from France to Italy will be undertaken.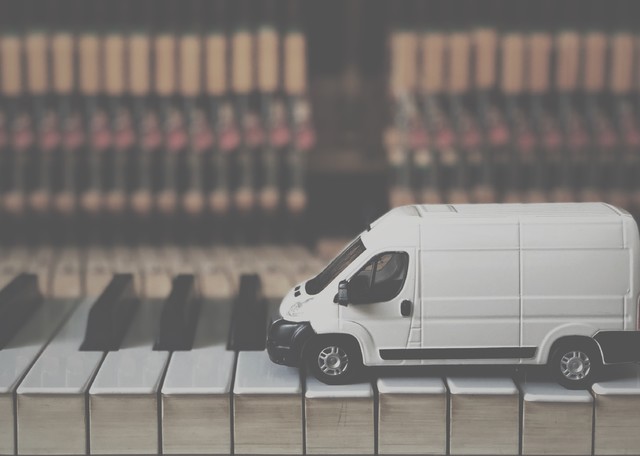 If you would be interested in helping make this project happen, please click here to be taken directly to the Luca's MusicRaiser page to make your pledge. In return you will receive (aside the immense amount of personal satisfaction you'll get knowing you helped get this project off the ground), rewards that have been designed and created by artist Alessandro D'Angeli, who is also the artistic director for this project. Among the objects available are music boxes, stamps, refrigerator magnets, illustrations related to the journey created by Gaetano Bruno, as well as photographs of the trip that will be created by the documentary photographer Stefano Moscardini, who will be accompanying Luca on this sojourn.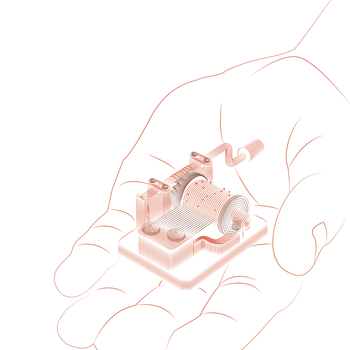 Any and all donations can be accepted until September 3rd, 2018. Also, if you cannot make a donation at this time, don't worry, you can still help by spreading the word. Share this post that you're reading right now, Luca's MusicRaiser page, any of the posts on the "Ruggine" page or his artist page on Facebook, through any of your favorite social media platforms.
Goethe once said, "A man should hear a little music, read a little poetry, and see a fine picture every day of his life, in order that worldly cares may not obliterate the sense of the beautiful which has been implanted in the human soul." Perhaps that is exactly why I get so much out of the work of Luca Longobardi. It not only dissipates the negativity that can occasionally filter into my daily life through unpleasant news reports, unbearably hot weather, or even Roman traffic jams, but it brings the Beautiful of this world front and center, wrapped in sound, like a gift for which I am very grateful.
---
Biographical information from:
Music and more about Luca Longobardi
Published recordings:
The above are all available on iTunes and other digital platforms.
---
---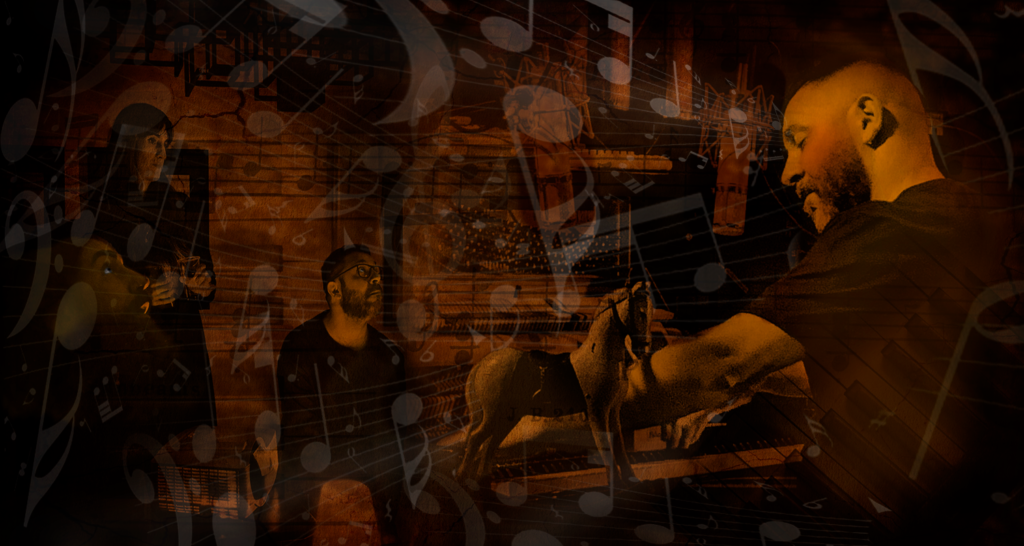 Digital Collage Portrait of Luca Longobardi
2018 – Terri Maxfield Lipp