Today's Artist Birthday: Joseph Beuys
Joseph Beuys (12 May 1921 – 23 January 1986) was a German Fluxus, happening and performance artist as well as a sculptor, installation artist, graphic artist, art theorist and pedagogue of art. His extensive work is grounded in concepts of humanism, social philosophy and anthroposophy, culminating in his "extended definition of art" and the idea of social sculpture as a "gesamtkunstwerk," for which he claimed a creative, participatory role in shaping society and politics. His career was characterized by passionate, even acrimonious public debate. He is now regarded as one of the most influential artists of the second half of the 20th century.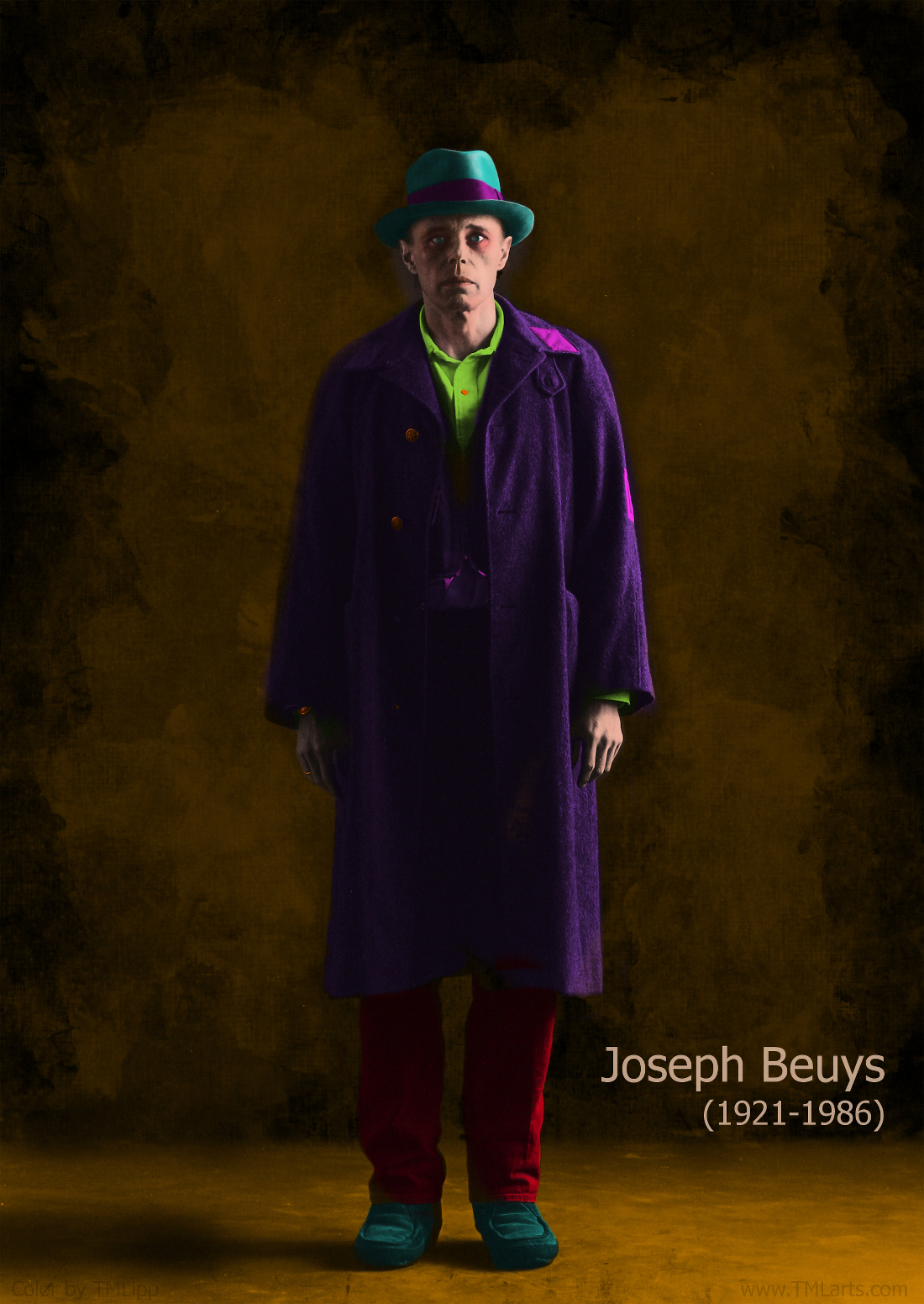 Beuys was born in Krefeld, the son of the merchant Josef Jakob Beuys (1888–1958) and Johanna Maria Margarete Beuys (born Hülsermann, 1889–1974). Shortly after his birth, his family moved to Kleve, an industrial town in the Lower Rhine region of Germany, close to the Dutch border. There, the young Joseph attended primary school (Katholische Volksschule) and secondary school (Staatliches Gymnasium Cleve, now the Freiherr-vom-Stein-Gymnasium). His teachers considered him to have a talent for drawing; he also took piano and cello lessons. On several occasions he visited the studio of the Flemish painter and sculptor Achilles Moortgat. Other interests of note include Nordic history and mythology and especially the natural sciences. According to his own account, when the Nazi Party staged their book-burning in Kleve on 19 May 1933 in the courtyard of his school, he salvaged the book Systema Naturae by Carl Linnaeus "…from that large, flaming pile".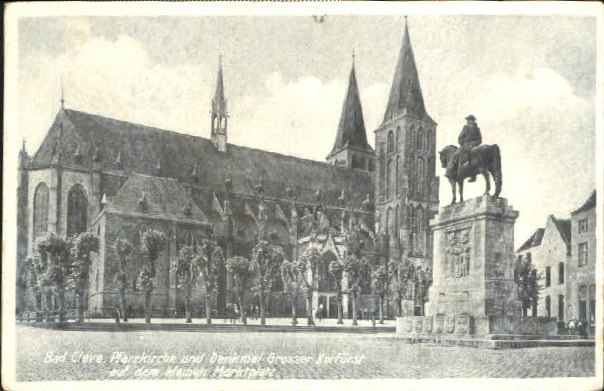 As of 1936, Beuys' membership in the Hitler Youth is documented; the organization comprised a large majority of German children and adolescents at that time and later that year membership became compulsory. He participated in the Nuremberg rally in September 1936, when he was 15 years old.
From an early age, Beuys displayed a keen interest in the natural sciences and had considered a career in medical studies, but in his last years of school–possibly influenced by pictures of Wilhelm Lehmbruck's sculptures–he had decided to become a sculptor himself. Around 1939 he worked for a circus on the side, hanging posters and taking care of animals for about a year. He graduated from school in the spring of 1941 with his Abitur (the German equivalent of final exams).

Shortly after his graduation from secondary school in 1941, Beuys volunteered for the Luftwaffe, and in 1942, he was stationed in the Crimea, a member of various combat bomber units.  It is during this time that he began to seriously consider a career as an artist. Drawings and sketches from that time have been preserved and already show his characteristic style.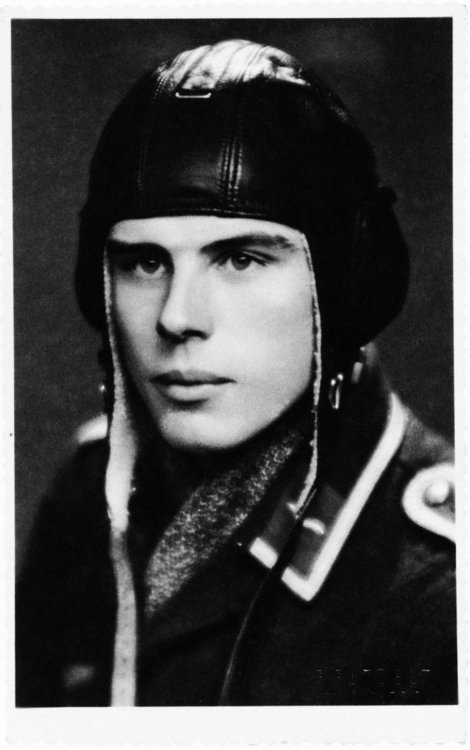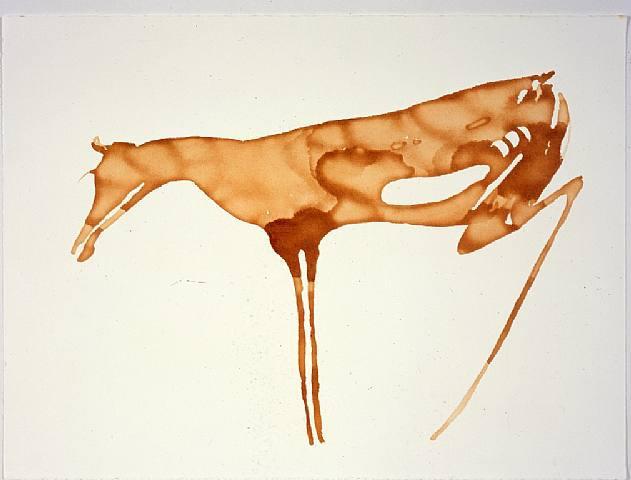 On 16 March 1944, Beuys' plane crashed on the Crimean Front close to Znamianka, (then "Freiberg"). From this incident, Beuys fashioned the myth that he was rescued from the crash by nomadic Tatar tribesmen, who had wrapped his broken body in animal fat and felt and nursed him back to health: "Had it not been for the Tartars I would not be alive today. They were the nomads of the Crimea, in what was then no man's land between the Russian and German fronts, and favoured neither side. I had already struck up a good relationship with them, and often wandered off to sit with them. 'Du nix njemcky' they would say, 'du Tartar,' and try to persuade me to join their clan. Their nomadic ways attracted me of course, although by that time their movements had been restricted. Yet, it was they who discovered me in the snow after the crash, when the German search parties had given up. I was still unconscious then and only came round completely after twelve days or so, and by then I was back in a German field hospital. So the memories I have of that time are images that penetrated my consciousness. The last thing I remember was that it was too late to jump, too late for the parachutes to open. That must have been a couple of seconds before hitting the ground. Luckily I was not strapped in – I always preferred free movement to safety belts… My friend was strapped in and he was atomized on impact – there was almost nothing to be found of him afterwards. But I must have shot through the windscreen as it flew back at the same speed as the plane hit the ground and that saved me, though I had bad skull and jaw injuries. Then the tail flipped over and I was completely buried in the snow. That's how the Tartars found me days later. I remember voices saying 'Voda' (Water), then the felt of their tents, and the dense pungent smell of cheese, fat and milk. They covered my body in fat to help it regenerate warmth, and wrapped it in felt as an insulator to keep warmth in."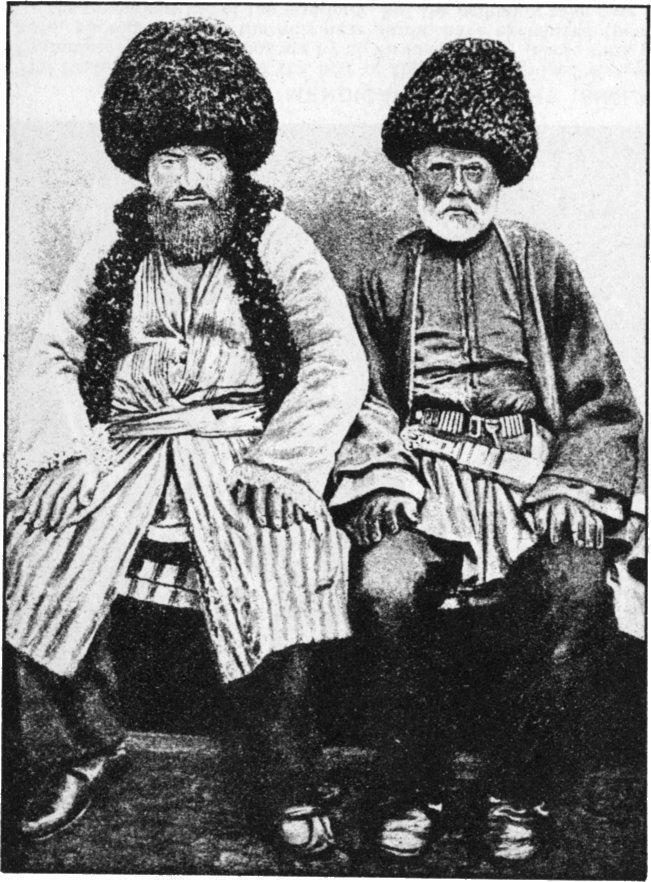 Records state that Beuys was conscious, recovered by a German search commando, and there were no Tatars in the village at that time. Beuys was brought to a military hospital where he stayed for three weeks from 17 March to 7 April. It is not inconsistent with Beuys' work that his biography would have been subject to his own reinterpretation; this particular story has served as a powerful myth of origins for Beuys's artistic identity, as well as providing an initial interpretive key to his use of unconventional materials, amongst which felt and fat were central.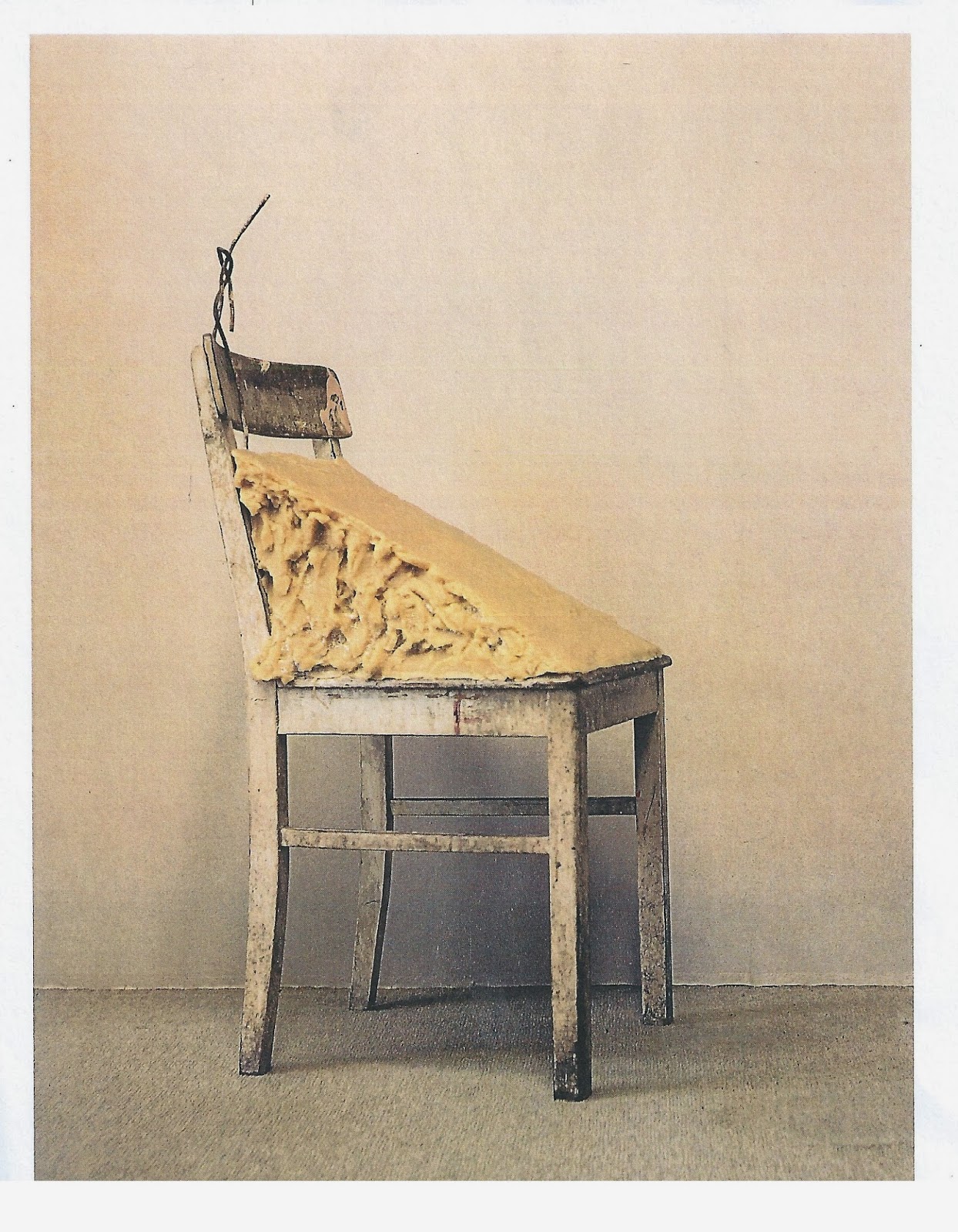 He returned to his parents home in a suburb of Kleve, and there, he met the local sculptor Walter Brüx and painter Hanns Lamers, who encouraged him to take up art as a full-time career. He joined the Kleve Artists Association that had been established by Brüx and Lamers. On 1 April 1946, Beuys enrolled in the "Monumental Sculpture" program at the Düsseldorf Academy of Fine Arts. Initially assigned to the class of Joseph Enseling, with a traditional, representational focus he successfully applied to change his mentor after three semesters and joined the small class of Ewald Mataré in 1947, who had rejoined the academy the preceding year, after having been banned by the Nazis in 1939.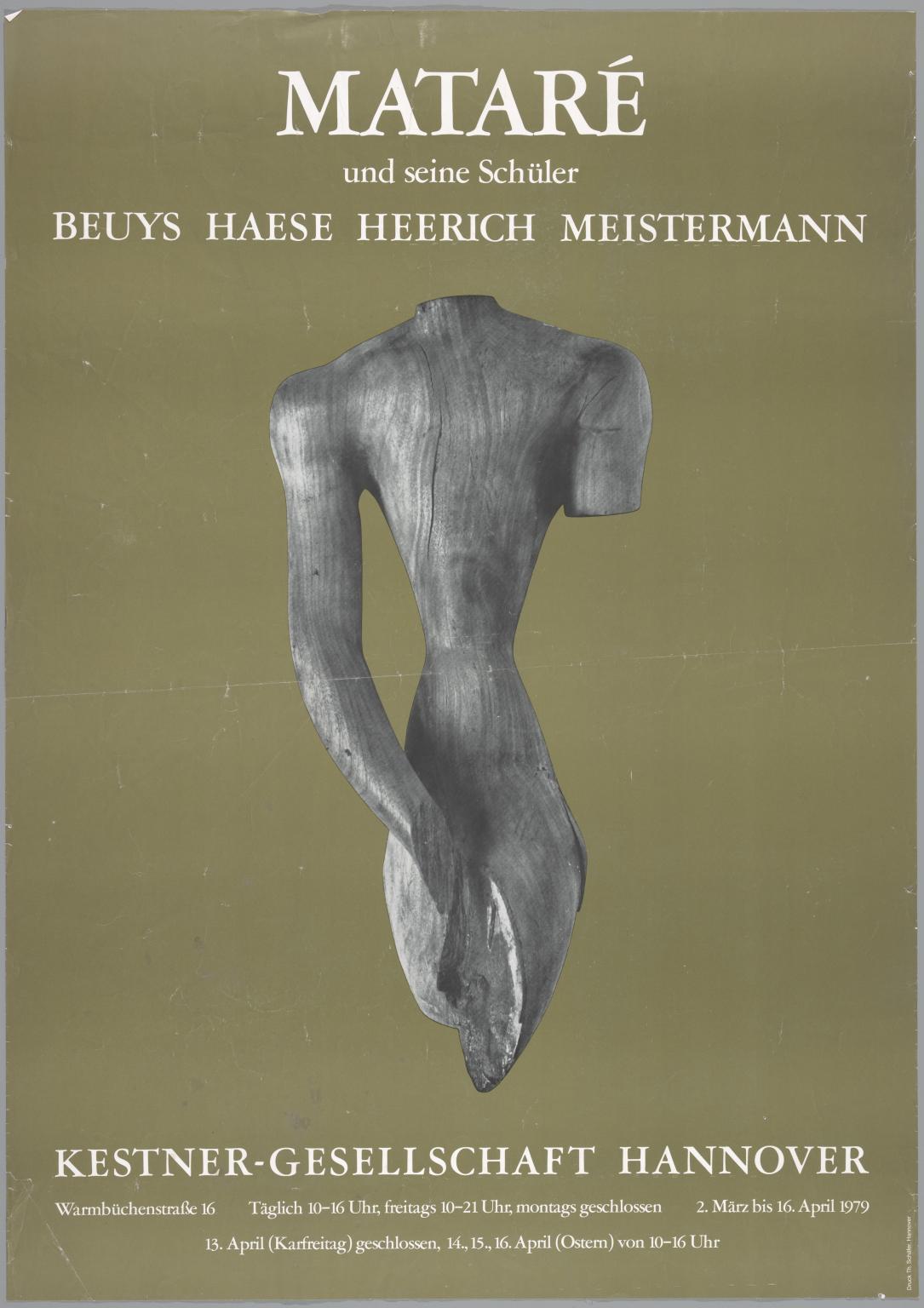 The anthroposophic philosophy of Rudolf Steiner became an increasingly important basis for Beuys' reasoning, in his view it is: "… an approach that refers to reality in a direct and practical way, and that by comparison, all forms of epistemological discourse remain without direct relevance to current trends and movements". Reaffirming his interest in science, Beuys re-established contact with Heinz Sielmann and assisted with a number of nature- and wildlife documentaries in the region between 1947 and 1949.
In 1947 he, with other artists including Hann Trier, was a founder member of the group 'Donnerstag-Gesellschaft' (Thursday Group). The Group organized discussions, exhibitions, events and concerts between 1947 and 1950 in Alfter Castle.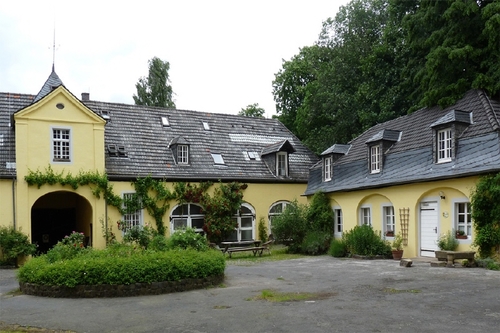 In 1951, Mataré accepted Beuys into his master class. Beuys began to share a studio with Erwin Heerich, which he kept until 1954, a year after graduation. He read Joyce, impressed by the "Irish-mythological elements" in his works, the German romantics Novalis and Friedrich Schiller, and studied Galilei and Leonardo–whom he admired as examples of artists and scientists who are conscious of their position in society and who work accordingly.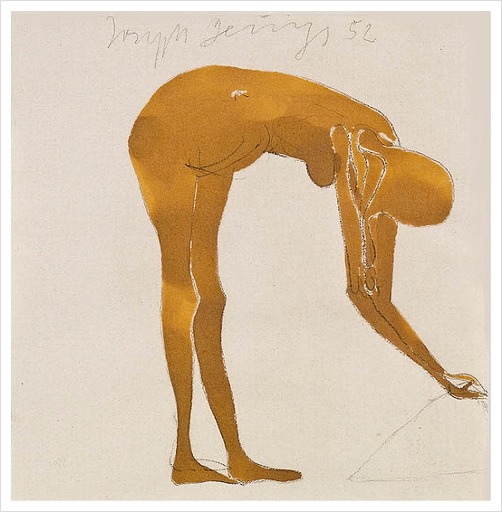 Beuys' early exhibitions included participation in the Kleve Artists Association annual exhibition in Kleve's Villa Koekkoek where he showed aquarelles and sketches; a solo show at the home of two of his supporters, the brothers Hans and Franz Joseph van der Grinten in Kranenburg; and a show in the Von der Heydt Museum in Wuppertal.
Beuys finished his education in 1953, graduating as master student from Mataré's class, 32 years old at that time. He had a modest income from a number of crafts-oriented commissions: a gravestone and several pieces of furniture. Throughout the 1950s, Beuys struggled with a dire financial situation and with the trauma of his wartime experiences. His output consisted mainly of drawings, which he produced in the thousands, but he also produced some sculptures. Through his drawing practice, Beuys explored a range of unconventional materials and developed his artistic agenda, exploring metaphorical and symbolic connections between natural phenomena and philosophical systems. Often difficult to interpret in themselves, these drawings constitute a speculative, contingent and rather hermetic exploration of the material world and how that world might be connected to the realm of myth and philosophy.
In 1956, artistic self-doubt and material impoverishment led to a physical and psychological crisis, and Beuys entered a period of serious depression. He recovered at the house of his most important early patrons, the van der Grinten brothers, in Kranenburg. After he recovered, Beuys observed at the time that "his personal crisis" caused him to question everything in life and he called the incident "a shamanistic initiation." He said at the time,
"I don't use shamanism to refer to death, but vice versa – through shamanism, I refer to the fatal character of the times we live in. But at the same time I also point out that the fatal character of the present can be overcome in the future."
In 1959 Beuys married Eva Wurmbach. They had two children together, Wenzel (born 1961) and Jessyka (born 1964).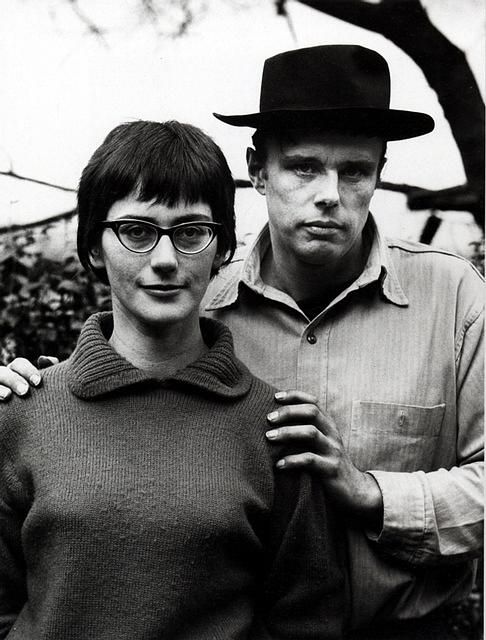 In 1961, Beuys was appointed professor of 'monumental sculpture' at the Kunstakademie Düsseldorf. He inspired many young minds of future artists, such as Anatol Herzfeld, Katharina Sieverding, and Blinky Palermo.
What served to launch Beuys into the public consciousness was that which transpired following his performance at the Technical College Aachen in 1964. As part of a festival of new art coinciding with the 20th anniversary of an assassination attempt on Adolf Hitler, Beuys created a piece of performance art, or "Aktion." The performance was interrupted by a group of students, one of whom attacked Beuys, punching him in the face. A photograph of the artist, nose bloodied and arm raised, was circulated in the media. It was for this 1964 festival that Beuys produced an idiosyncratic CV, which he titled Lebenslauf/Werklauf (Life Course/Work Course). The document was a self-consciously fictionalized account of the artist's life, in which historical events mingle with metaphorical and mythical speech (he refers to his birth as the 'Exhibition of a wound;' he claims his book, "Ulysses Extension" to have been carried out 'at James Joyce's request' – impossible, given that the writer was, by 1961, long dead). This document marks a blurring of fact and fiction that was to be characteristic of Beuys' self-created persona, as well as the source of much controversy (although, significantly, there is no mention here of the famous plane crash).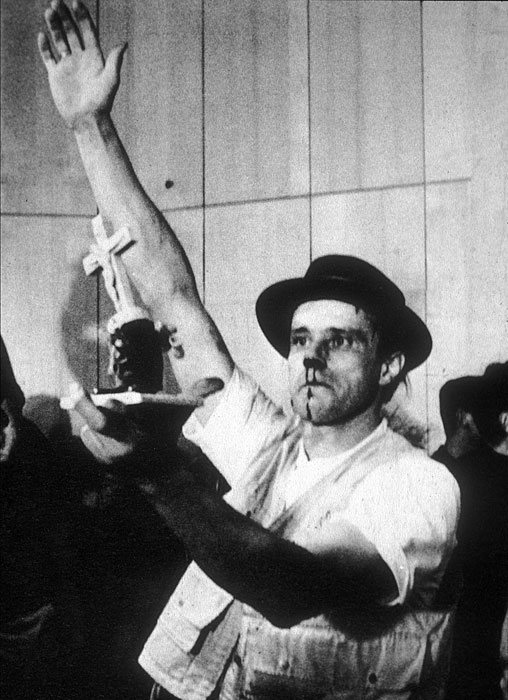 On December 4, 1968, Beuys performed a piece entitled "Ja Ja Ja Ne Ne Ne" (Yes Yes Yes No No No). The performance was more than 10 hours long and consisted of the words "Ja Ja Ja" and "Ne Ne Ne" repeated over and over. The inspiration for this work came from Beuys overhearing two elderly women speaking and their conversation seemed to only be comprised of heavy sighing and, "Ja ja ja ja ja" and "ne ne ne ne ne."
A small sampling of that performance:

Beuys manifested his social philosophical ideas in abolishing entry requirements to his Düsseldorf class. Throughout the late 1960s this renegade policy caused great institutional friction, which came to a head in October 1972 when Beuys was dismissed from his post. That year he found 142 applicants who had not been accepted that he wished to enroll under his teaching. 16 of them agreed and he then occupied the offices of the academy to gain a hearing about their admission. They were admitted by the school, but the relationship between Beuys and the school were irreconcilable. The dismissal, which Beuys refused to accept, produced a wave of protests from students, artists and critics. Although now bereft of an institutional position, Beuys continued an intense schedule of public lectures and discussions, as well as becoming increasingly active in German politics. Despite this dismissal, on the academy's  campus, the walking path along the Rhine was named after Beuys. Later in life, Beuys became a visiting professor at various institutions (1980–1985).
Beuys attempted to apply philosophical concepts to his pedagogical practice. "The most important discussion is epistemological in character," stated Beuys, demonstrating his desire for continuous intellectual exchange. Beuys' Aktion piece, "How To Explain Pictures To A Dead Hare," exemplifies a performance that is especially relevant to the pedagogical field because it deals with "the difficulty of explaining things". The artist spent three hours explaining his art to a dead hare with his head covered with honey and gold leaf.
During an Artform interview with Willoughby Sharp in 1969, Beuys added to his famous statement – "teaching is my greatest work of art" – that "the rest is the waste product, a demonstration. If you want to express yourself you must present something tangible. But after awhile this has only the function of a historic document. Objects aren't very important any more. I want to get to the origin of matter, to the thought behind it." Beuys saw his role of an artist as a teacher or shaman, who could guide society in a new direction.
Beuys had adopted shamanism not only as his presentation mode of his art but also in his own life. Although the artist as a shaman has been a trend in modern art (Picasso, Gauguin), Beuys is unusual in that respect as he integrated "his art and his life into the shaman role." Beuys believed that humanity, with its turn on rationality, was trying to eliminate "emotions" and thus eliminate a major source of energy and creativity in every individual. He described how we must seek out and energize our spirituality and link it to our thinking powers so that "our vision of the world must be extended to encompass all the invisible energies with which we have lost contact."
In Beuys's own words, "So when I appear as a kind of shamanistic figure, or allude to it, I do it to stress my belief in other priorities and the need to come up with a completely different plan for working with substances. For instance, in places like universities, where everyone speaks so rationally, it is necessary for a kind of enchanter to appear."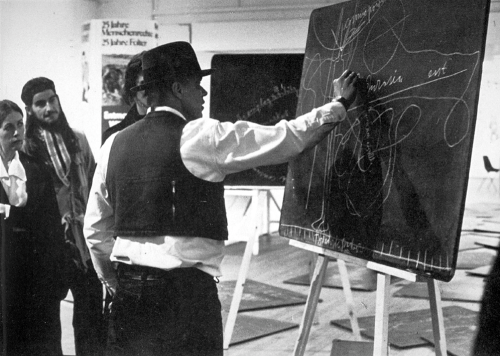 Beuys, as he often explained in his interviews, saw and used his performative art as shamanistic and psychoanalytic techniques to both educate and heal the general public. "It was thus a strategic stage to use the shaman's character but, subsequently, I gave scientific lectures. Also, at times, on one hand, I was a kind of modern scientific analyst, on the other hand, in the actions, I had a synthetic existence as shaman. This strategy aimed at creating in people an agitation for instigating questions rather than for conveying a complete and perfect structure. It was a kind of psychoanalysis with all the problems of energy and culture."
To that end, in his personal life, Beuys had adopted the felt hat, the felt suit, the cane and the vest as his standard look. The imagined story of him being rescued by Tartar herdsmen maybe has an explanation in that Beuys wanted to "create" a ritualistic aspect to his look and to his adoption of materials like felt and fat.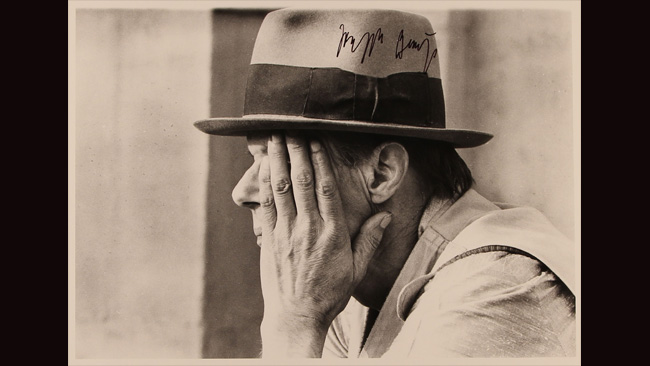 In May 1974 Beuys flew to New York and was taken by ambulance to the site of the performance, a room in the René Block Gallery at 409 West Broadway. Beuys lay on the ambulance stretcher swathed in felt. He shared this room with a coyote, for eight hours over three days. At times he stood, wrapped in a thick, grey blanket of felt, leaning on a large shepherd's staff. At times he lay on the straw, at times he watched the coyote as the coyote watched him and cautiously circled the man, or shredded the blanket to pieces, and at times he engaged in symbolic gestures, such as striking a large triangle or tossing his leather gloves to the animal; the performance continuously shifted between elements that were required by the realities of the situation, and elements that had a purely symbolic character. At the end of the three days, Beuys hugged the coyote that had grown quite tolerant of him, and was taken to the airport. Again he rode in a veiled ambulance, leaving America without having set foot on its ground. As Beuys later explained, "I wanted to isolate myself, insulate myself, see nothing of America other than the coyote."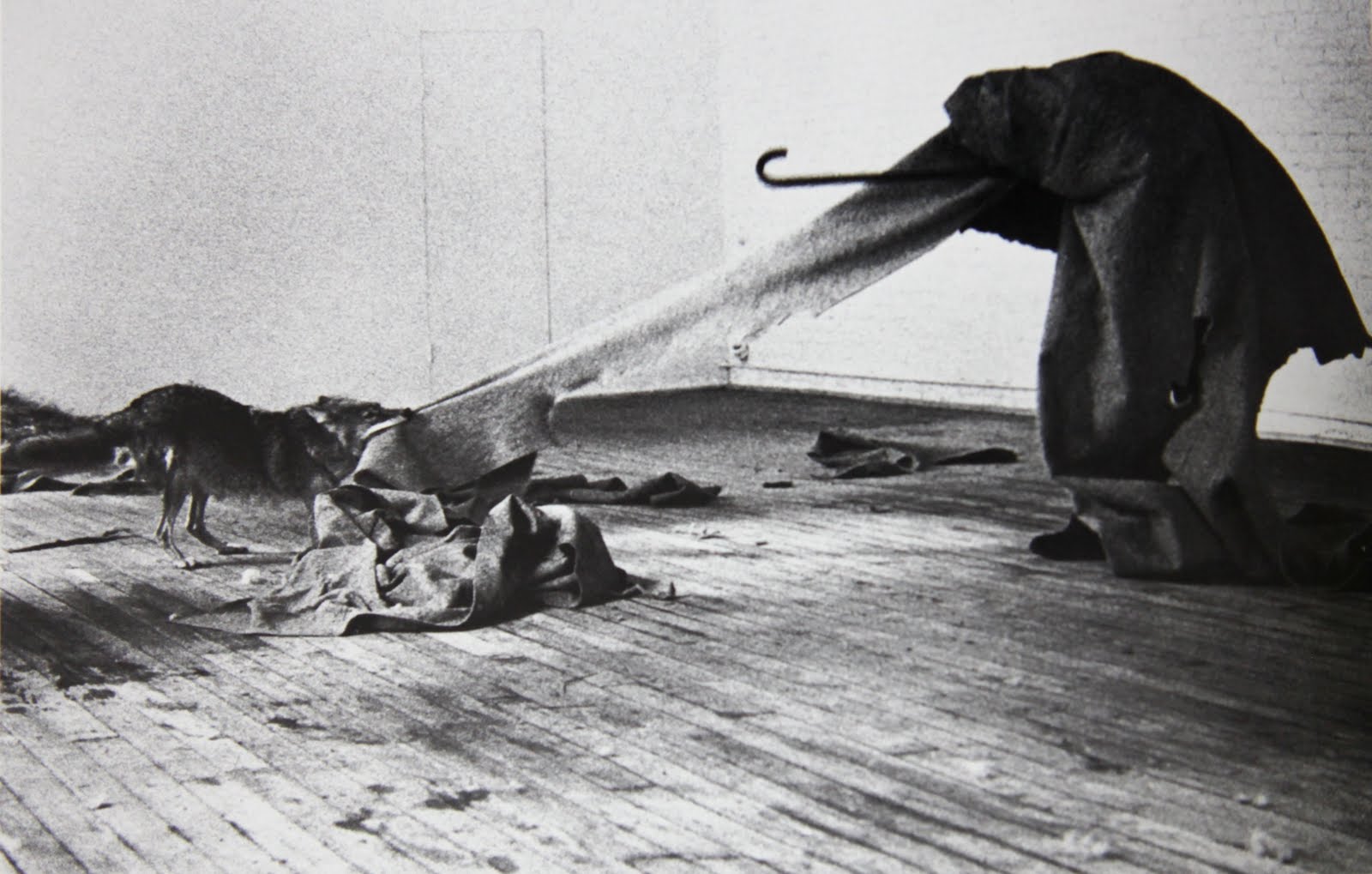 In May, 1985, Beuys began to suffer from what was most likely pleurisy, or an inflammation of the lungs. His health declined and the resultant stress on his body caused him to suffer fatal heart failure on 23 January 1986, in Düsseldorf, Germany. He was cremated and his ashes scattered in the North Sea, as per his wishes.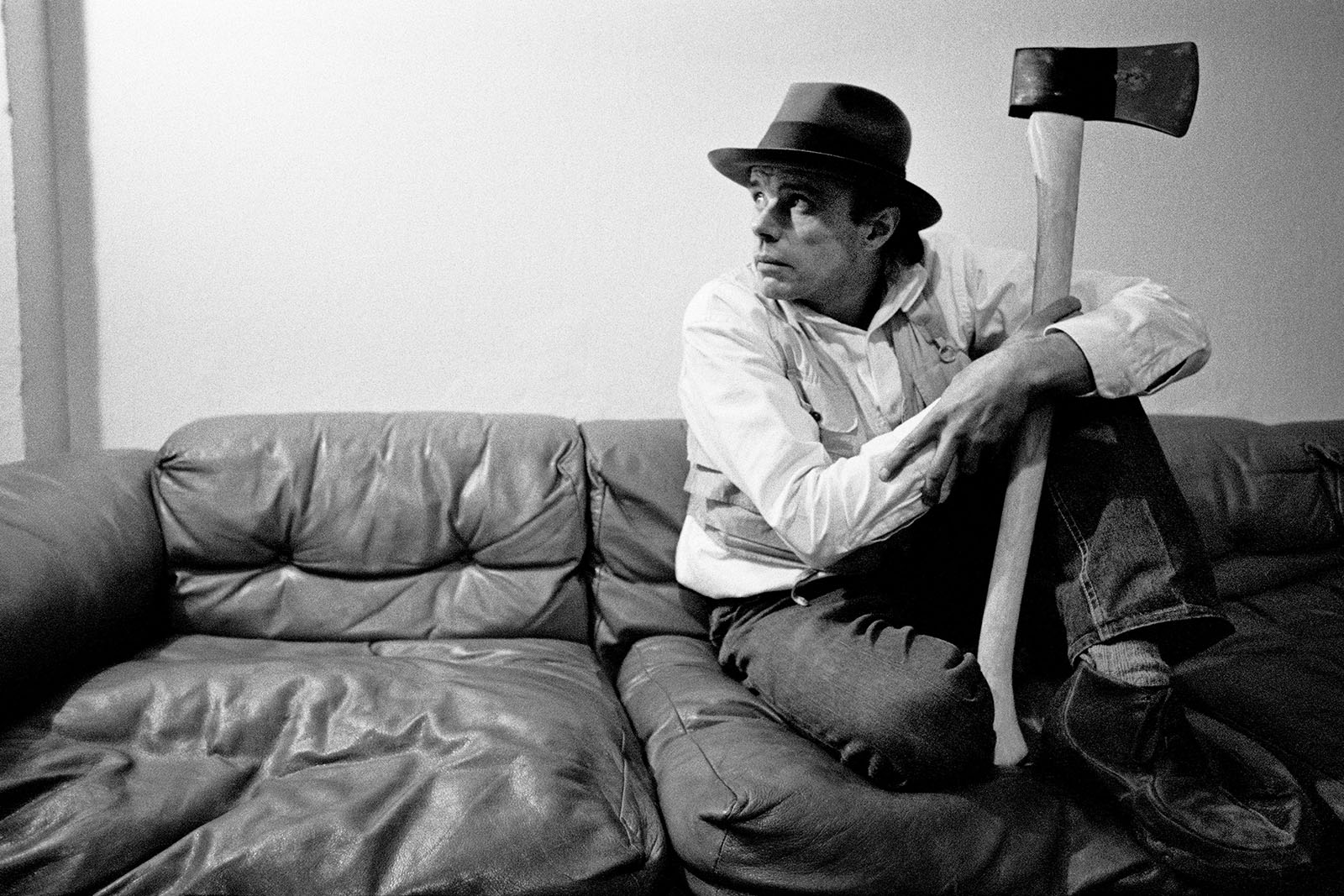 ---
Edited from:  https://en.wikipedia.org/wiki/Joseph_Beuys
---
see an error? click here to send corrections!
---