Jean-Michel Basquiat: painter
Jean-Michel Basquiat (December 22, 1960 – August 12, 1988) was an American artist. He first achieved notoriety as part of SAMO©, an informal graffiti duo who wrote enigmatic epigrams in the cultural hotbed of the Lower East Side of Manhattan during the late 1970s where the hip hop, post-punk, and street art movements had coalesced. By the 1980s, he was exhibiting his Neo-Expressionist paintings in galleries and museums internationally. The instant fame and wealth took a toll on the sensitive young man, who was to succumb to the weight of his success and pass away tragically, at the age of 27.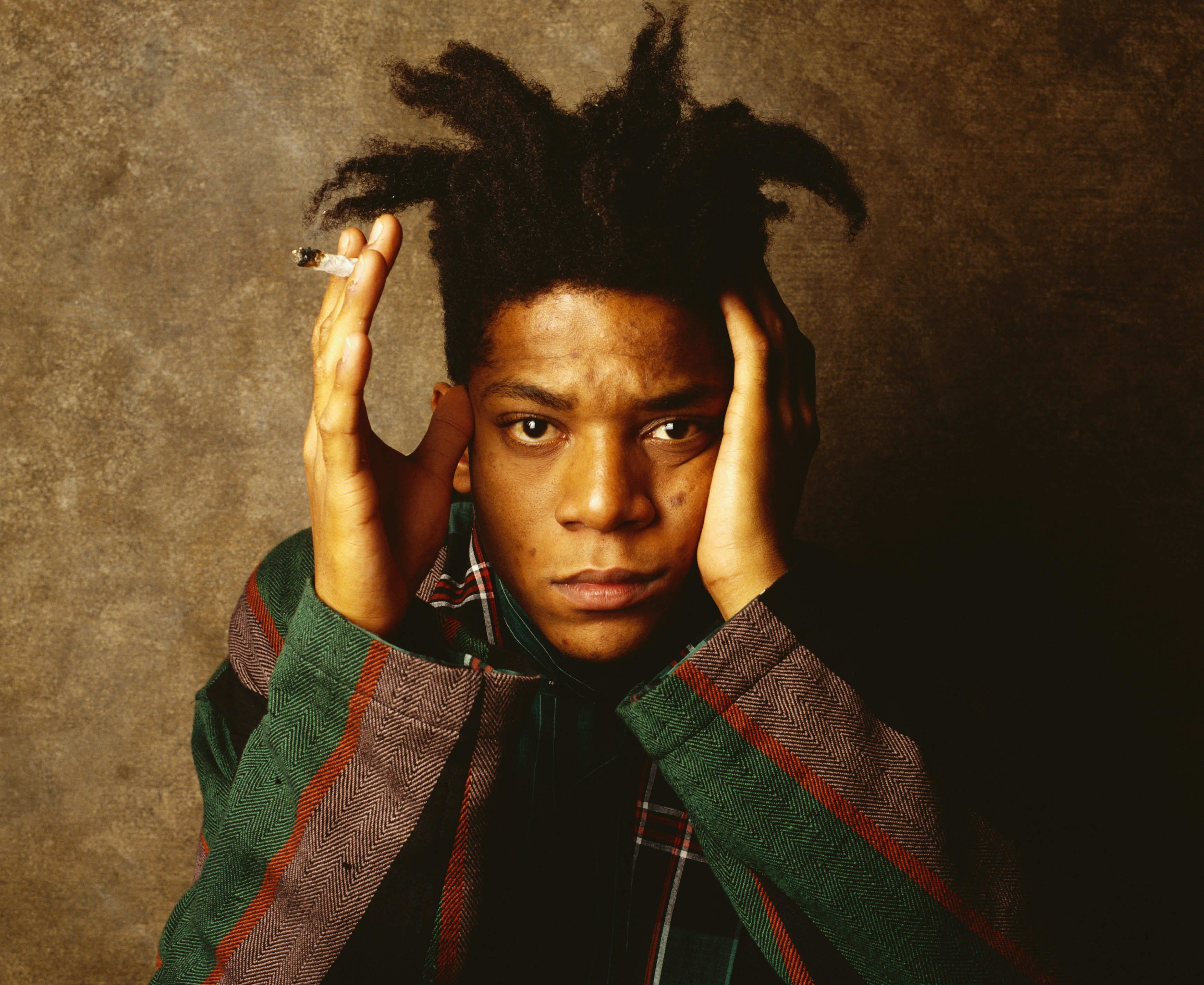 Basquiat's work focused on "suggestive dichotomies", such as wealth versus poverty, integration versus segregation, and inner versus outer experience, He appropriated poetry, drawing, and painting, and married text and image, abstraction, figuration, and historical information mixed with contemporary critique.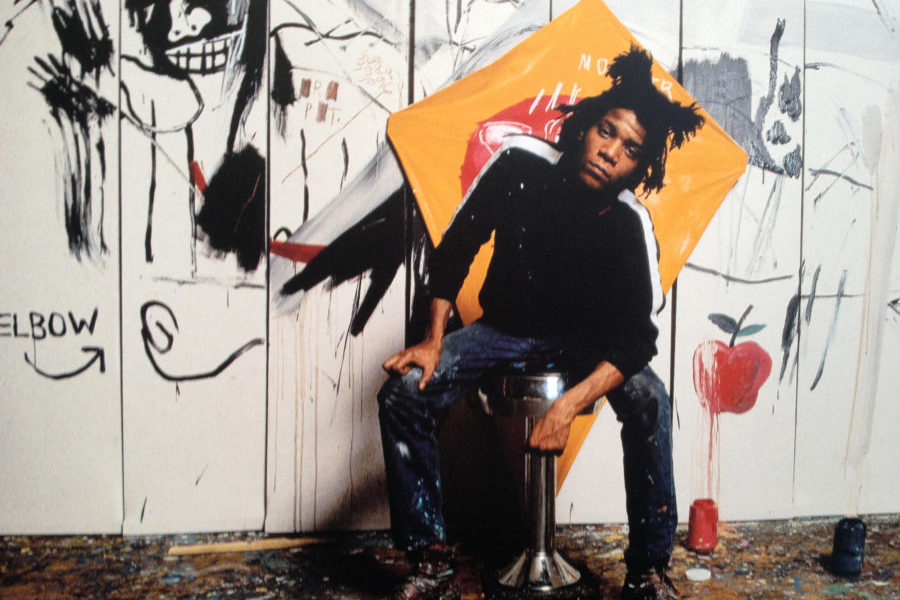 Basquiat used social commentary in his paintings as a "springboard to deeper truths about the individual", as well as attacks on power structures and systems of racism, while his poetics were acutely political and direct in their criticism of colonialism and support for class struggle.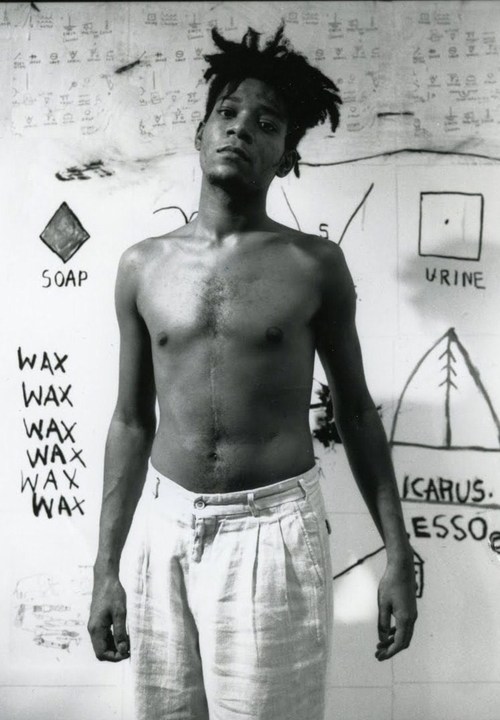 Jean-Michel Basquiat was born in Brooklyn, New York, on December 22, 1960, shortly after the death of his elder brother, Max. He was the second of four children of Matilda Andrades (July 28, 1934 – November 17, 2008) and Gérard Basquiat (1930 – July 7, 2013). He had two younger sisters: Lisane, born in 1964, and Jeanine, born in 1967. His father, Gérard Basquiat, was born in Port-au-Prince, Haiti, and his mother, Matilde Basquiat, who was of Puerto Rican descent, was born in Brooklyn, New York. Matilde instilled a love for art in her young son by taking him to art museums in Manhattan and enrolling him as a junior member of the Brooklyn Museum of Art.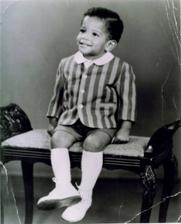 Basquiat was a precocious child who learned how to read and write by age four and was a gifted artist. His teachers, such as artist Jose Machado, noticed his artistic abilities, and his mother encouraged her son's artistic talent. By the age of 11, Basquiat was fully fluent in French, Spanish and English. In 1967, Basquiat started attending Saint Ann's, an arts-oriented exclusive private school. He drew with Marc Prozzo, a friend from St. Ann's; they together created a children's book, written by Basquiat and illustrated by Prozzo. Basquiat became an avid reader of Spanish, French, and English texts and a more than competent athlete, competing in track events.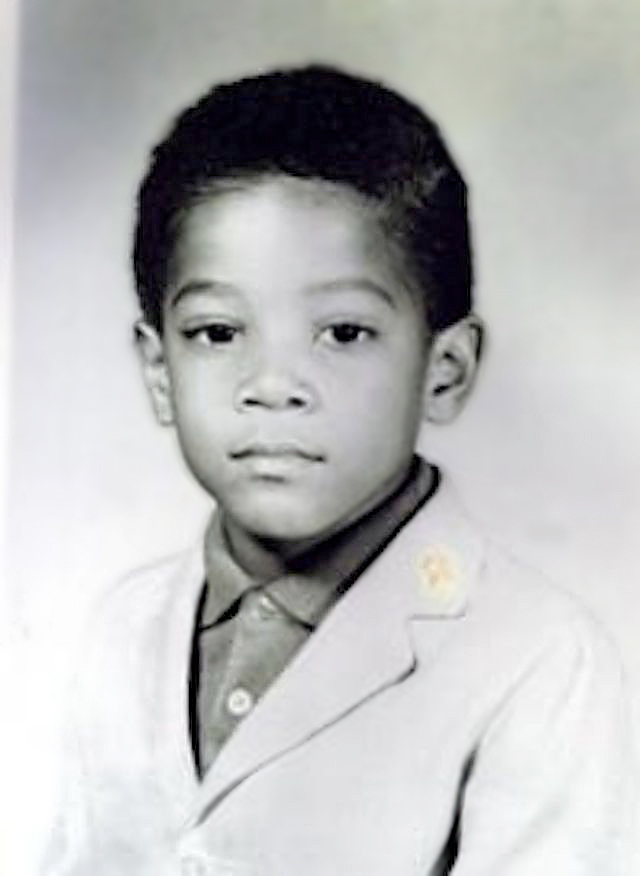 In September 1968, when Basquiat was about eight, he was hit by a car while playing in the street. His arm was broken and he suffered several internal injuries, and he eventually underwent a splenectomy. While he was recuperating from his injuries, his mother brought him the Gray's Anatomy book to keep him occupied. This book would prove to be influential in his future artistic outlook. His parents separated that year and he and his sisters were raised by their father.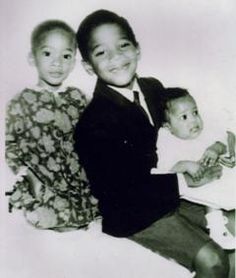 The family resided in Boerum Hill, Brooklyn, for five years, then moved to San Juan, Puerto Rico in 1974. After two years, they returned to New York City.
When he was 13, his mother was committed to a mental institution and thereafter spent time in and out of institutions. At 15, Basquiat ran away from home. He slept on park benches in Tompkins Square Park, and was arrested and returned to the care of his father within a week.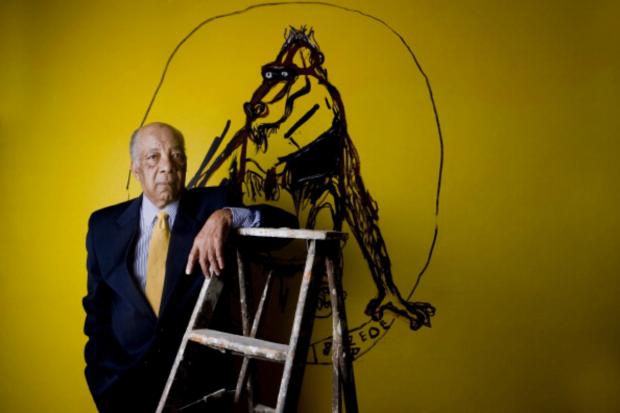 Basquiat dropped out of Edward R. Murrow High School in the tenth grade and then attended City-As-School, an alternative high school in Manhattan home to many artistic students who failed at conventional schooling. His father banished him from the household for dropping out of high school and Basquiat stayed with friends in Brooklyn. He supported himself by selling T-shirts and homemade post cards.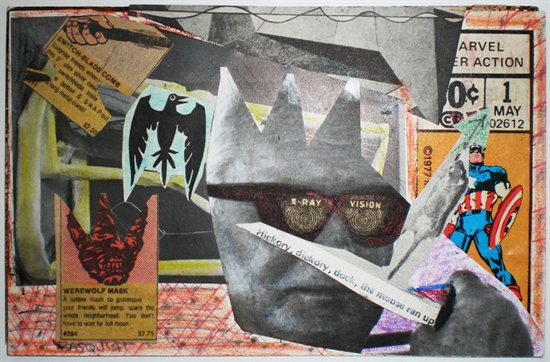 In 1976, Basquiat and friend Al Diaz began spray painting graffiti on buildings in Lower Manhattan, working under the pseudonym SAMO. The designs featured inscribed messages such as "Plush safe he think.. SAMO" and "SAMO as an escape clause".
At the age of 17, in 1978, Basquiat worked for the Unique Clothing Warehouse, in their art department, at 718 Broadway in NoHo and at night he became "SAMO" painting his original graffiti art on neighborhood buildings. Unique's founder Harvey Russack discovered Basquiat painting a building one night, they became friends, and he offered him a day job. On December 11, 1978, The Village Voice published an article about the graffiti. When Basquiat and Diaz ended their friendship, The SAMO project ended with the epitaph "SAMO IS DEAD", inscribed on the walls of SoHo buildings in 1979.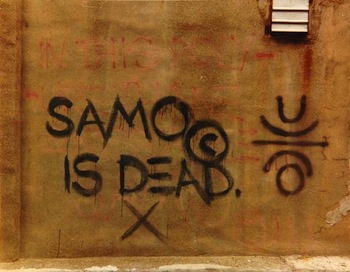 "SAMO (for "same old shit") marked the witty sayings of a precocious and worldly teenage mind that, even at that early juncture, saw the world in shades of gray, fearlessly juxtaposing corporate commodity structures with the social milieu he wished to enter: the predominantly white art world. "— Franklin Sirmans, In the Cipher: Basquiat and Hip Hop Culture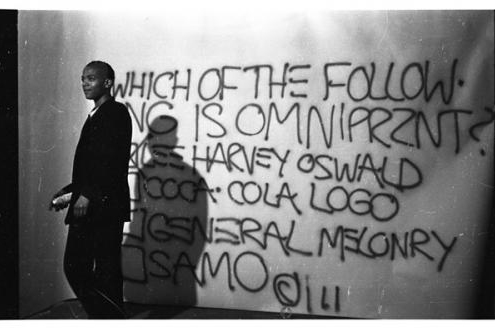 In 1979, the 18 year old Basquiat appeared on the live public-access television cable TV show TV Party hosted by Glenn O'Brien, and the two started a friendship. Basquiat made regular appearances on the show over the next few years.
That same year, Basquiat formed the noise rock band Test Pattern – which was later renamed Gray – which played at Arleen Schloss's open space, "Wednesdays at A's", where in October 1979 Basquiat showed, among others, his SAMO color Xerox work. The band produced one album on Plush Safe Records, entitled "Shades Of." Gray also consisted of Shannon Dawson, Michael Holman, Nick Taylor, Wayne Clifford and Vincent Gallo, and the band performed at nightclubs such as Max's Kansas City, CBGB, Hurrah and the Mudd Club.
In 1980, Basquiat starred in O'Brien's independent film Downtown 81, originally titled New York Beat.  Downtown 81 featured some of Gray's recordings on its soundtrack.

That same year, Basquiat met Andy Warhol at a restaurant. Basquiat presented to Warhol samples of his work, and Warhol was stunned by Basquiat's genius and allure. The two artists later collaborated.
Basquiat also appeared in the 1981 Blondie music video "Rapture," in a role originally intended for Grandmaster Flash, as a nightclub disc jockey. (You can spot the young artist in the video at timestamp 1:50.)

Before his career as a painter began, he produced punk-inspired postcards for sale on the street, and became known for the political–poetical graffiti under the name of SAMO. On one occasion Basquiat painted his girlfriend's dress with the words "Little Shit Brown". He would often draw on random objects and surfaces, including other people's property. The conjunction of various media is an integral element of Basquiat's art. His paintings are typically covered with text and codes of all kinds: words, letters, numerals, pictograms, logos, map symbols, diagrams and more.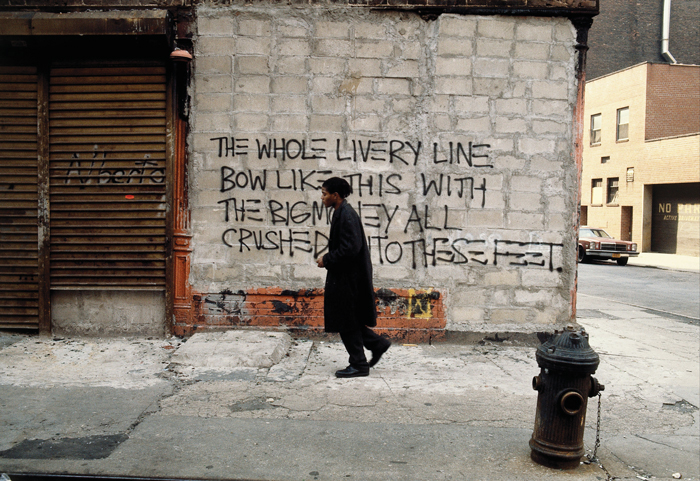 The early 1980s were Basquiat's breakthrough years. In June 1980, Basquiat participated in The Times Square Show, a multi-artist exhibition sponsored by Collaborative Projects Incorporated (Colab) and Fashion Moda. Other artists in the show included David Hammons, Jenny Holzer, Lee Quiñones, Kenny Scharf and Kiki Smith. The show was held in a vacant building at 41st Street and Seventh Avenue, New York.
In September of the same year, Basquiat joined the Annina Nosei gallery and worked in a basement below the gallery toward his first one-man show, which took place in March 1981 with great success. Quickly thereafter, he was showing regularly alongside other Neo-expressionist artists including Julian Schnabel, David Salle, Francesco Clemente and Enzo Cucchi. He was represented in Los Angeles by the Gagosian gallery and throughout Europe by Bruno Bischofberger.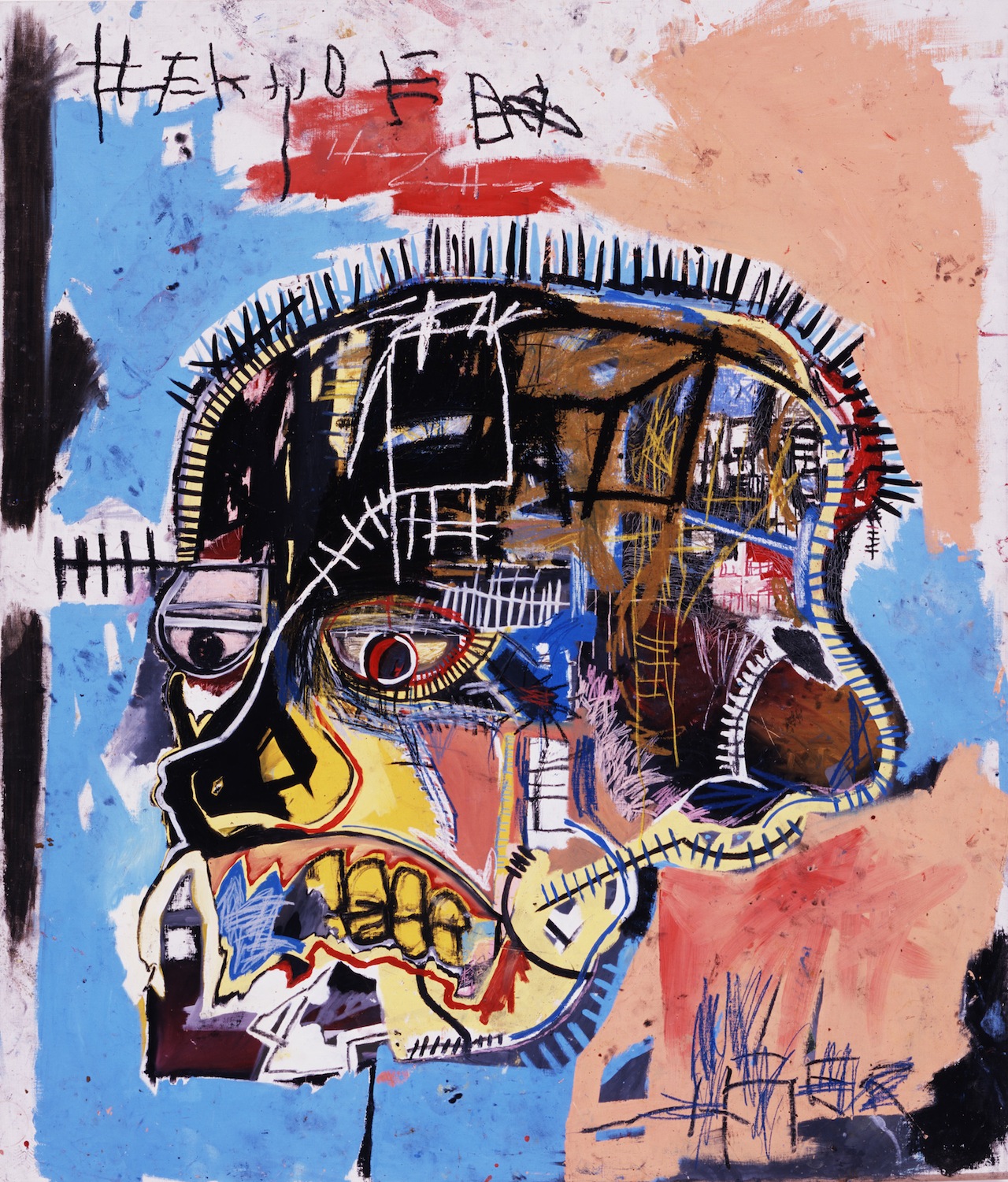 In March 1982 he worked in Modena, Italy, and from November, Basquiat worked from the ground-floor display and studio space Larry Gagosian had built below his Venice, California, home and commenced a series of paintings for a 1983 show, his second at Gagosian Gallery, then in West Hollywood. He brought along his girlfriend, then unknown aspiring singer Madonna.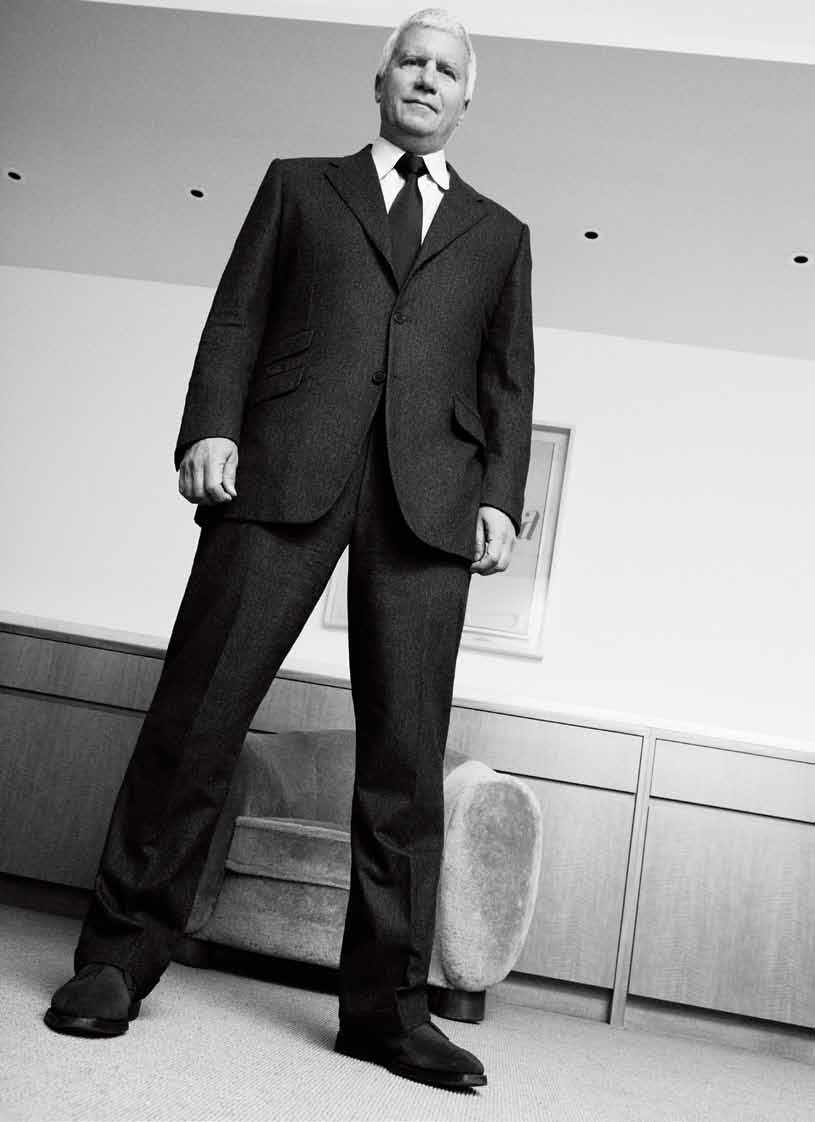 During this time he took considerable interest in the work that Robert Rauschenberg was producing at Gemini G.E.L. in West Hollywood, visiting him on several occasions and finding inspiration in the accomplishments of the painter.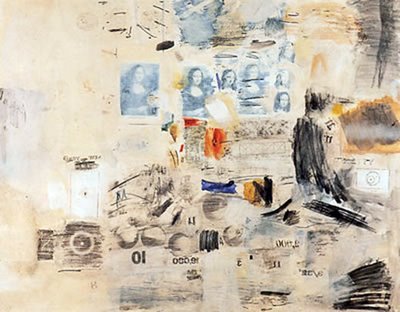 In 1983, Basquiat produced a 12″ rap single featuring hip-hop artists Rammellzee and K-Rob. Billed as Rammellzee vs. K-Rob, the single contained two versions of the same track: "Beat Bop" on side one with vocals and "Beat Bop" on side two as an instrumental. The single was pressed in limited quantities on the one-off Tartown Record Company label. The single's cover featured Basquiat's artwork, making the pressing highly desirable among both record and art collectors.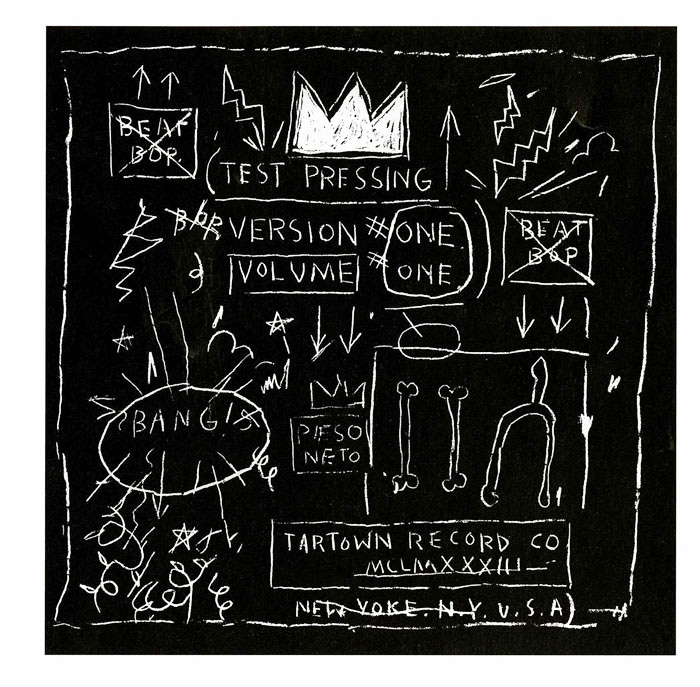 At the suggestion of Swiss dealer Bruno Bischofberger, Warhol and Basquiat worked on a series of collaborative paintings between 1983 and 1985. In the case of Olympic Rings (1985), Warhol made several variations of the Olympic five-ring symbol, rendered in the original primary colors. Basquiat responded to the abstract, stylized logos with his oppositional graffiti style. The collaborative show is still touring the world today, though smaller, as numerous works have been sold or are in museums.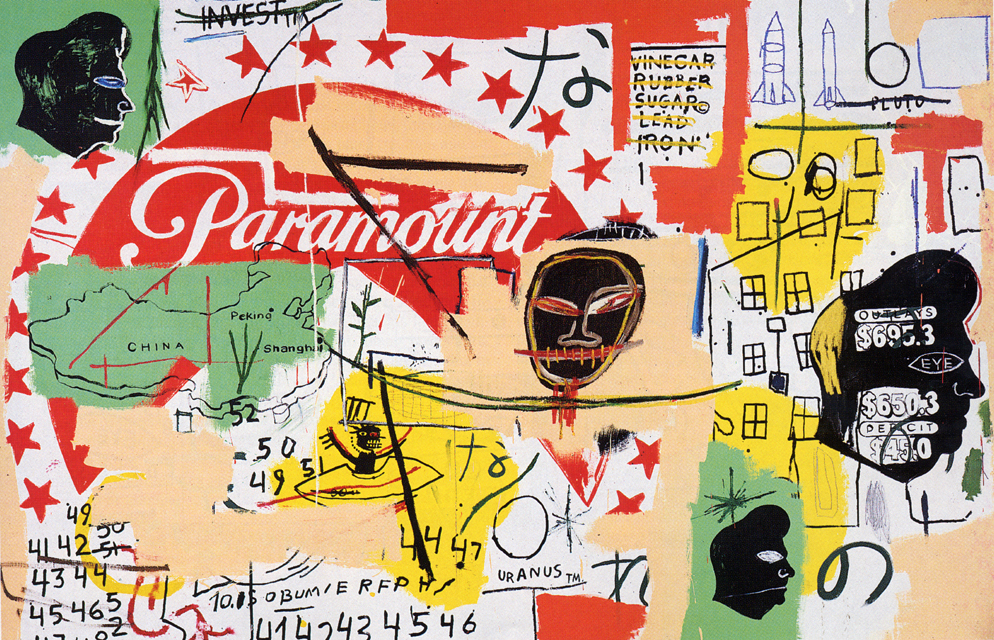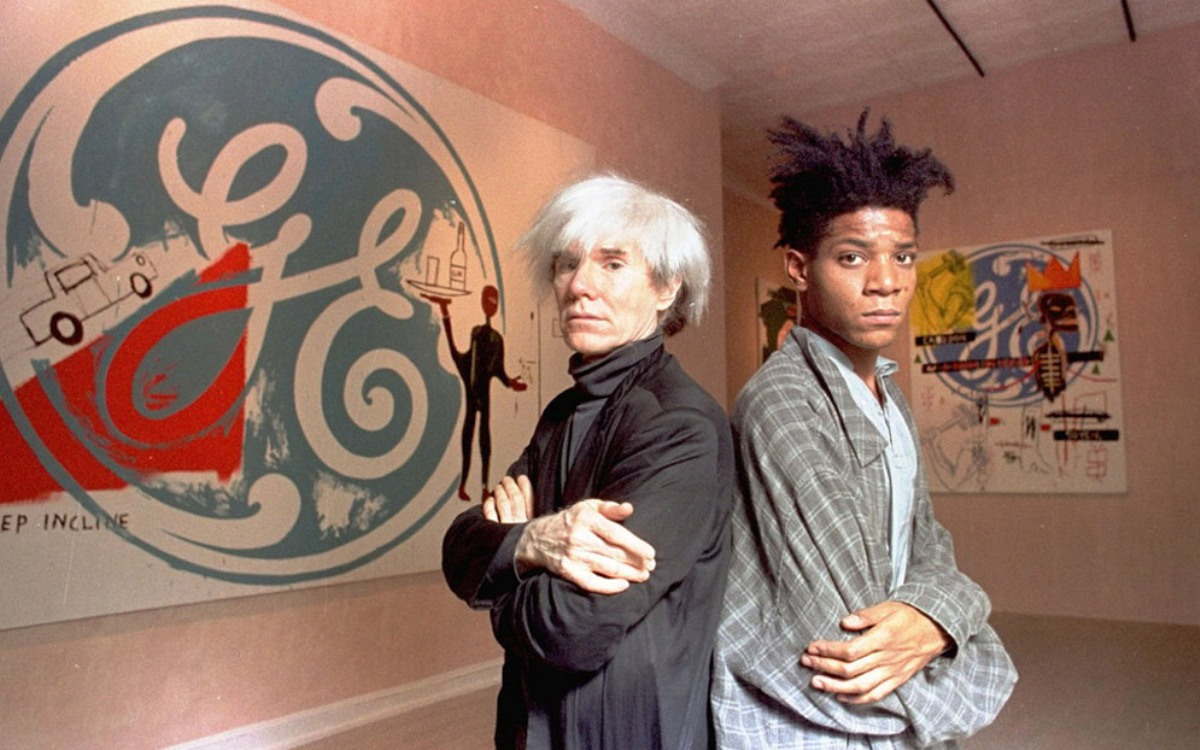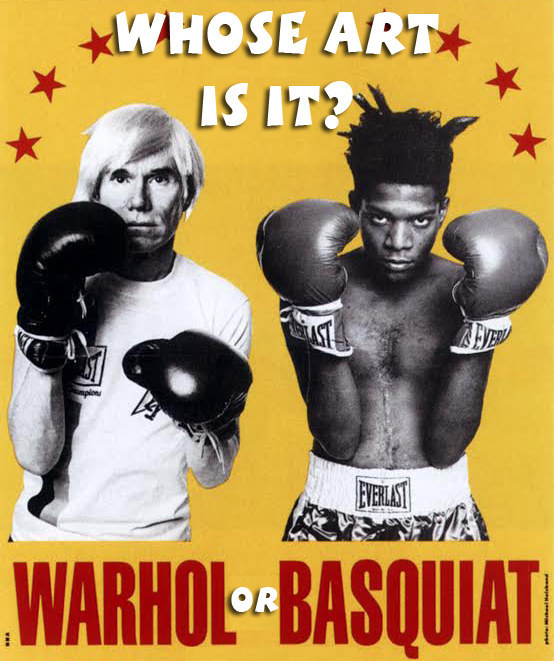 Basquiat was known for often painting in expensive Armani suits and would even appear in public in the same paint-splattered clothes.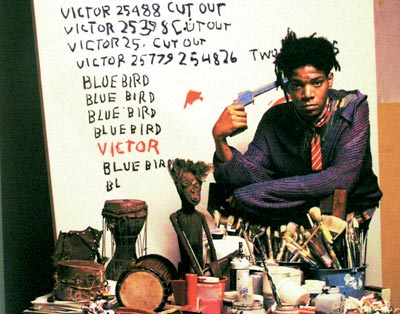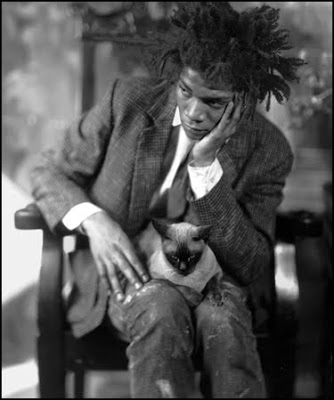 "Basquiat's canon revolves around single heroic figures: athletes, prophets, warriors, cops, musicians, kings and the artist himself. In these images the head is often a central focus, topped by crowns, hats, and halos. In this way the intellect is emphasized, lifted up to notice, privileged over the body and the physicality of these figures (i.e. black men) commonly represent in the world." — Kellie Jones, Lost in Translation: Jean-Michel in the (Re)Mix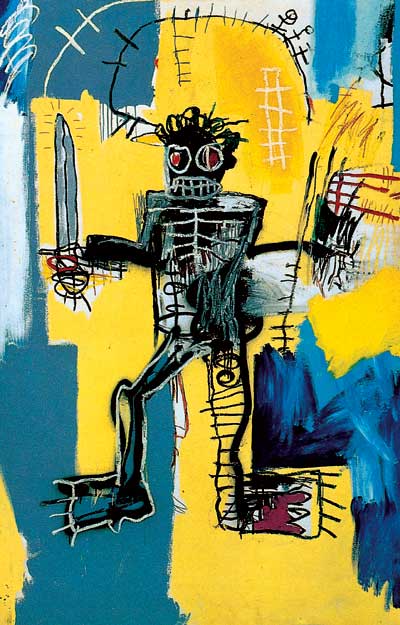 Fred Hoffman hypothesizes that underlying Basquiat's sense of himself as an artist was his "innate capacity to function as something like an oracle, distilling his perceptions of the outside world down to their essence and, in turn, projecting them outward through his creative acts." Additionally, continuing his activities as a graffiti artist, Basquiat often incorporated words into his paintings.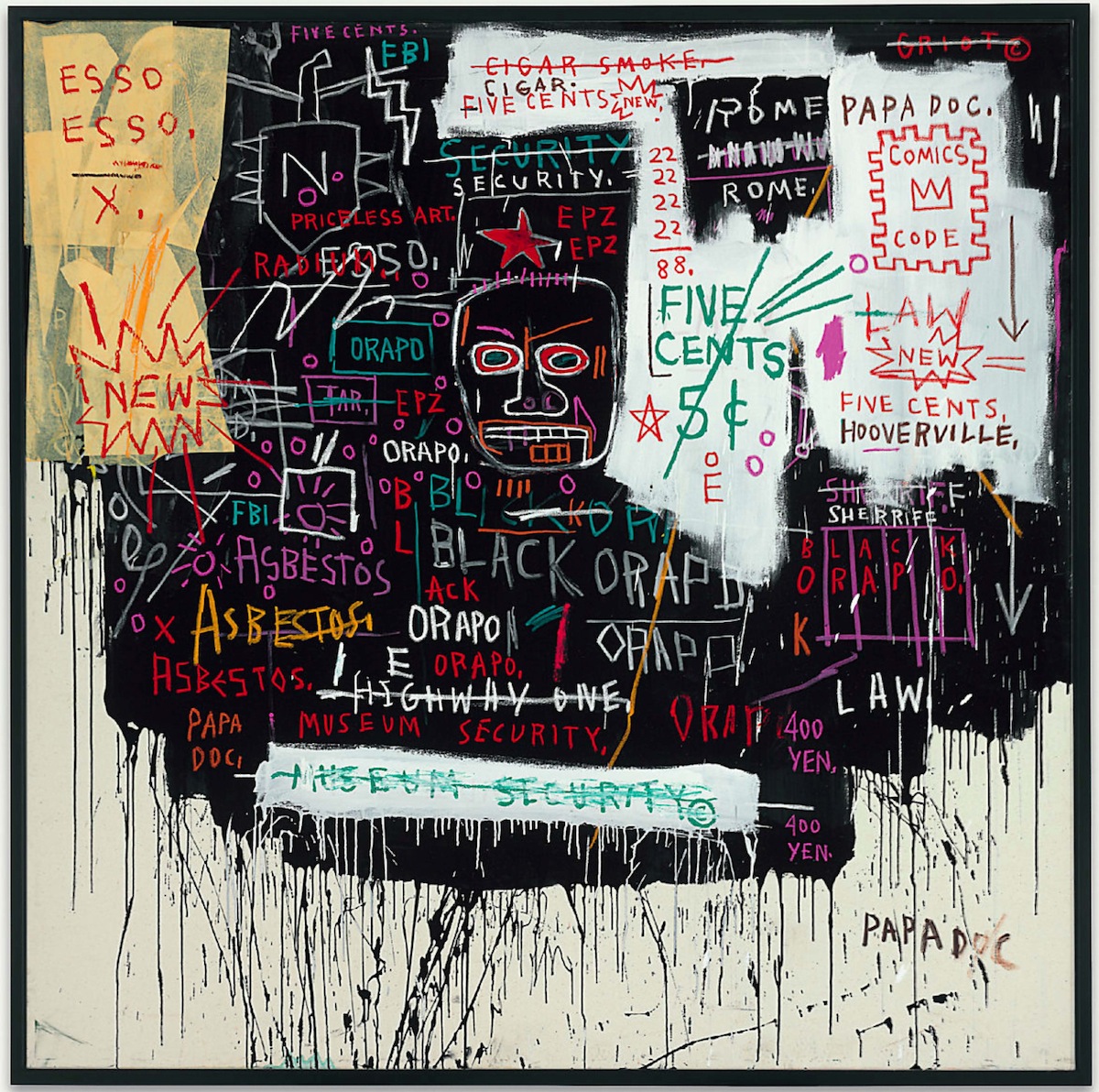 A middle period from late 1982 to 1985 featured multi-panel paintings and individual canvases with exposed stretcher bars, the surface dense with writing, collage and imagery. The years 1984–85 were also the main period of the Basquiat–Warhol collaborations, even if, in general, they were not very well received by the critics.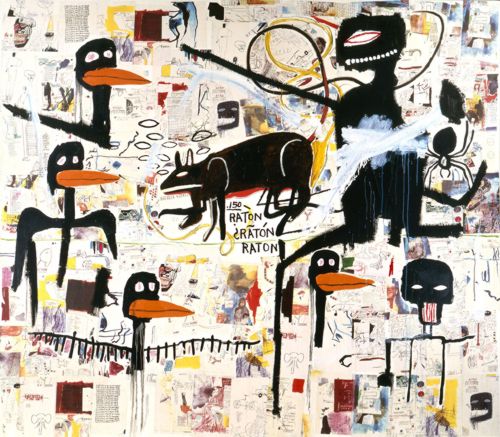 A major reference source used by Basquiat throughout his career was the book Gray's Anatomy, which his mother had given him while he was in the hospital at age seven. It remained influential in his depictions of internal human anatomy, and in its mixture of image and text. Other major sources were Henry Dreyfuss' Symbol Sourcebook, Leonardo da Vinci's notebooks, and Brentjes' African Rock Art.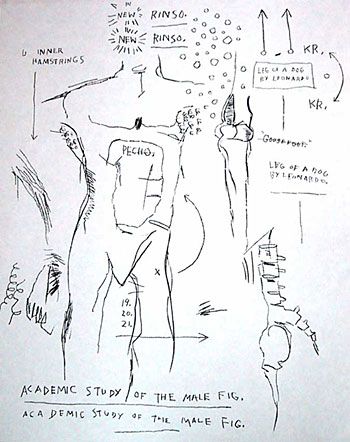 Basquiat doodled often and some of his later pieces exhibited this; they were often colored pencil on paper with a loose, spontaneous, and dirty style much like his paintings. His work across all mediums displays a childlike fascination with the process of creating.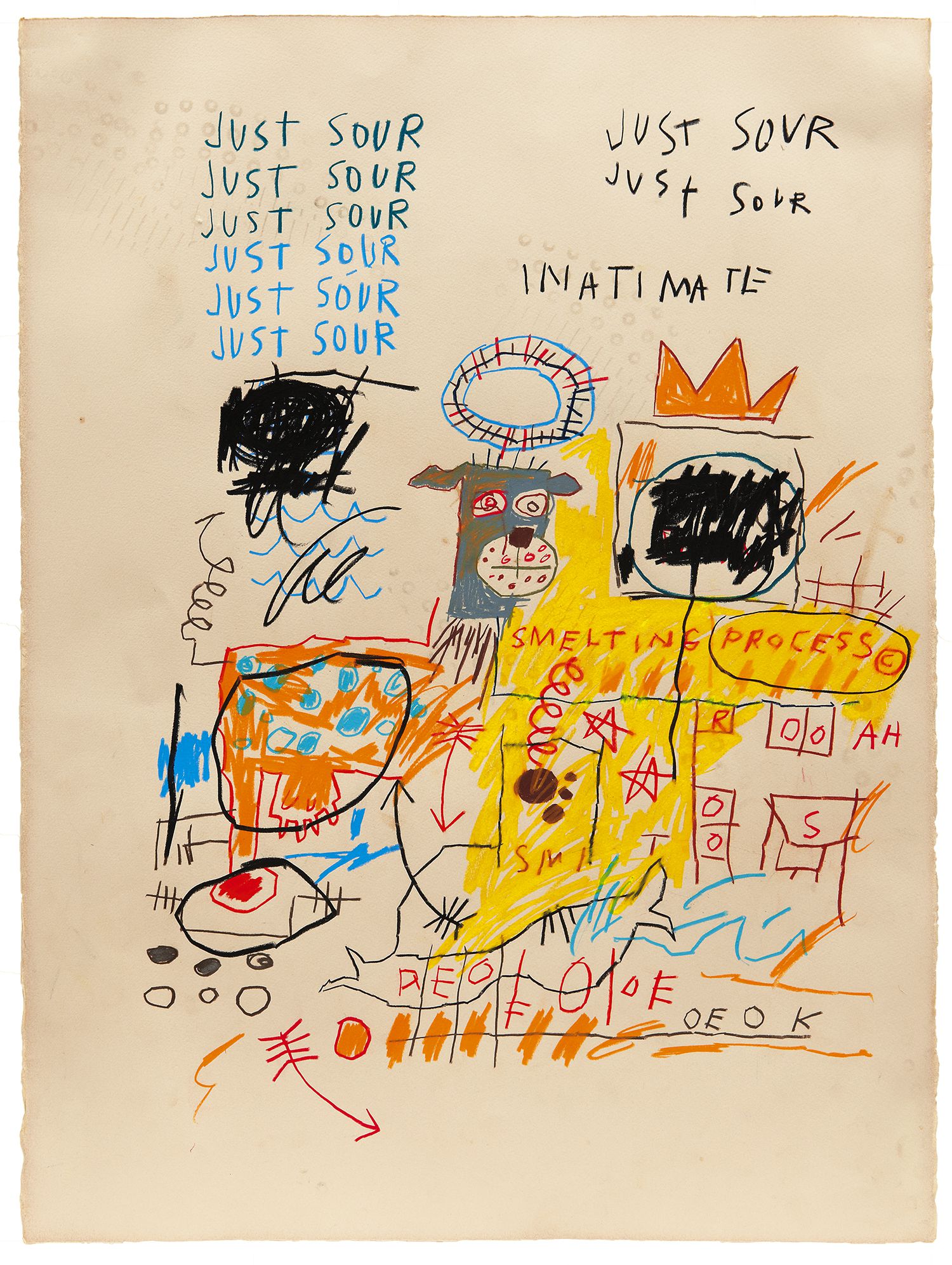 "Like a DJ, Basquiat adeptly reworked Neo-expressionism's clichéd language of gesture, freedom, and angst and redirected Pop art's strategy of appropriation to produce a body of work that at times celebrated black culture and history but also revealed its complexity and contradictions." — Lydia Lee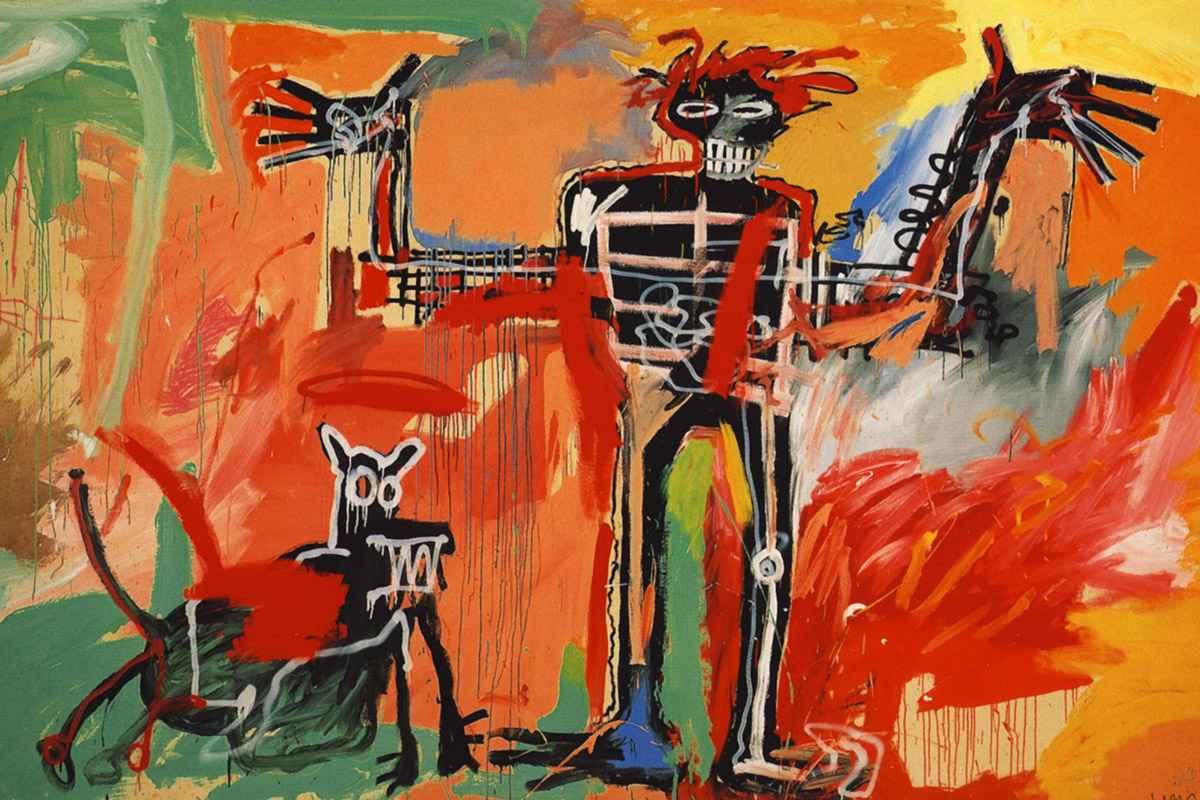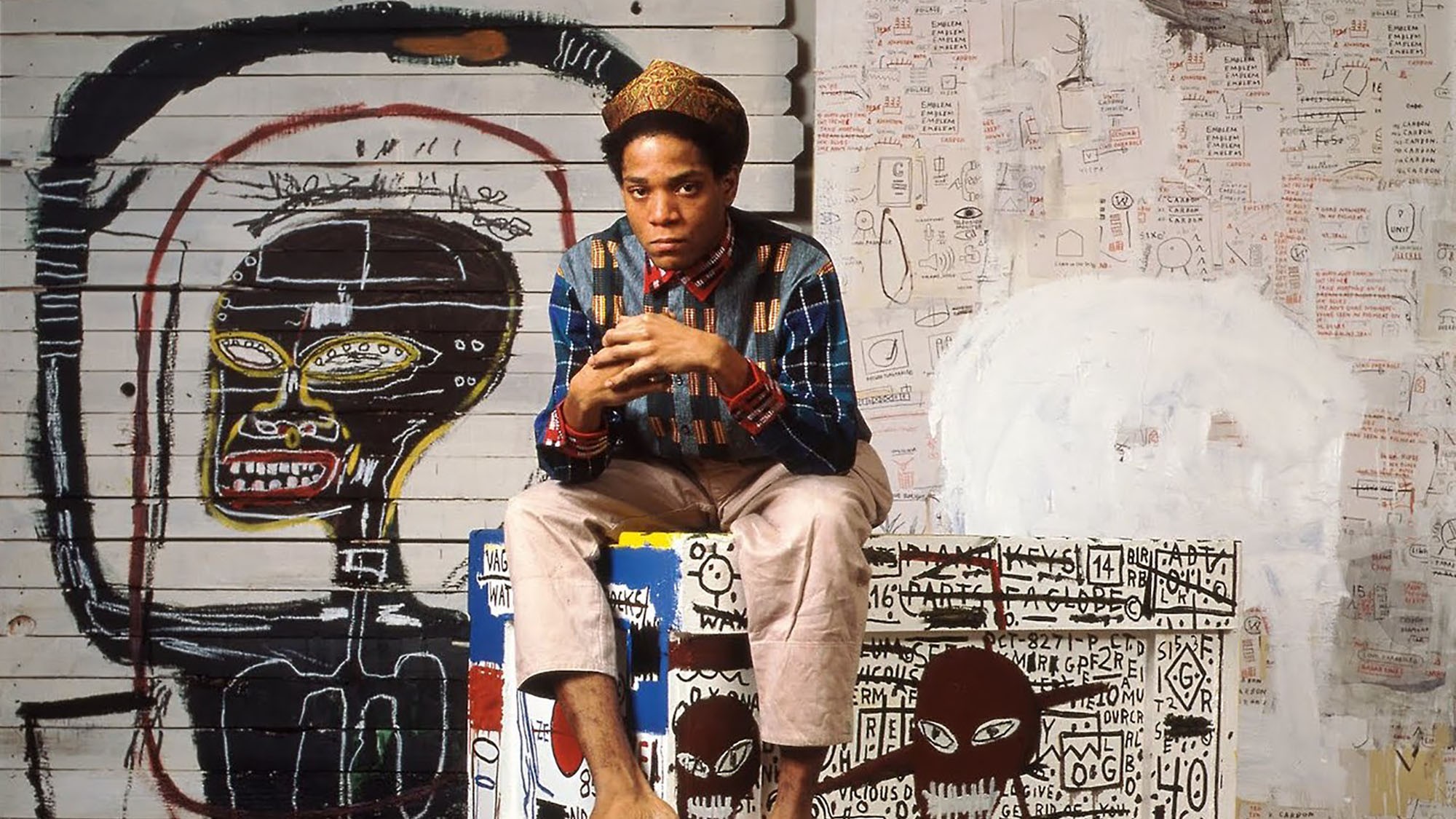 According to Andrea Frohne, Basquiat's 1983 painting Untitled (History of the Black People) "reclaims Egyptians as African and subverts the concept of ancient Egypt as the cradle of Western Civilization". At the center of the painting, Basquiat depicts an Egyptian boat being guided down the Nile River by Osiris, the Egyptian god of the earth and vegetation. On the right panel of the painting appear the words "Esclave, Slave, Esclave". Two letters of the word "Nile" are crossed out and Frohne suggests that, "The letters that are wiped out and scribbled over perhaps reflect the acts of historians who have conveniently forgotten that Egyptians were black and blacks were enslaved." On the left panel of the painting Basquiat has illustrated two Nubian-style masks. The Nubians historically were darker in skin color, and were considered to be slaves by the Egyptian people. Throughout the rest of the painting, images of the Atlantic slave trade are juxtaposed with images of the Egyptian slave trade centuries before. The sickle in the center panel is a direct reference to the slave trade in the United States, and slave labor under the plantation system. The word "salt" that appears on the right panel of the work refers to the Atlantic slave trade, as salt was another important commodity traded at that time.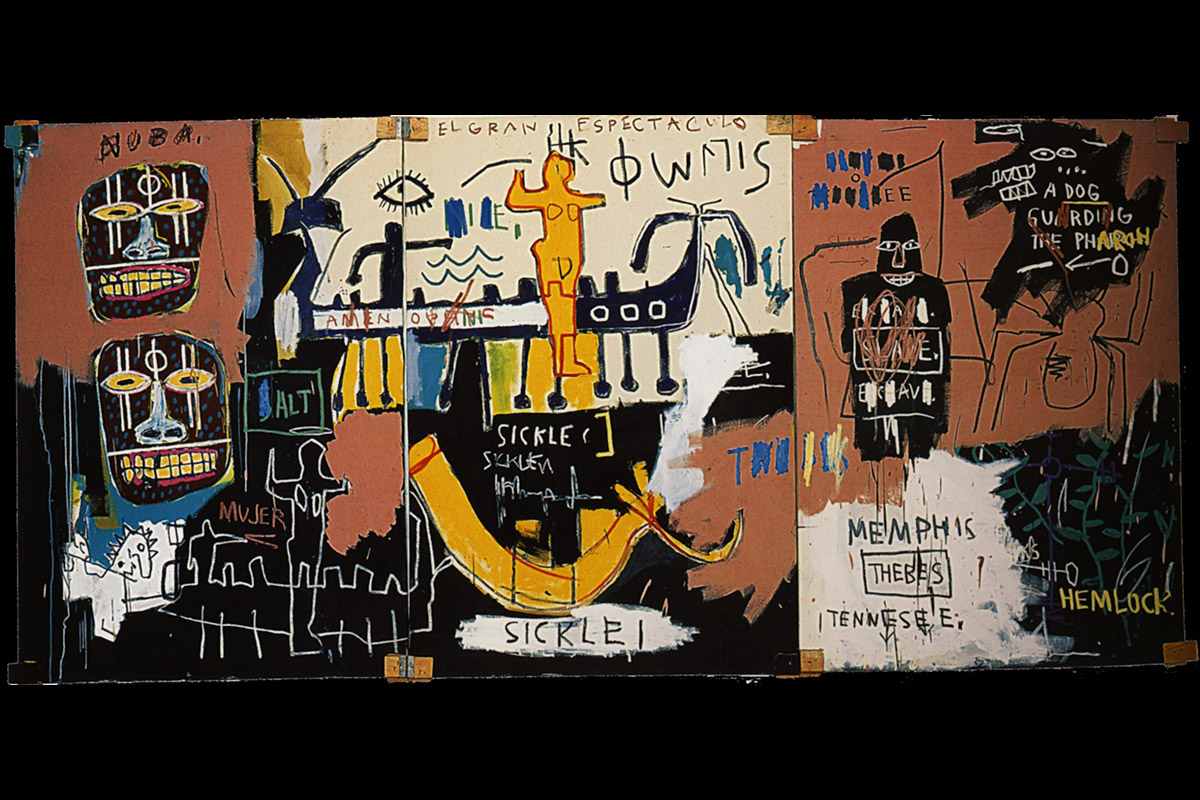 Another of Basquiat's pieces, Irony of Negro Policeman (1981), is intended to illustrate how African-Americans have been controlled by a predominantly Caucasian society. Basquiat sought to portray how complicit African-Americans have become with the "institutionalized forms of whiteness and corrupt white regimes of power" years after the Jim Crow era had ended. Basquiat found the concept of a "Negro policeman" utterly ironic. It would seem that this policeman should sympathize with his black friends, family, and ancestors, yet instead he was there to enforce the rules designed by "white society." The Negro policeman had "black skin but wore a white mask". In the painting, Basquiat depicted the policeman as large in order to suggest an "excessive and totalizing power", but made the policeman's body fragmented and broken. The hat that frames the head of the policeman resembles a cage, and represents how constrained the independent perceptions of African-Americans were at the time, and how constrained the policeman's own perceptions were within white society. Basquiat drew upon his Haitian heritage by painting a hat that resembles the top hat associated with the gede family of loa, who embody the powers of death in Vodou.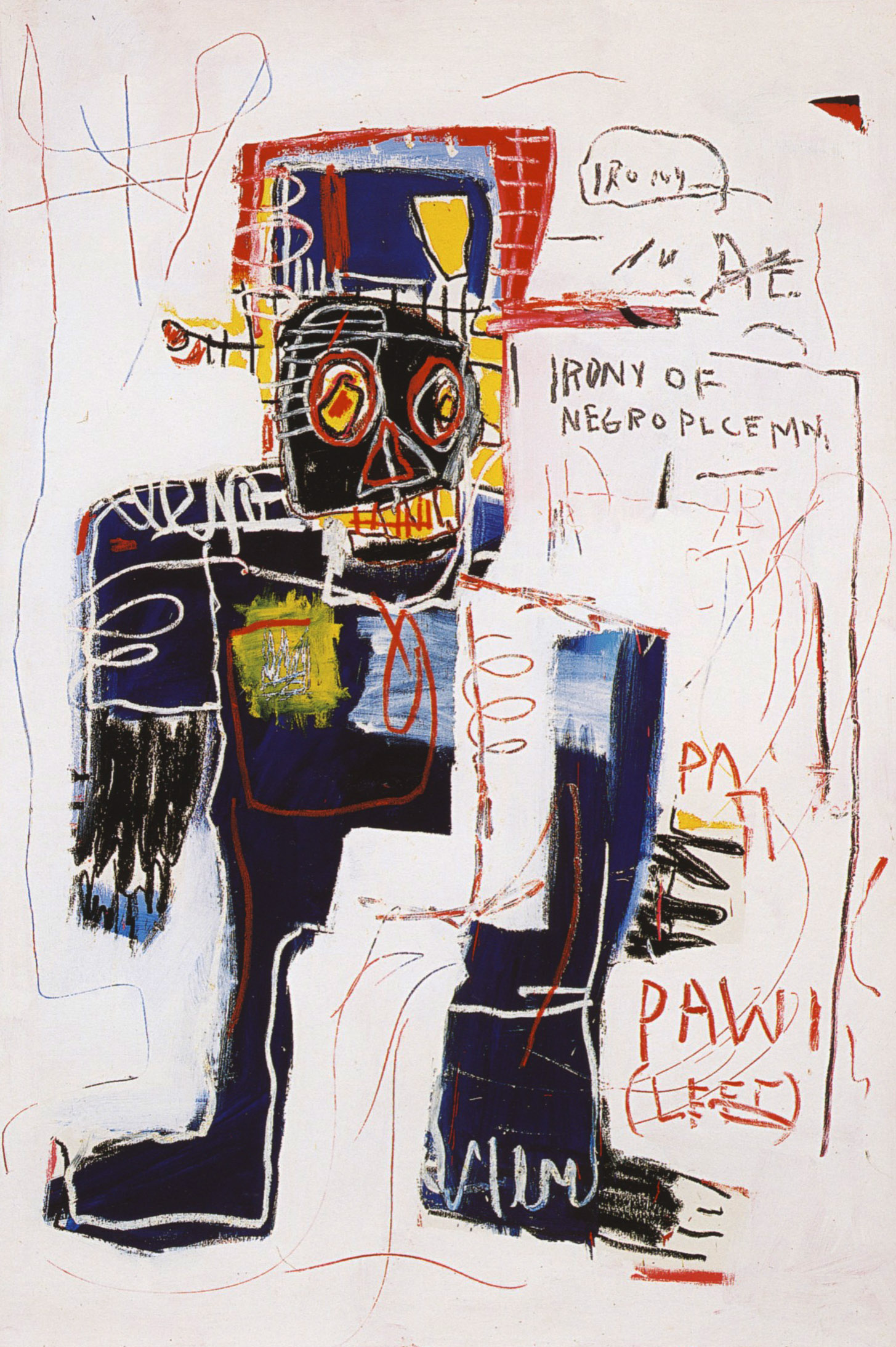 However, Kellie Jones, in her essay Lost in Translation: Jean-Michel in the (Re)Mix, posits that Basquiat's "mischievous, complex, and neologistic side, with regard to the fashioning of modernity and the influence and effluence of black culture" are often elided by critics and viewers, and thus "lost in translation."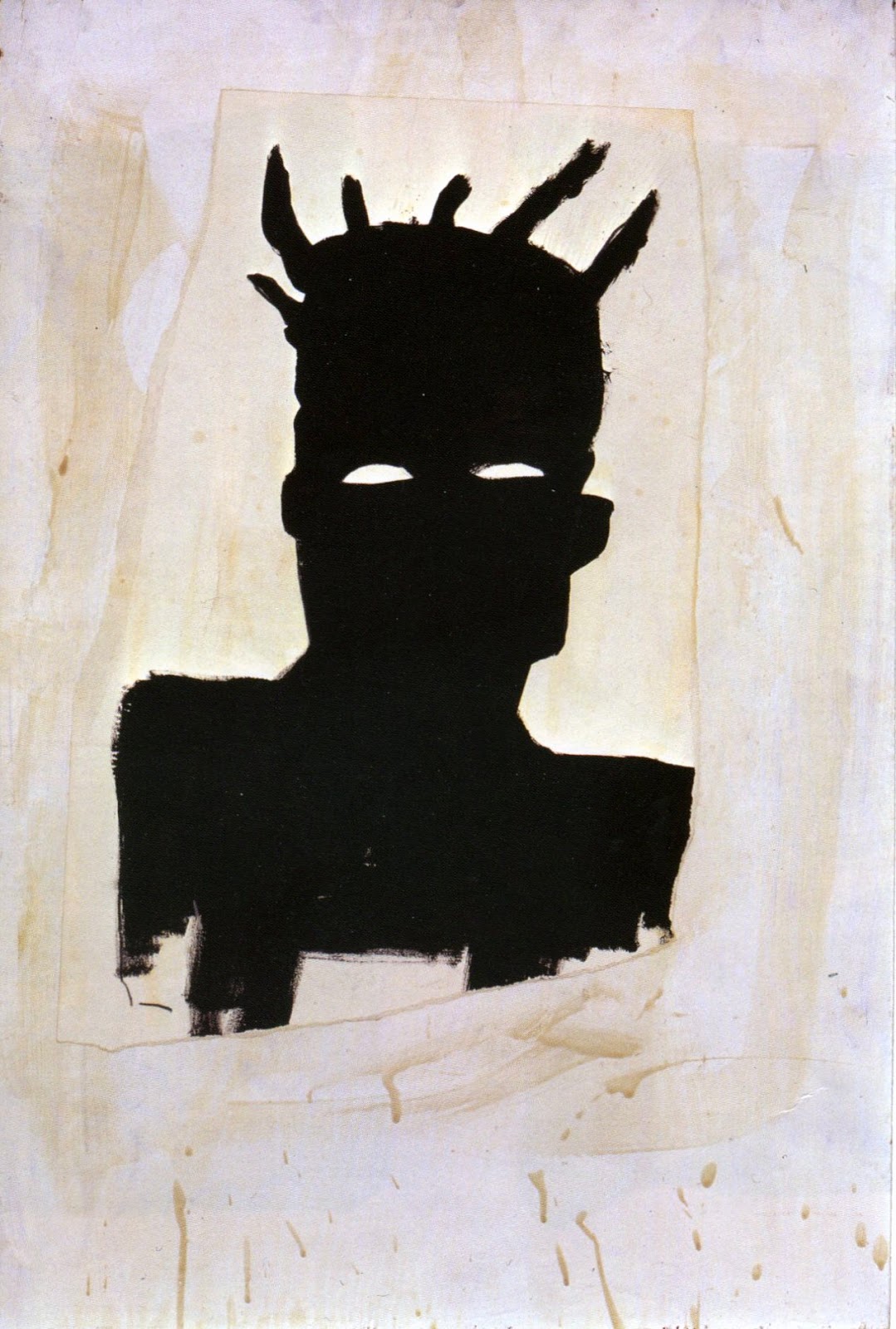 The art historian Olivier Berggruen situates in Basquiat's anatomical screen prints, titled Anatomy, an assertion of vulnerability, one which "creates an aesthetic of the body as damaged, scarred, fragmented, incomplete, or torn apart, once the organic whole has disappeared. Paradoxically, it is the very act of creating these representations that conjures a positive corporeal valence between the artist and his sense of self or identity."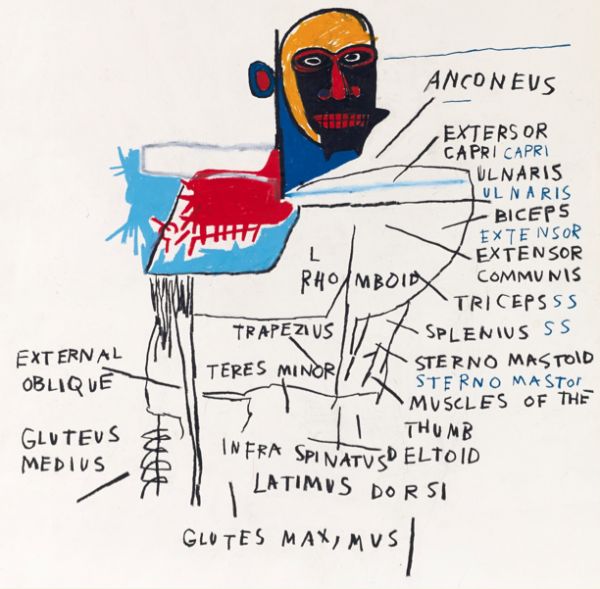 By 1986, Basquiat had left the Annina Nosei gallery, and was showing at the Mary Boone gallery in SoHo. On February 10, 1985, he appeared on the cover of The New York Times Magazine in a feature titled "New Art, New Money: The Marketing of an American Artist". He was a successful artist in this period, but his growing heroin addiction began to interfere with his personal relationships.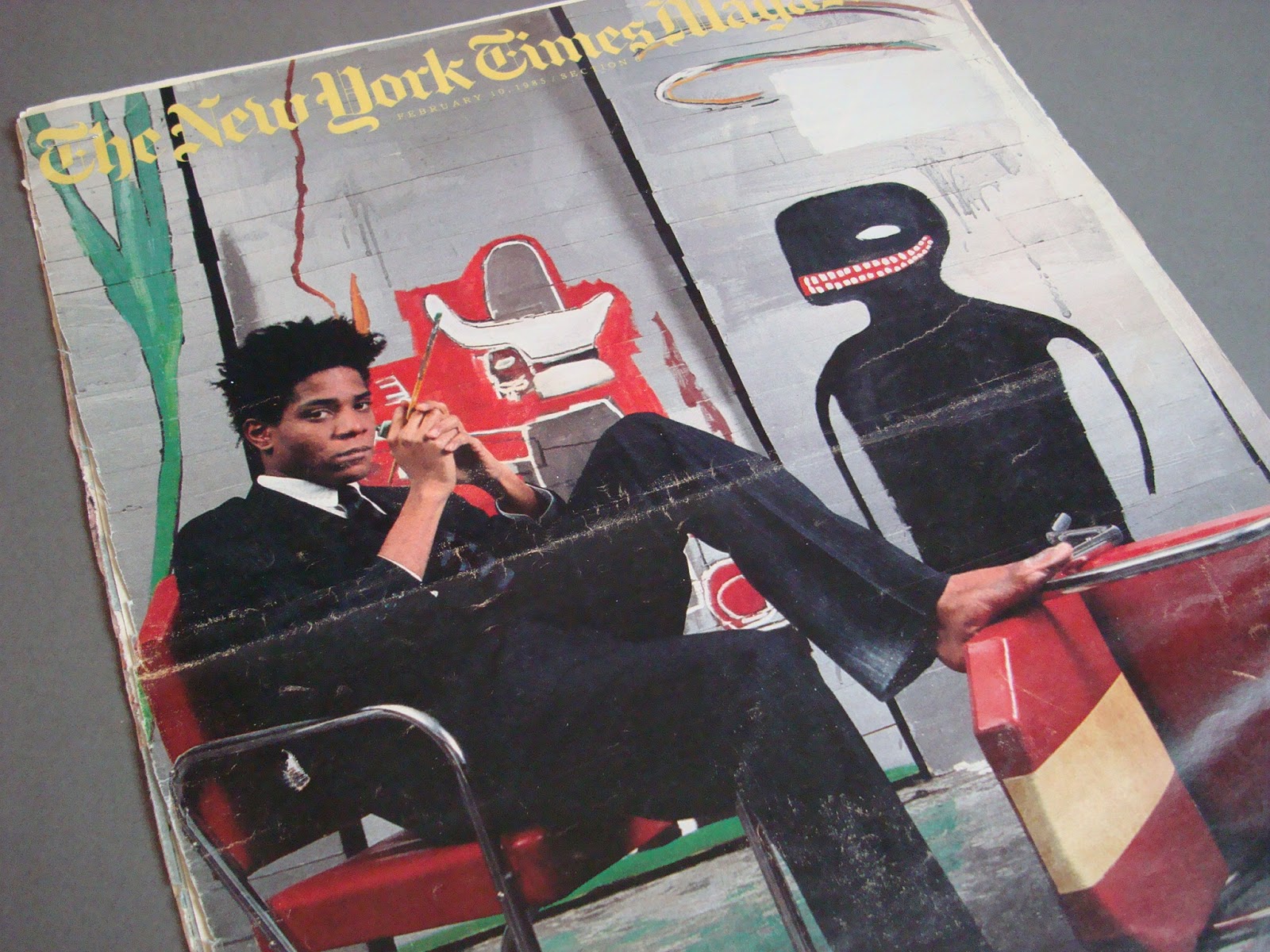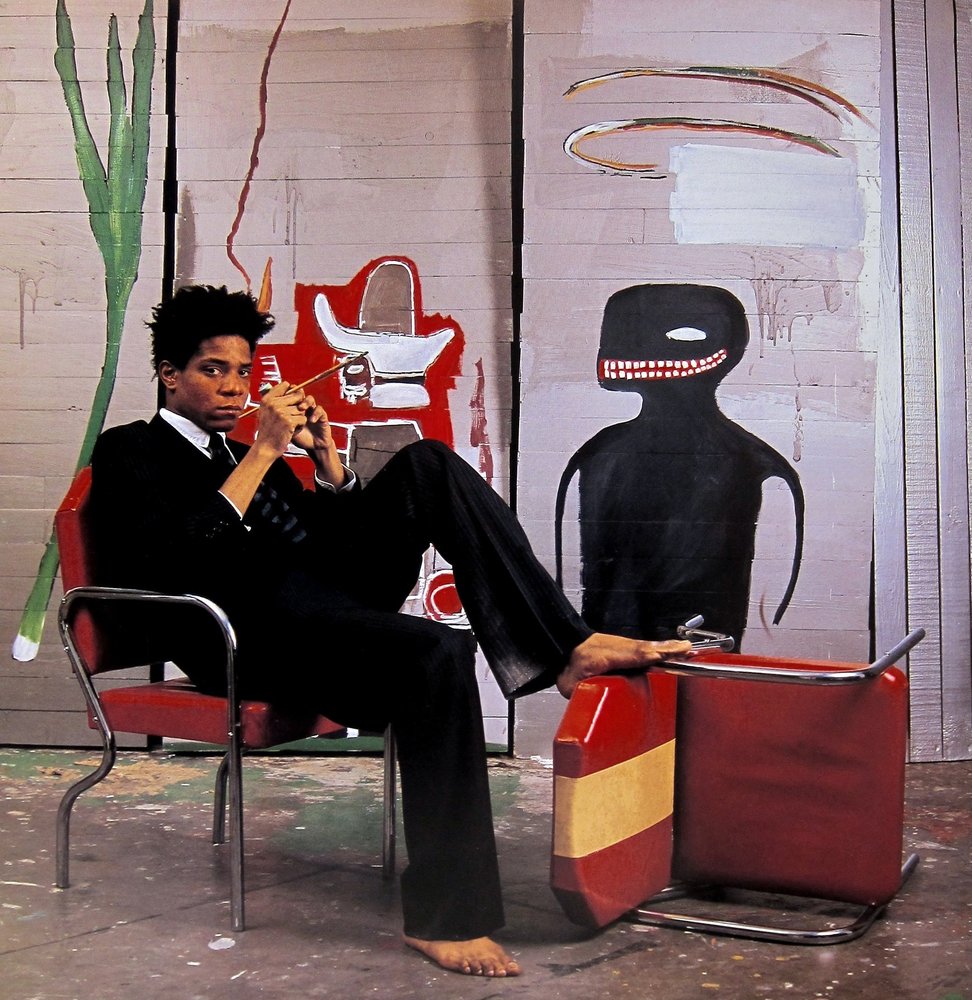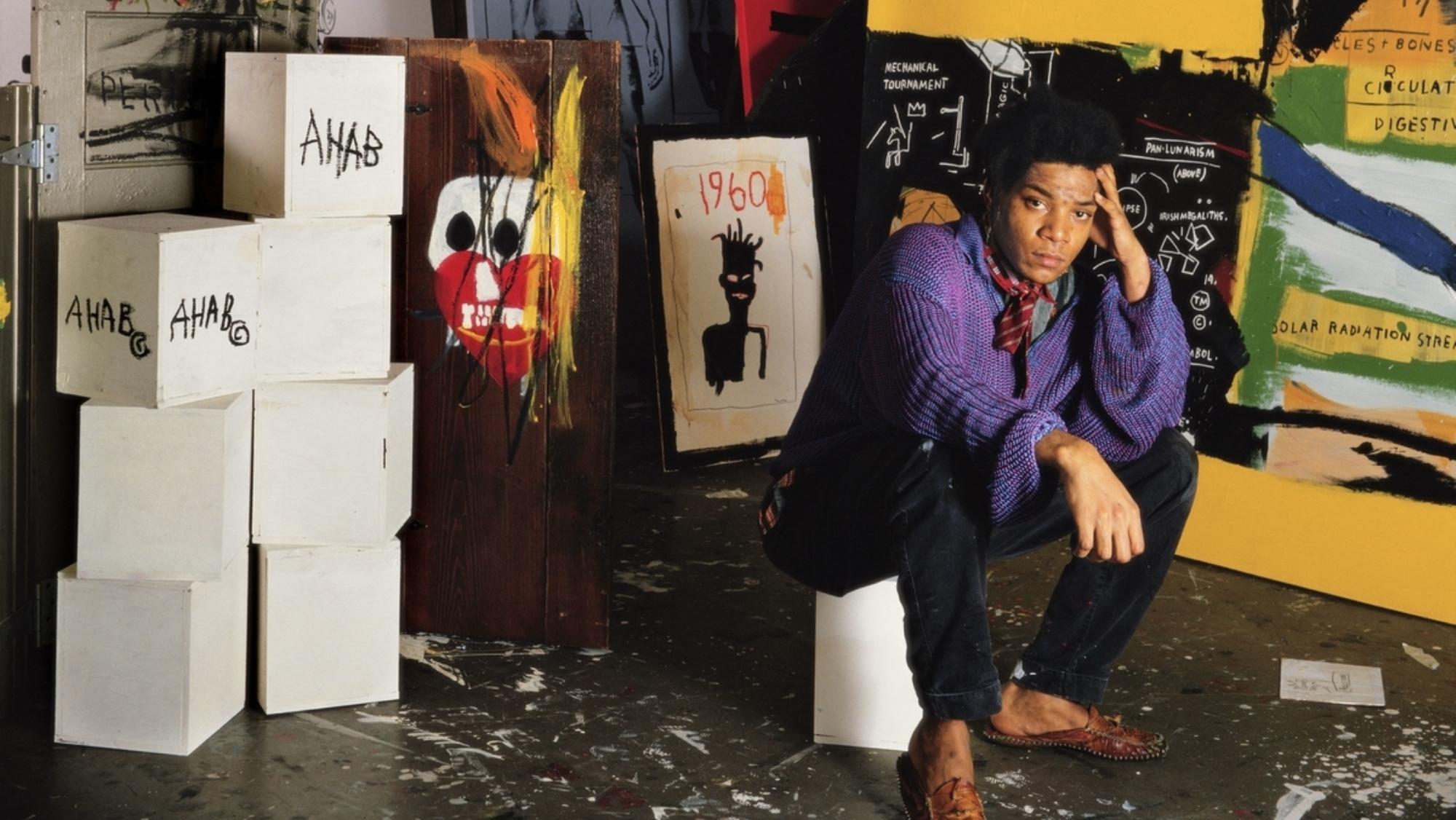 When Andy Warhol died on February 22, 1987, Basquiat became increasingly isolated, and his heroin addiction and depression grew more severe. He made a sincere attempt at sobriety taking an extended trip to Maui, Hawaii, and for a while, it seemed he had beaten the demons. His health began to return, and those close to him say that he seemed happy.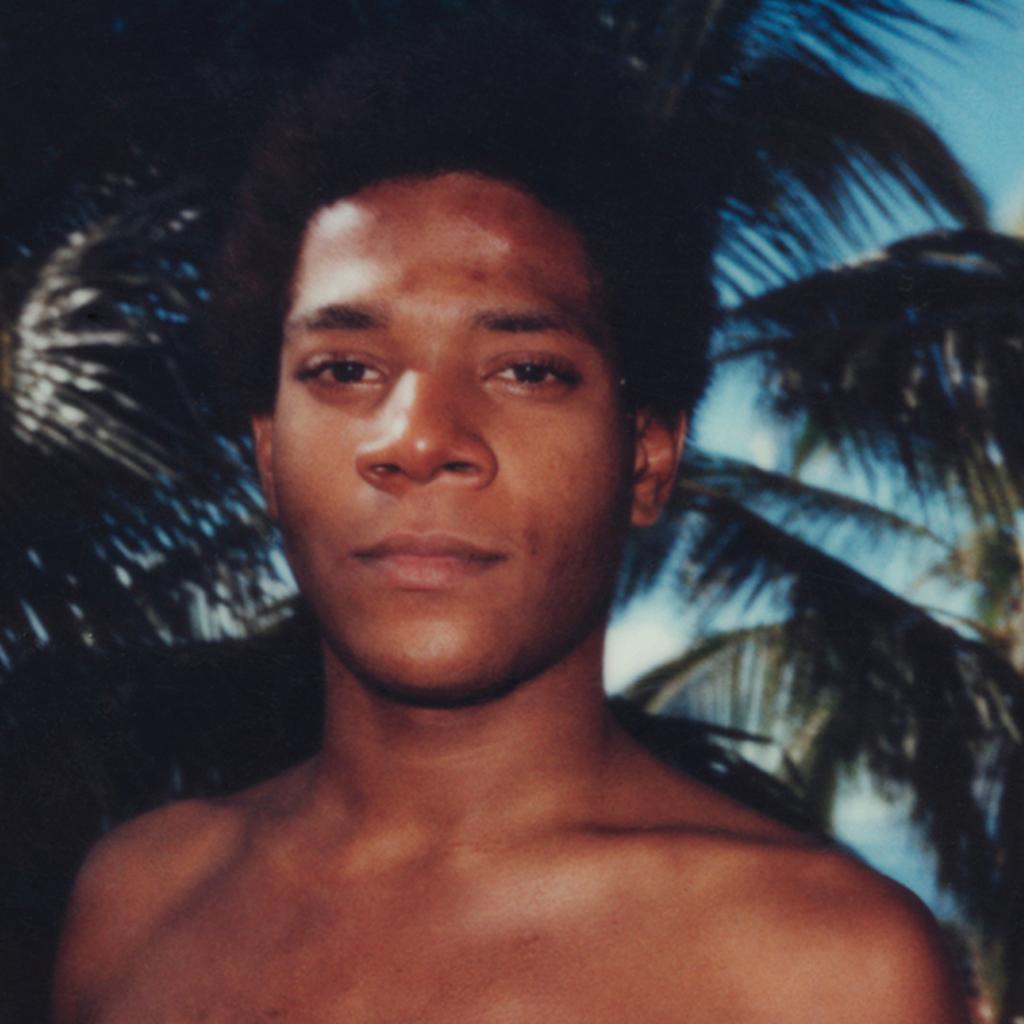 Unfortunately this was not to be the case for long, and the brilliant artist died on August 12, 1988, of a heroin overdose at his art studio at 57 Great Jones Street in Manhattan's NoHo neighborhood. He was 27 years old. A plaque dedicating his life was placed on July 13, 2016 by the Greenwich Village Society for Historic Preservation.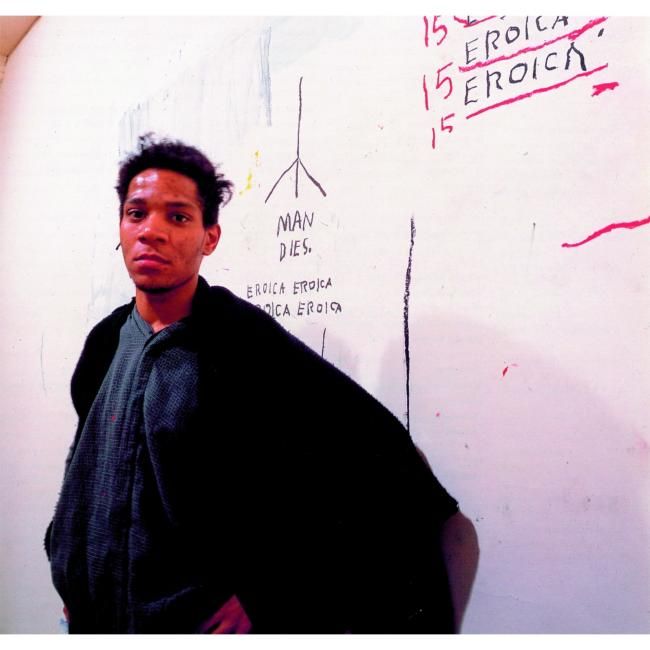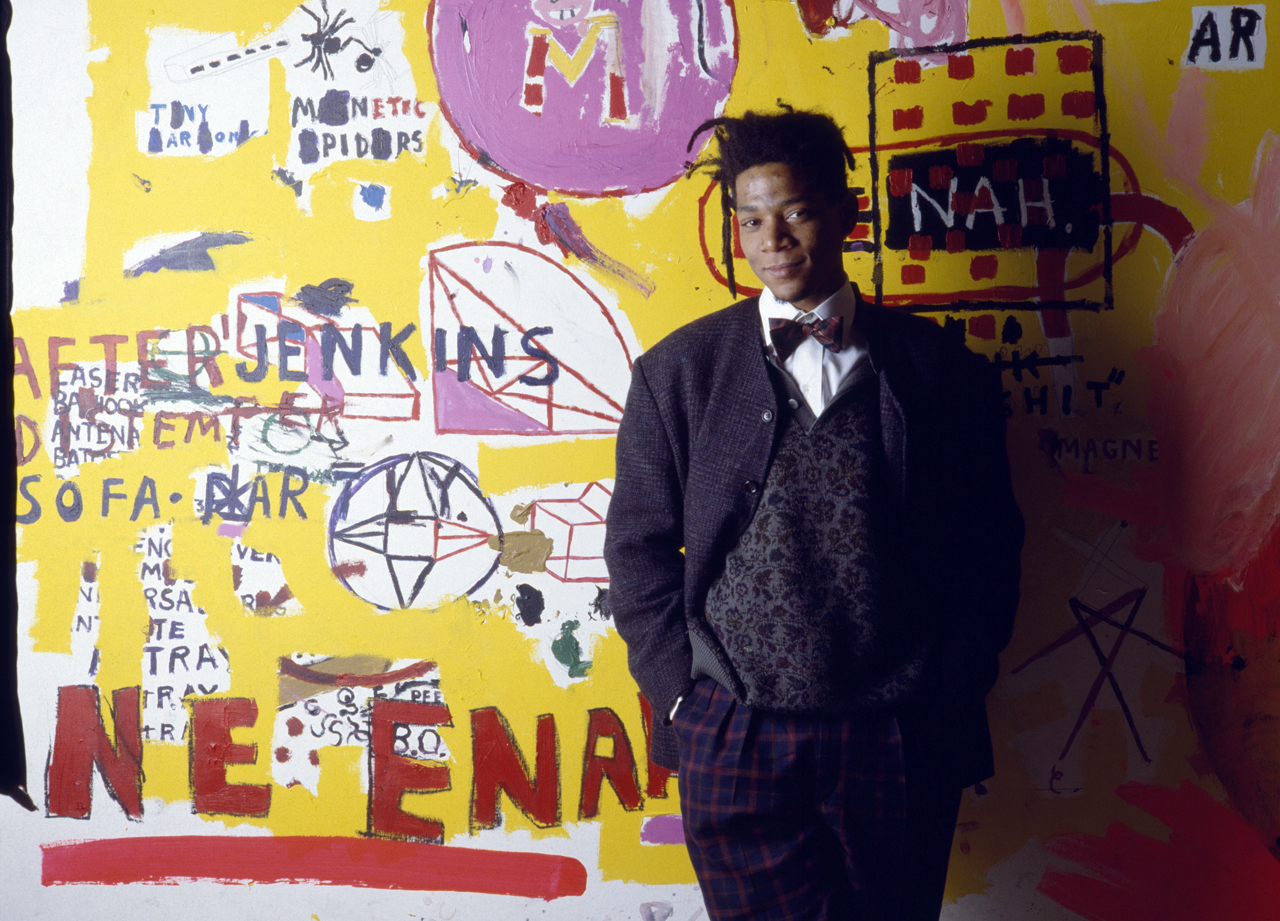 Jean-Michel Basquiat was interred in Brooklyn's Green-Wood Cemetery, where Jeffrey Deitch made a speech at the graveside. Among those speaking at Basquiat's memorial held at Saint Peter's Church on November 3, 1988, were Ingrid Sischy who, as the editor of Artforum in the 1980s, got to know the artist well and commissioned a number of articles that introduced his work to the wider world. Suzanne Mallouk recited sections of A. R. Penck's Poem for Basquiat and Fab 5 Freddy read a poem by Langston Hughes. The 300 guests included the musicians John Lurie and Arto Lindsay; the artist Keith Haring; the poet David Shapiro; Glenn O'Brien, a writer; Fab 5 Freddy and members of Basquiat's band Gray. In memory of the late artist, Keith Haring created Pile of Crowns for Jean-Michel Basquiat (1988).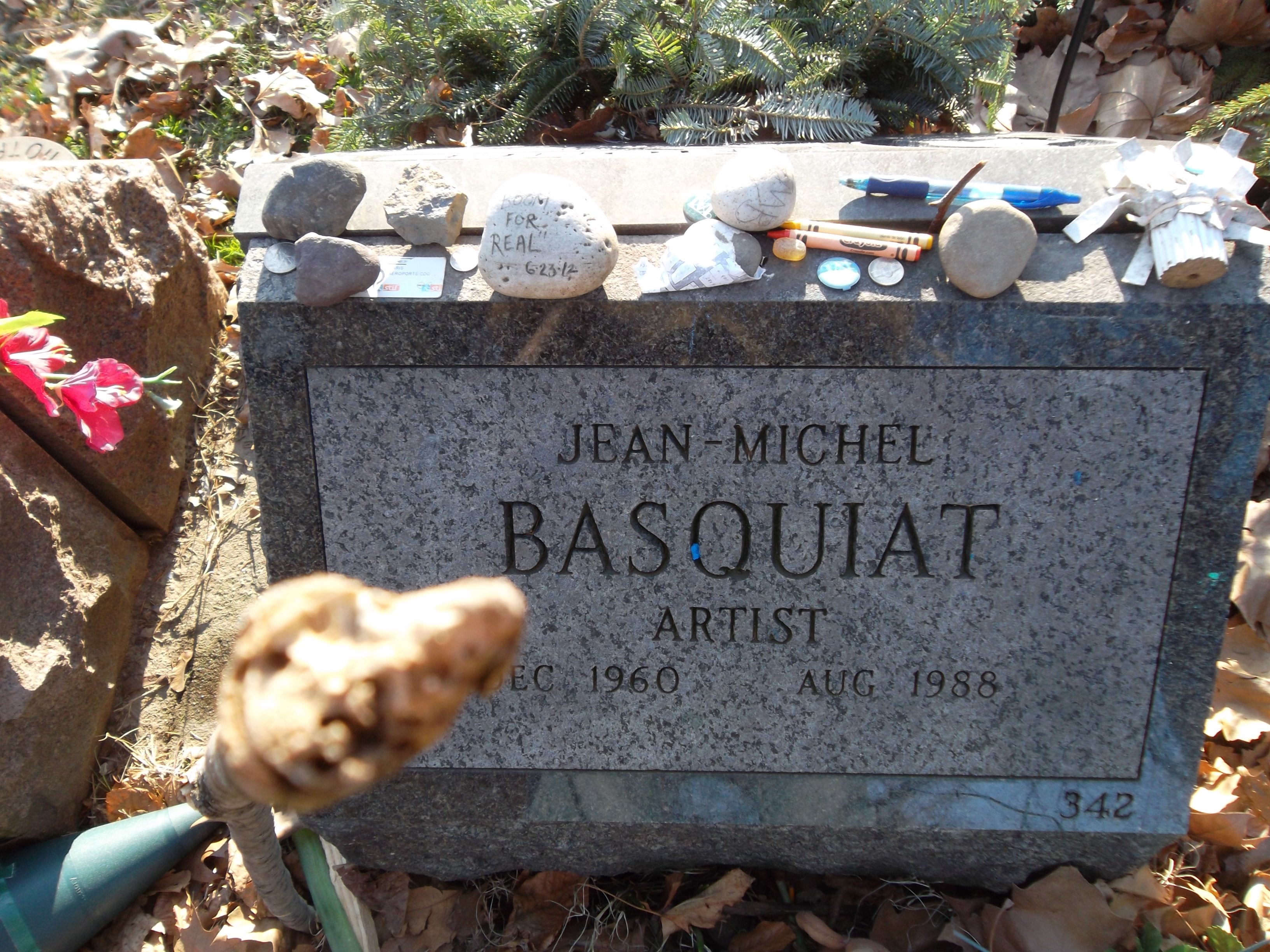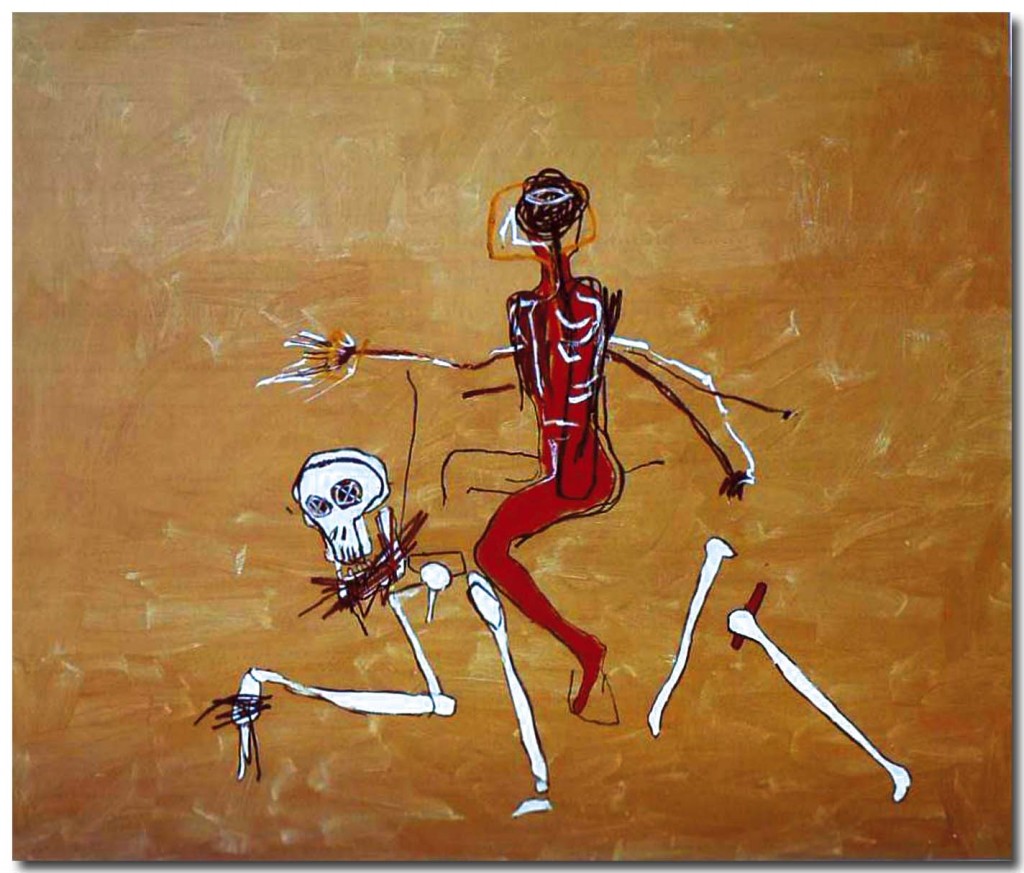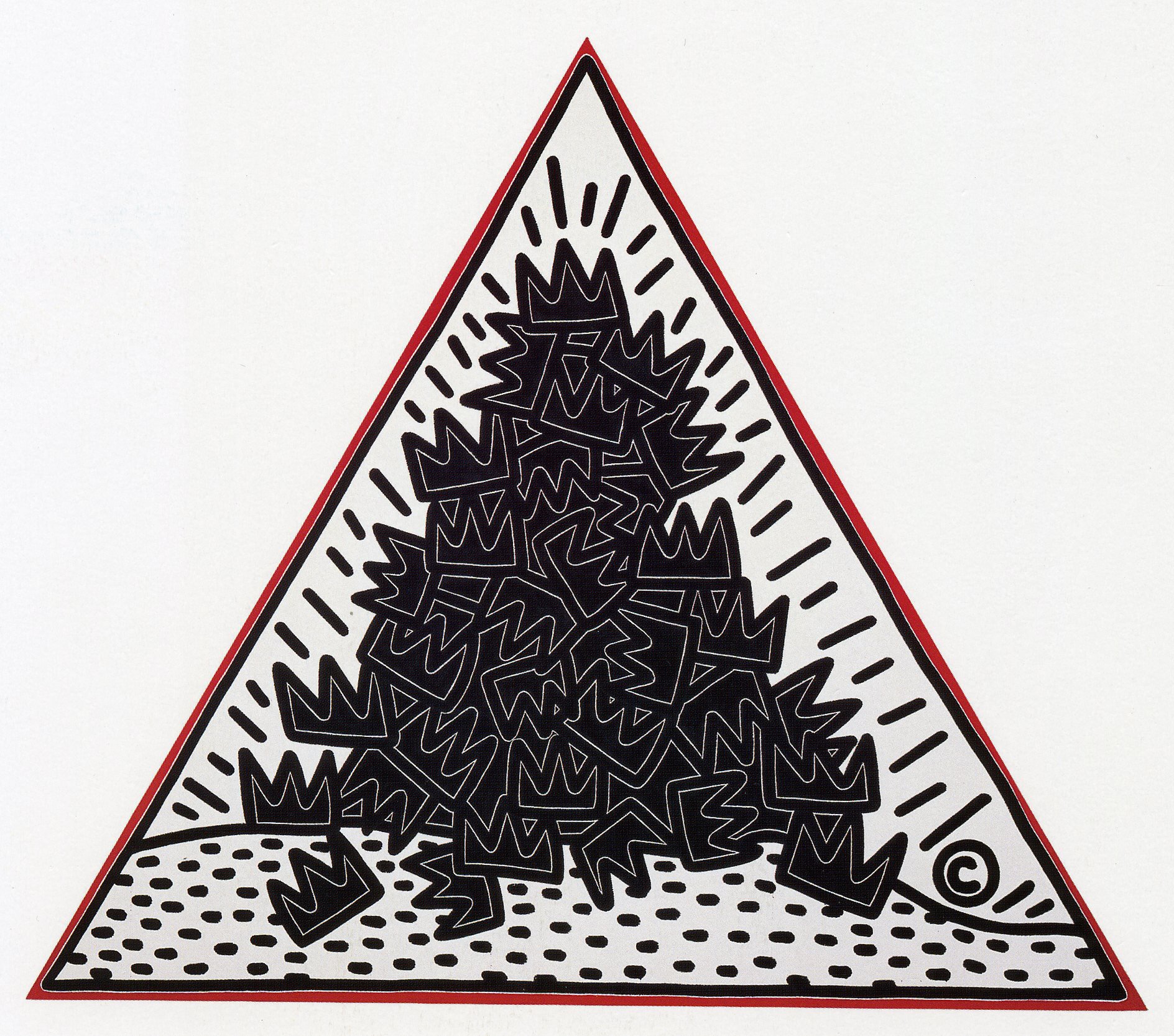 Major exhibitions of Basquiat's work have included Jean-Michel Basquiat: Paintings 1981–1984 at the Fruitmarket Gallery, Edinburgh (1984), which traveled to the Institute of Contemporary Arts, London, and Museum Boijmans Van Beuningen, Rotterdam, in 1985); the Kestnergesellschaft, Hannover (1987, 1989). The first retrospective to be held of the his work was the Jean-Michel Basquiat exhibition at the Whitney Museum of American Art from October 1992 to February 1993. It subsequently traveled to the Menil Collection, Houston; the Des Moines Art Center, Iowa; and the Montgomery Museum of Fine Arts, Alabama, from 1993 to 1994. The catalog for this exhibition, edited by Richard Marshall and including several essays of differing styles, was a groundbreaking piece of scholarship into Basquiat's work and still is a major source. Another exhibition, Basquiat, was mounted by the Brooklyn Museum, New York, in 2005, and traveled to the Museum of Contemporary Art, Los Angeles, and the Museum of Fine Arts, Houston. From October 2006 to January 2007, the first Basquiat exhibition in Puerto Rico took place at the Museo de Arte de Puerto Rico (MAPR), produced by ARTPREMIUM, Corinne Timsit and Eric Bonici. Brooklyn Museum exhibited Basquiat: The Unknown Notebooks in April–August 2015.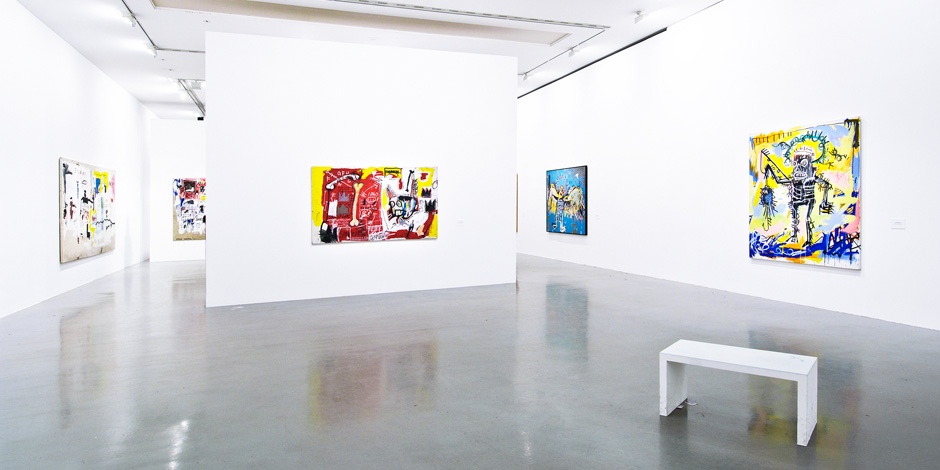 In May 2016, Basquiat's Untitled had a record breaking sale at Christie's selling at auction for $57,285,000.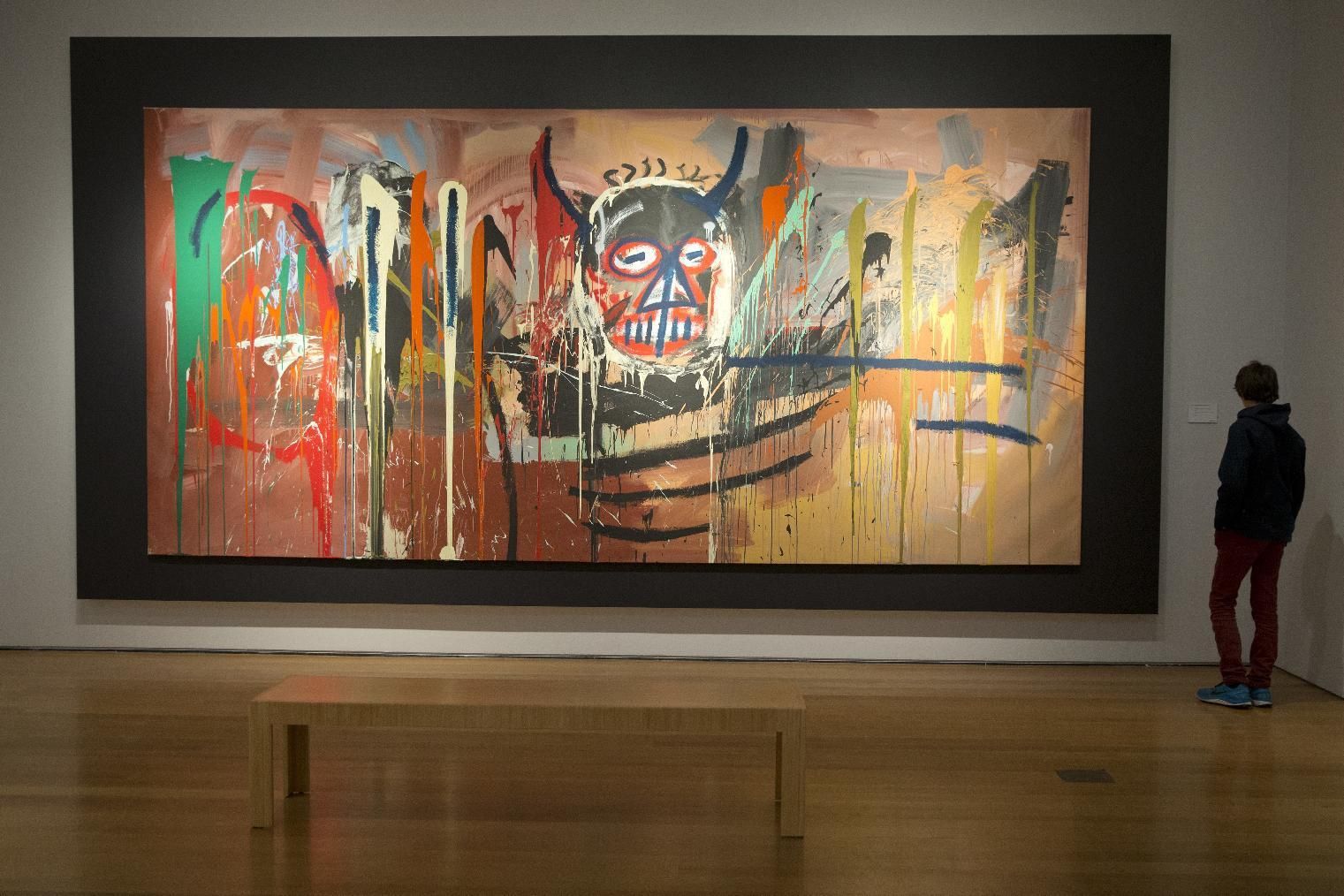 ---
Edited from:
https://en.wikipedia.org/wiki/Jean-Michel_Basquiat
---
Jean-Michel Basquiat
Digital collage portrait by TMLipp
Created for The Artist Birthday Series
December 22, 2016
(click image for full resolution)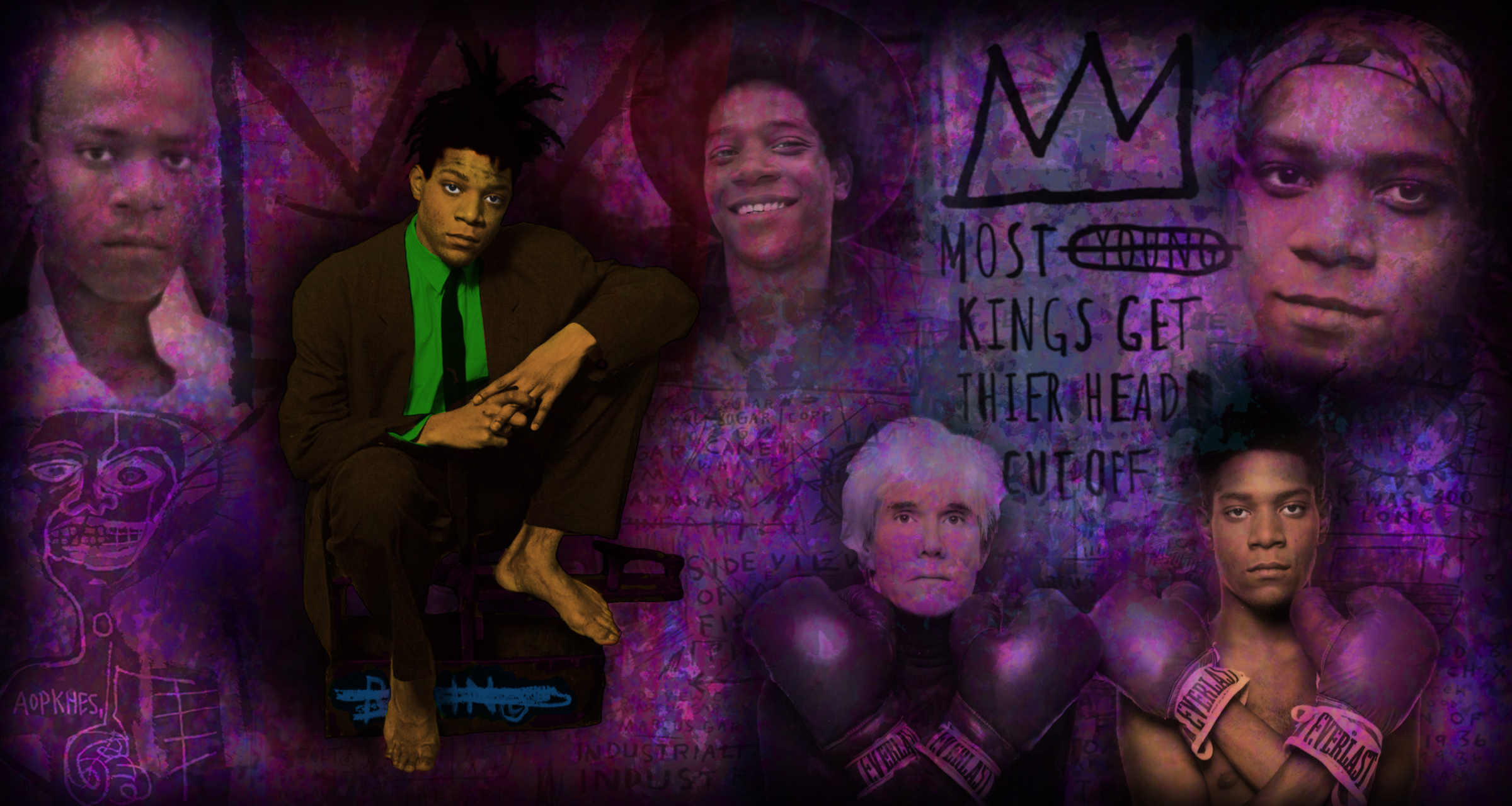 ---
TML Arts aims for accuracy in content and functionality in posts.
Click the button below to let us know about typos, incorrect information, broken links, erroneous attribution,
or additional relative information.
---
---
---
---