Today's Artist Birthday: Jan Berry
Jan Berry (3 April, 1941 – 26 March, 2004) was born William Jan Berry in Los Angeles in 1941, the son of an aerospace engineer. He was educated at at Emerson Junior High School, where he met his future pop-star cohort, Dean Torrence, with whom he would forever change the history of music working as the inimitable Jan and Dean.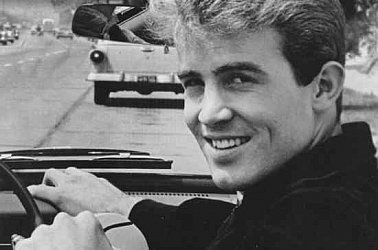 Berry scored his first hit in 1958 with "Jennie Lee," released under the name "Jan and Arnie." He and high school friend Dean Torrence began their string of hits with the wacky, "Baby Talk" in 1959, as Jan and Dean. "Baby Talk" had been arranged by trumpeter Herb Alpert and produced by Lou Adler. And it was Adler who advised Berry to write about the California surfing scene. Berry and Torrence were keen surfers – they had the requisite looks and, from 1962, had been performing alongside the nascent Beach Boys at teen hops. Berry, the creative force behind Jan and Dean, was also collaborating on songwriting and recording with the Beach Boys' Brian Wilson.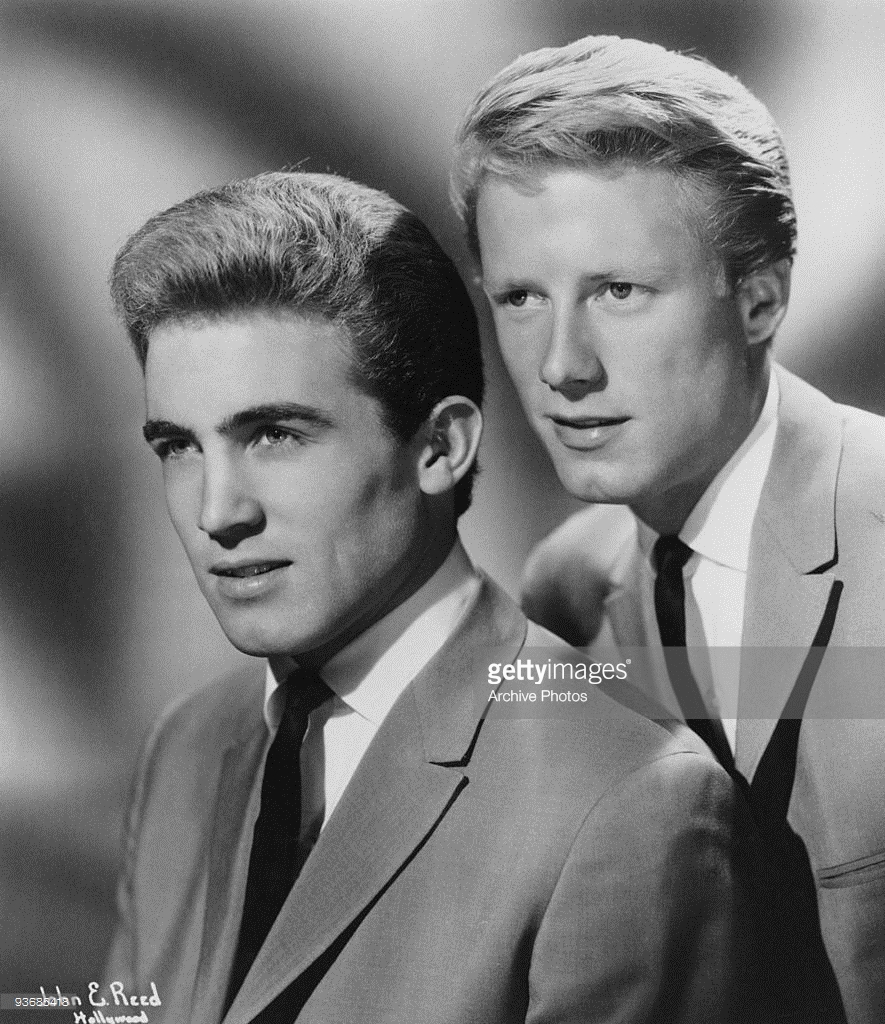 "What I admired most was the way he mapped out everything that needed to be done before he started," said Brian Wilson. Berry also recruited leading LA session musicians. The bassist Carol Kaye, recalled that he "knew what was great for a hit recording and was respectful of the elite musicians he hired".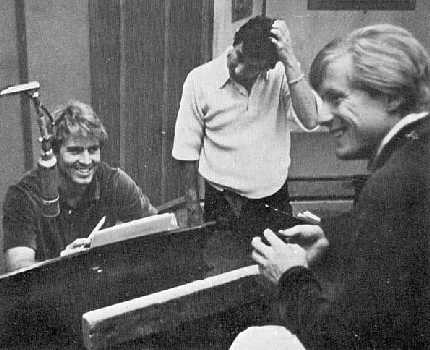 The result of Berry's efforts, in the summer of 1963, was Jan and Dean's US number one, "Surf City," composed by Berry with Brian Wilson. "Surf City" was not the first surf anthem, but there was something a little extra in that tune and it ignited a surf music craze which spread well beyond the US. One of the main reasons for that song's utter success was Berry's growing mastery of the recording studio and artistic vision, being one of the first groups to ever do a "music video" (See below). His mixing style, use of multilayer tracks, and undeniable sense of humor, were all elements that help propel this song into international charts.
Not everyone however was pleased with the success of "Surf City" for Jan and Dean. An enraged Murry Wilson, Beach Boy Brian Wilson's father and manager, denounced Jan and Dean as "pirates" for stealing his son's ideas. Berry responded by marching into a Beach Boys recording session dressed as a buccaneer.
After "Surf City," Jan and Dean switched to car themes with "Drag City" and, a master piece of studio production, "Dead Man's Curve." The lyrics of the latter dealt with a duel between a Chevrolet Corvette Stingray and an E-type Jaguar on Sunset Boulevard. They were later to prove eerily prophetic. The next hit for J&D was the delightful and very silly tune, "The Little Old Lady (From Pasadena)" and the skateboarding song, "Sidewalk Surfin'."
In 1966, Jan and Dean released "Batman Theme," a single, and the album "Jan And Dean Meet Batman." Berry also devised a "Pop Symphony No 1" comprising orchestral versions of pieces by himself, the Beatles and others.
However, in time, the Beach Boys would surpass Jan and Dean in popularity, mainly due to the fact that they toured extensively and Jan and Dean did not. Their ability (and desire) to tour was greatly limited due to the fact that Berry was attending medical school and studying to be a doctor. Those plans, as well as those for Jan and Dean, were derailed in 1966, when Berry's speeding Corvette crashed into a parked truck in Beverly Hills.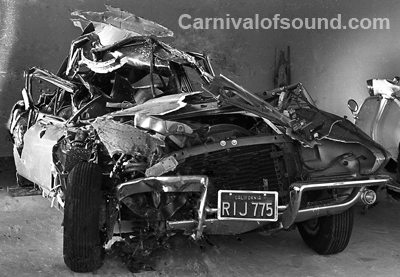 In April 1966, Berry was driving home when his Stingray hit a stationary truck at 90mph. This caused brain injuries and partial paralysis. Ironically (and perhaps a little "according to legend"), the place where Berry had his accident was known to locals as "Deadman's Curve," named after the 1963 Jan and Dean hit song of the very same name. After years of intensive physical therapy and admirable personal determination, Berry recovered enough to be able to return to songwriting and arranging in the mid-1970s.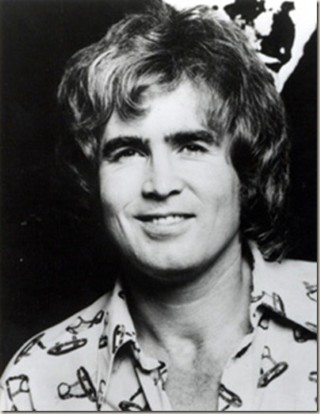 In 1978, Jan and Dean enjoyed reached a new audience and renewed popularity after "Dead Man's Curve," the TV movie chronicling the duo's story, aired on CBS, starring Richard Hatch and Bruce Davison as Jan and Dean, respectively. The following summer they opened for the Beach Boys on a large-scale tour of the U.S., and continued to tour with their own backup band, appropriately named "Papa Doo Run Run," throughout the following decades.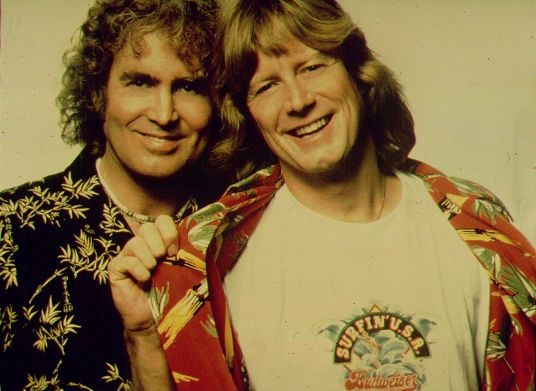 In 1992 the Jan Berry Centre for the Brain Injured was opened to provide arts-based rehabilitation treatment.
Berry released his lone solo album, Second Wave, featuring updated versions of Jan and Dean hits, in 1997.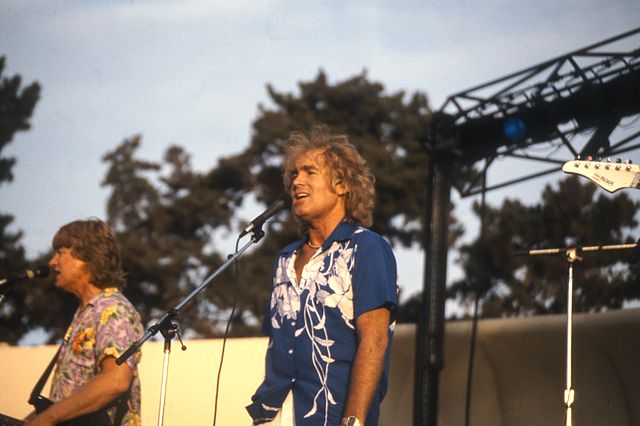 Jan Berry made his final appearance with Torrence only a few weeks before his death. Berry was to suffer a fatal seizure in his home on March 26, 2004, related to the injuries he had sustained in 1966. He donated his body to medical research to assist in the progress of understanding severe brain trauma.
---
Edited from: http://www.rollingstone.com/music/news/surf-legend-jan-berry-dies-20040329 and http://www.theguardian.com/news/2004/apr/02/guardianobituaries.artsobituaries
---