Jaques-Louis David: painter
Jacques-Louis David (1748 – 1825) was an influential French painter in the Neoclassical style, considered to be the preeminent painter of the era. In the 1780s his cerebral brand of history painting marked a change in taste away from Rococo frivolity toward a classical austerity.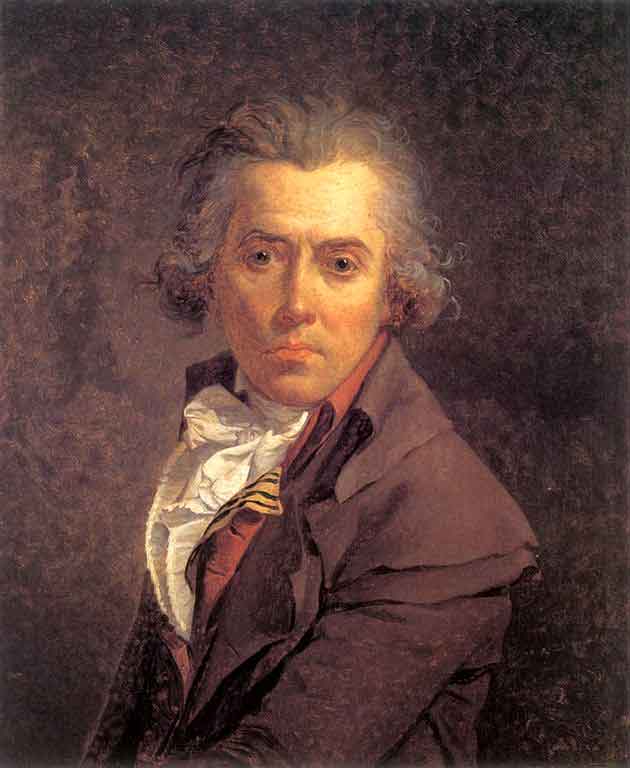 Jacques-Louis David was born on August 30, 1748, in Paris, France. His father was killed in a duel in when David was 9 years old, and the boy was subsequently left by his mother to be raised by two uncles. When the young boy showed an interest in painting, his uncles sent him to François Boucher, a leading painter of the time and family friend. Boucher was a Rococo painter of luscious work, but the Rococo era was giving way to a more classical style, so Boucher decided to send David to his friend Joseph-Marie Vien, a painter more in tune with the neoclassical reaction to Rococo.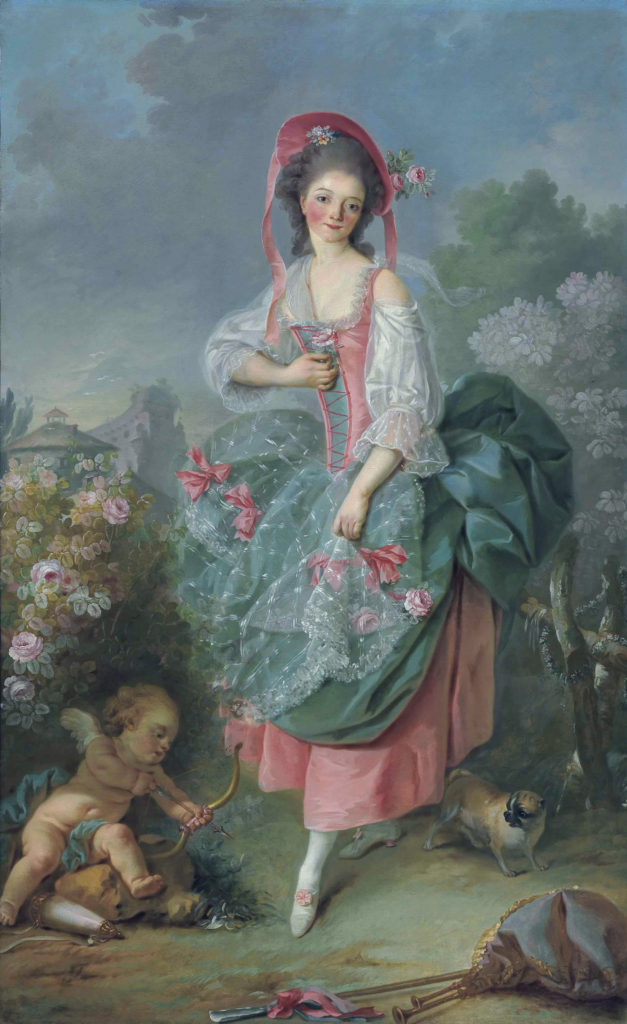 By age 18, the gifted young artist was enrolled at the Académie Royale (Royal Academy of Painting and Sculpture). After several failures in competitions and finding more discouragement than support, during a period that included a suicide attempt (apparently by avoiding food), in 1774, he finally obtained the Prix de Rome, a government scholarship that ensured well-paid commissions in France. Also included in the scholarship was a trip to Italy, and in 1775, he and Vien went to Rome together, where David studied Italian masterpieces and the ruins of ancient Rome.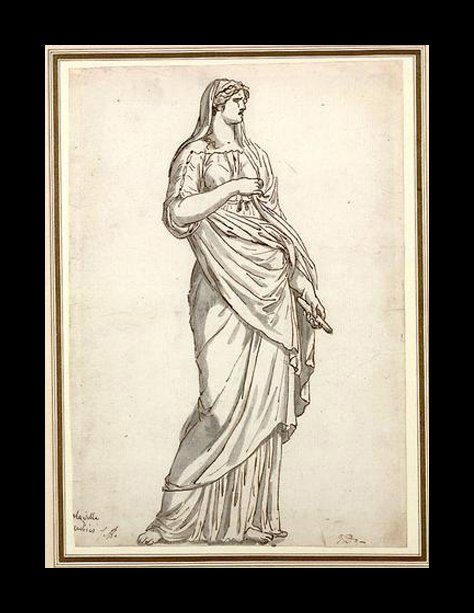 Before he left Paris, he proclaimed, "The art of antiquity will not seduce me, for it lacks liveliness," however the works of the ancient masters could not hold him to his word, such was the pull of their genius. Instead, he became interested in the Neoclassical ideas originated in Rome by, among others, German painter Anton Raphael Mengs and art historian Johann Joachim Winckelmann.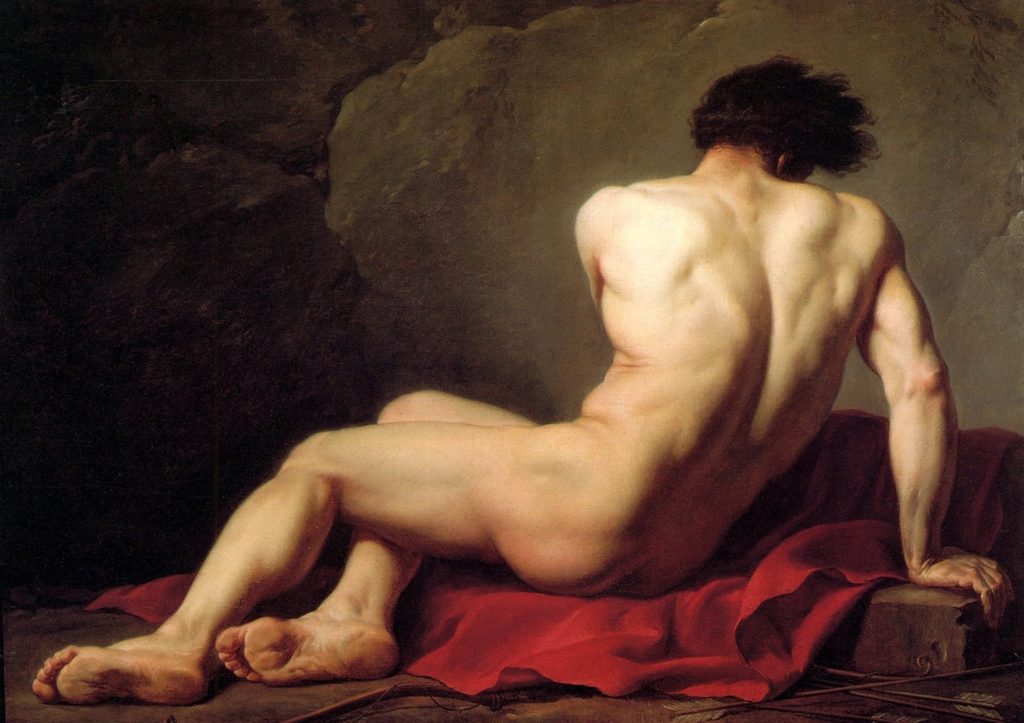 Back in Paris in 1780, and to much acclaim, David exhibited Belisarius Asking Alms, in which he combined his own approach to antiquity with a Neoclassical style reminiscent of Nicolas Poussin. In 1782, David married Marguerite Pécoul, whose father was an influential building contractor and the superintendent of construction at the Louvre. David began to prosper at this point, and he was elected to the Académie Royale in 1784 on the heels of his Andromache Mourning Hector.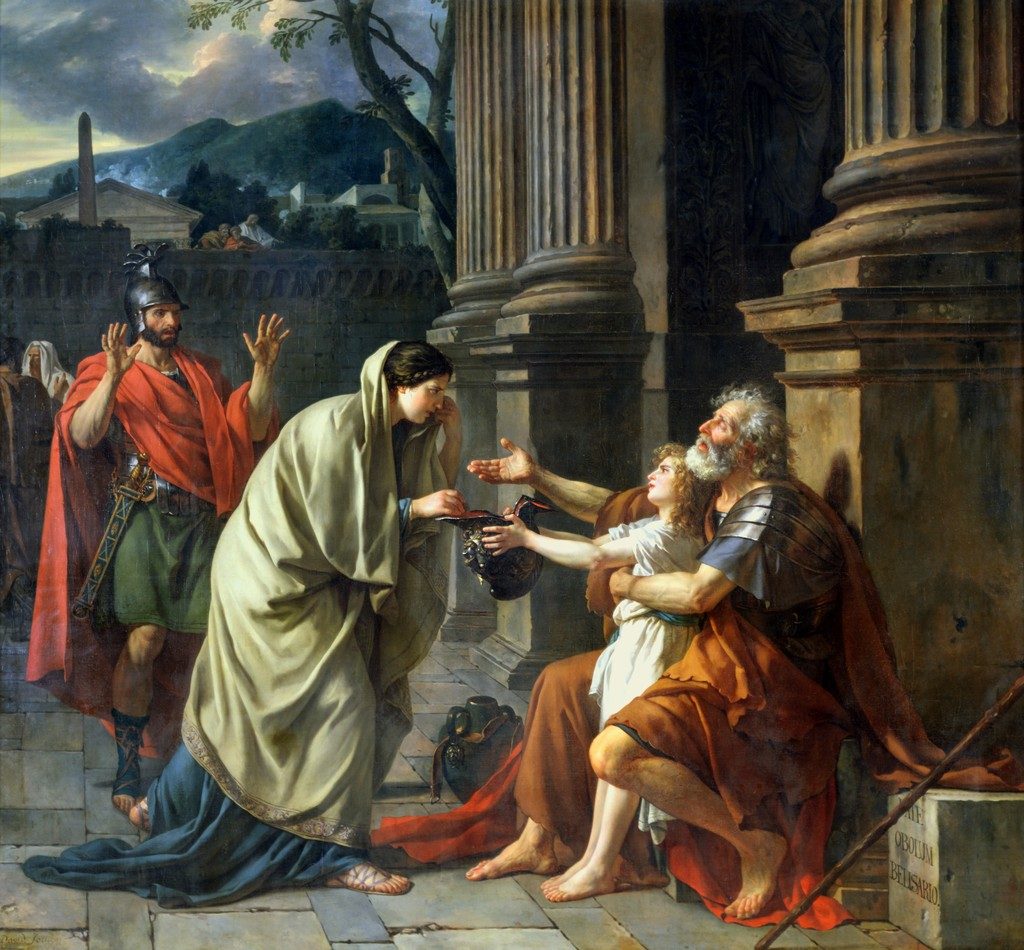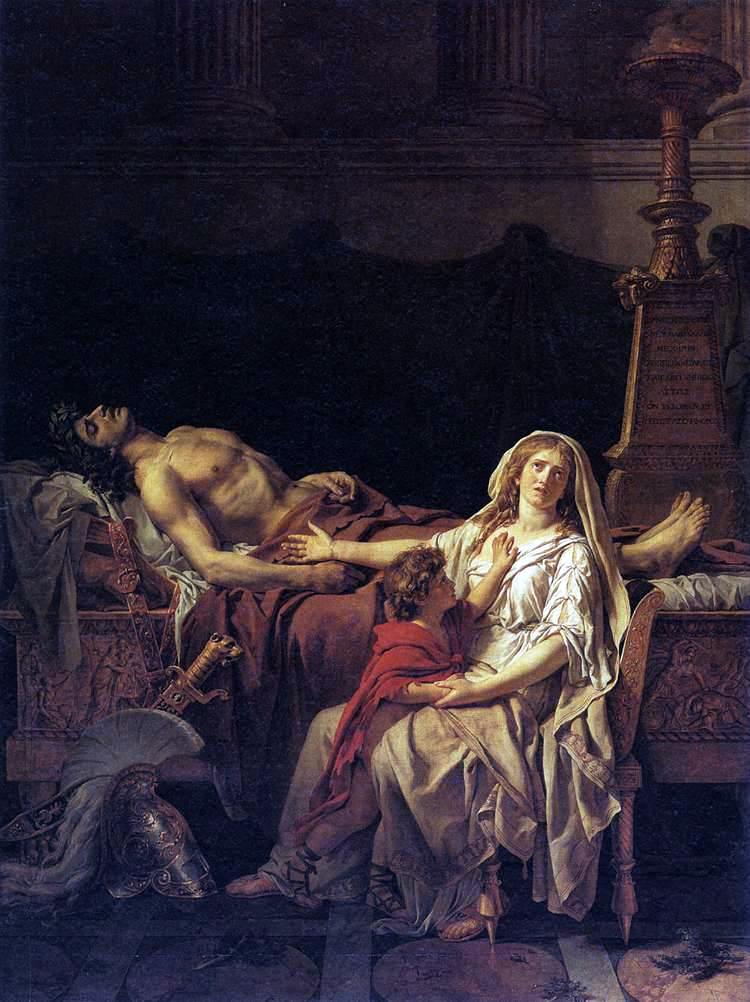 That same year, David returned to Rome to complete Oath of the Horatii, whose austere visual treatment—somber color, frieze-like composition and clear lighting—was a sharp departure from the prevailing Rococo style of the time. Exhibited in the official Paris Salon of 1785, the painting created a sensation and was regarded as a declaration of an artistic movement (revival, in fact) that would put an end to the delicate frivolity of the Rococo period. It also came, before too long, to symbolize the end of aristocratic corruption and a return in France to the patriotic morals of republican Rome.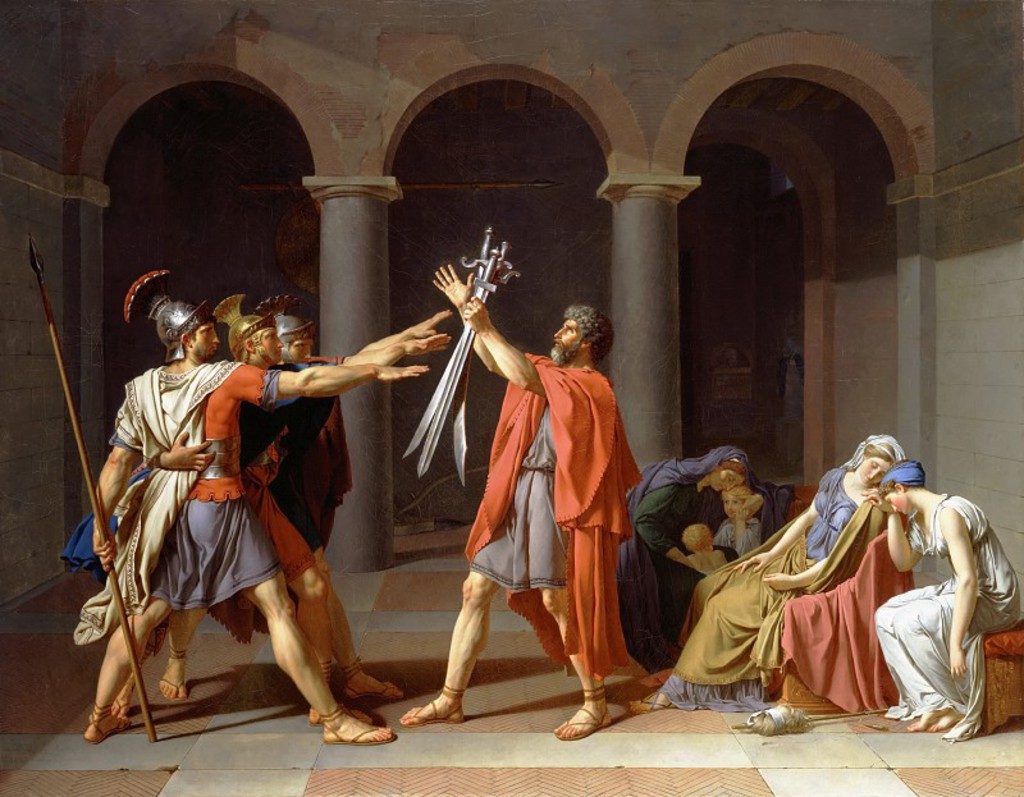 In 1787, David displayed Death of Socrates. Two year later, in 1789, he unveiled The Lictors Bringing to Brutus the Bodies of His Sons. At this point, the French Revolution had begun, and, thusly, this portrayal of Brutus—the patriotic Roman consul who ordered the deaths of his traitorous sons to save the republic—took on political significance, as did David himself.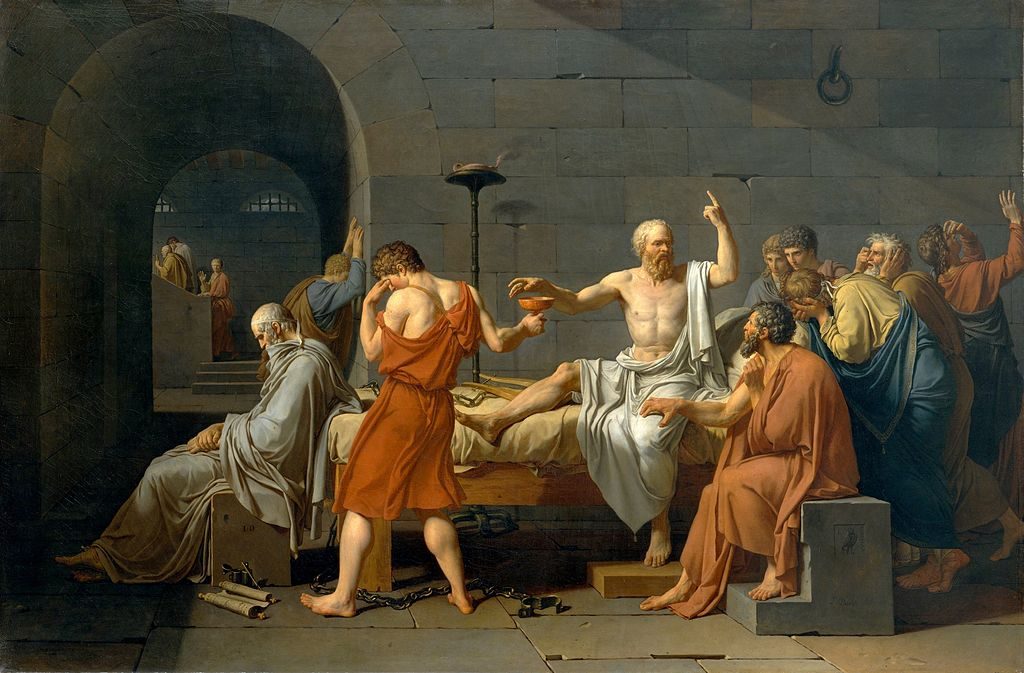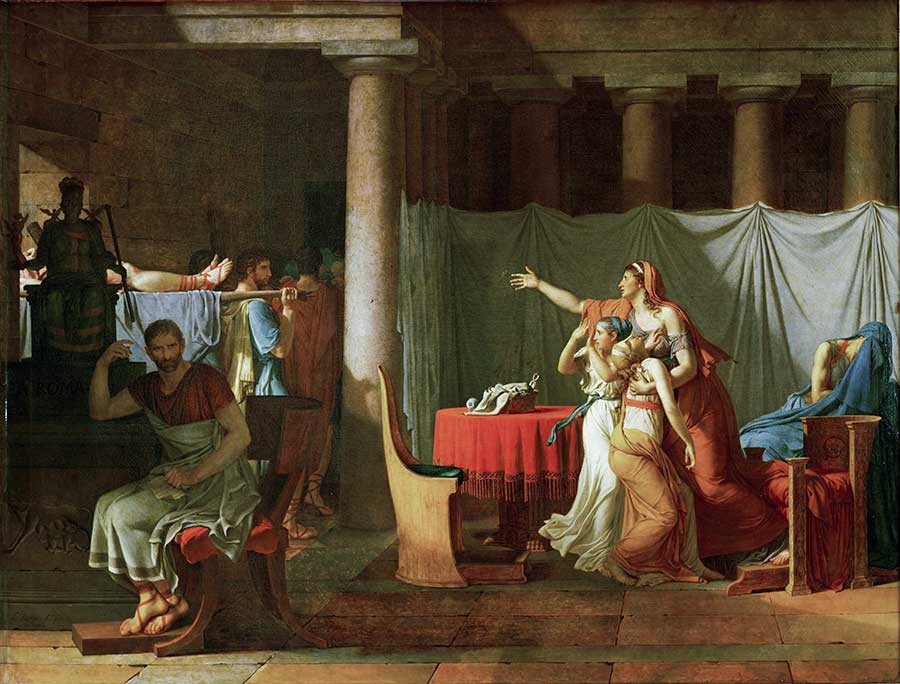 In the early years of the Revolution, Jacque-Louis David was a member of the extremist Jacobin group led by Maximilien de Robespierre, and he became an active, politically committed artist involved in a good deal of revolutionary propaganda. He produced such works as The Death Of Joseph Bara, the sketched Oath of the Tennis Court and Death of Lepeletier de Saint-Fargeau during this period, all with revolutionary themes marked by martyrdom and heroics in the face of the establishment.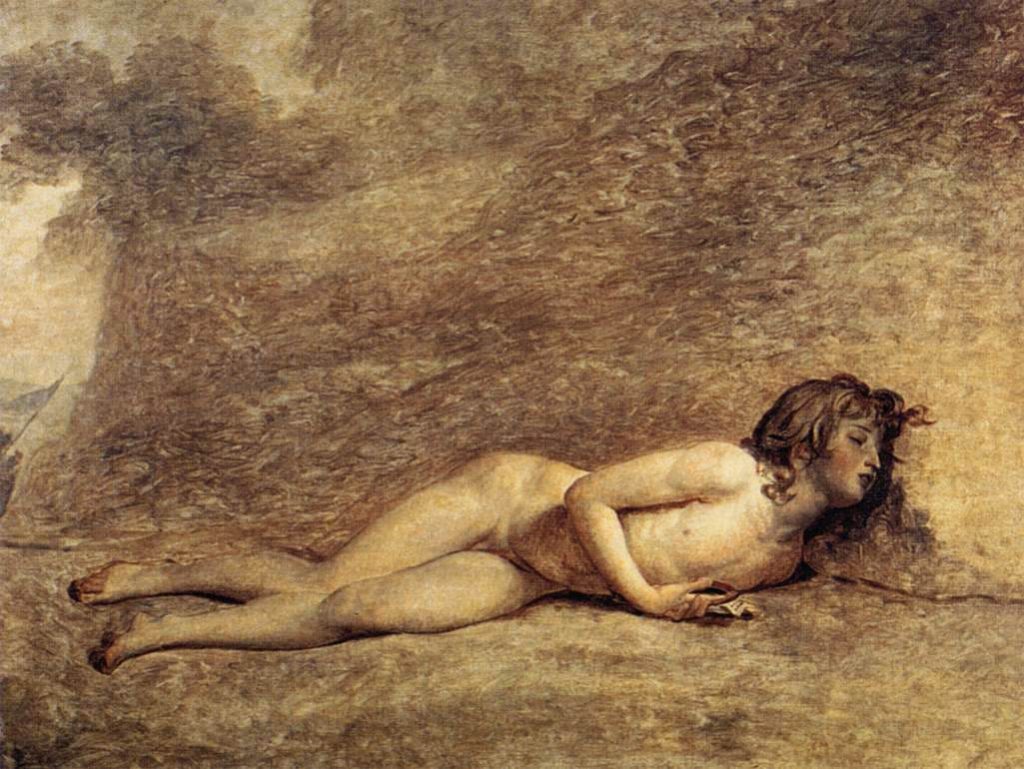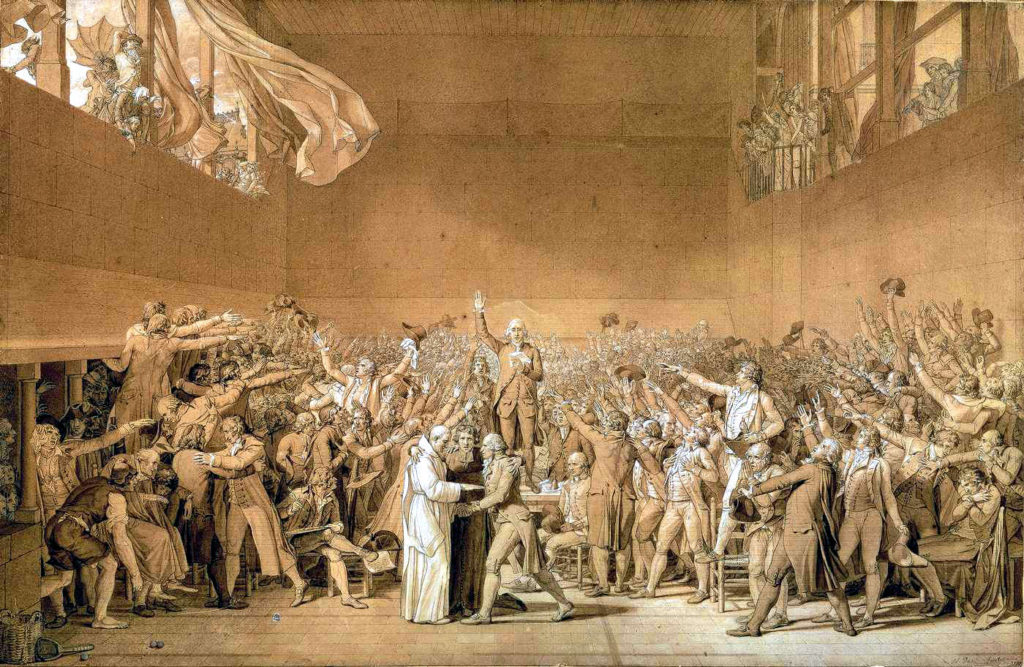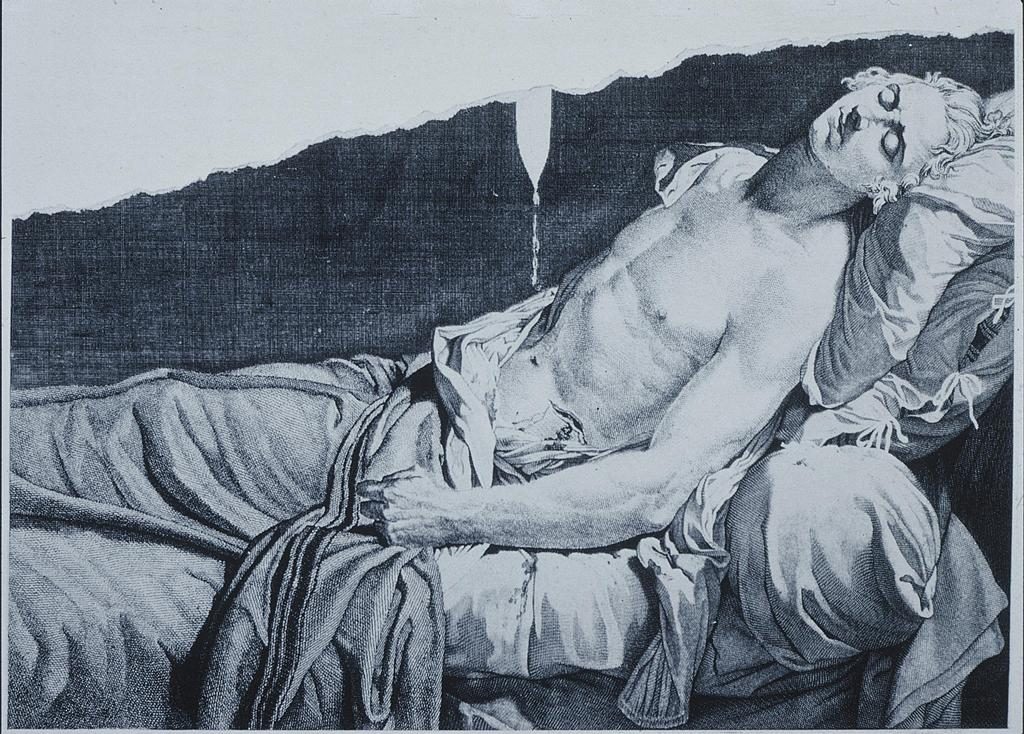 David's revolutionary inspiration is ultimately best represented by The Death of Marat, painted in 1793, soon after the murder of revolutionary leader Jean-Paul Marat. This so-called "piet of the Revolution" is considered David's masterpiece. As one modern critic put it, the piece is "a moving testimony to what can be achieved when an artist's political convictions are directly manifested in his work." Marat became an instant political martyr while the painting became a symbol of sacrifice in the name of the republic.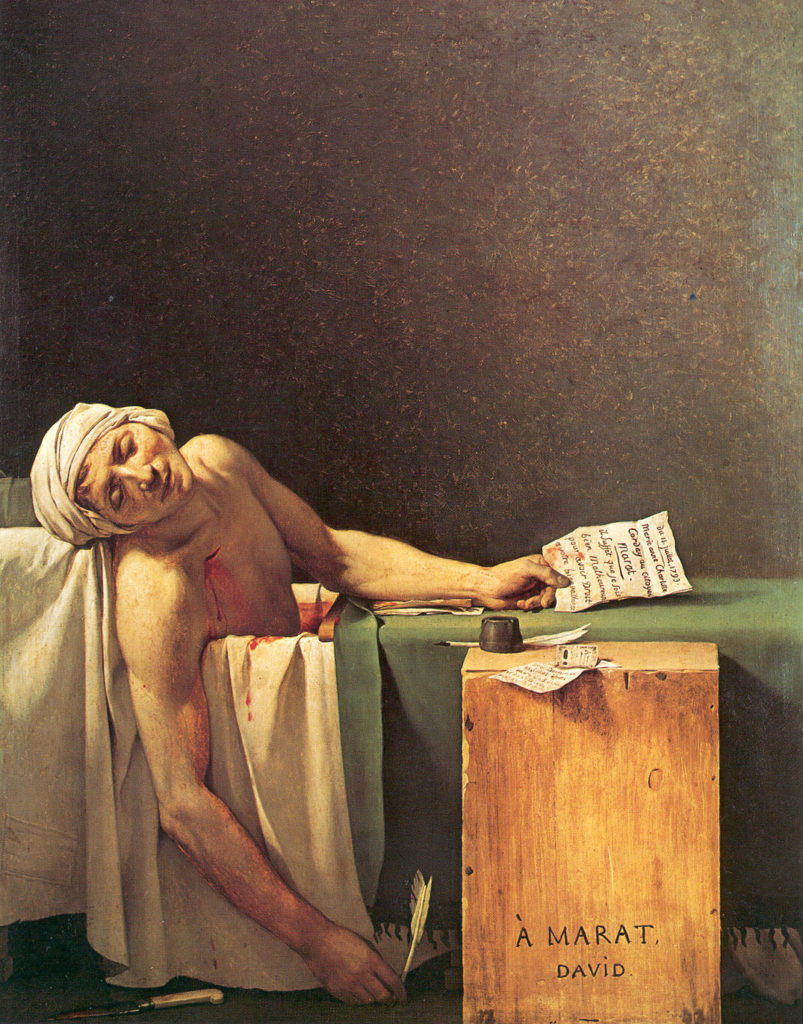 Marat had been forced into hiding more than once, sometimes in the sewers of Paris, where it is most likely he caught his debilitating chronic skin disease (possibly dermatitis herpetiformis). Because of his condition, he eventually came to need a medicinal bath twice a day. It was in his bathtub on 13 July, when a young woman from Caen, Charlotte Corday, appeared at his flat, claiming to have vital information regarding the Revolution. Despite his wife Simonne's protests, Marat asked for her to enter and gave her an audience by his bath, over which a board had been laid to serve as a writing desk. Their interview lasted around fifteen minutes, at the end of which, Corday rose from her chair, drawing out from her corset a five-inch kitchen knife, which she had bought earlier that day, and brought it down hard into Marat's chest, where it pierced just under his right clavicle, opening the carotid artery, close to the heart. The massive bleeding was fatal within seconds. Slumping backwards, Marat cried out his last words to Simonne, "Aidez-moi, ma chère amie!" ("Help me, my dear friend!") and died.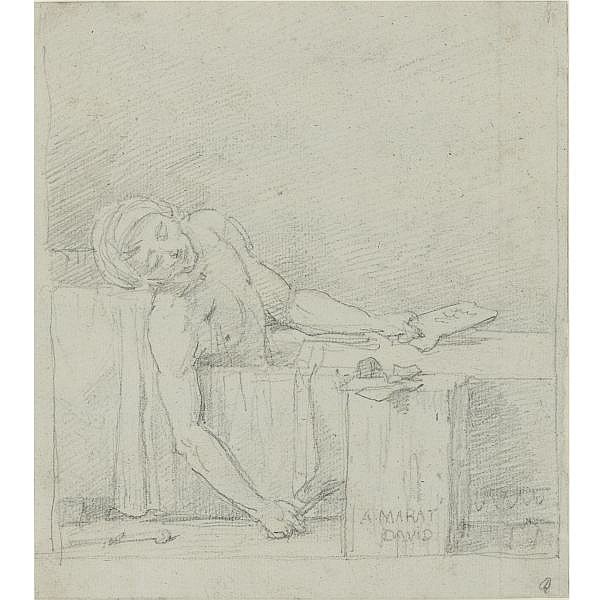 David was politically aligned with Marat and considered him a friend as well. Immediately after Marat's murder, David was allowed to view the body and to sketch the soon-to-be martyr's likeness.
In the final painting, Marat's figure is idealized, the depiction contains no sign of his skin problems. David, however, drew other details from his visit to Marat's residence the day before the assassination: the green rug, the papers, and the pen. Before starting the work, David promised his peers in the National Convention that he would depict their murdered friend invocatively as "écrivant pour le bonheur du peuple" (writing for the good of the people). The Death of Marat was designed to commemorate a personable hero.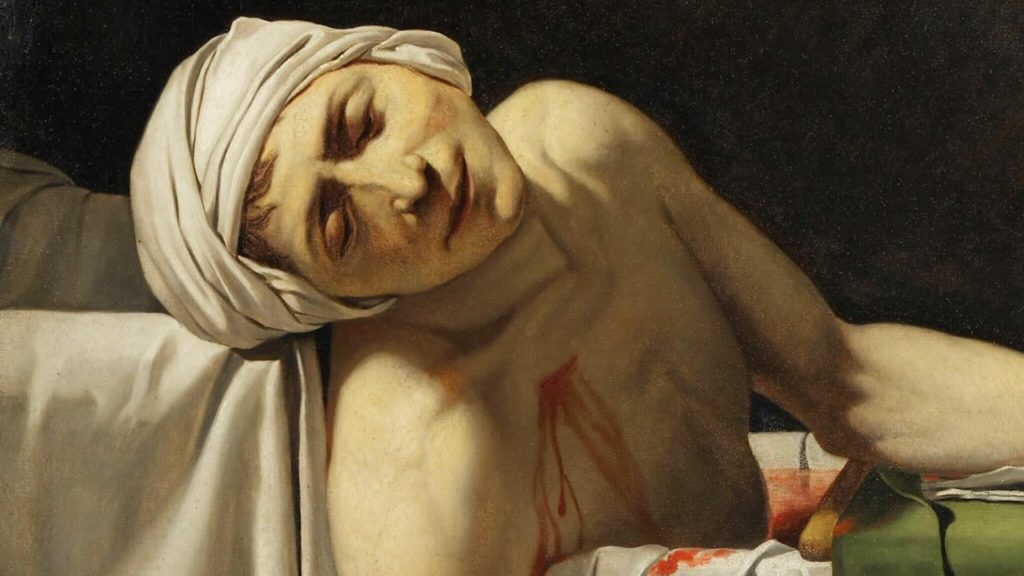 Although the name Charlotte Corday can clearly be seen on the paper held in Marat's left hand, she herself is not visible. Close inspection of this painting shows Marat at his last breath, when Corday and many others were still nearby. Therefore, David intended to record more than just the horror of martyrdom. In this sense, for realistic as it is in its details, the painting, as a whole, from its start, is a methodical construction focusing on the victim, a striking set up regarded today by several critics as an "awful beautiful lie"— certainly not a photograph in the forensic scientific sense and barely the simple image it may seem (for instance, in the painting, the knife is not to be seen where Corday had left it impaled in Marat's chest, but on the ground, beside the bathtub).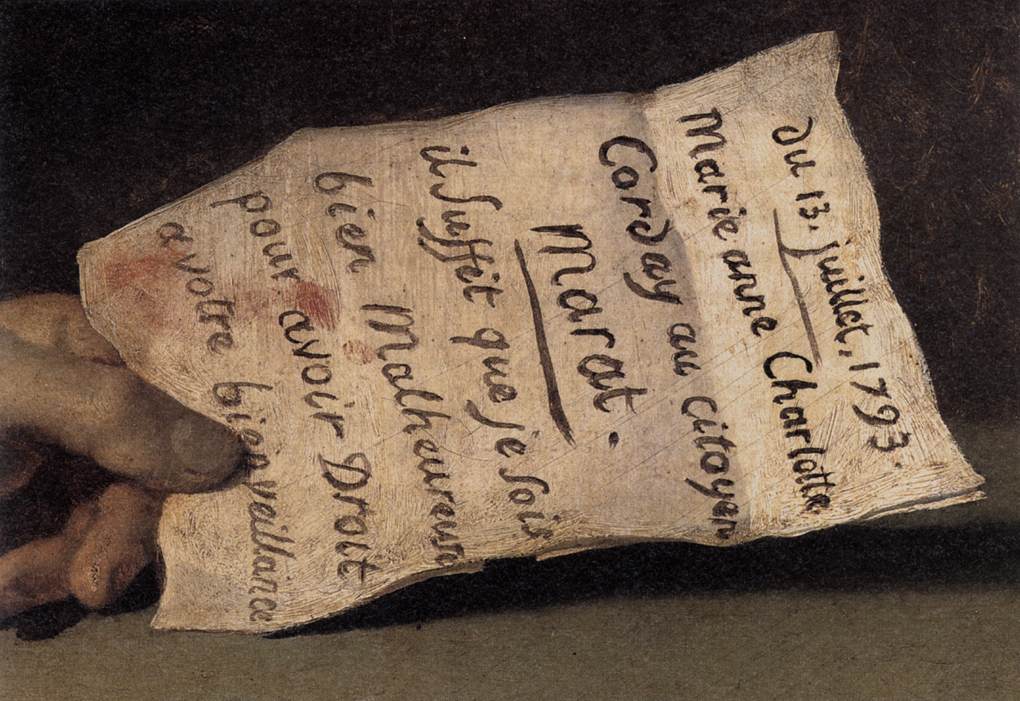 Widely admired at the time, with revolutionary  leaders ordering several copies of the original work (copies made in 1793–1794 by David's pupils to serve propaganda), The Death of Marat eventually ceased to be 'frontpage history' after Robespierre's overthrow and execution. The painting was returned to David in 1795, and until David's death, the painting languished in obscurity. In 1826 (and a number of times after), the family tried to sell it, with no success. It was rediscovered by the critics in the mid-nineteenth century, especially by Charles Baudelaire, who wrote, "The drama is here, vivid in its pitiful horror. This painting is David's masterpiece and one of the great curiosities of modern art because, by a strange feat, it has nothing trivial or vile. What is most surprising in this very unusual visual poem is that it was painted very quickly. When one thinks of the beauty of the lines, this quickness is bewildering. This is food for the strong, the triumph of spiritualism. This painting is as cruel as nature but it has the frgrance of ideals. Where is the ugliness that hallowed Death erased so quickly with the tip of his wing? Now Marat can challenge Apollo. He has been kissed by the loving lips of Death and he rests in the peace of his metamorphosis. This work contains something both poignant and tender; a soul is flying in the cold air of this room, on these cold walls, around this cold funerary tub." –  The painting now resides at the Royal Museums of Fine Arts Belgium.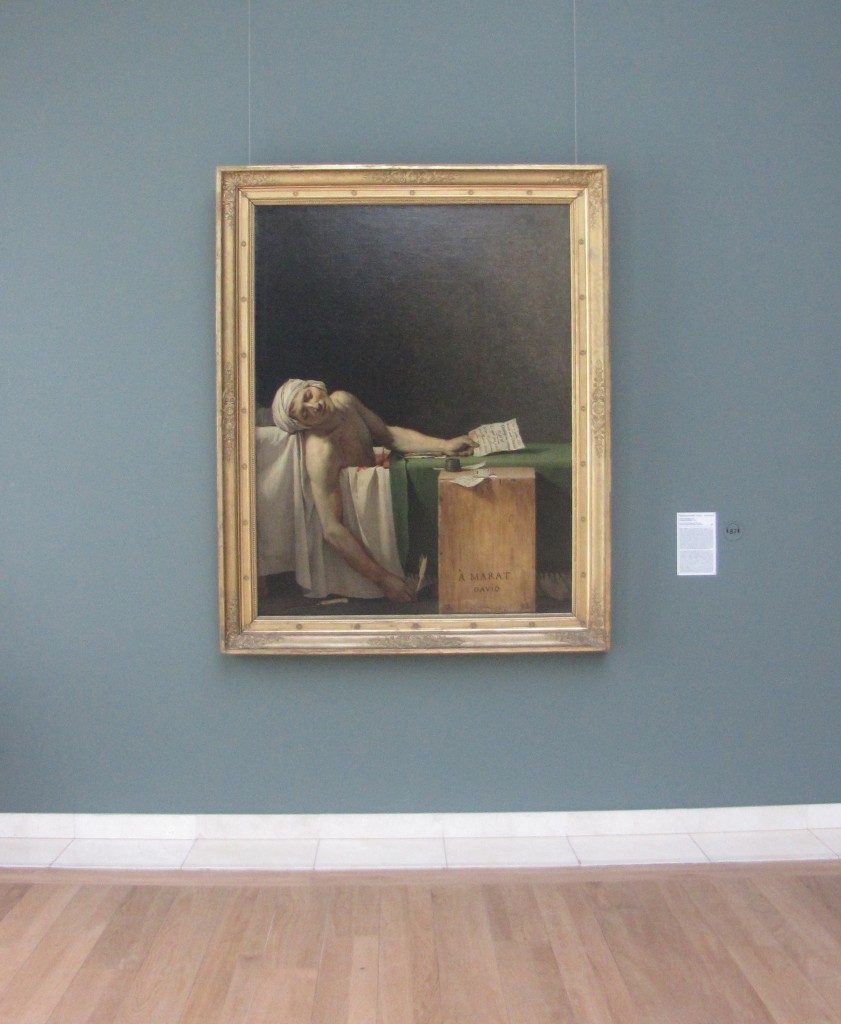 By 1794, Robespierre and his revolutionary allies had gone too far in silencing counter-revolutionary voices, and the people of France began to question his authority. In July of that year, it came to a head, and Robespierre was sent to the guillotine. David was arrested, remaining in prison until the amnesty of 1795. Upon release, David devoted his time to teaching. With the same energy he had spent on revolutionary politics, he trained hundreds of young European painters, among them such future masters as Franois Gérard and Jean-Auguste-Dominique Ingres. (Some 60 years later, Eugene Delacroix would refer to David as the "father of the whole modern school.") He also became the official painter of Napoleon I.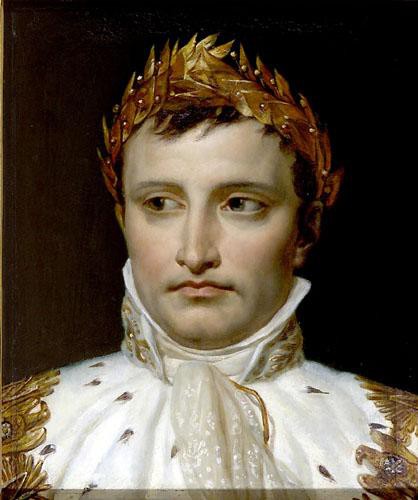 David had admired Napoleon since their first meeting, and sketched him for the first time in 1797. After Napoleon's coup in 1799, he commissioned David to commemorate his crossing of the Alps: David painted Napoleon Crossing the Saint-Bernard (also known as Napoleon Crossing the Alps). Napoleon named David court painter in 1804.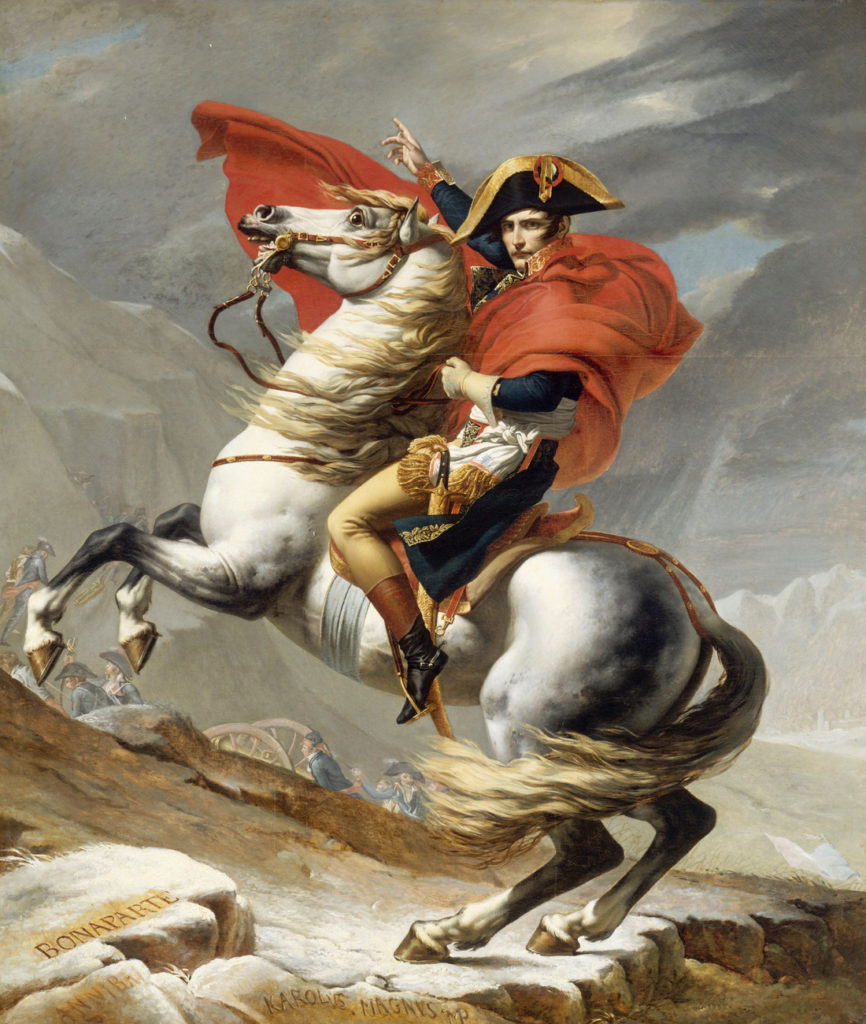 After Napoleon fell in 1815, David was exiled to Brussels, Belgium, where he lost much of his old creative energy. Ten years into his exile, he was struck by a carriage, sustaining injuries from which he would never recover.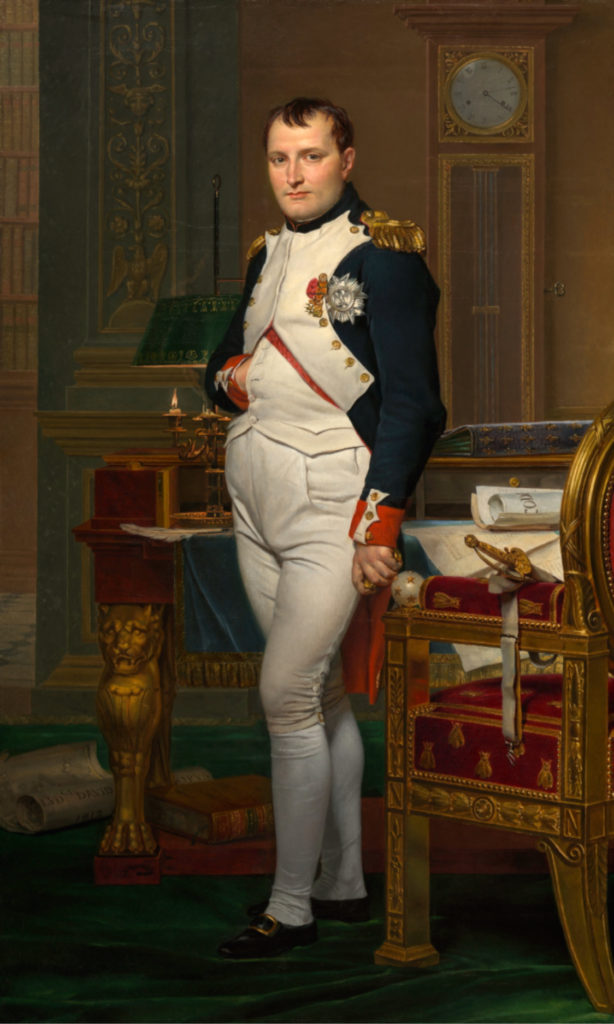 Jacques-Louis David died on December 29, 1825, in Brussels, Belgium. Because he had participated in the execution of King Louis XVI, David was not allowed to be buried in France, so he was buried at Evere Cemetery in Brussels. His heart, meanwhile, was buried at the Père Lachaise Cemetery in Paris.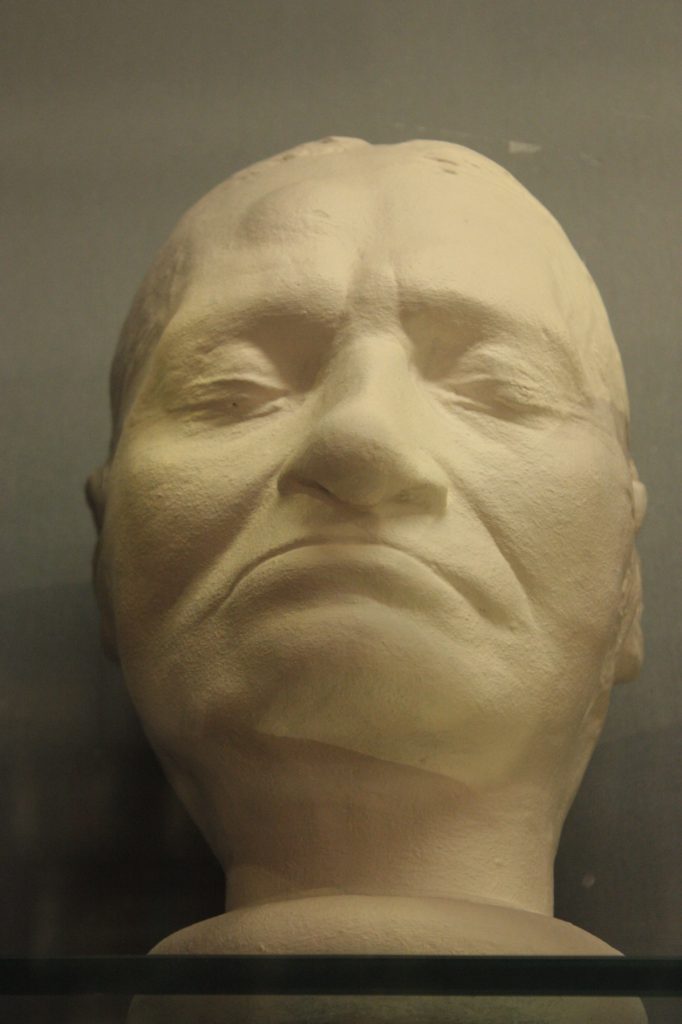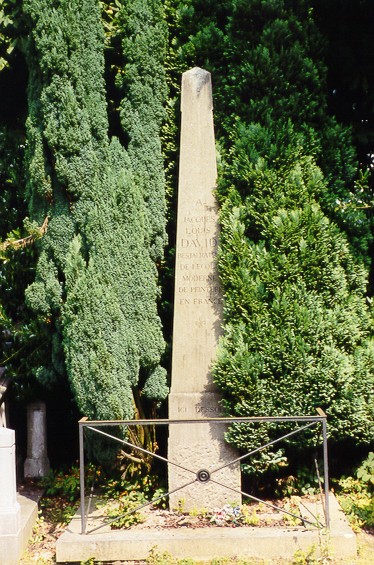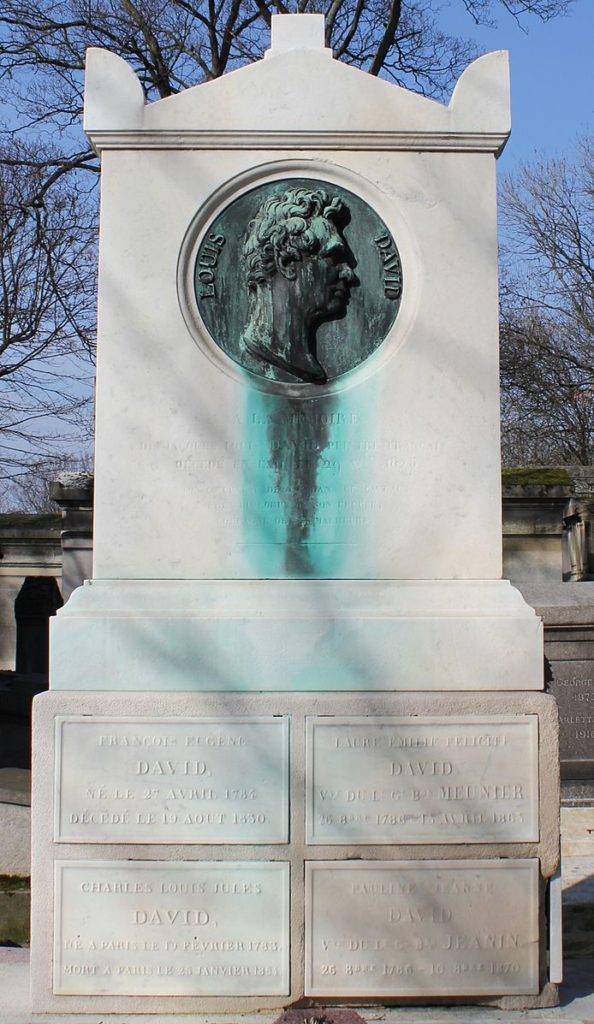 ---
Edited from:
---
TML Arts aims for accuracy in content and functionality in posts.
Click the button below to let us know about typos, incorrect information, broken links, erroneous attribution,
or additional relative information.
---
---
---
---