At six years of age she won first prize for a drawing. Her works were sold when she was nine with her mother's at Gallup ceremonial events. Although she was influenced by her mother's techniques and works, Hardin wanted to create her own style. Her relationship with her mother became increasingly difficult as Hardin became more independently artistic, taking her own original path. The relationship was further taxed as a consequence of her parents' divorce in 1957 or 1959.
She studied drafting at Albuquerque's St. Pius X High School, a parochial Catholic school. In the summer of 1960 Hardin attended the University of Arizona's Southwest Indian Art Project, funded by the Rockefeller Foundation. Also while in high school she was featured in Seventeen magazine. In 1961 and 1962 she attended the University of New Mexico, where she studied architecture and art, although her mother wanted her to study business.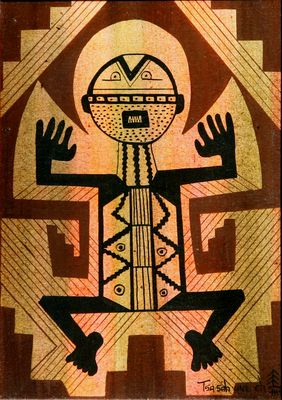 Even though she was in a position to help and be encouraging of her daughter's talent, her mother said she didn't like her paintings, a hurtful and difficult thing for any artist to hear from someone they had looked up to. Hardin considered her own work to be non-traditional, though she allowed herself to be influenced by native pictographs, petroglyphs and pottery designs, and the works of her teacher Joe Herrera, who was a Cubist from the Cochiti Pueblo.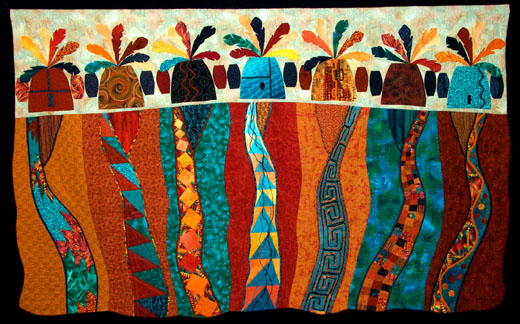 Hardin's early artistic works were characterized as traditionally realistic and she signed them with her Tewa name, Tsa-Sah-Wee-Eh. She was influenced by her spirituality and the protective, supportive "angels" in her life. Up to 26 layers of paint – including ink washes, acrylics, airbrush and varnish – were applied to create her works; she painted tiny dots called stipples; spattered paint with a toothbrush, like Anasazi pottery; and applied transparent washes.
%
|
%
|
%
|
%
|
%
|
%
|
%
|
%