Today's Artist Birthday: Helen Hardin
Helen Hardin (May 28, 1943 – June 9, 1984) (also known as Tsa-sah-wee-eh, which means "Little Standing Spruce") was an American painter. Creating art was a means of spiritual expression that developed from her Roman Catholic upbringing and Native American heritage. She created contemporary works of art with geometric patterns based upon Native American symbols and motifs, like corn, kachinas, and chiefs. In 1976 she was featured in the PBS American Indian artists series.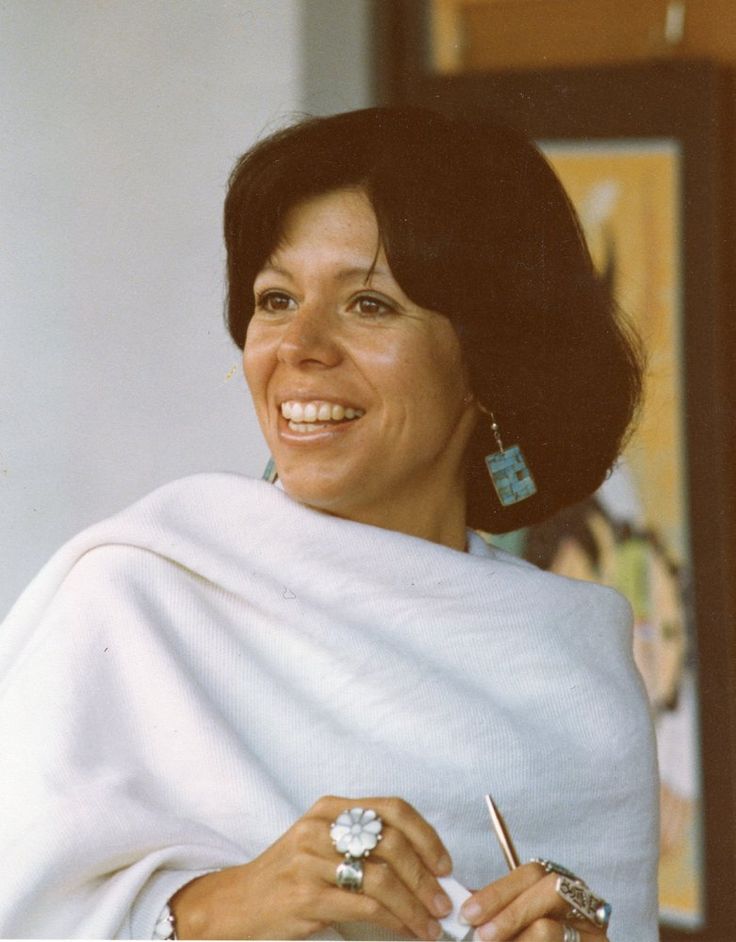 Helen Hardin was born in Albuquerque, New Mexico, the daughter of celebrated Santa Clara Pueblo artist, Pablita Velarde and former police officer and Chief of Public Safety for the US State Department, Herbert Hardin. Her first language was Tewa. She was named Tsa-Sah-Wee-Eh and a naming ceremony at the Santa Clara Pueblo about a month after she was born. Hardin was raised by her artistic mother and her family at the Santa Clara Pueblo and she went to school and lived among the Anglo world for much of her life. She saw herself as "Anglo socially and Indian in [her] art."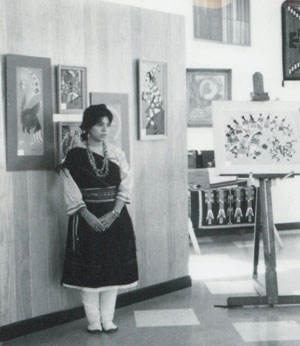 At six years of age she won first prize for a drawing. Her works were sold when she was nine with her mother's at Gallup ceremonial events. Although she was influenced by her mother's techniques and works, Hardin wanted to create her own style. Her relationship with her mother became increasingly difficult as Hardin became more independently artistic, taking her own original path. The relationship was further taxed as a consequence of her parents' divorce in 1957 or 1959.
She studied drafting at Albuquerque's St. Pius X High School, a parochial Catholic school. In the summer of 1960 Hardin attended the University of Arizona's Southwest Indian Art Project, funded by the Rockefeller Foundation. Also while in high school she was featured in Seventeen magazine. In 1961 and 1962 she attended the University of New Mexico, where she studied architecture and art, although her mother wanted her to study business.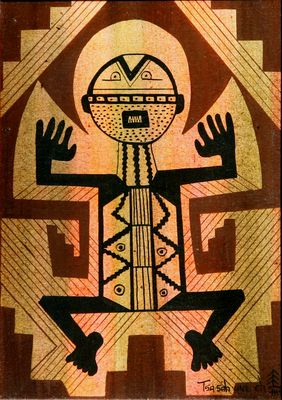 Even though she was in a position to help and be encouraging of her daughter's talent, her mother said she didn't like her paintings, a hurtful and difficult thing for any artist to hear from someone they had looked up to. Hardin considered her own work to be non-traditional, though she allowed herself to be influenced by native pictographs, petroglyphs and pottery designs, and the works of her teacher Joe Herrera, who was a Cubist from the Cochiti Pueblo.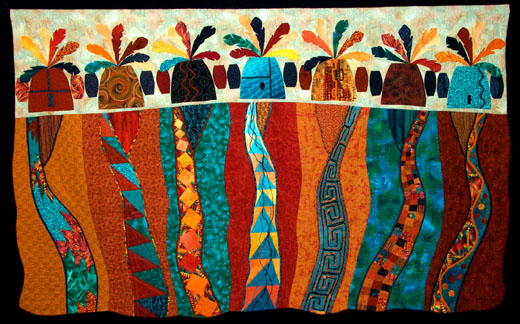 Hardin's early artistic works were characterized as traditionally realistic and she signed them with her Tewa name, Tsa-Sah-Wee-Eh. She was influenced by her spirituality and the protective, supportive "angels" in her life. Up to 26 layers of paint – including ink washes, acrylics, airbrush and varnish – were applied to create her works; she painted tiny dots called stipples; spattered paint with a toothbrush, like Anasazi pottery; and applied transparent washes.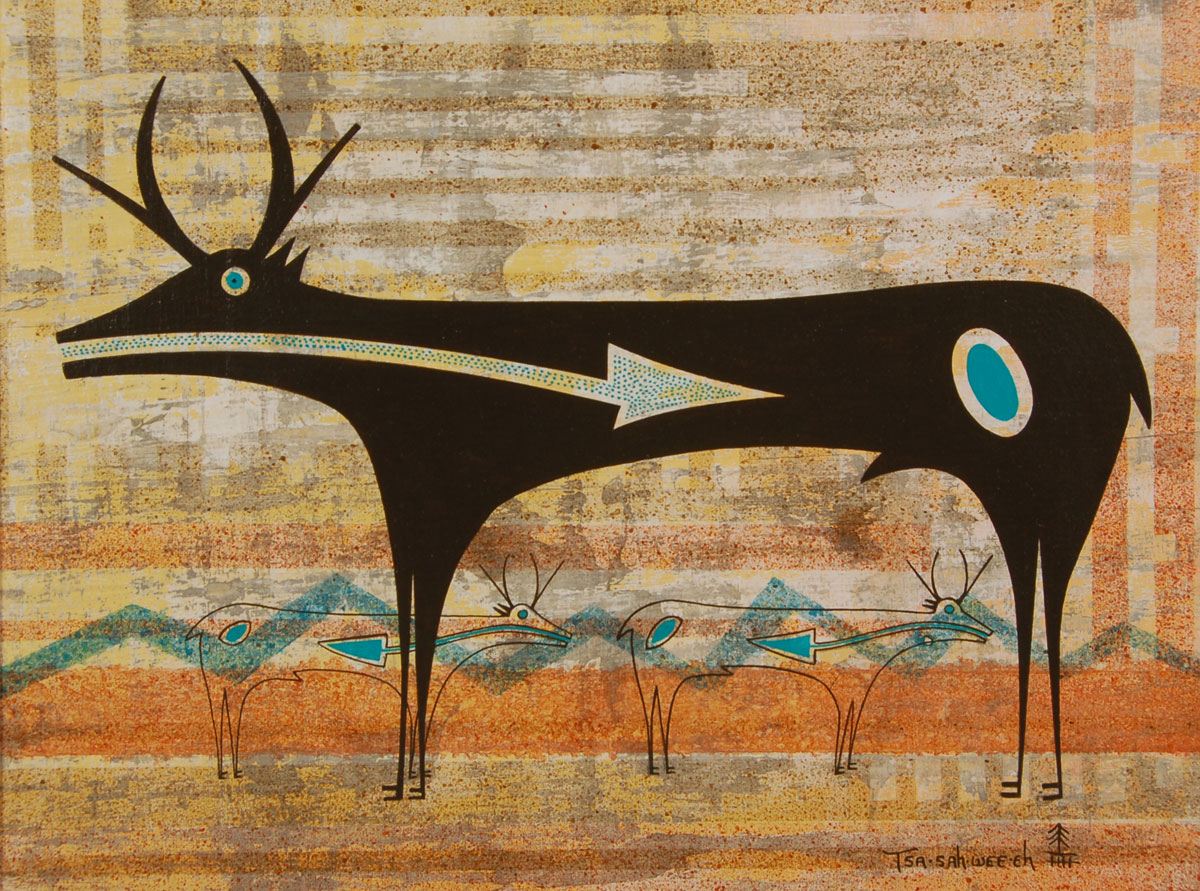 Hardin's relationship with her high school boyfriend, Pat Terrazas, continued after graduation and they had a daughter, Margarete Bagshaw, in 1964. The young and determined artist had to sneak opportunities to paint because both her boyfriend and harsh mother disapproved of her being a painter.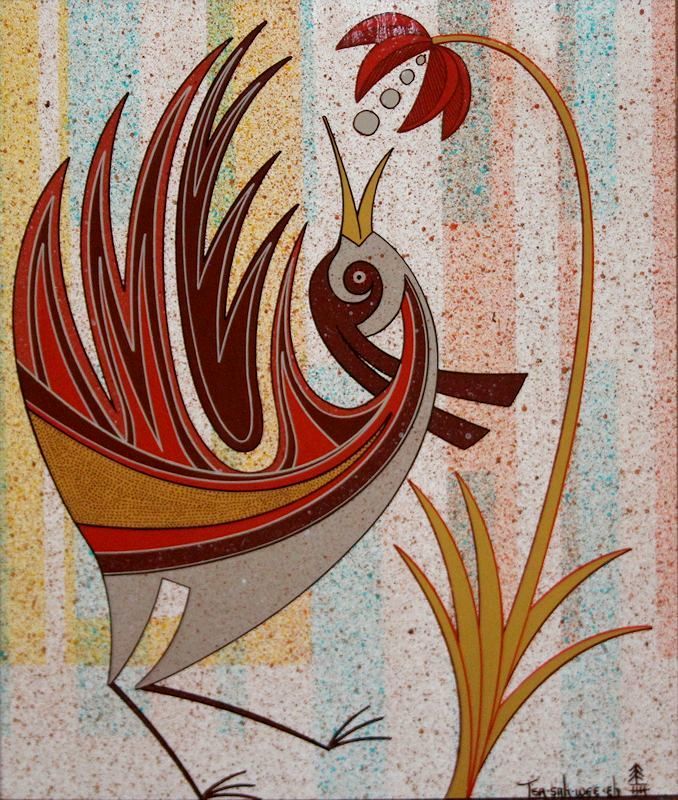 In 1964 Hardin made the painting Medicine Talk for her first major solo exhibition at Enchanted Mesa. While with her father in 1968 in Bogotá, Colombia, she began painting in earnest and had a successful show at the American Embassy, where she sold 27 paintings. Since her reputation in the United States was tied with her mother's success, she had not been sure the degree to which she had success based upon her own merit. In Columbia however, her success was based on her talent alone.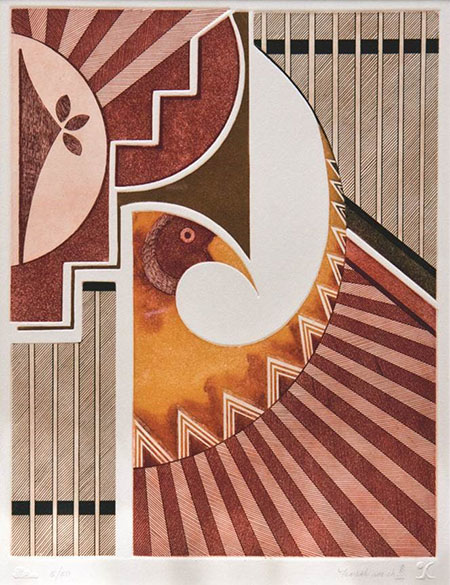 Finally she went to Bogotá, Columbia in 1968 as a respite from the abusive relationship with Terrazas and an unhealthy relationship with her mother. She said of that time, "I awoke to the fact that I was twenty-four years old, I was locked into an unhappy [relationship], and I was not painting. I didn't know who I was or what I was. In search of personal freedom, I took Margarete… and left the country."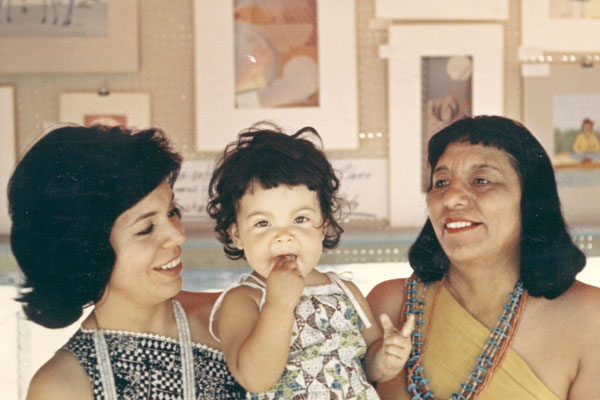 When she returned to United States, her art became more geometric and abstract, and she used deep colored paints. Hardin was said to have brought a "new look" to Native American art by New Mexico Magazine. The publicity was a turning point in her career, its publicity led to greater success and recognition. In 1971 she had a show in Guatemala City.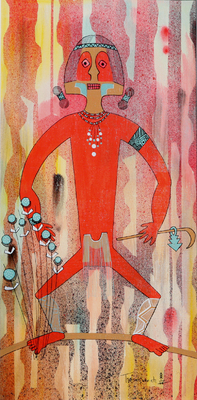 As her career matured and she gained confidence, Hardin became known for painting complex works that combined colorful images and symbols from her Native American heritage with modern abstract art techniques. Her work frequently incorporated images of women, chiefs, kachinas and designs from pueblo pottery, and integrated modern elements as her career advanced. For instance, the paintings of kachinas and blanketed chiefs integrated geometric patterns made with drafting templates, rulers and protractors. Kachinas, or heavenly messengers, had special spiritual meaning, similar to the saints from her Catholic tradition, connecting between people on earth and heaven.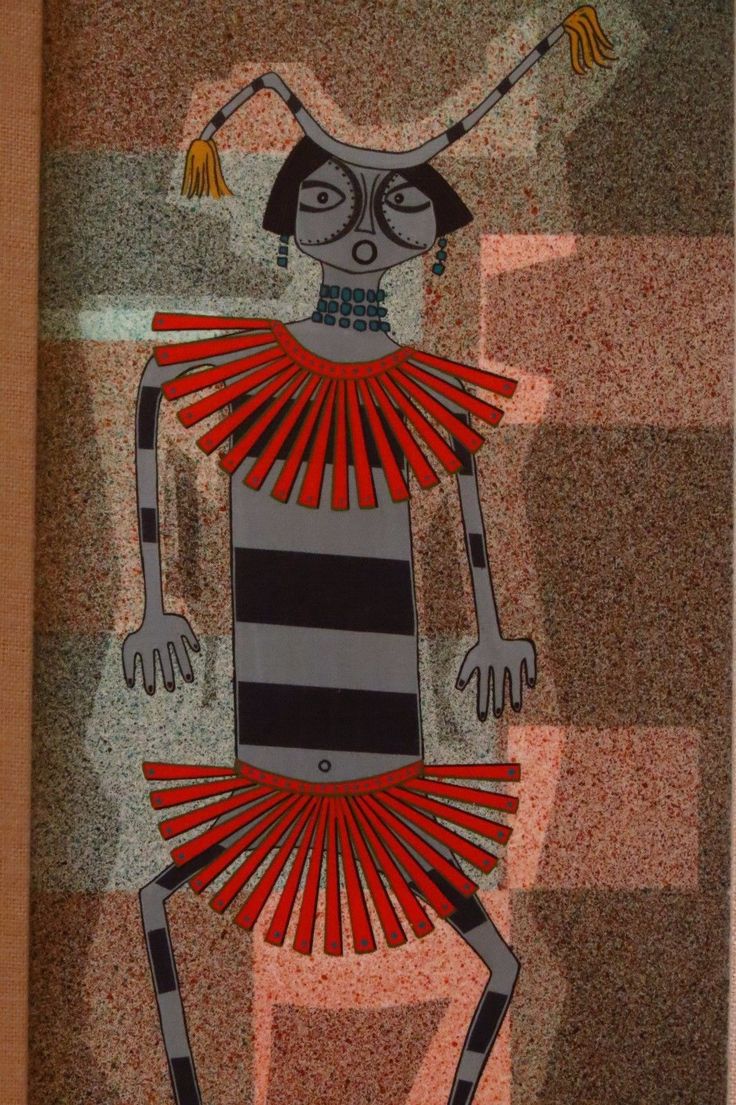 In 1973 she married Cradoc Bagshaw, and in 1976, she was filmed for a series on American Indian artists for Public Broadcasting System (PBS).
Bountiful Mother made in 1980 represents two aspects of motherhood from the Pueblo and Hopi culture: Corn Mother and Mother Earth. The cultivation and consumption of corn was so central to the pueblo culture that it was "… a living entity with a body similar to man's in many respects …the people built its flesh into their own." In the work, the woman's fertility is symbolized by the kernels of blue corn of her body.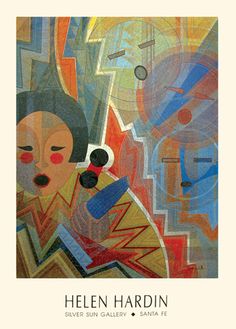 In 1981 she made the self-portrait Metamorphosis: "The features were contained within a perfect circle, a Jungian archetype of psychic wholeness and the symbol for Hardin of life itself, but everything else about the painting was fragmented, jagged and asymmetrical," said Jay Scott, her biographer, of the "tormented pieces of her life."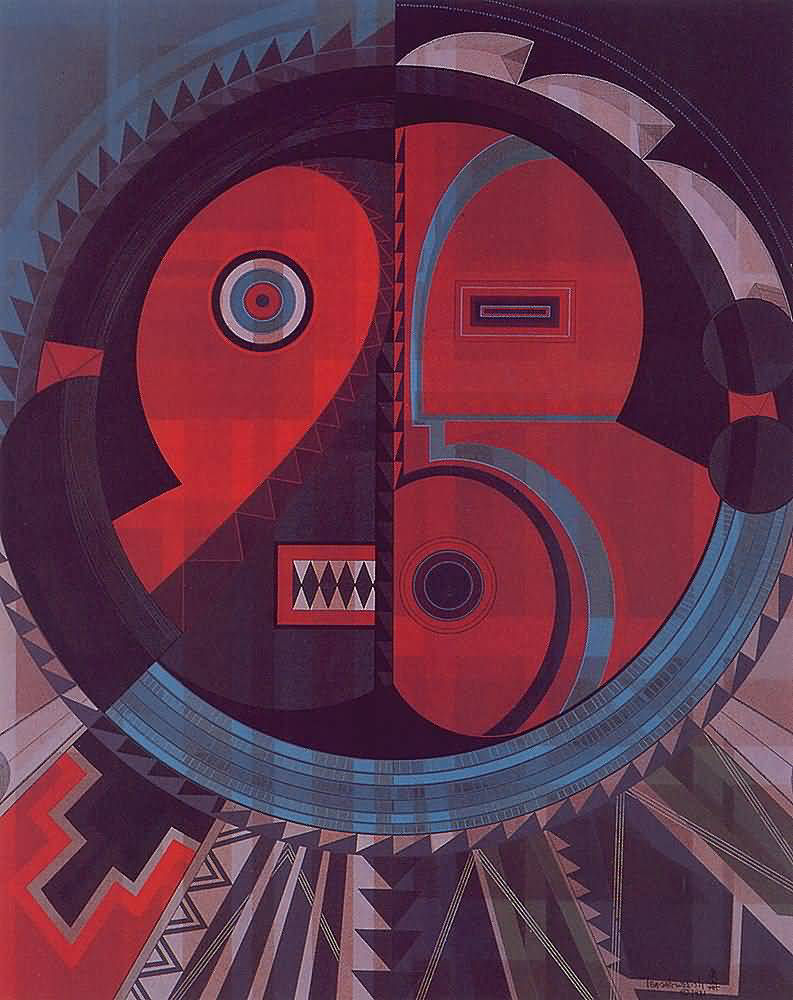 She created a series that included Changing Woman, Medicine Woman, and Listening Woman. The last work, Creative Woman was intended to be part of the series but the she died before it was created. The paintings portrayed the "intellectual, emotional, and sensitive" aspects of womanhood.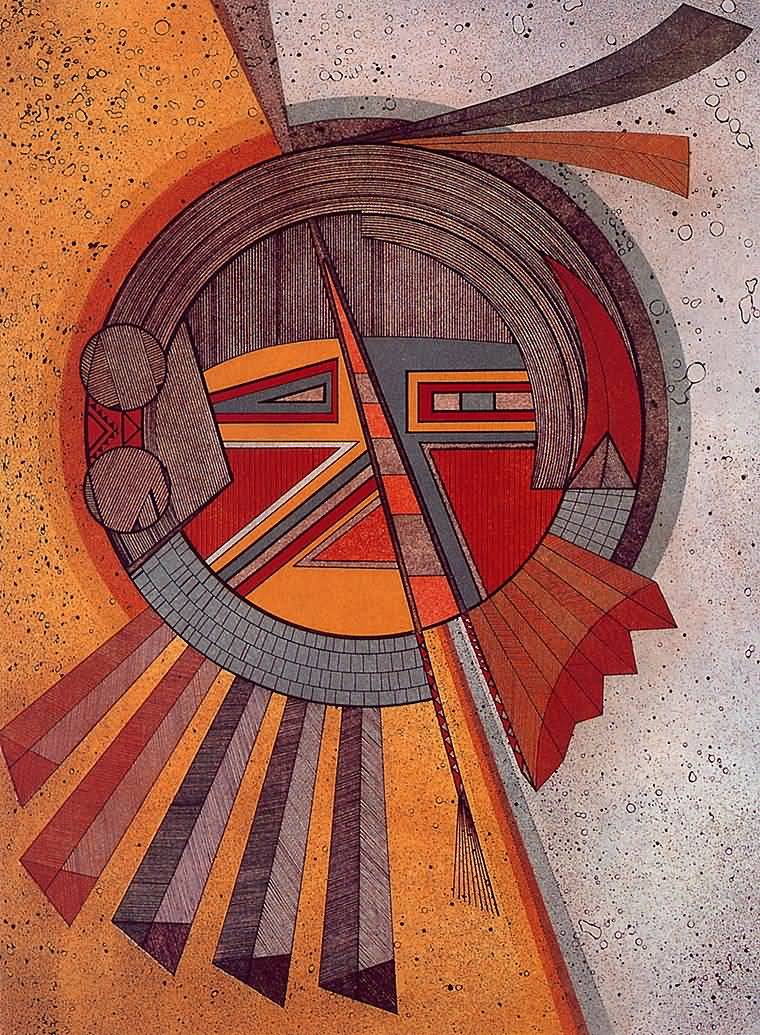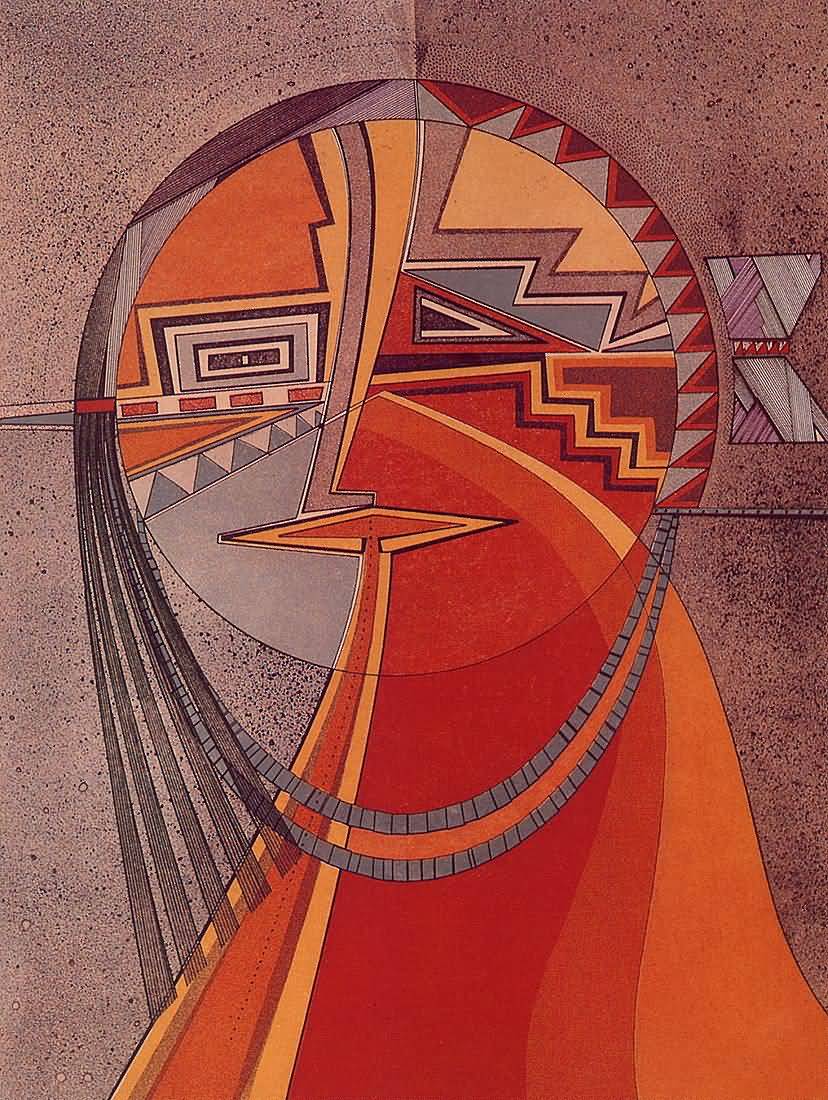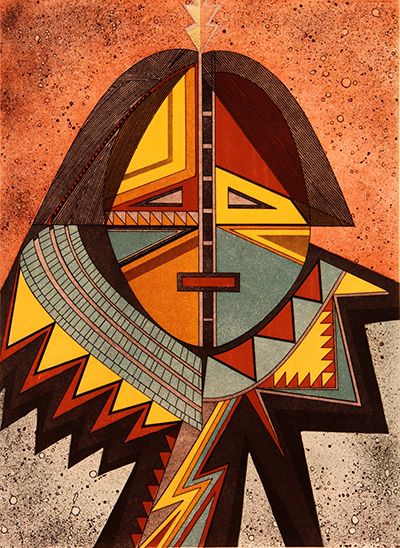 Hardin was diagnosed with breast cancer in 1981 and died in New Mexico in 1984. At her death at the age of 41, Hardin was recognized as one of the finest and most innovative Artists of her generation. She was among the first modern Indian painters to combine her non-Indian art materials and techniques with an Indian sensibility, merging past and present in a bold, original, creative, and very sensitive way.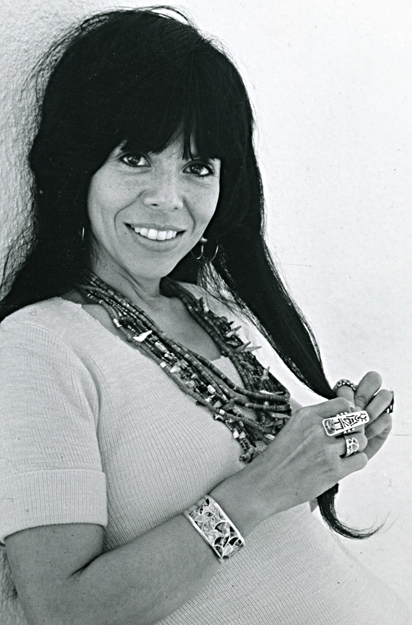 ---
Please see also:
---
Edited from:
https://en.wikipedia.org/wiki/Helen_Hardin
---
see an error? click here to send corrections!
---