Today's Artist Birthday: Helen Chadwick
Helen Chadwick (18 May 1953 – 15 March 1996) was a British sculptor, photographer and installation artist, whose untimely death stunned everyone she knew. In 1987, she became one of the first women artists to be nominated for The Turner Prize. Chadwick was known for challenging stereotypical perceptions of the body in elegant yet unconventional forms. Her work draws from a range of sources, from myths to science, grappling with a plethora of unconventional, visceral materials that included chocolate, lambs tongues and rotting vegetable matter. Her skilled use of traditional fabrication methods and sophisticated technologies transform these unusual materials into complex installations.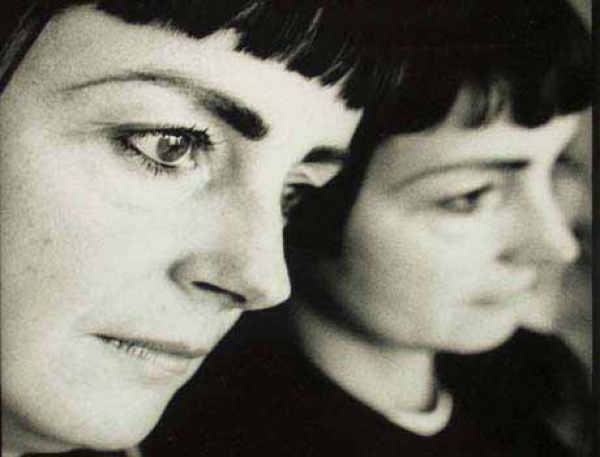 Helen Chadwick was born May 18th 1953 in Croydon, England. Her mother was a Greek refugee and her father from east London. Her parents met in Athens, Greece during World War II and moved to live in Croydon in 1946. After she left school she embarked on a Fine Art Foundation course at Croydon College, then went on to study at Brighton Polytechnic (1973-6). Chadwick recalled, "Traditional media were never dynamic enough… right from early on in art school, I wanted to use the body to create a set of inter-relationships with the audience".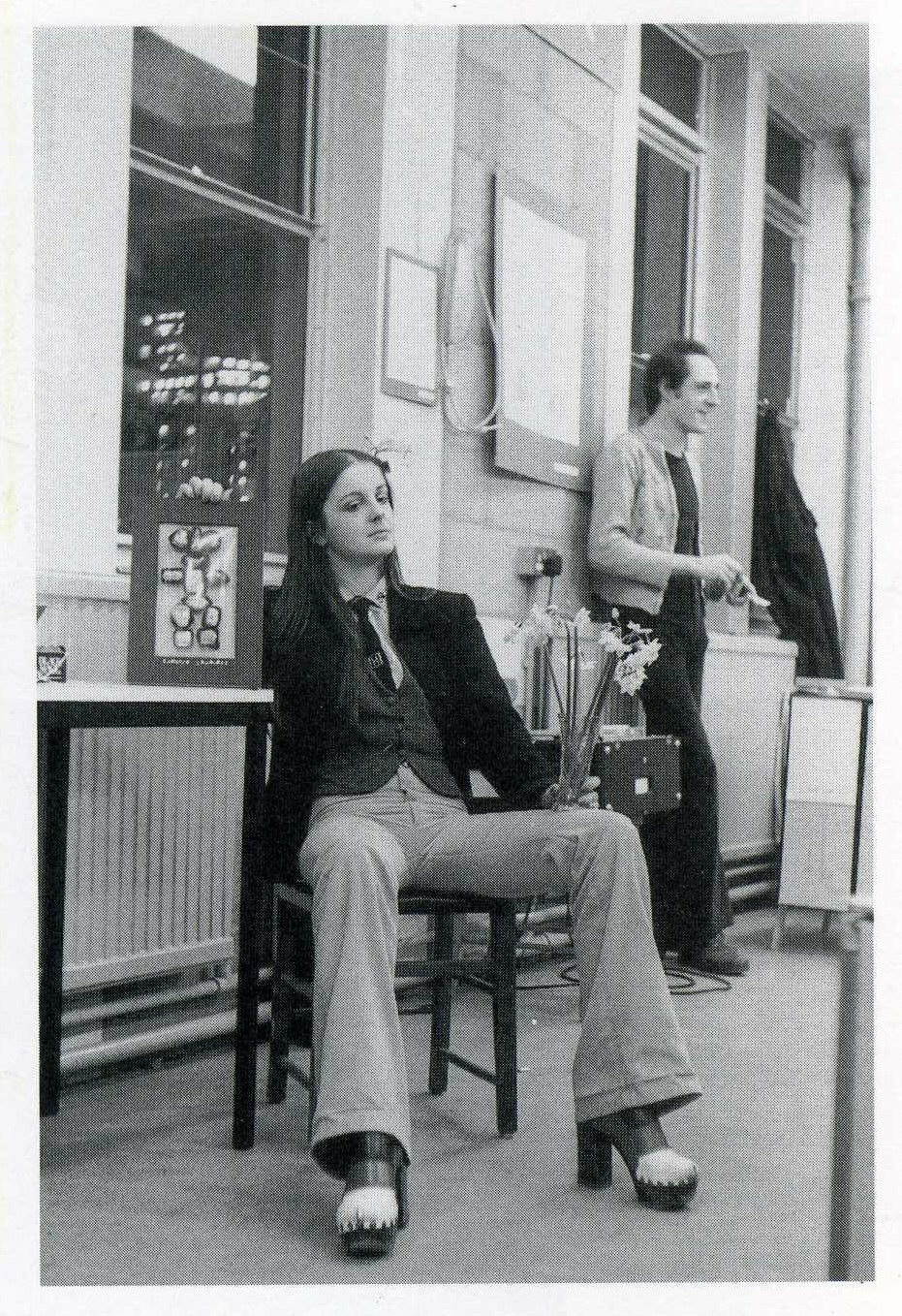 Chadwick's degree show: Domestic Sanitation (1976) consisted of her and three other women in latex costumes painted directly on to the skin, intimating the distinction between nudity and nakedness. Her performers wore a latex skin to cover their own skin, suggesting the imposition of idealized femininity while they carried out satirical, stereotypical female activities, such as cleaning and grooming.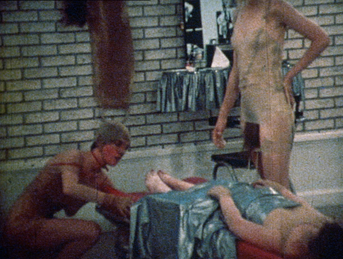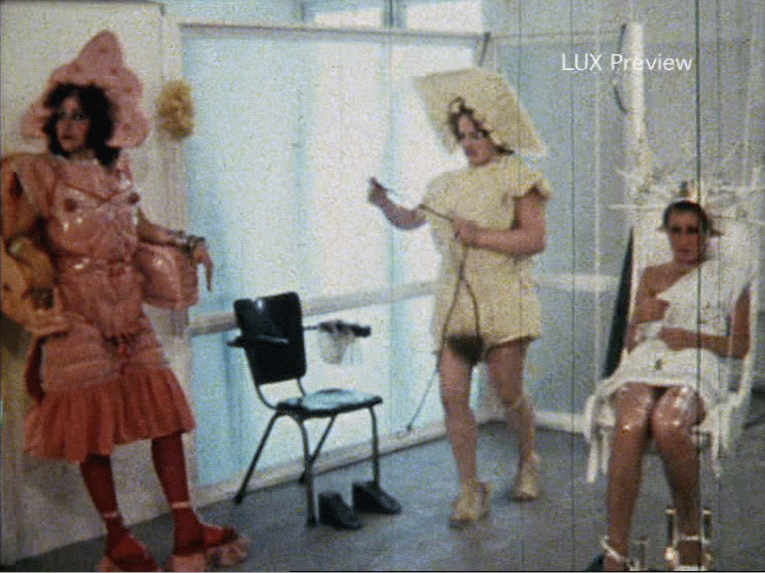 In 1976 she moved to Hackney and enrolled in a Masters at Chelsea College of Art (1976-7). In 1977 Chadwick and two dozen other artists moved into Beck Road, Hackney, a double strip of Victorian terraces that was earmarked for demolition. After squatting for two years they persuaded the Inner London Education Authority to rent, rather than demolish, the houses. Beck Road became an artistic center for many of London's progressive contemporary artists.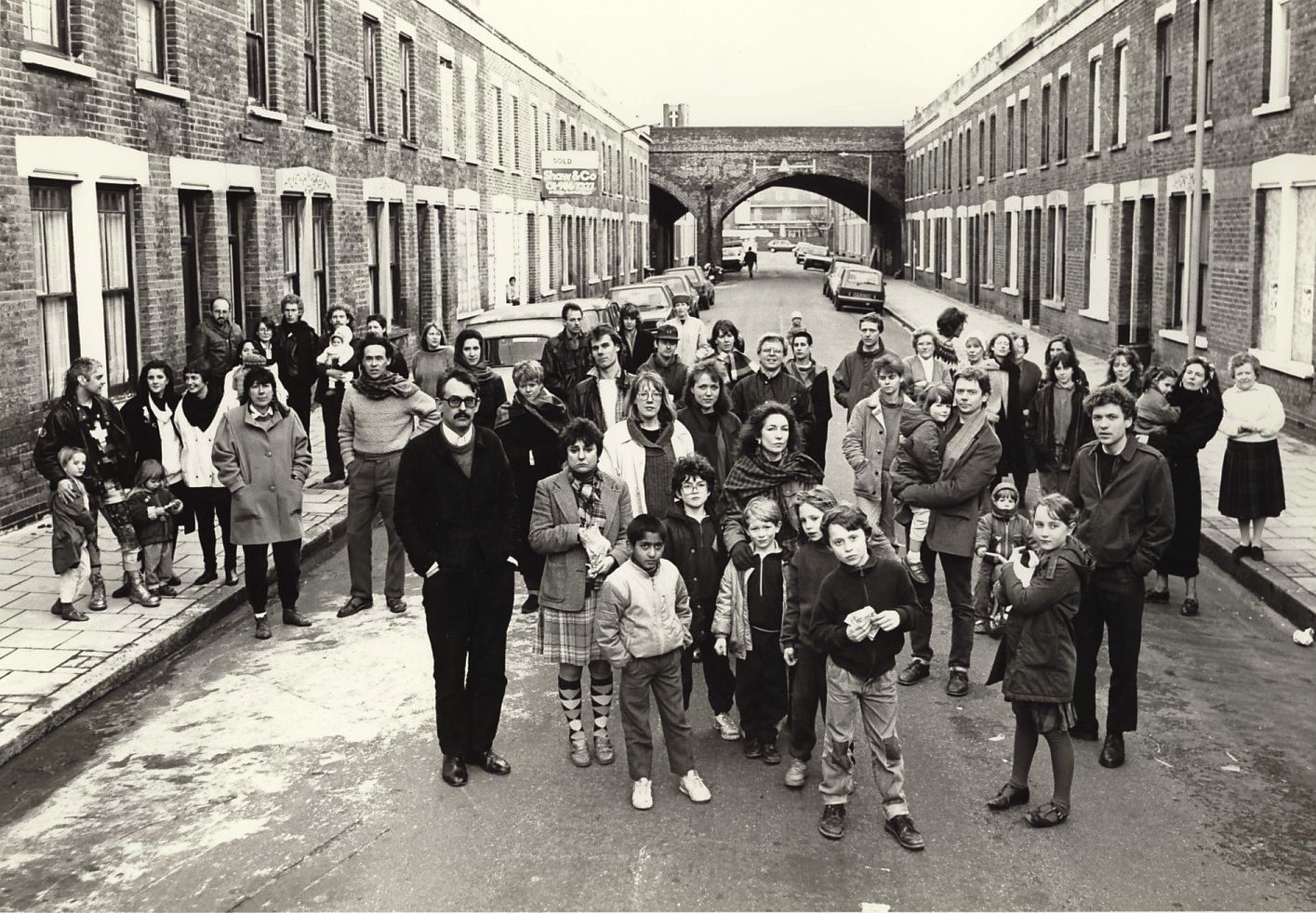 Chadwick began exhibiting regularly from 1977, gradually building her reputation as an artist. Her rise into the public sphere was marked by the inclusion of her work Ego Geometria Sum (1983) in a group exhibition entitled Summer Show I (1983) at the popular gallery, Serpentine. In 1985 she began an active teaching career as a visiting lecturer across a number of London art schools. Her posts at Goldsmiths (1985–90), Chelsea College of Arts, London (1985–95), Central Saint Martins, London (1987–95) and the Royal College of Art (1990–94) ensured an important influence on contemporary British Art in the late 1980s and '90s, specifically on the Young British Artists.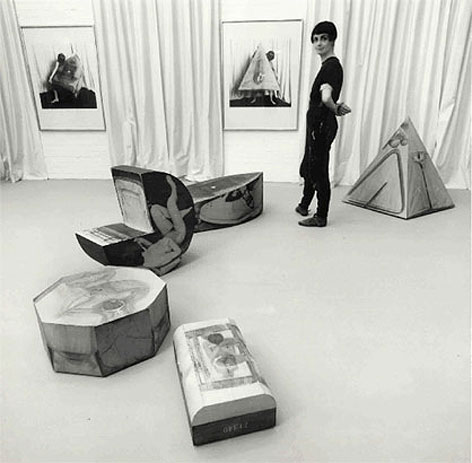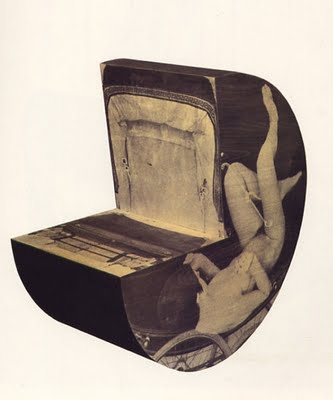 Chadwick's work really came to prominence with Of Mutability (1986-87), a large installation involving sculpture and photography at the Institute of Contemporary Arts, London. This exhibition that toured a number of venues in England, Scotland and Switzerland resulted in her nomination for the Turner Prize in 1987. This was the first year that women were nominated for Britain's most prestigious contemporary art award.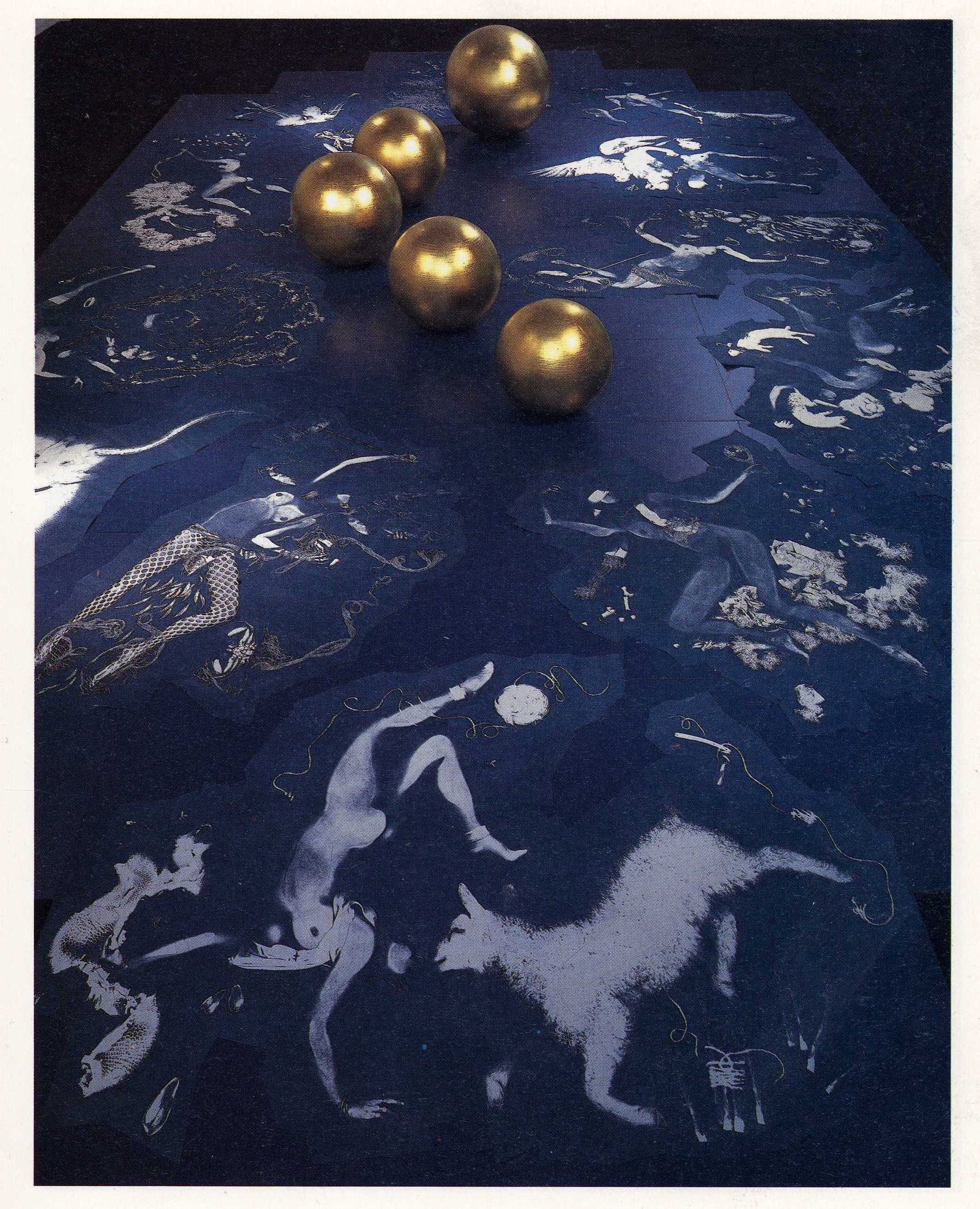 In 1988 Chadwick made a conscious decision "…not to represent my body…. It immediately declares female gender and I wanted to be more deft." Her practice then moved inside the body to flesh in her Meat Abstracts (1989) and Meat Lamps (1989-91) and to bodily excrement's in Piss Flowers (1991–92). Chadwick commented, "I felt compelled to use materials that were still bodily, that were still a kind of self-portrait, but did not rely on representation of my own body."
Piss Flowers is a work made up of twelve sculptures that Chadwick made while on a residency at the Banff Arts Centre in Alberta, Canada, in February 1991. During their stay, she and her partner, David Notarius travelled to different locations, made mounds of snow and laid out a flower shaped metal cutter. They would take turns to urinate in the snow then pour plaster into the cavities. These casts were attached to pedestals that were based on a hyacinth bulb. The whole thing was then cast in bronze and enameled white. The works are a result of her physical contact with the location, preserving a direct impact of reality. Chadwick describes the flowers as a "metaphysical conceit for the union of two people expressing themselves bodily". The work utilizes the pleasure of taboo; elevating the medium of urine that is generally regarded as polluting and marginal in a dynamic and playful way. "It may have been mischievous to piss in the snow, but it was damn hard work to end up with the 12 bronzes" Chadwick recalled. "Piss Flowers took two years, largely because I had to find pounds 12,000 to make them".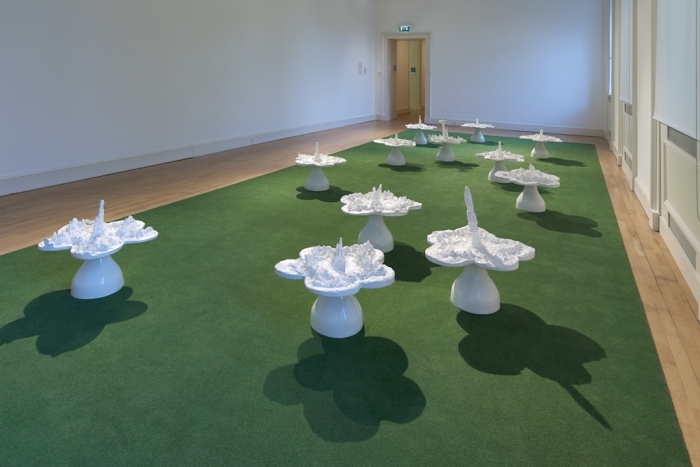 In the summer of 1994, Chadwick's exhibition Effluvia opened at the Serpentine Gallery, London. This exhibition marked the high point of Chadwick's exposure, receiving widespread critical attention and national press coverage. The exhibition was seen by 54,000 visitors, breaking the record for the gallery.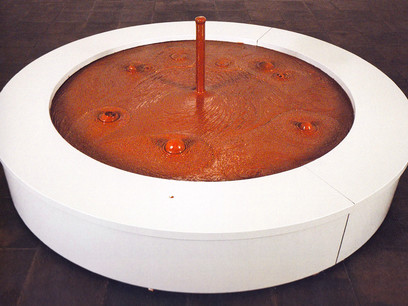 In 1995, Chadwick received her first solo exhibition in the United States at the Museum of Modern Art, New York, entitled Helen Chadwick: Bad Blooms. In 1995, Chadwick took up an artist residency in the assisted conception unit at King's College Hospital, London, photographing IVF embryos rejected for implantation. She used the photos in Unnatural Selection, a series on which she was working when she died. Chadwick's work is included in the collections at the Victoria and Albert Museum, The Tate and the Museum of Modern Art.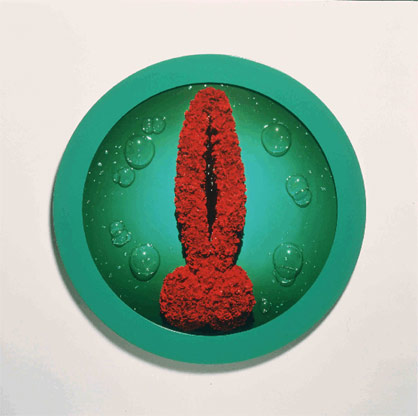 Chadwick died suddenly at age 42 of a heart attack in 1996. She was running late the day that she died. At some point on 15 March, perhaps between leaving her house in Hackney and picking up a fax at a nearby gallery, or in going to the Victoria & Albert Museum to meet the curator of photographs and examine 18th-century tapestries, or in rushing to the Royal College of Art before it closed to pick up transparencies from some of her students, she managed to misplace half an hour. By the time she got to the Architects' Association, halfway back to Hackney, to plan a future collaboration and listen to a lecture and attend a private view, Chadwick was aching, even slightly woozy. In the bar afterwards, she rang her husband David to ask for a ride home. Instead of bouncing around the room as usual, she sat down. Someone offered her a glass of water; she said no. Then she fainted. Someone thought to check her pulse. There wasn't one.
Although they declared no proof, pathologists suggested a link between her sudden, fatal heart attack and a viral infection causing a myocarditis. Myocarditis is an inflammation of the heart muscle that could have been triggered anywhere between the last few years of her life and the last weeks.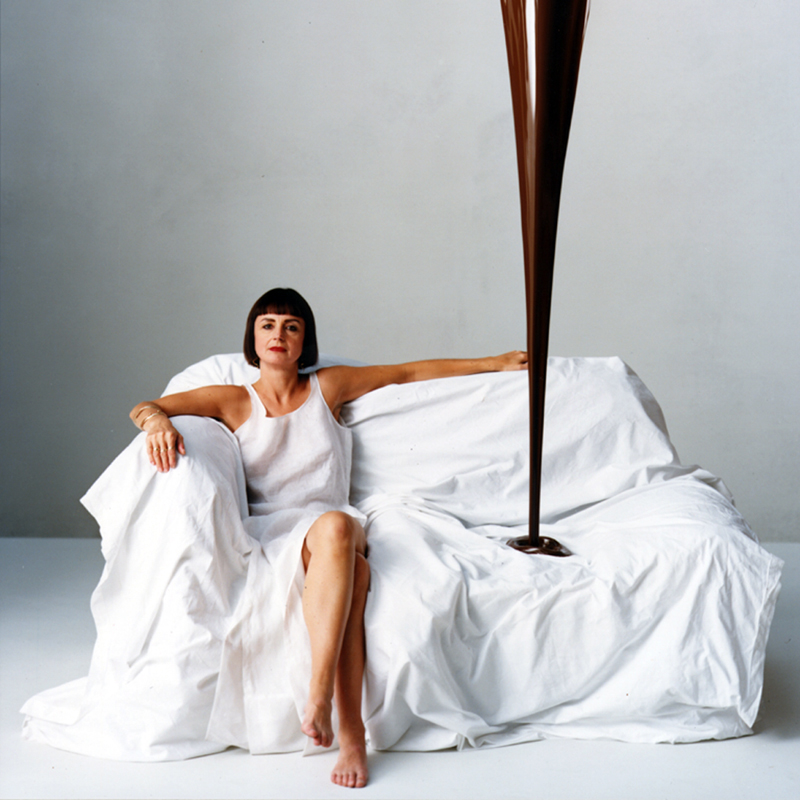 Google has her burial place as St. Peter's Basilica, Vatican City, Italy. [TML note: I can find neither corroborating nor negating information regarding the veracity of this claim, but am curious to find an answer one way or another. Update forthcoming.]
---
---
Edited from:
---
see an error? click here to send corrections!
---