Guillaume Apollinaire: poet, writer, artistic force
Guillaume Apollinaire (1880 – 1918) was a French poet, playwright, short story writer, novelist, and art critic of Polish descent. Apollinaire is considered one of the foremost poets of the early 20th century, as well as one of the most impassioned defenders of Cubism and a forefather of Surrealism.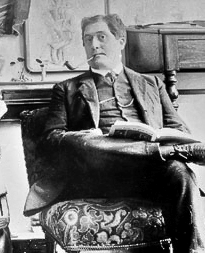 Wilhelm Albert Włodzimierz Apolinary Kostrowicki was born in Rome, Italy, and was raised speaking French, Italian, and Polish. He emigrated to France in his late teens and adopted the name Guillaume Apollinaire. His mother, born Angelika Kostrowicka, was a Polish noblewoman born near Navahrudak, Grodno Governorate (present-day Belarus). His maternal grandfather was a general in the Russian Imperial Army who was killed in the Crimean War. Apollinaire's father is unknown but may have been Francesco Costantino Camillo Flugi d'Aspermont (born 1835), a Graubünden aristocrat who disappeared early from Apollinaire's life.
%
|
%
|
%
|
%
|
%
|
%
|
%
|
%
|
%
|
%
|
%
|
%
|
%