Today's Artist Birthday: Georges Braque
Georges Braque(13 May 1882 – 31 August 1963) was a major 20th-century French painter, collagist, draughtsman, printmaker and sculptor. His most important contributions to the history of art were in his alliance with Fauvism from 1906, and the role he played in the development of Cubism. Braque's work between 1908 and 1912 is closely associated with that of his colleague Pablo Picasso. Their respective Cubist works were indistinguishable for many years, yet the gentle beauty of Braque was partially eclipsed by the showmanship and notoriety of Picasso. Thankfully, Braque was able to navigate through his association with his flamboyant counterpart and emerge unscathed.
Georges Braque was born on 13 May 1882 in Argenteuil, Val-d'Oise. He grew up in Le Havre and trained to be a house painter and decorator like his father and grandfather. However, he also studied artistic painting during evenings at the École des Beaux-Arts, in Le Havre, from about 1897 to 1899. In Paris, he apprenticed with a decorator and was awarded his certificate in 1902. The next year, he attended the Académie Humbert, also in Paris, and painted there until 1904. It was here that he met Marie Laurencin and Francis Picabia.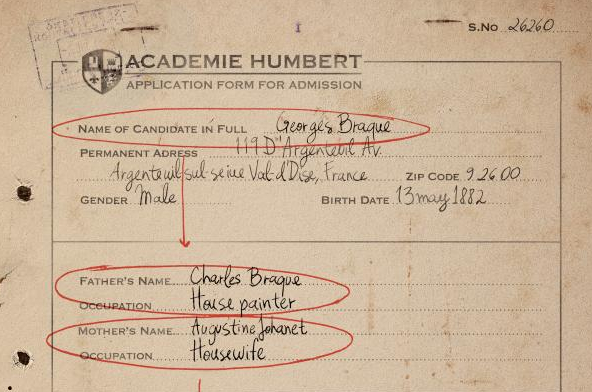 %
|
%
|
%
|
%
|
%
|
%
|
%