Fernand Khnopff: painter
Hi there. We are on vacation from September 5th, until September 19, 2016. But the Artist Birthday Series continues! Albeit, much shorter. :)

Thank you so much for your continued interest in this project. When we return from our magical, mystery excursion...I'm sure there will ever-so-interesting be stories to be told. 

Wishing all the best of everything beautiful, delicious, and good-smelling to you. 

~ TMLipp
Fernand Edmond Jean Marie Khnopff (12 September 1858 – 12 November 1921) was a Belgian symbolist painter.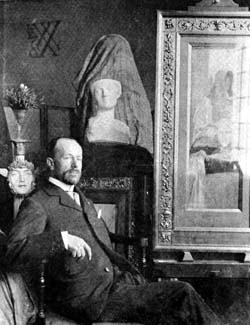 Fernand Khnopff was born to a wealthy family that was part of the high bourgeoisie for generations. To please his parents, he went to law school at the Free University of Brussels but left soon after, due to a lack of interest in his law studies and began to frequent the studio of Xavier Mellery, who made him familiar with the art of painting.
On 25 October 1876, he enrolled for the Cours De Dessin Après Nature ("course of drawing after nature") at the Académie Royale des Beaux-Arts. At the Académie, his most famous fellow student was James Ensor, whom he disliked from the start. Between 1877 and 1880, Khnopff made several trips to Paris where he discovered the work of Delacroix, Ingres, Moreau and Stevens. At the Paris World Fair of 1878 he became acquainted with the oeuvre of Millais and Burne-Jones.
For more information on Fernand Khnopff, this short introduction was edited from the article here: https://en.wikipedia.org/wiki/Fernand_Khnopff,
This too is a very interesting read: http://alchetron.com/Fernand-Khnopff-1199857-W
---
TML Arts aims for accuracy in content and functionality in posts. Click the button below to let us know about typos, incorrect information, broken links, erroneous attribution, or additional relative information.
---
Special thanks to: Daily Artfixx, On This Day, Wikipedia, Find-A-Grave, A&E Bio, The Smithsonian American Art Museum Renwick Gallery, Famous Birthdays, Encyclopedia Brittanica, and all the art history buffs that keep the internet full of wonderful information and images.

---
---