Today's Artist Birthday: Dan Flavin (1 April, 1933 – 29 November, 1996), minimalist master of light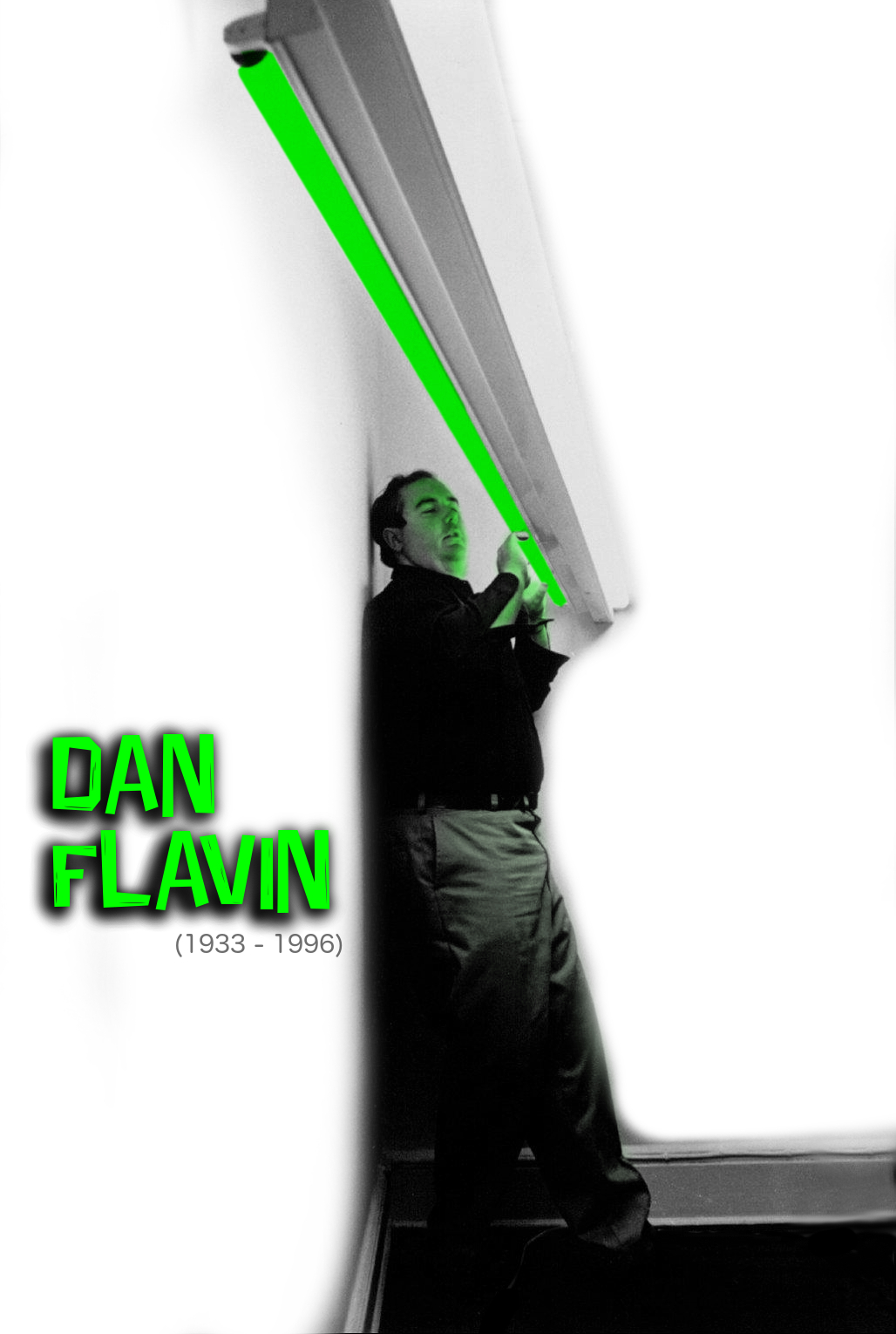 Daniel Nicholas Flavin Jr. was born in New York of Irish Catholic descent and sent to Catholic schools. He studied for the priesthood at the Immaculate Conception Preparatory Seminary in Brooklyn between 1947 and 1952 before leaving to join his fraternal twin brother, David John Flavin, and enlist United States Air Force. During military service in 1954–55, Flavin was trained as an air weather meteorological technician and studied art through the adult extension program of the University of Maryland in Korea. Upon his return to New York in 1956, Flavin briefly attended the Hans Hofmann School of Fine Arts and studied art under Albert Urban. He later studied art history for a short time at the New School for Social Research, then moved on to Columbia University, where he studied painting and drawing.
From 1959, Flavin was shortly employed as a mailroom clerk at the Guggenheim Museum and later as guard and elevator operator at the Museum of Modern Art. Flavin's first works were drawings and paintings that reflected the influence of Abstract Expressionism. It was at this time he began to make assemblages and mixed media collages that included found objects from the streets, especially crushed cans.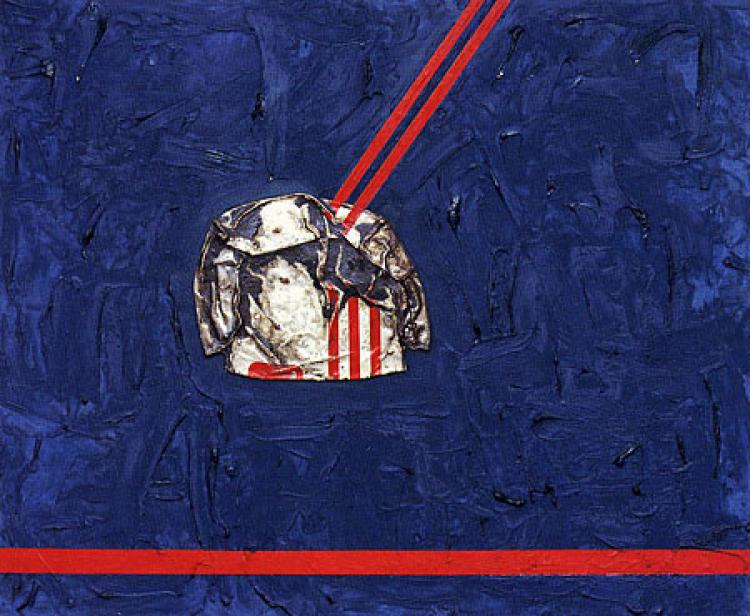 In the summer of 1961, while working as a guard at the American Museum of Natural History in New York, Flavin started to make sketches for sculptures that incorporated electric lights. The first works to incorporate electric light were his "Icons" series: eight colored shallow, boxlike square constructions made from various materials such as wood, Formica, or Masonite. The "Icons" had fluorescent tubes with incandescent and fluorescent bulbs attached to their sides, and sometimes beveled edges. One of these icons was dedicated to Flavin's twin brother David, who died of polio in 1962.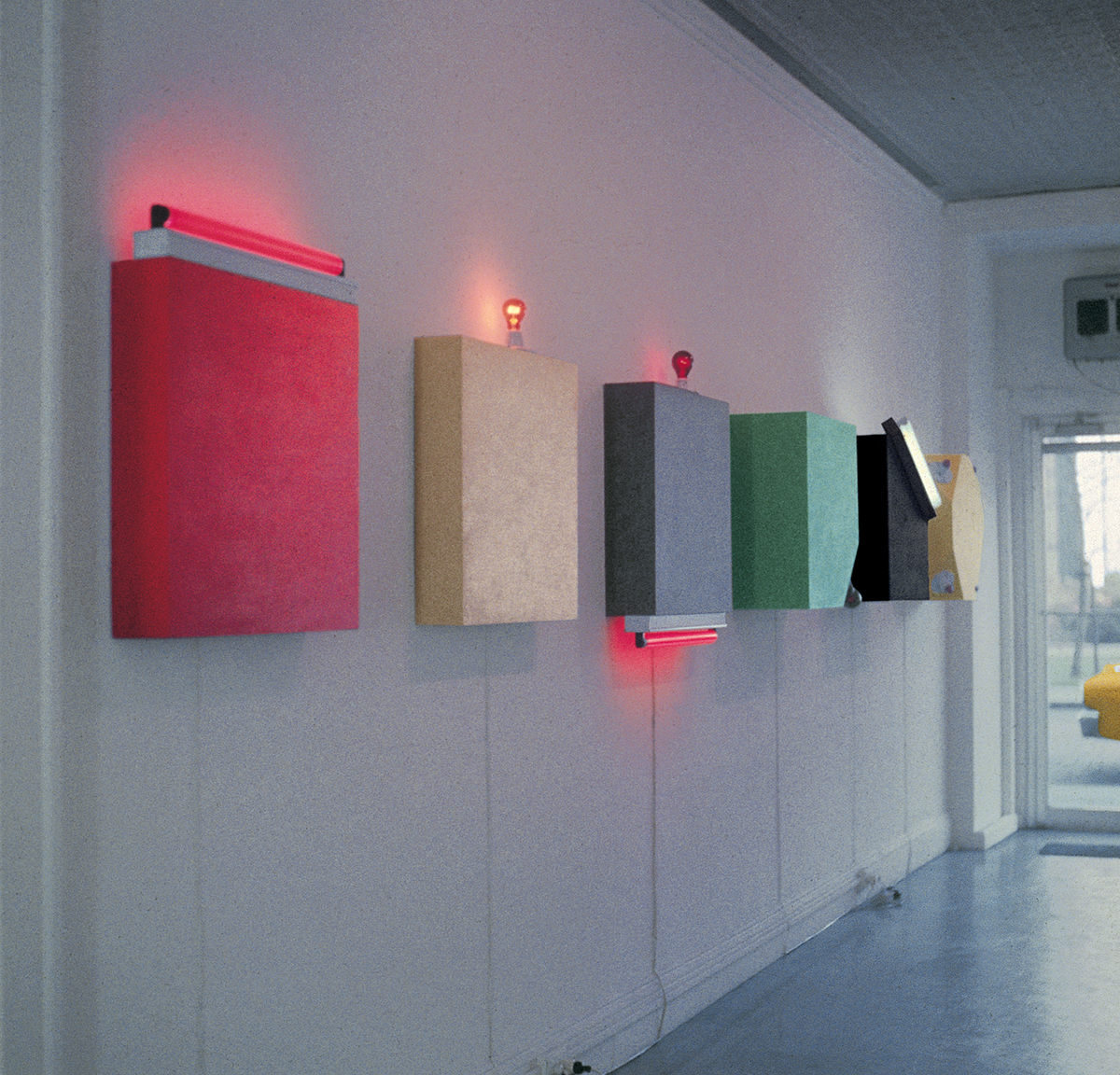 The "Diagonal of Personal Ecstasy (the Diagonal of May 25, 1963)," a yellow fluorescent placed on a wall at a 45-degree angle from the floor and completed in 1963, was Flavin's first mature work; it is dedicated to Constantin Brâncuși and marks the beginning of Flavin's exclusive use of commercially available fluorescent light as a medium.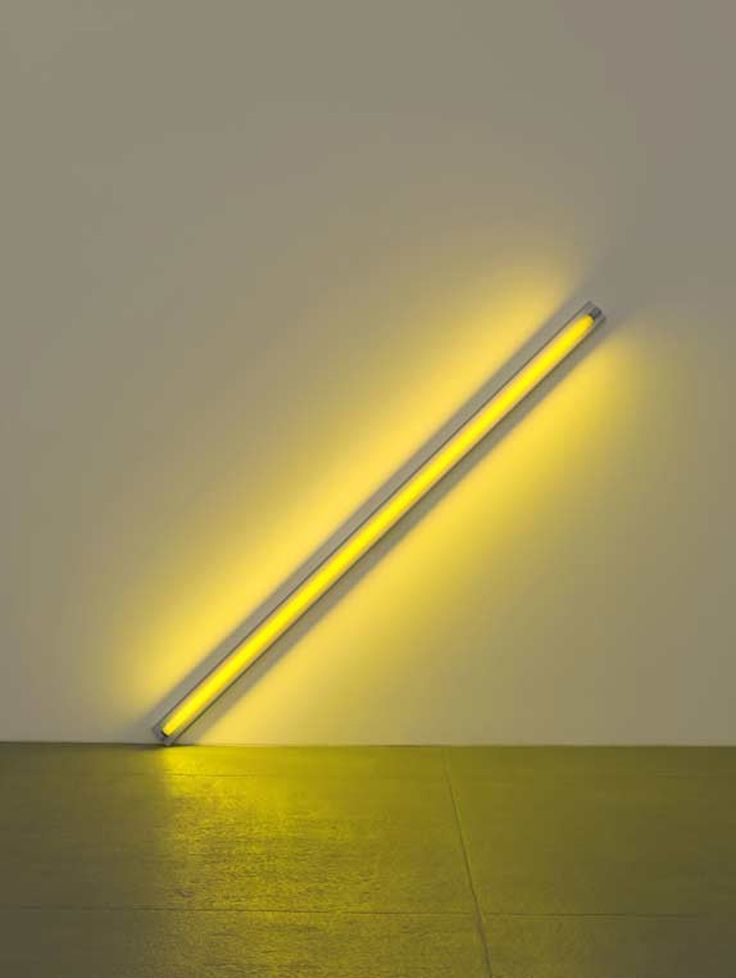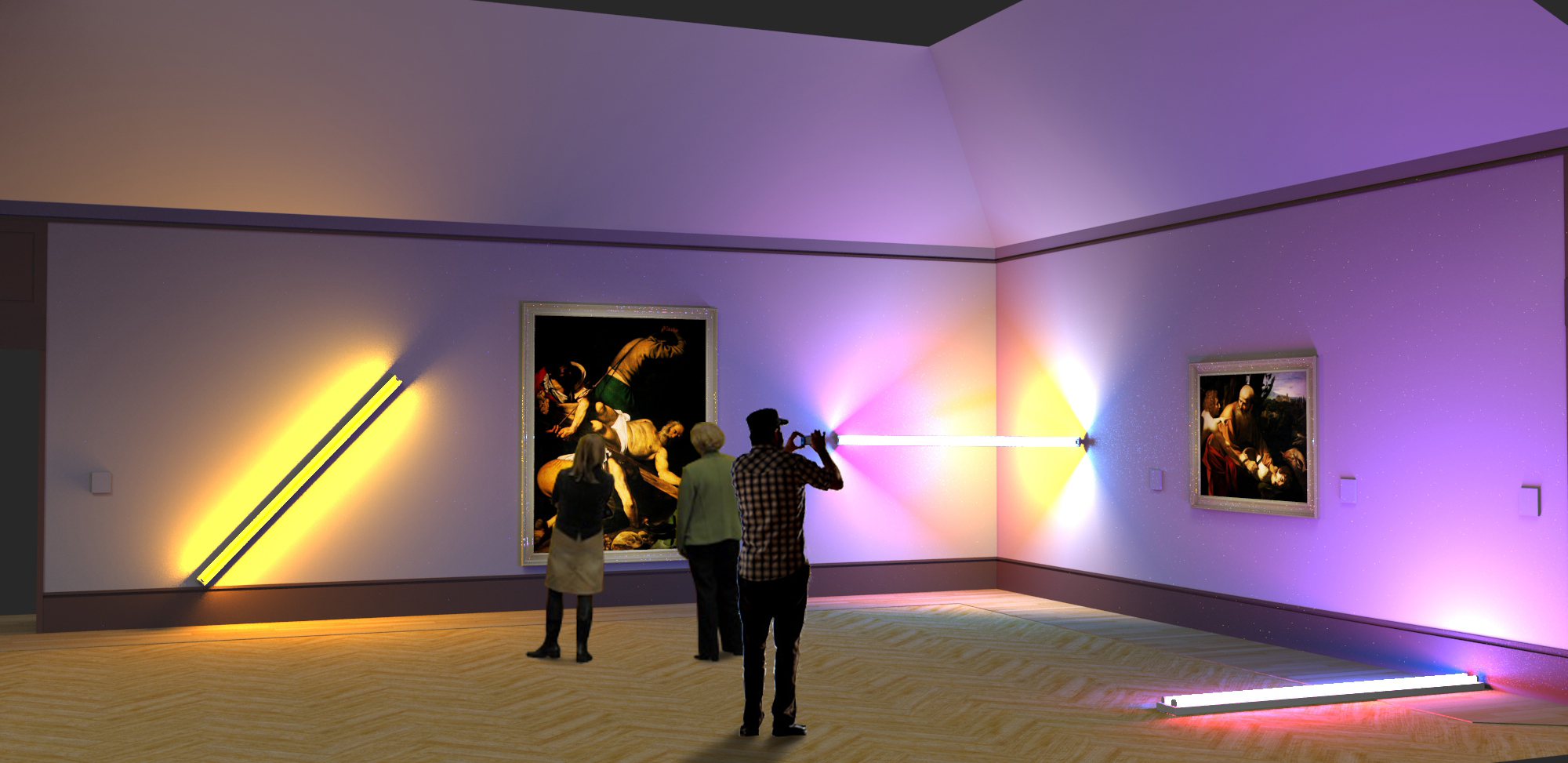 A little later, The Nominal Three (to William of Ockham) (1963) consists of six vertical fluorescent tubes on a wall, one to the left, two in the center, three on the right, all emitting white light.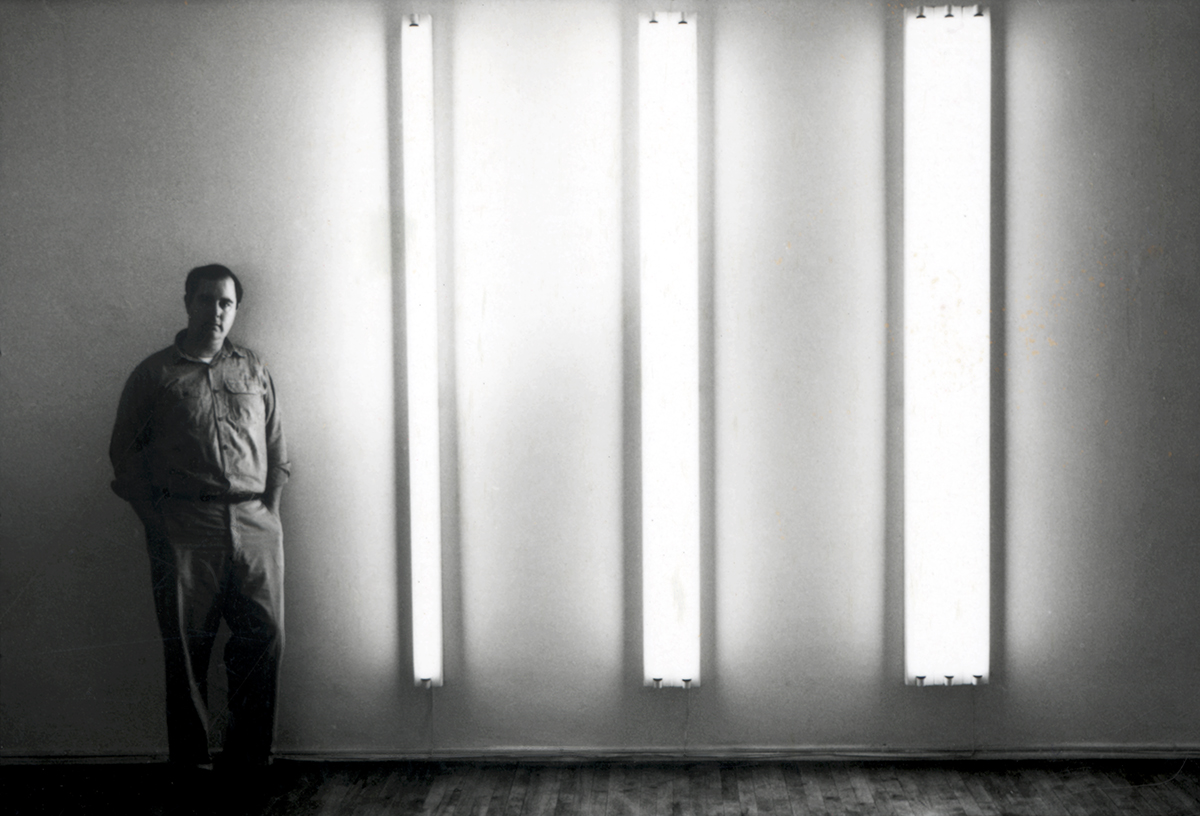 In the decades that followed, he continued to use fluorescent structures to explore color, light and sculptural space, in works that filled gallery interiors. He started to reject studio production in favor of site-specific "situations" or "proposals" (as the artist preferred to classify his work). These structures cast both light and an eerily colored shade, while taking a variety of forms, including "corner pieces", "barriers," and "corridors." He confined himself to a limited palette (red, blue, green, pink, yellow, ultraviolet, and four different whites) and form (straight two-, four-, six-, and eight-foot tubes, and, beginning in 1972, circles).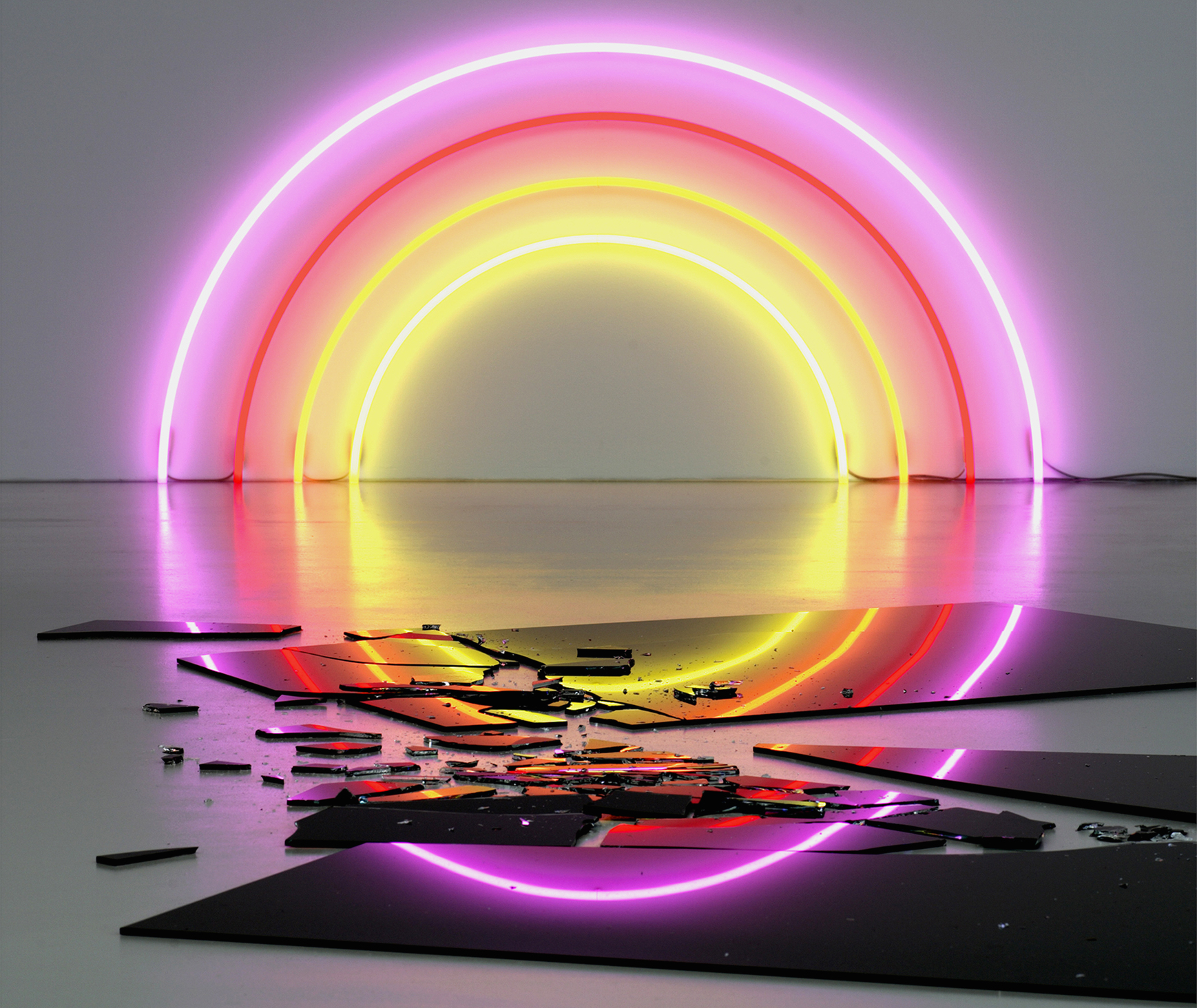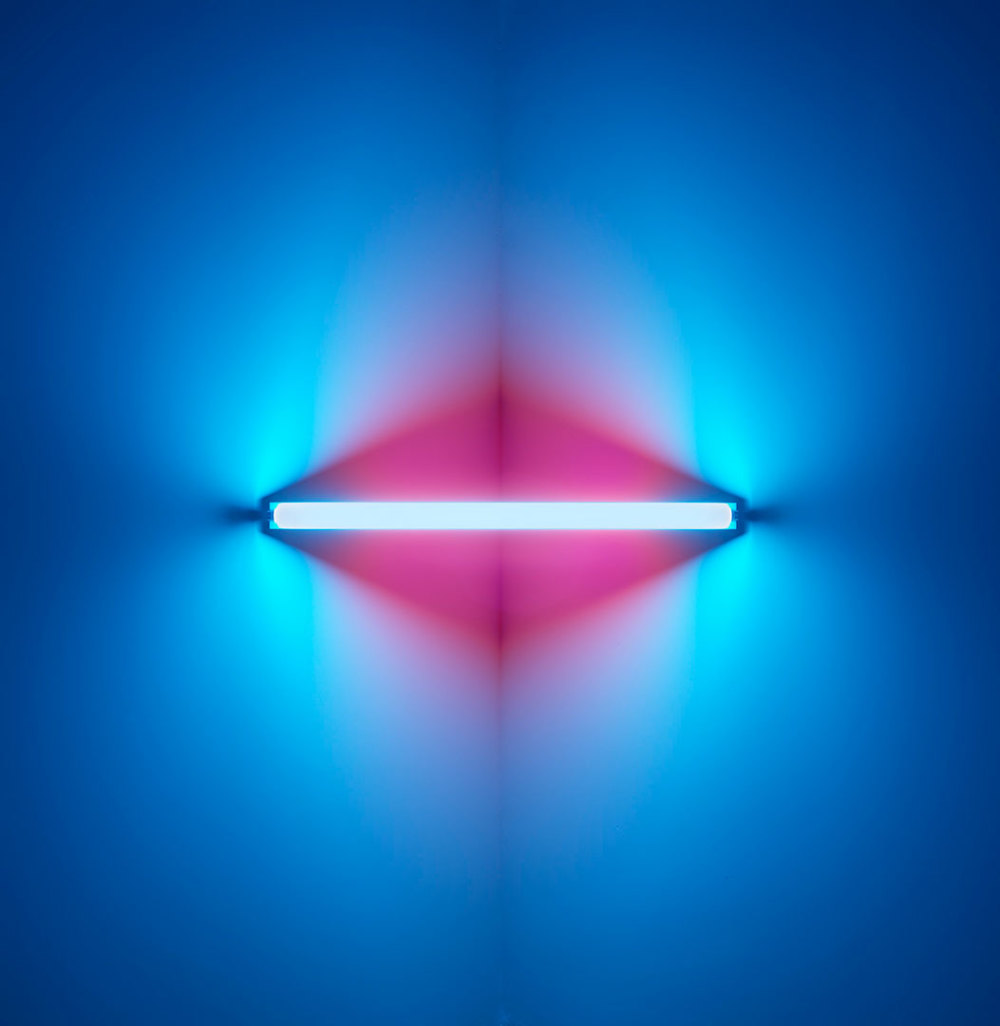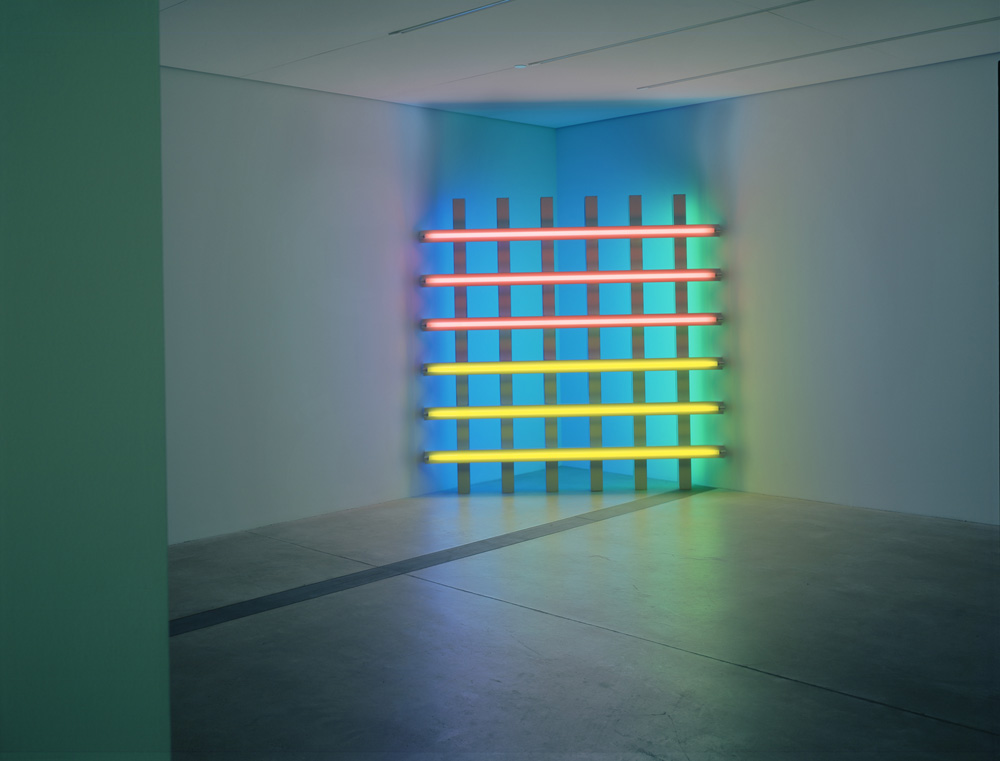 Most of Flavin's works were untitled, followed by a dedication in parenthesis to friends, artists, critics and others: the most famous of these include his "Monuments to V. Tatlin," an homage to the Russian constructivist sculptor Vladimir Tatlin, a series of a total of fifty pyramidal wall pieces which he continued to work on between 1964 and 1990.
Flavin realized his first full installation piece, greens crossing greens (to Piet Mondrian who lacked green), for an exhibition at the Van Abbemuseum, Eindhoven, Netherlands, in 1966. By 1968, Flavin had developed his sculptures into room-size environments of light. That year, he outlined an entire gallery in ultraviolet light at documenta 4 in Kassel, Germany.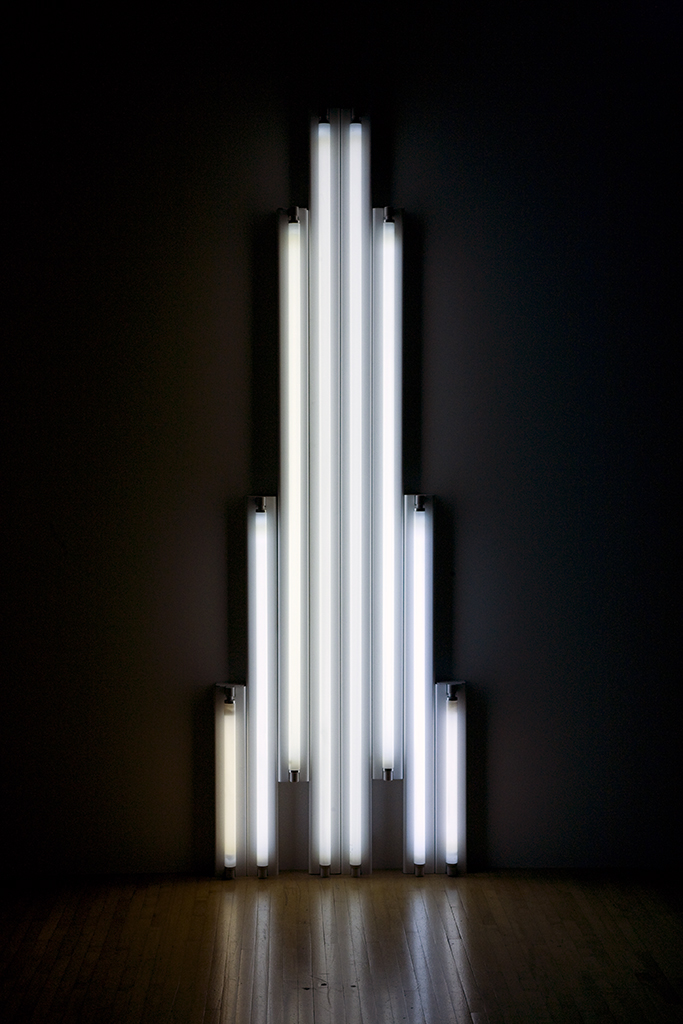 Flavin began to create "corridors", to control and impede the movement of the viewer through gallery space. They take various forms: some are bisected by two back-to-back rows of abutted fixtures, a divider that may be approached from either side but not penetrated (the color of the lamps differs from one side to the other). The first such corridor, untitled (to Jan and Ron Greenberg), was constructed for a 1973 solo exhibition at the St. Louis Art Museum, and is dedicated to a local gallerist and his wife. It is green and yellow; a gap (the width of a single "missing" fixture) reveals the cast glow of the color from beyond the divide. In subsequent barred corridors, Flavin would introduce regular spacing between the individual fixtures, thereby increasing the visibility of the light and allowing the colors to mix.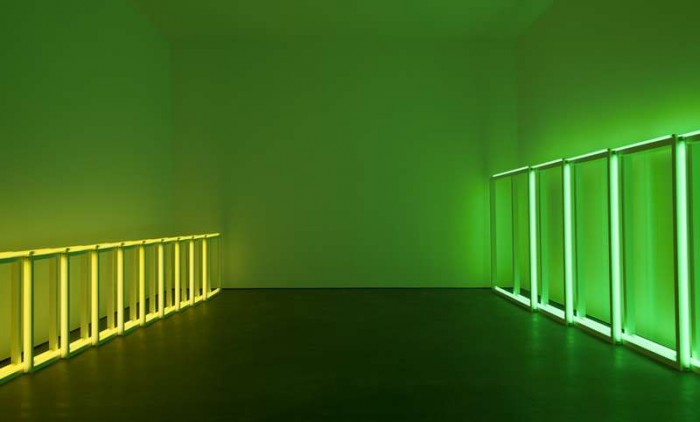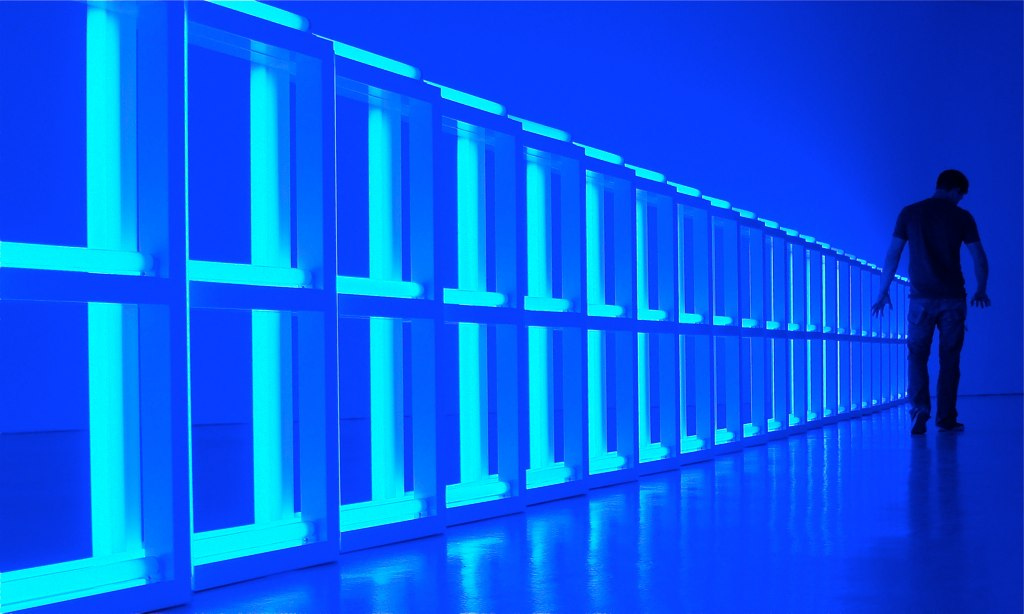 In 1992, Flavin's original conception for a 1971 piece was fully realized in a site-specific installation that filled the Solomon R. Guggenheim Museum's entire rotunda on the occasion of the museum's reopening.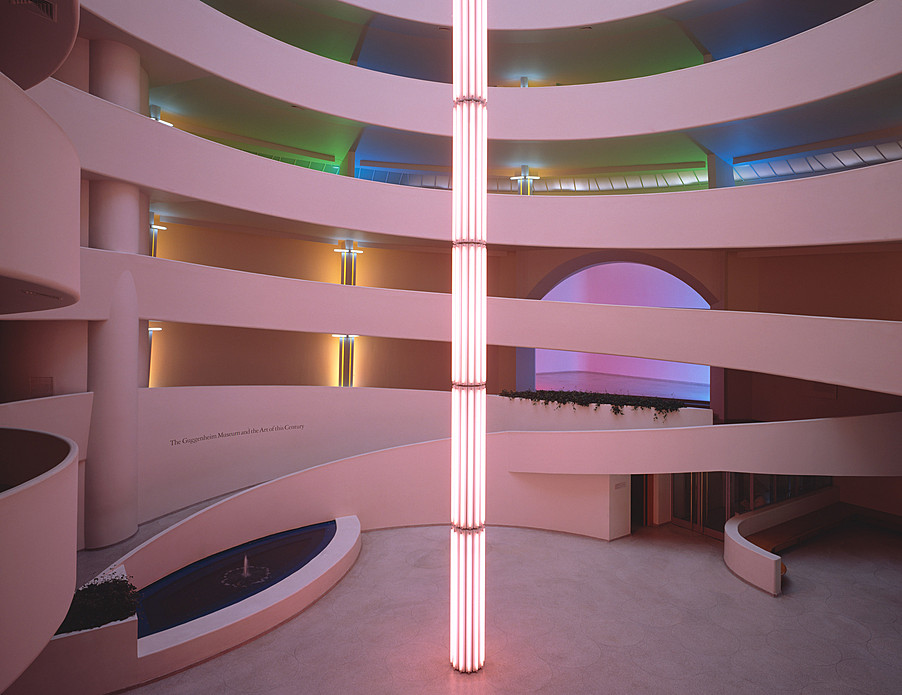 One of Flavin's last works was the lighting for a glass-enclosed arcade (1996) at the Wissenschaftspark Rheinelbe (Rhine-Elbe Science Park) in Gelsenkirchen, Germany. The arcade was designed by Uwe Kiessler; it stretches 300 metres (980 ft), and connects nine buildings.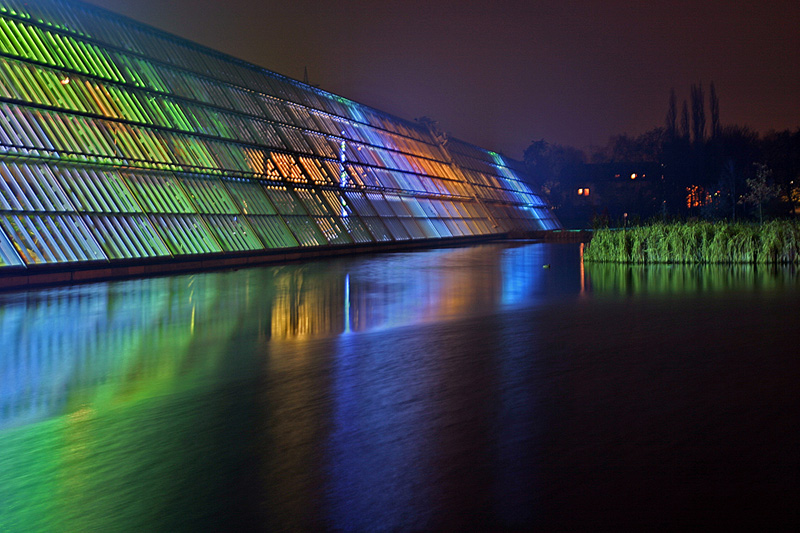 Flavin generally conceived his sculptures in editions of three or five, but would wait to create individual works until they had been sold to avoid unnecessary production and storage costs. Until the point of sale, his sculptures existed as drawings or exhibition copies. As a result, the artist left behind more than 1,000 unrealized sculptures when he died in 1996.
Flavin died in Riverhead, New York of complications from diabetes. A memorial for him was held at the Dia Center for the Arts, on January 23, 1997. Speakers included Brydon Smith, curator of 20th-century art at the National Gallery of Canada, Ottawa; Fariha Friedrich, a Dia trustee, and Michael Venezia, an artist.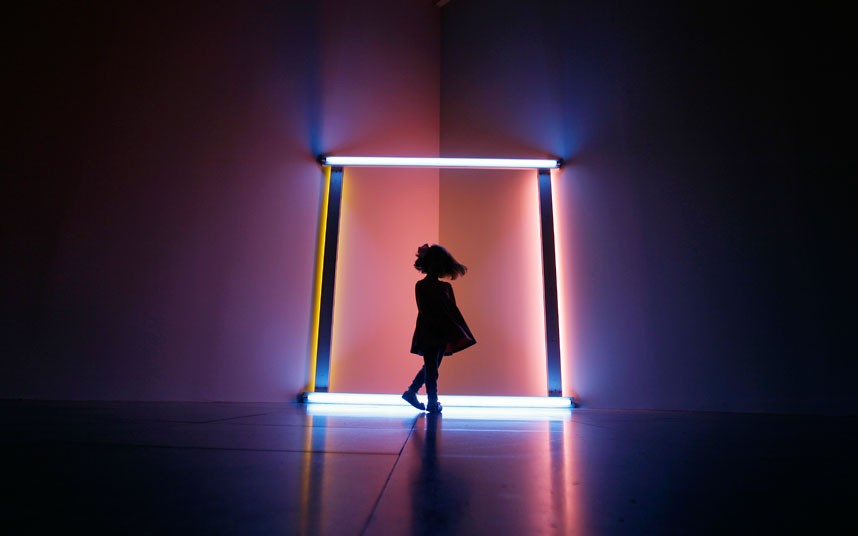 ---
(Edited from: https://en.wikipedia.org/wiki/Dan_Flavin)
---