Today's Artist Birthday: Cy Twombly
Edwin Parker Twombly, Jr. (April 25, 1928 – July 5, 2011) was born in Lexington, Virginia. Like his father, who briefly pitched for the Chicago White Sox, he was known as Cy, after Cy Young. His parents were from the Northeast, so he made frequent trips to Massachusetts and Maine, but the South, with its sense of history and autonomy, ultimately became an integral aspect of his identity. As a young boy, he ordered and worked on art kits he ordered from the Sears Roebuck catalog. His parents encouraged his interest in art, and at twelve years old he started studying with the Spanish modern painter Pierre Daura.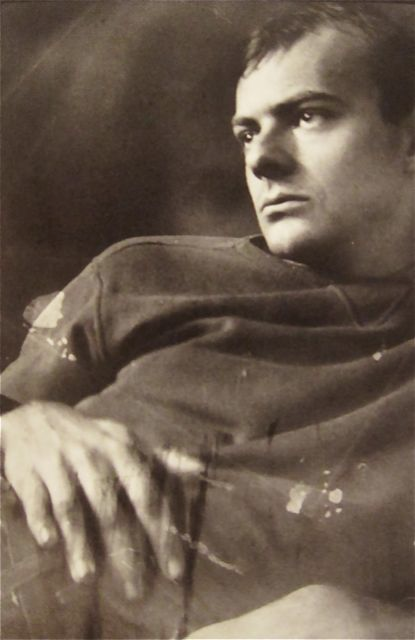 Following high school, he began formal art training at the School of the Museum of Fine Arts in Boston (1947-49), where he became interested in the Dadaist and Surrealist work of artists such as Kurt Schwitters and Alberto Giacometti. At his parents' suggestion, he then spent a year at Washington and Lee's newly created art program before moving to New York in 1950 to study at the Art Students League. Exposure to numerous New York gallery exhibitions of artists such as Franz Kline, Jackson Pollock, and Robert Motherwell began to shape his own aesthetic away from the figurative toward abstraction.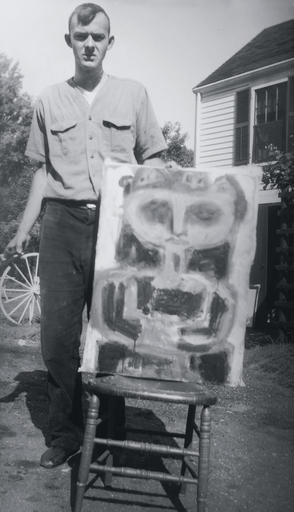 While at the League, he met Robert Rauschenberg, who became a close friend, artistic influence, and according to many historians, his lover. At Rauschenberg's encouragement, Twombly studied at Black Mountain College in North Carolina (1951-52). In 1952, he traveled to Italy and North Africa with Rauschenberg on a grant from the Virginia Museum of Fine Art. Upon returning, the two artists had a joint 1953 exhibition at Stable Gallery in New York, which resulted in such a hostile and negative response from the public that gallery director Eleanor Ward had to remove the visitor comments book.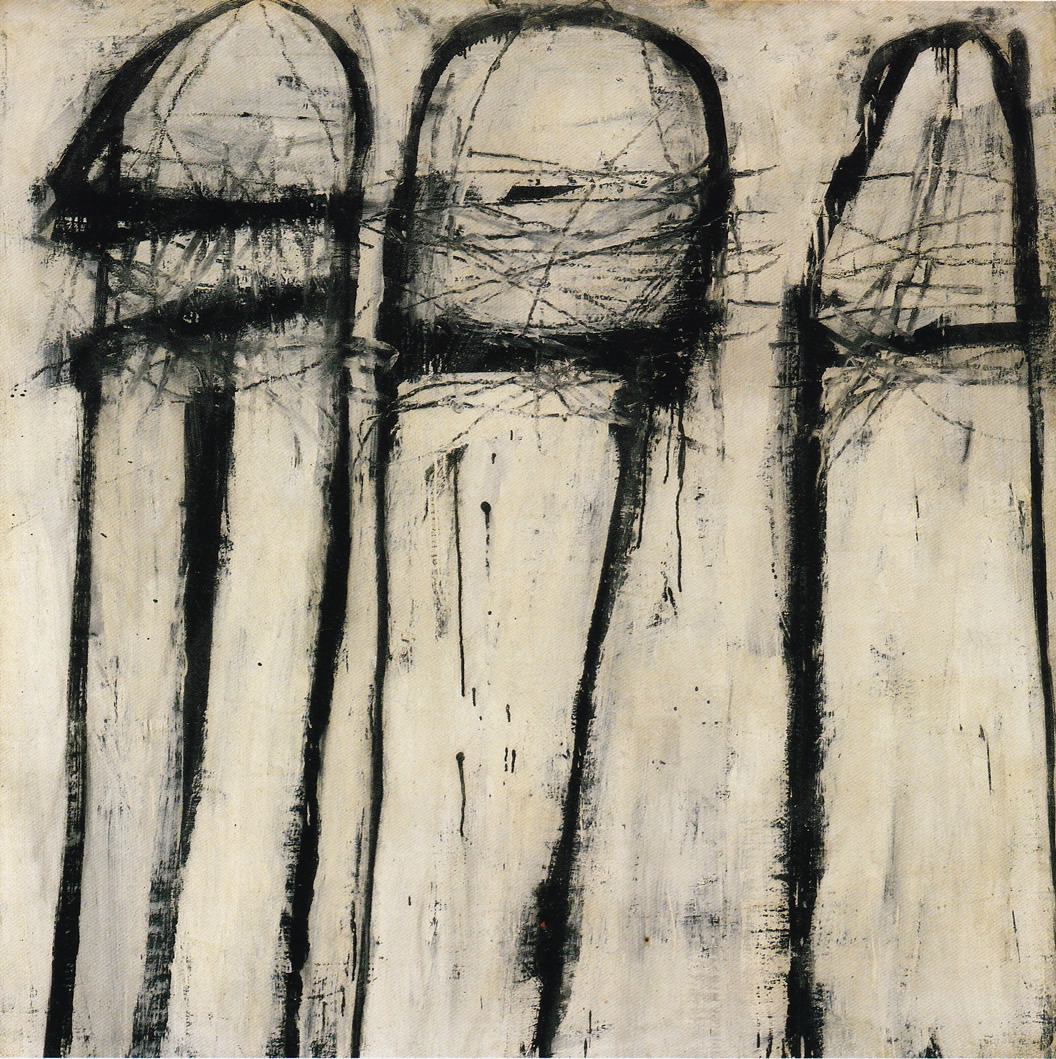 Twombly's work at this time was largely in black and white, influenced both by Rauschenberg's paintings and the monochromatic work of Willem de Kooning, Franz Kline, and Robert Motherwell. Twombly drew on ideas of the primitive, notions of ritual, and the psychoanalytic concept of the fetish, while taking inspiration from his European travels in these early works.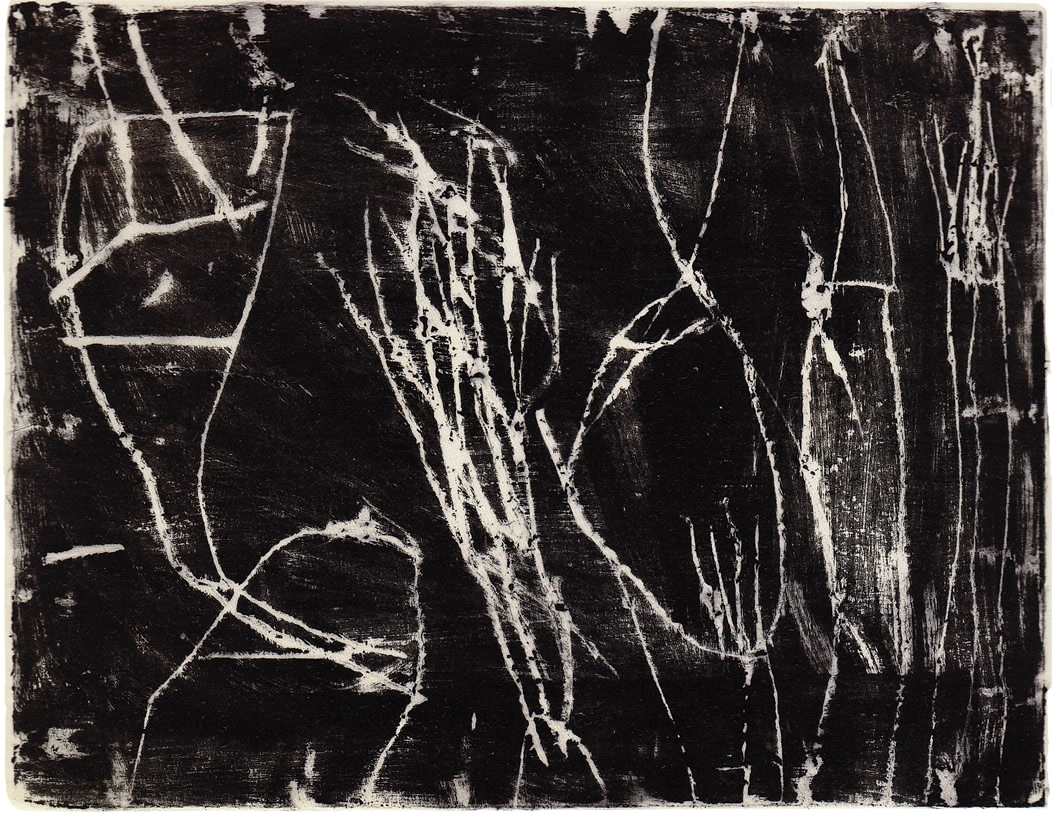 From 1953 to 1954, Twombly was drafted into the army, where he served as a cryptographer at Camp Gordon near Augusta, Georgia, and at the Pentagon in Washington, D.C. On weekend leaves, he spent time in his hotel room in Augusta making scrawled, biomorphic drawings, which he said set "the direction everything would take from then on." While in the army, he also modified the Surrealist technique of automatic drawing by creating compositions in the dark after lights out. These "blind" drawings resulted in elongated, distorted forms and curves that became distinct stylistic motifs in his later work.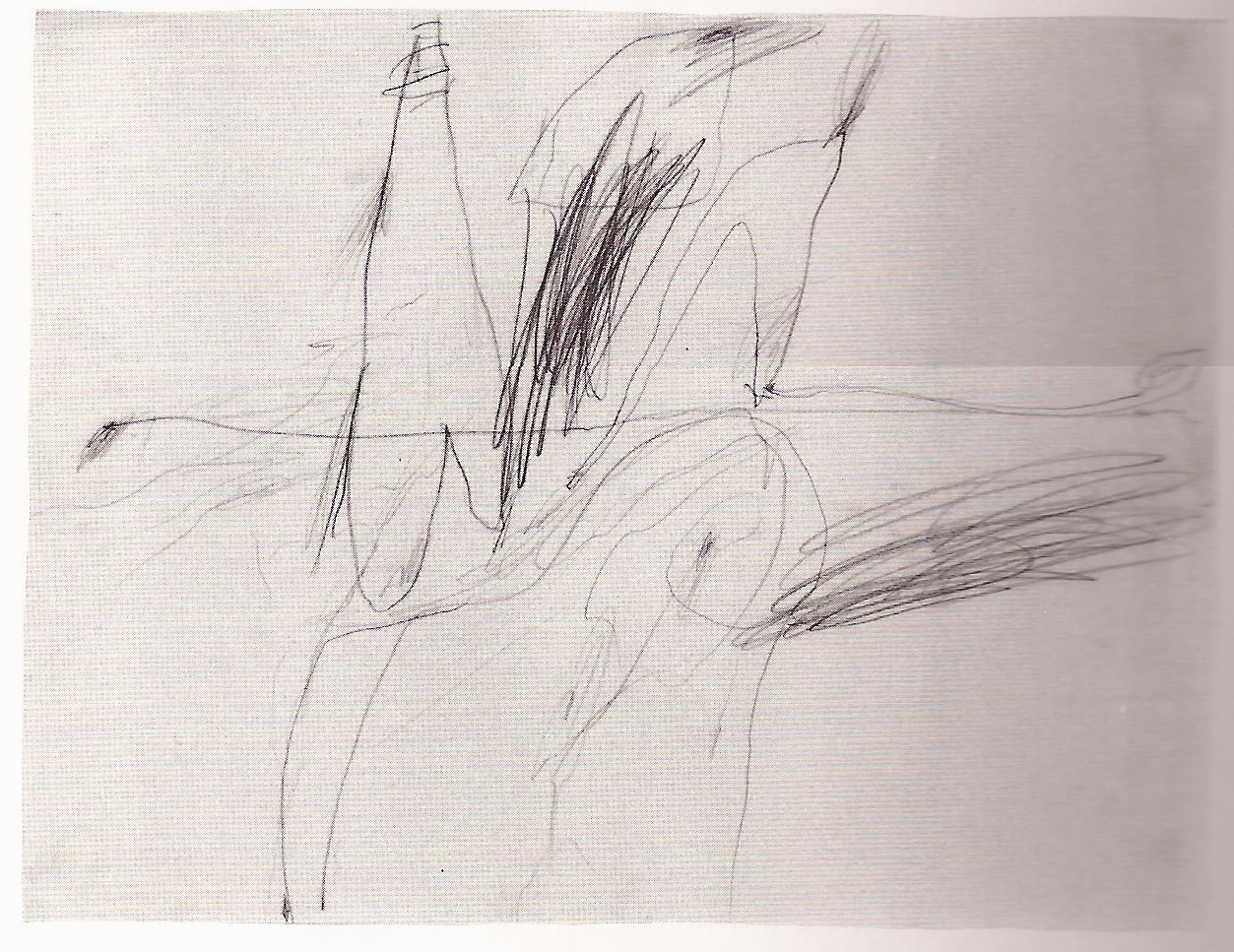 From 1955 to 1959, he worked on and off in New York, where he emerged as a significant artist within a group of artists that included Robert Rauschenberg and Jasper Johns. In 1957, Twombly returned to Rome where he met and married the Italian poartrait artist Baroness Tatiana Franchetti – sister of his patron Baron Giorgio Franchetti. They were married at City Hall in New York in 1959 prior to purchasing a palazzo on the Via di Monserrato in Rome, but later they preferred the seaside town of Gaeta near Rome and the Mediterranean Sea. Here, the artist was inspired by a more tranquil, light tone in his work that also began to allude to Classical culture and literature. Greco-Roman themes infused much of his work throughout his career. After spending time in Lexington, Virginia and New York, and joining gallery owner Leo Castelli's roster of artists, Twombly settled permanently in Rome by 1960.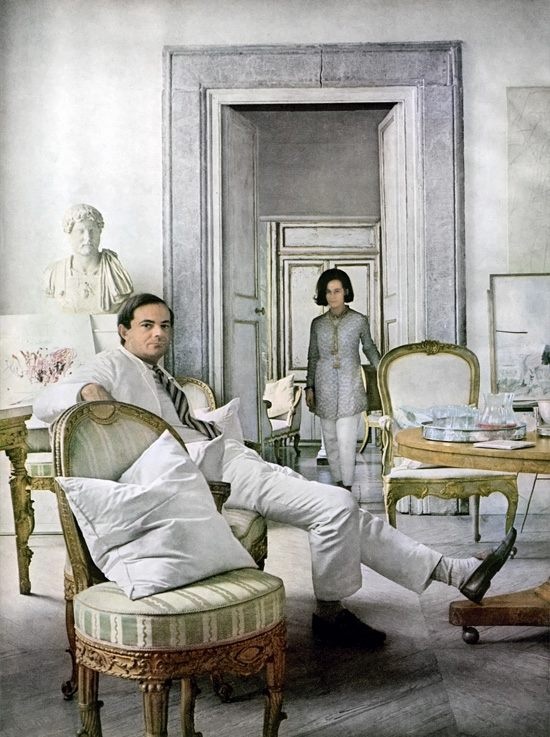 In 1964, he met Nicola Del Roscio of Gaeta, who became his assistant and companion for the rest of his life. Though Del Roscio and Twombly never lived together, their lives were intertwined. Until 1979 when Twombly bought a house in Gaeta, he would stay in a hotel there and work out of a rented studio. Twombly and his wife Tatiana had very independent lives from one another, but never divorced and remained friends until her death in 2010.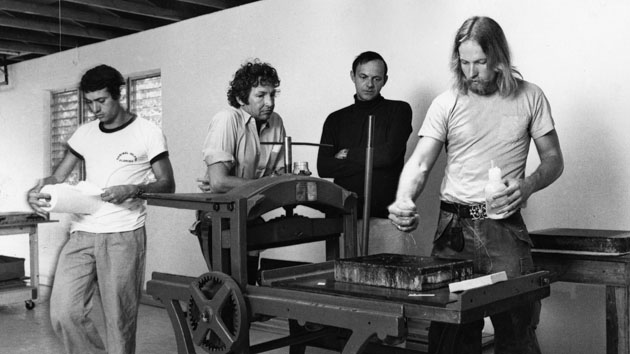 In 1966 an article in Vogue magazine with photographs by Horst P. Horst of his and Tatiana's elegantly appointed apartment in Rome suggested that his grand lifestyle "somehow betrayed the cause." Distrust of the press understandably set in.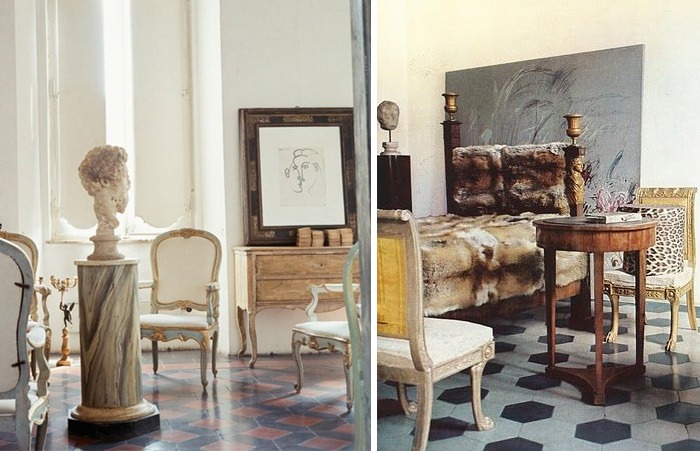 In Rome, his early 1960s work took on greater scale and more vibrant color, while also drawing on themes of eroticism and violence. Although his work was well-received in Italy, a New York Castelli show of his "Nine Discourses on Commodus" (1963) received brutal reviews. From 1966 to 1972, he created a number of canvases that resembled blackboards, with light-colored loops and scrawls flowing across grey backgrounds.
He worked less frequently in the late 1970s and 1980s, but continued creating important canvases. In the mid-1970s, he also returned to sculpture, a medium in which he had not worked for almost twenty years. These sculptures, often focusing on Classical themes, were largely assembled from found objects and painted white.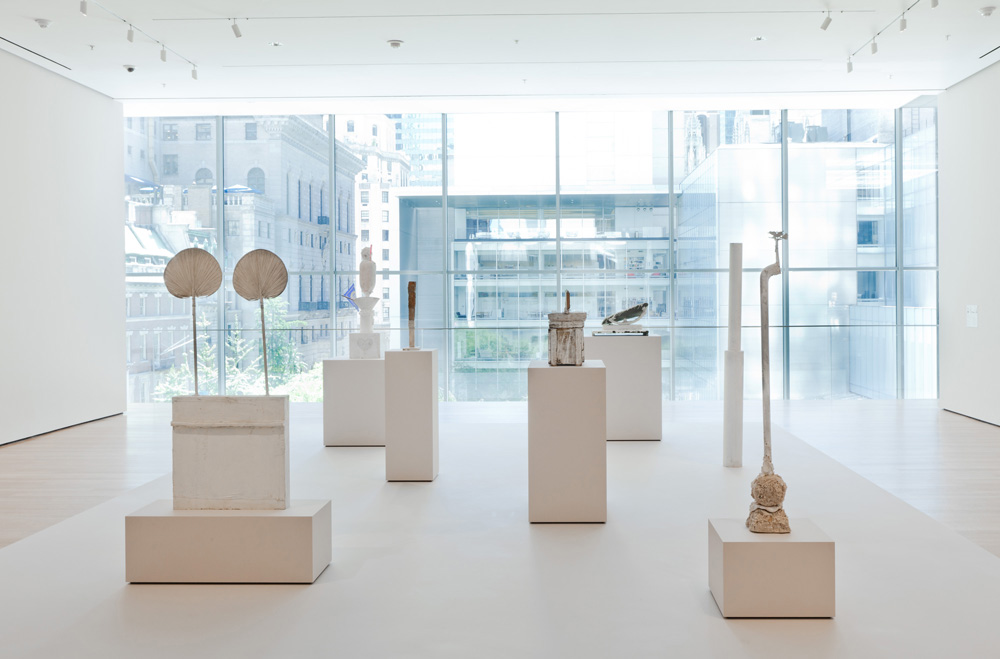 Italy continued to influence his work and he began to spend much time in the medieval port city of Gaeta, and as a result, many of his paintings from the 1980s reflected his interest in the sea. Critical reception of his work became more positive in the 1980s as well, partially due to a new interest in modern European art. Yet, when the Museum of Modern Art mounted a retrospective of his work in 1994 the show's curator Kirk Varnedoe felt compelled to write an essay titled "Your Kid Could Not Do This," and "Other Reflections on Cy Twombly."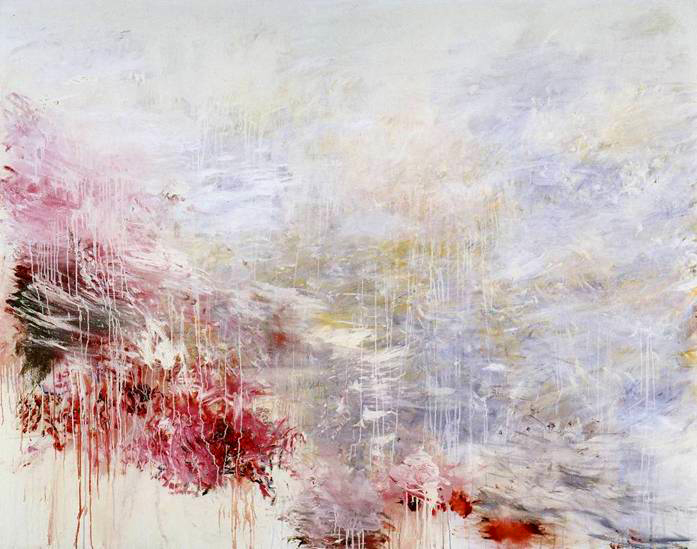 Classical references persisted in his later work, particularly in the form of Bacchus, the god of wine. His paintings in the next decades expanded his previous use of color, applied with gestural brushstrokes that occasionally depicted more recognizable forms, such as flowers and landscapes.
Twombly suffered from cancer for several years toward the end of his life, and died on the 5th of July in 2011 in Rome. He was survived by a son, Cyrus Alessandro Twombly (who is also a painter and resides in Rome), and his longtime companion, Nicola Del Roscio. Del Roscio currently manages Twombly's estate, defending the artists oeuvre in a lawsuit in 2013, as well as heading the management, digitization and research to create the Cy Twombly Archive.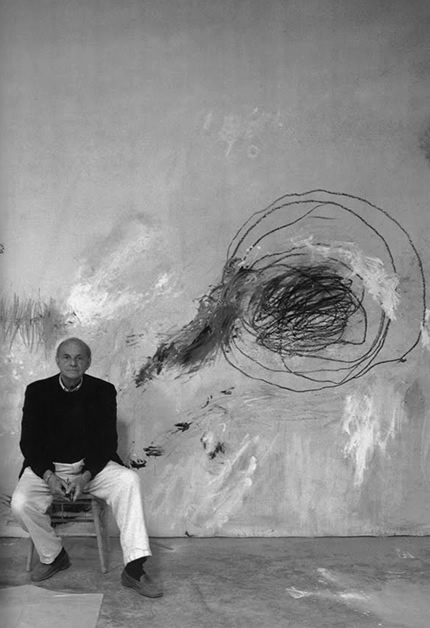 ---
Edited from:
---
see an error? click here to send corrections!
---