Caravaggio: painter
Michelangelo Merisi (Michael Angelo Merigi or Amerighi) da Caravaggio, known today simply as "Caravaggio," (29 September 1571 – 18 July 1610) was an Italian painter active in Rome, Naples, Malta, and Sicily between 1592 and 1610. His paintings, which combine a realistic observation of the human state, both physical and emotional, with a dramatic use of lighting, had a formative influence on Baroque painting.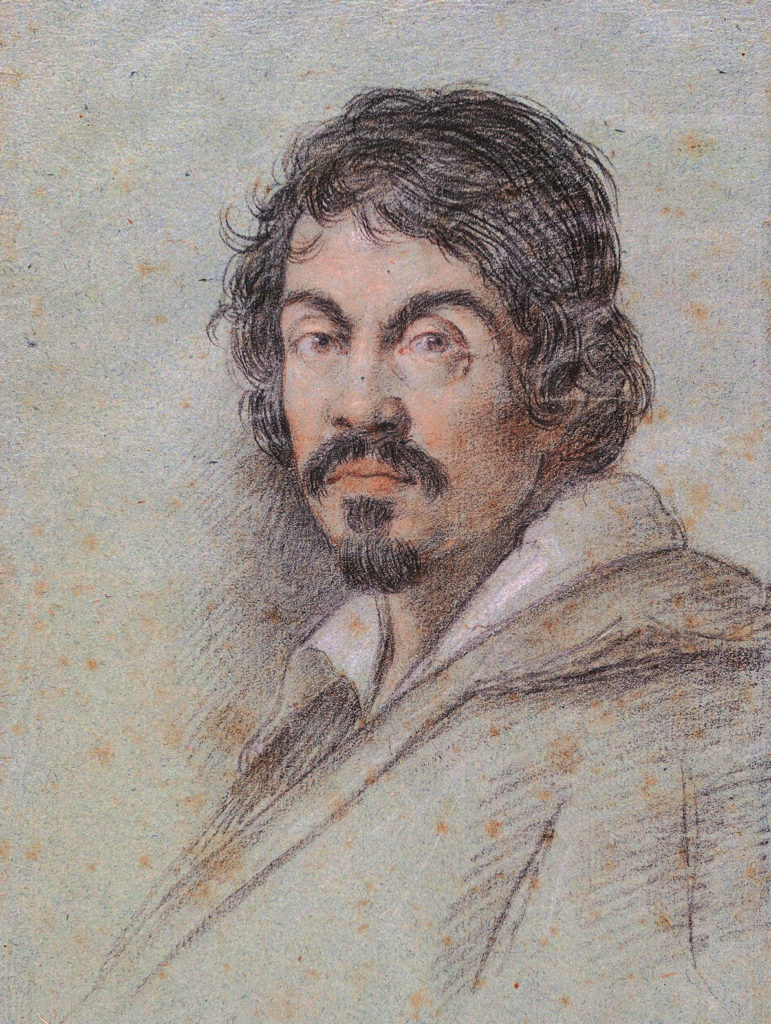 Caravaggio was born in Milan, and trained there as a painter under Simone Peterzano who had himself trained under Titian. In his twenties, he left Milan for Rome in 1592, in flight after "certain quarrels" and the wounding of a police officer. He arrived in Rome, according to contemporaries, "naked and extremely needy … without fixed address and without provision … short of money." When he arrived in Rome he was to find there was a large demand for paintings to fill the many huge new churches and palazzos being built at the time. It was also a period when the Church was searching for a stylistic alternative to Mannerism in religious art that was tasked to counter the threat of Protestantism. Caravaggio's innovation was a radical naturalism that combined close physical observation with a dramatic, even theatrical, use of chiaroscuro which came to be known as tenebrism (the shift from light to dark with little intermediate value).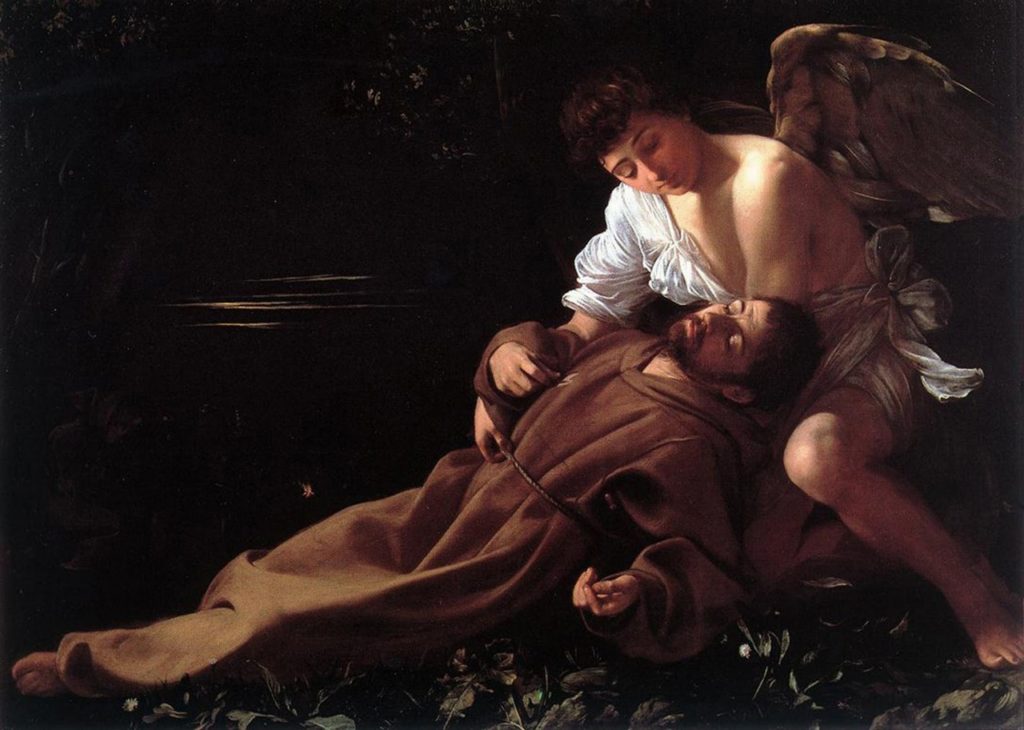 A few months after his arrival, he was employed by the highly successful Giuseppe Cesari, Pope Clement VIII's favourite artist, "painting flowers and fruit" in his factory-like workshop. He did his own work as well, including a small Boy Peeling a Fruit (his earliest known painting), A Boy with a Basket of Fruit, and the Young Sick Bacchus, supposedly a self-portrait done during convalescence from a serious illness that ended his employment with Cesari. All three demonstrate the physical particularity for which Caravaggio was to become renowned.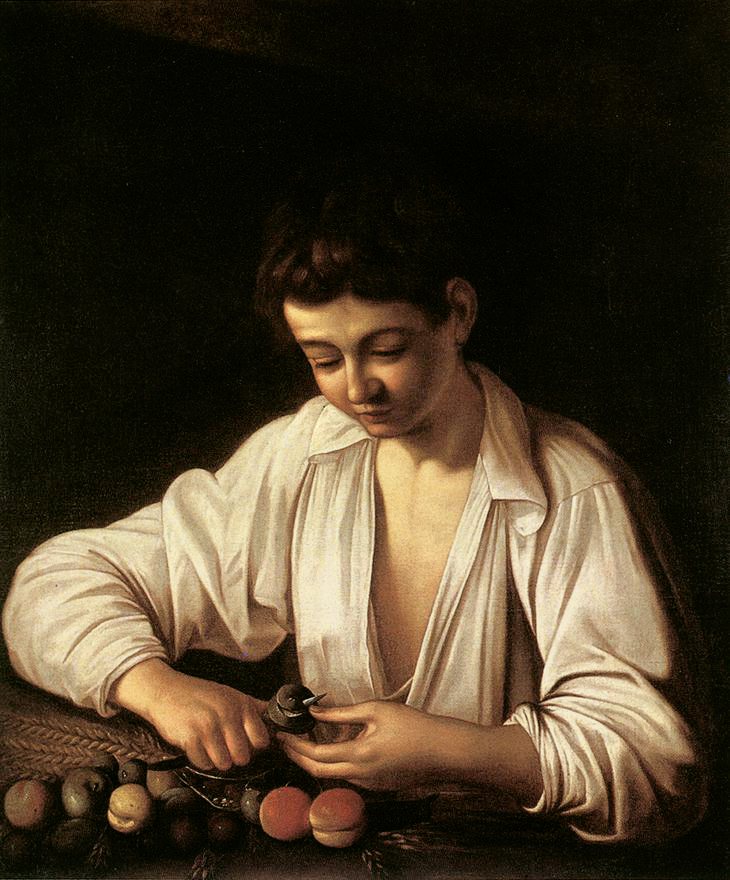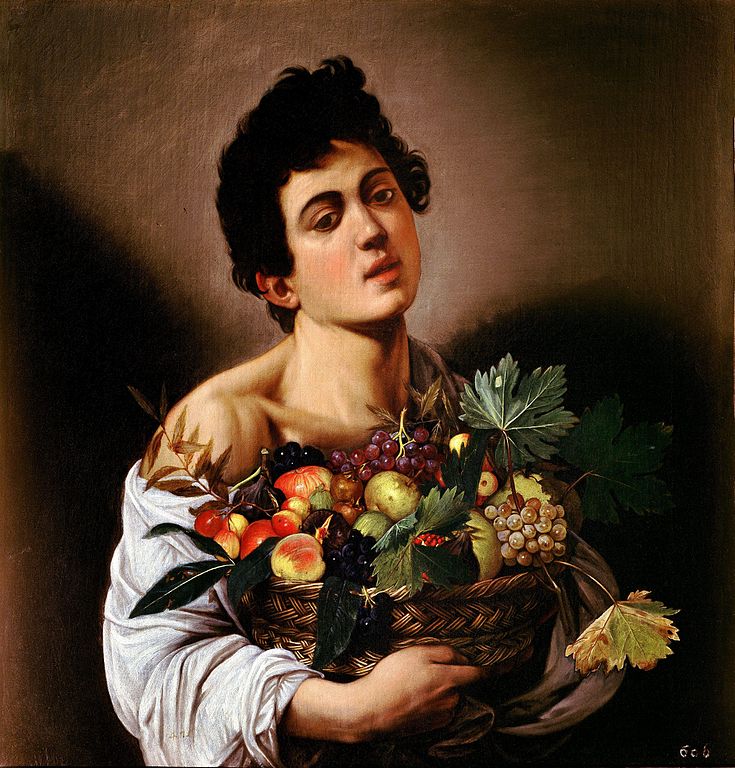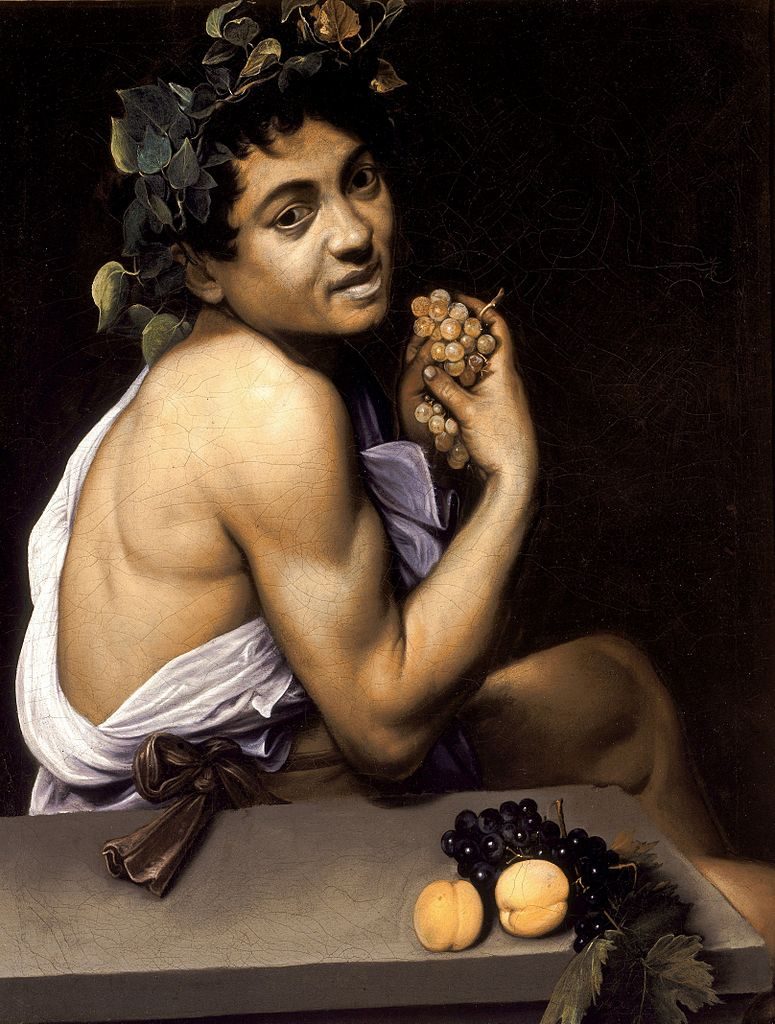 One of his most famous works of this period is the theatrical Judith Beheading Holofernes. He chose as the subject matter, the moment of greatest dramatic impact, the moment of the decapitation itself. X-rays have revealed that Caravaggio adjusted the placement of Holofernes' head as he proceeded, separating it slightly from the torso and moving it slightly to the right. The faces of the three characters demonstrate his mastery of emotion, Judith in particular showing in her face a mix of determination and repulsion. Many artists to come after him were deeply influenced by this work, including Artemisia Gentileschi who surpassed Caravaggio's physical realism, it has been argued that no one matched his capture of Judith's psychological ambivalence.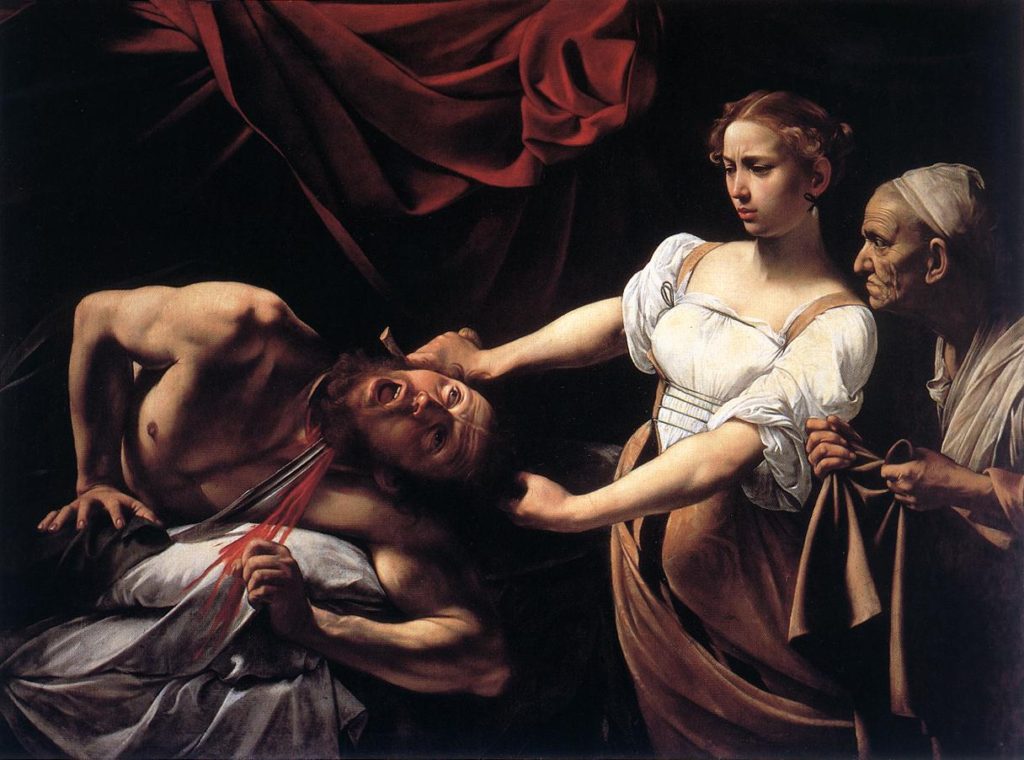 The model for Judith is probably the Roman courtesan Fillide Melandroni, who posed for several other works by Caravaggio around this year; the scene itself, and especially the details of blood and decapitation, were presumably drawn from his observations of the public execution of Beatrice Cenci a few years before.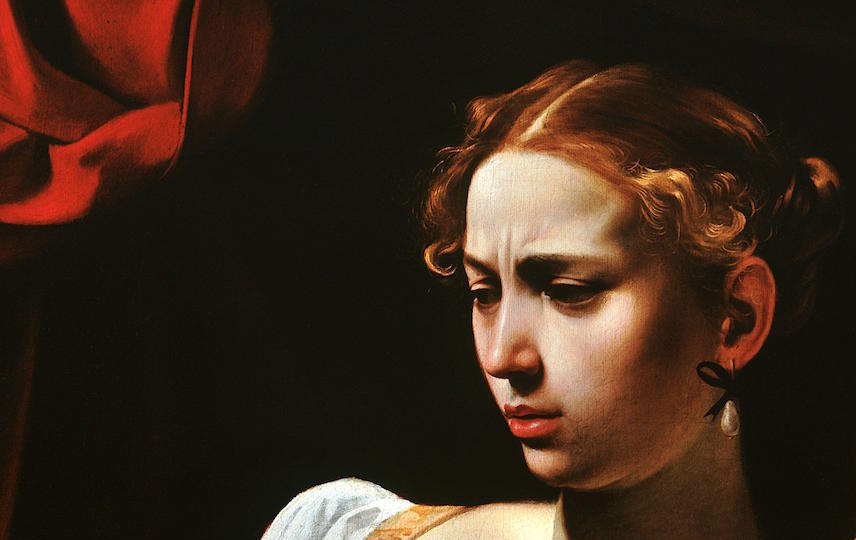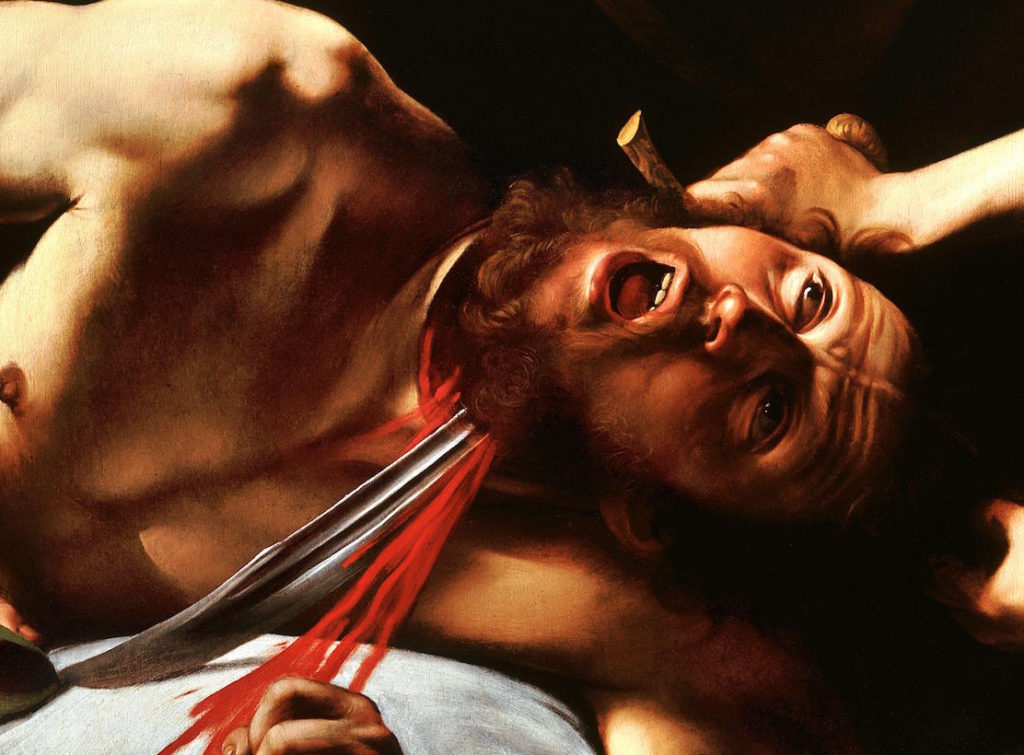 In 1599, presumably through the help of influential friends, Caravaggio was contracted to decorate the Contarelli Chapel in the church of San Luigi dei Francesi. The two works making up the commission, the Martyrdom of Saint Matthew and Calling of Saint Matthew, delivered in 1600, were an immediate sensation. Caravaggio's tenebrism (a heightened chiaroscuro) brought high drama to his subjects, while his acutely observed realism brought a new level of emotional intensity. Opinion among Caravaggio's artist peers was polarized. Some denounced him for various perceived failings, notably his insistence on painting from life, without drawings, but for the most part he was hailed as a great artistic visionary. 17th century biographer Giovanni Pietro Bellori wrote: "The painters then in Rome were greatly taken by this novelty, and the young ones particularly gathered around him, praised him as the unique imitator of nature, and looked on his work as miracles."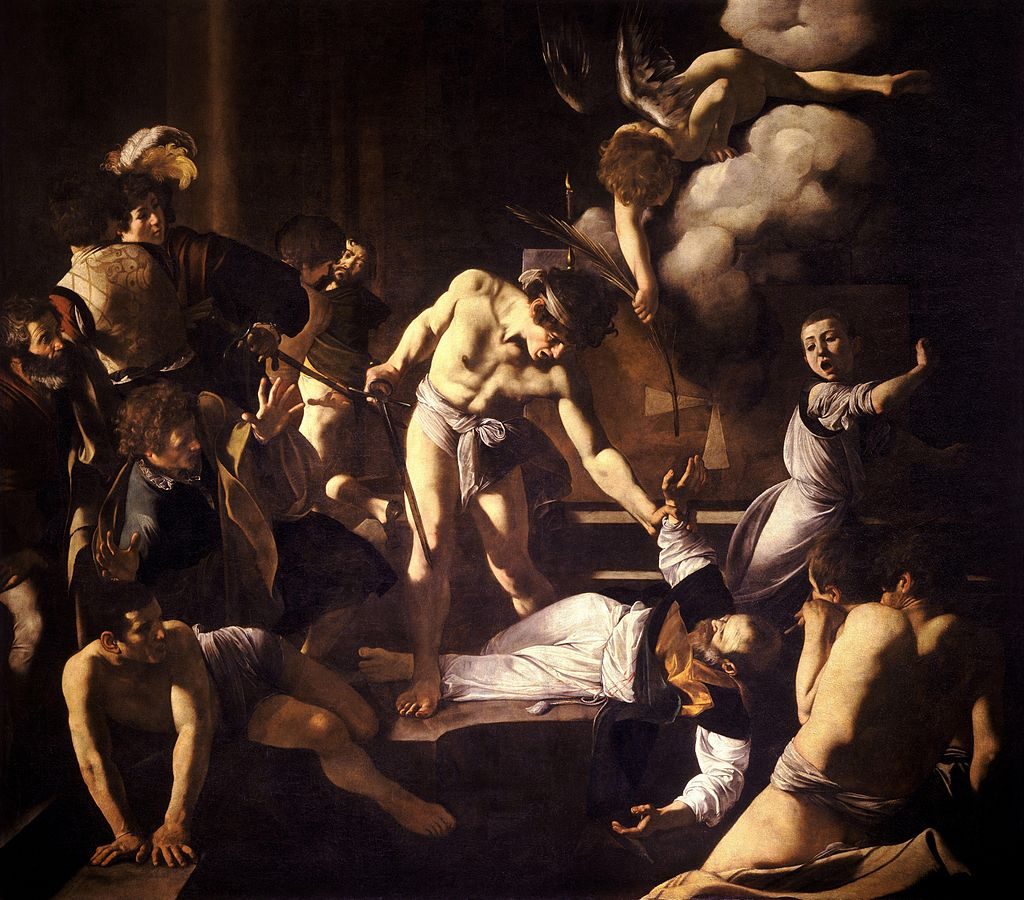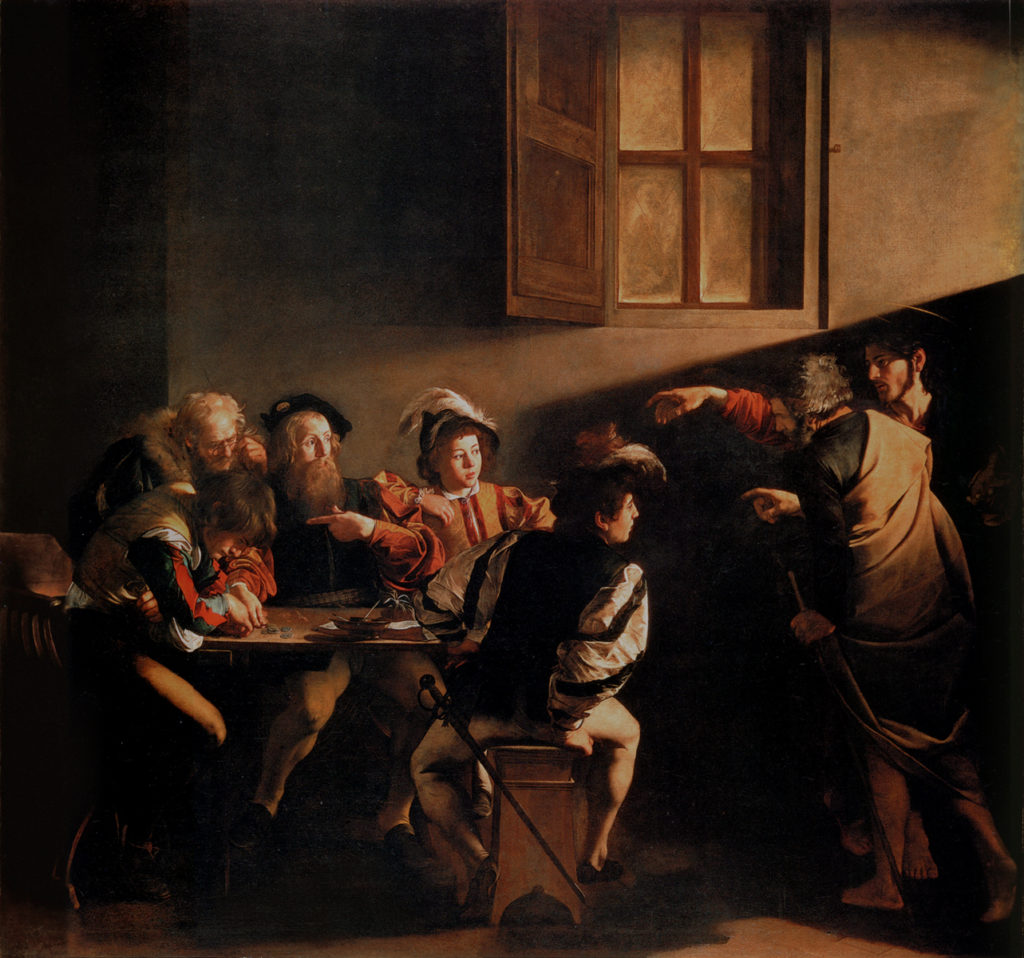 From that time on, he never lacked commissions or patrons, yet he handled his success poorly. An early published notice on him, dating from 1604 and describing his lifestyle three years previously, recounts that "after a fortnight's work he will swagger about for a month or two with a sword at his side and a servant following him, from one ball-court to the next, ever ready to engage in a fight or an argument, so that it is most awkward to get along with him."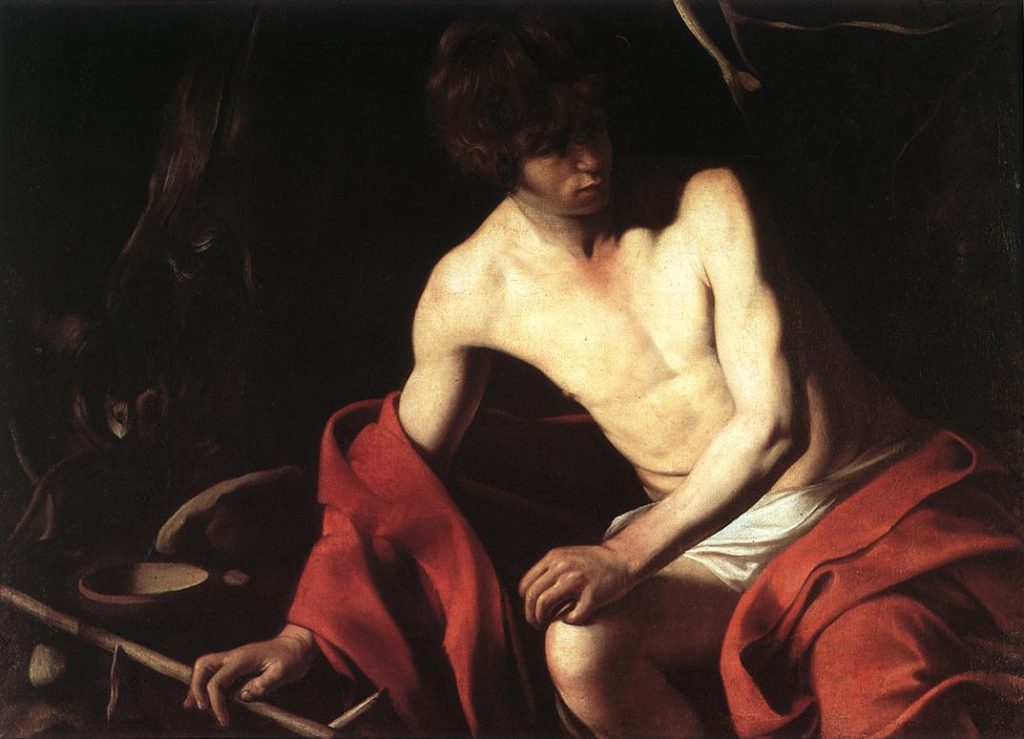 Caravaggio led a tumultuous life. He was notorious for brawling, even in a time and place when such behavior was commonplace, and the transcripts of his police records and trial proceedings fill several pages. On 29 May 1606 however, he killed, possibly unintentionally, a young man named Ranuccio Tomassoni from Terni (Umbria). The circumstances of the brawl and the death of Tomassoni remain mysterious. Several accounts refer to a quarrel over a gambling debt and a tennis game, and this explanation has become established in the popular imagination. But recent scholarship has made it clear that more was involved, as in Peter Robb's great book M and Helen Langdon's Caravaggio: A Life. An interesting theory relating the death to Renaissance notions of honour and symbolic wounding has also been advanced by art historian Andrew Graham-Dixon.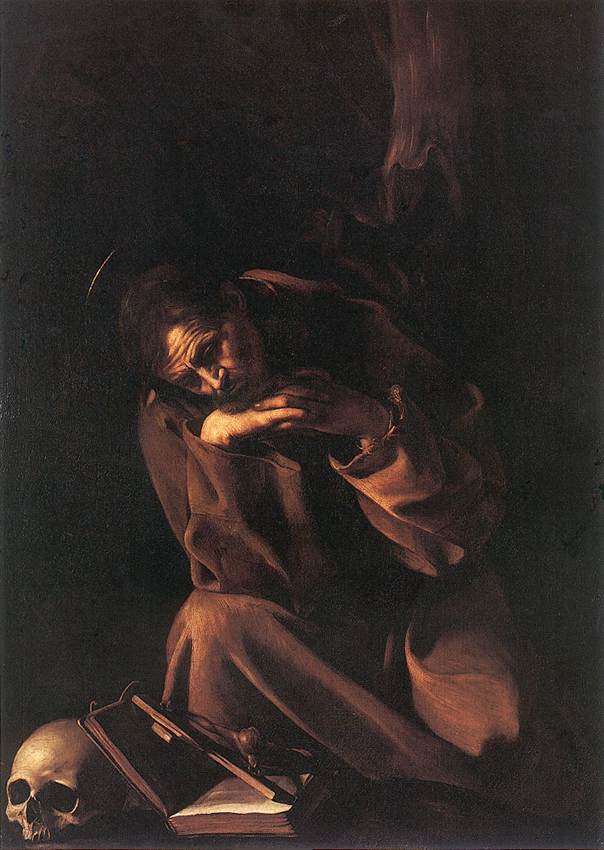 Previously his high-placed patrons had protected him from the consequences of his escapades, but this time they could do nothing. Caravaggio, outlawed, fled to Naples. There, outside the jurisdiction of the Roman authorities and protected by the Colonna family, the most famous painter in Rome became the most famous in Naples. His connections with the Colonnas led to a stream of important church commissions, including the Madonna of the Rosary, and The Seven Works of Mercy.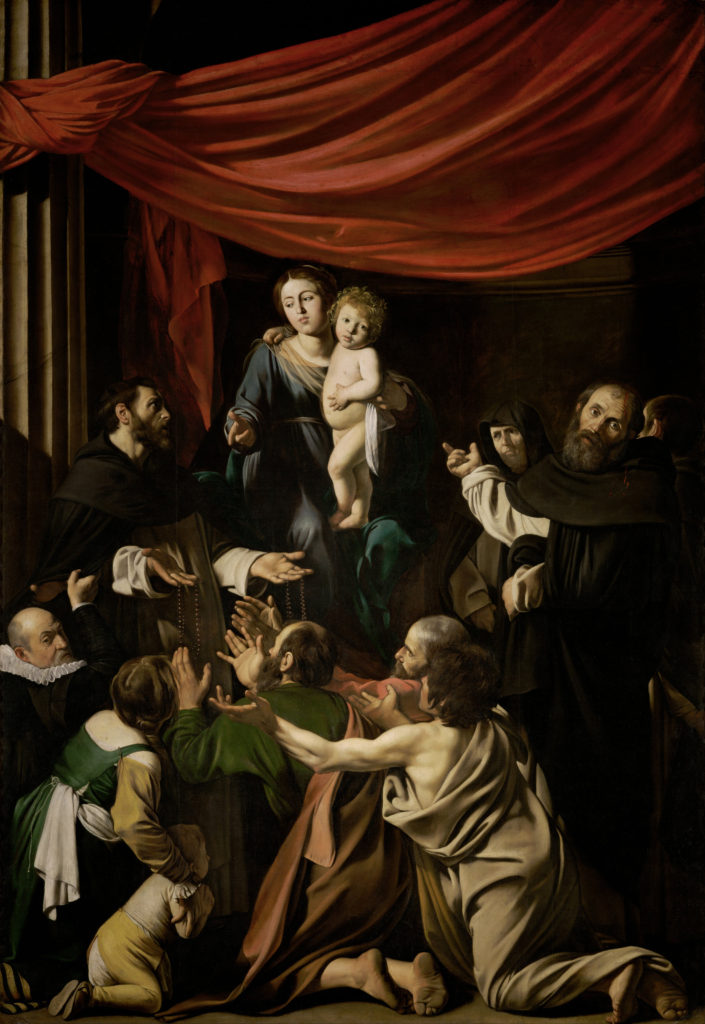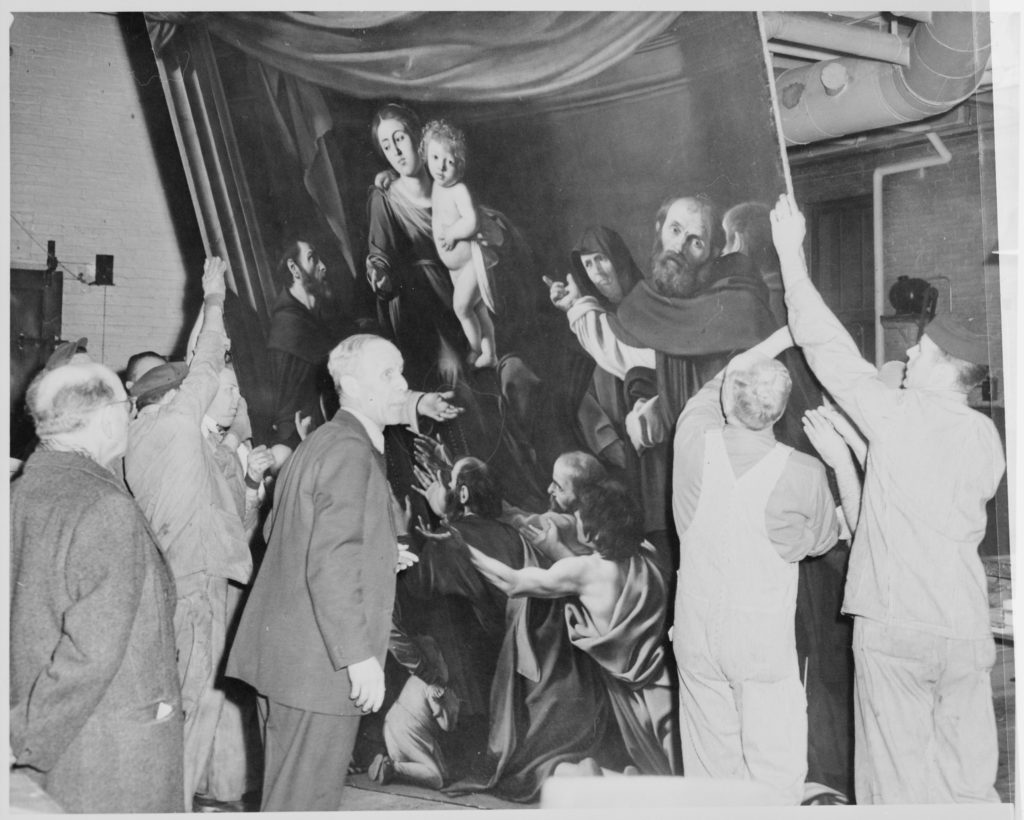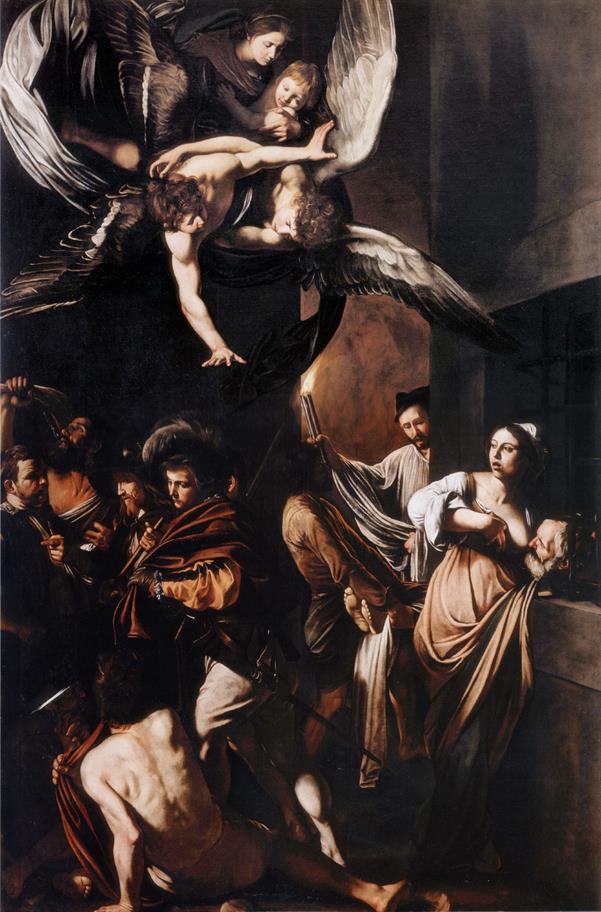 Despite his success in Naples, Caravaggio moved on to Malta, but his troublesome behavior continued to plague him. He was involved in a brawl in Malta in 1608, and another after his return to Naples in 1609 (possibly a deliberate attempt on his life by unidentified enemies). This last encounter left him severely injured. In the summer of 1610 he took a boat northwards to receive a papal pardon for the murder of Tommasoni, which seemed imminent thanks to his powerful Roman friends. With him were three last paintings, gifts for Cardinal Scipione.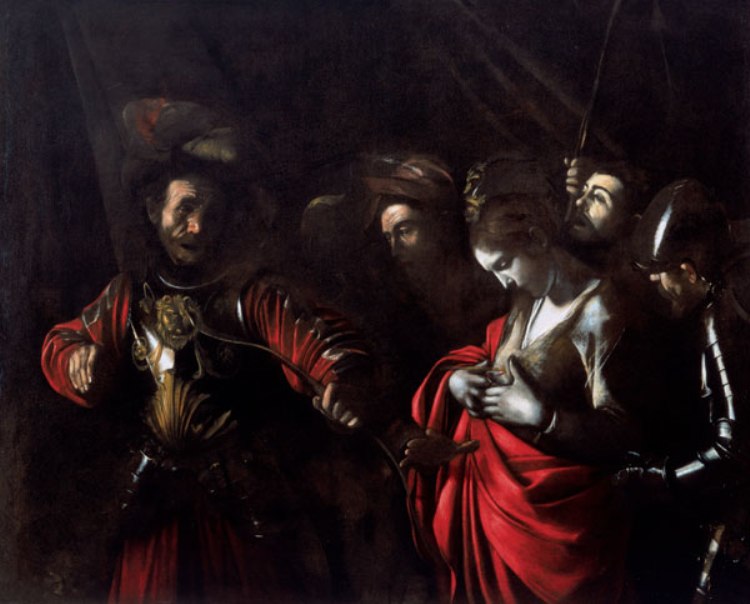 What happened next is the subject of much confusion and conjecture. The bare facts are that on 28 July an anonymous avviso (private newsletter) from Rome to the ducal court of Urbino reported that Caravaggio was dead. Three days later another avviso said that he had died of fever on his way from Naples to Rome. A poet friend of the artist later gave 18 July as the date of death, and a recent researcher claims to have discovered a death notice showing that the artist died on that day of a fever in Porto Ercole, near Grosseto in Tuscany. Human remains found in a church in Porto Ercole in 2010 are believed to almost certainly belong to Caravaggio. The findings come after a year-long investigation using DNA, carbon dating and other analyses.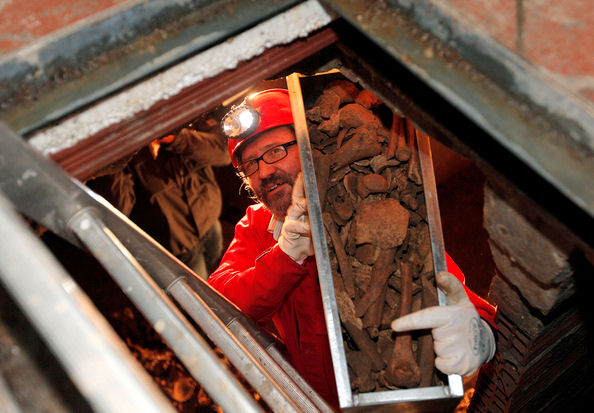 Some scholars argue that Caravaggio was murdered by the same "enemies" that had been pursuing him since he fled Malta, possibly Wignacourt and/or factions in the Order of St. John. It is also possible that Caravaggio may have died of lead poisoning. The bones found in Porto Ecole also contained high levels of lead. Paints used at the time contained high amounts of lead salts. This could also explain Caravaggio's violent behavior, as such behavior is often caused by lead poisoning.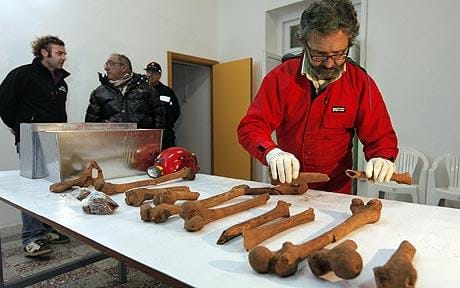 Famous while he lived, Caravaggio was forgotten almost immediately after his death, and it was only in the 20th century that his importance to the development of Western art was rediscovered. Despite this, his influence on the new Baroque style that eventually emerged from the ruins of Mannerism was profound. It can be seen directly or indirectly in the work of Rubens, Bernini, and Rembrandt, and artists in the following generation heavily under his influence were called the "Caravaggisti" or "Caravagesques", as well as tenebrists or tenebrosi ("shadowists"). The 20th-century art historian André Berne-Joffroy claimed: "What begins in the work of Caravaggio is, quite simply, modern painting."
---
Edited from:
---
TML Arts aims for accuracy in content and functionality in posts.
Click the button below to let us know about typos, incorrect information, broken links, erroneous attribution,
or additional relative information.
---
---
---
---