Buster Keaton: actor, producer, writer
Buster Keaton (October 4, 1895 – February 1, 1966) was an American actor, director, producer, writer, and stunt performer. He was best known for his silent films, in which his trademark was physical comedy with a consistently stoic, deadpan expression, earning him the nickname "The Great Stone Face." Critic Roger Ebert wrote of Keaton's "extraordinary period from 1920 to 1929, [when] he worked without interruption on a series of films that make him, arguably, the greatest actor-director in the history of the movies".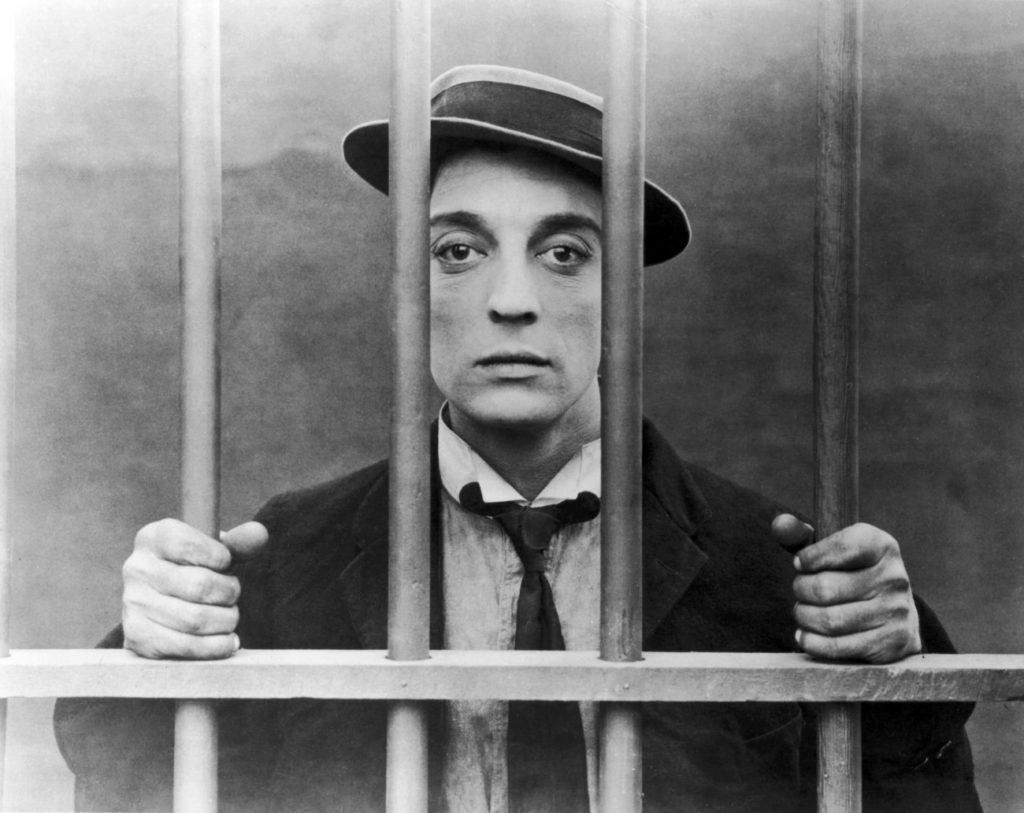 Joseph Frank "Buster" Keaton was born into a vaudeville family in Piqua, Kansas, the small town where his mother, Myra Keaton (née Cutler), happened to go into labor. His father was Joseph Hallie "Joe" Keaton, who owned a traveling show with Harry Houdini called the Mohawk Indian Medicine Company, which performed on stage and sold patent medicine on the side.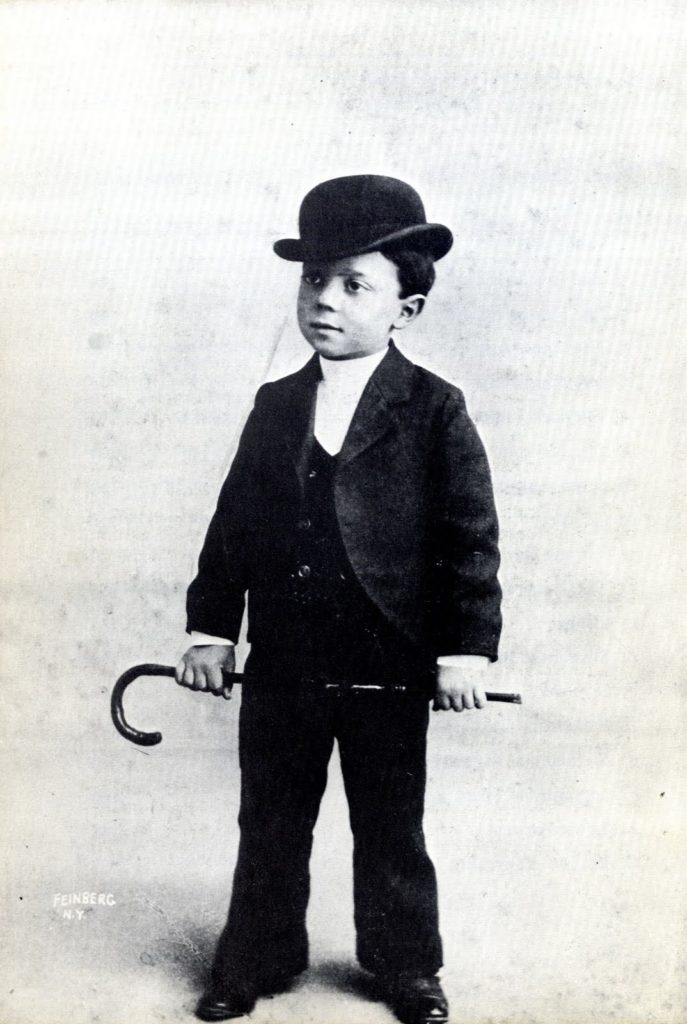 According to a frequently repeated story, he acquired the nickname "Buster" at about 18 months of age. Keaton told interviewer Fletcher Markle that Houdini happened to be present one day when he took a tumble down a long flight of stairs without injury. After the infant sat up and shook off his experience, Houdini remarked to the boy's father, "That's some buster your son took!" In those days, the word "buster" was used to refer to a spill or a fall that had the potential to produce injury. After this, it was Keaton's father who began to use the nickname to refer to the youngster.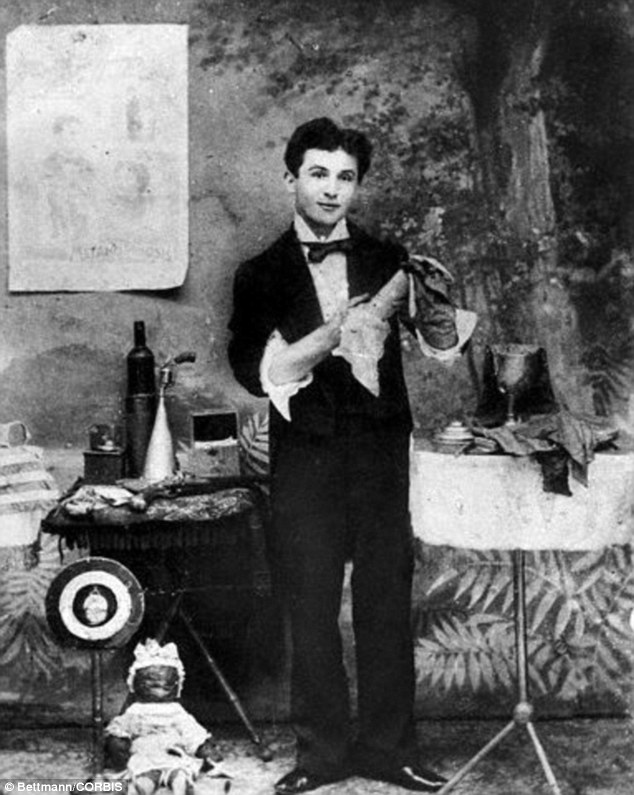 At the age of three, Keaton began performing with his parents in "The Three Keatons." He first appeared on stage in 1899 in Wilmington, Delaware. The act was mainly a comedy sketch. Myra played the saxophone to one side, while Joe and Buster performed on center stage. The young Keaton would goad his father by disobeying him, and the elder Keaton would respond by throwing him against the scenery, into the orchestra pit, or even into the audience. A suitcase handle was sewn into the boy's clothing to aid with the constant tossing.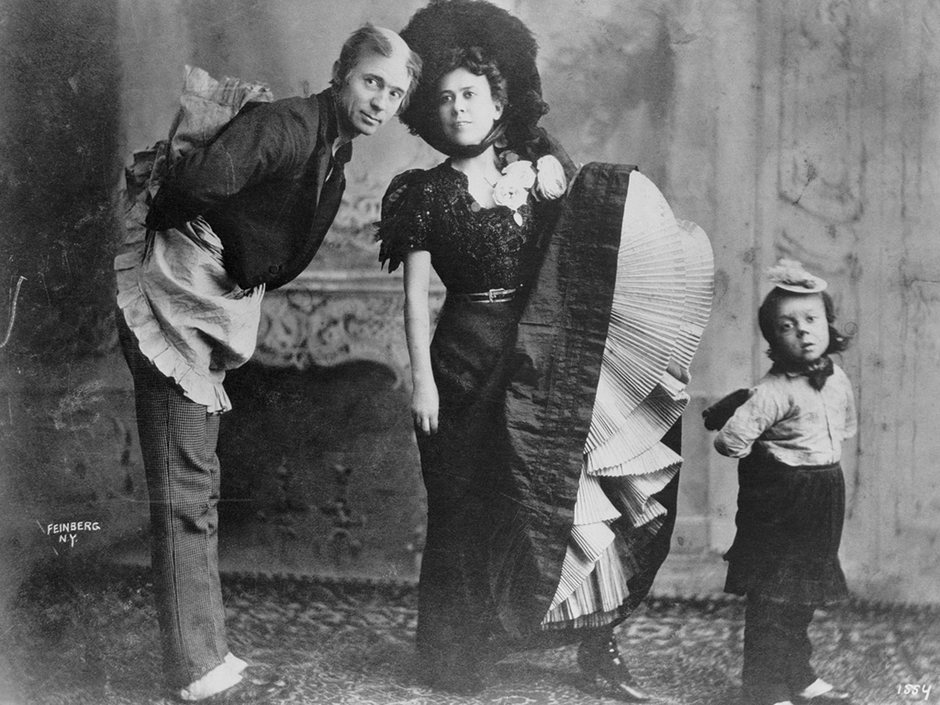 The act evolved as he learned to take trick falls safely; he was rarely injured or bruised on stage. This knockabout style of comedy led to accusations of child abuse, and occasionally, arrest. However, the child was always able to show the authorities that he had no bruises or broken bones. He was eventually billed as "The Little Boy Who Can't Be Damaged," with the overall act being advertised as "'The Roughest Act That Was Ever in the History of the Stage."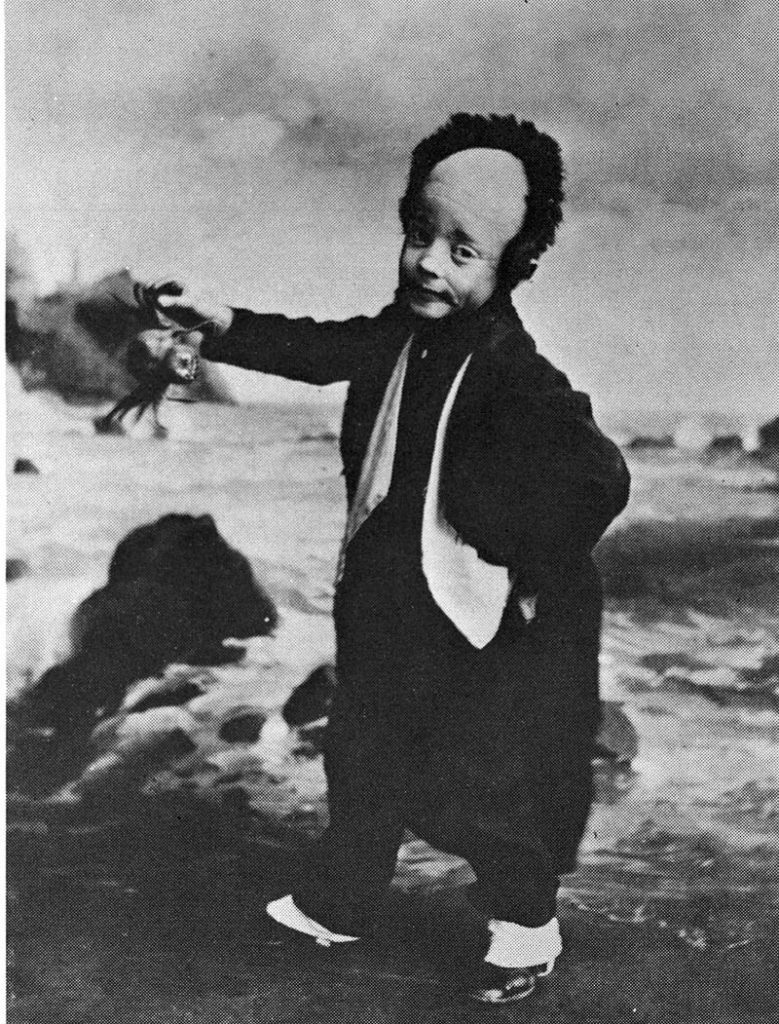 Decades later, Keaton said that he was never hurt by his father and that the falls and physical comedy were a matter of proper technical execution. In 1914, he told the Detroit News: "The secret is in landing limp and breaking the fall with a foot or a hand. It's a knack. I started so young that landing right is second nature with me. Several times I'd have been killed if I hadn't been able to land like a cat."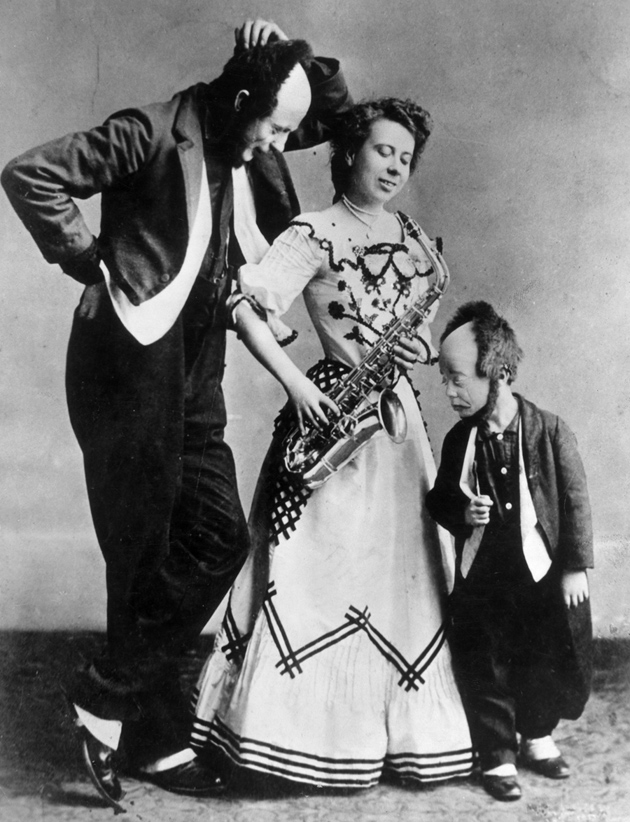 The young vaudevillian claimed he was having so much fun that he would sometimes begin laughing as his father threw him across the stage. Noticing that this drew fewer laughs from the audience, he adopted his famous deadpan expression whenever he was working.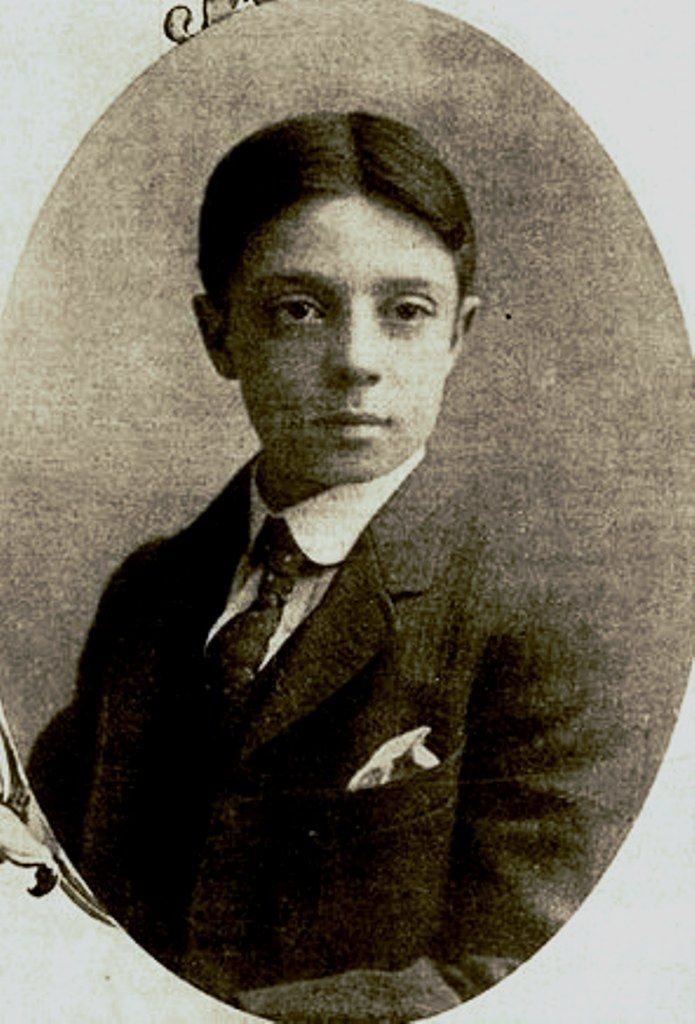 In February 1917, Keaton met Roscoe "Fatty" Arbuckle at the Talmadge Studios in New York City, where Arbuckle was under contract to Joseph M. Schenck. Joe Keaton disapproved of films, and Buster also had reservations about the medium. During his first meeting with Arbuckle, he asked to borrow one of the cameras to get a feel for how it worked. He took the camera back to his hotel room, dismantled and reassembled it. With this rough understanding of the mechanics of the moving pictures, he returned the next day, camera in hand, asking for work.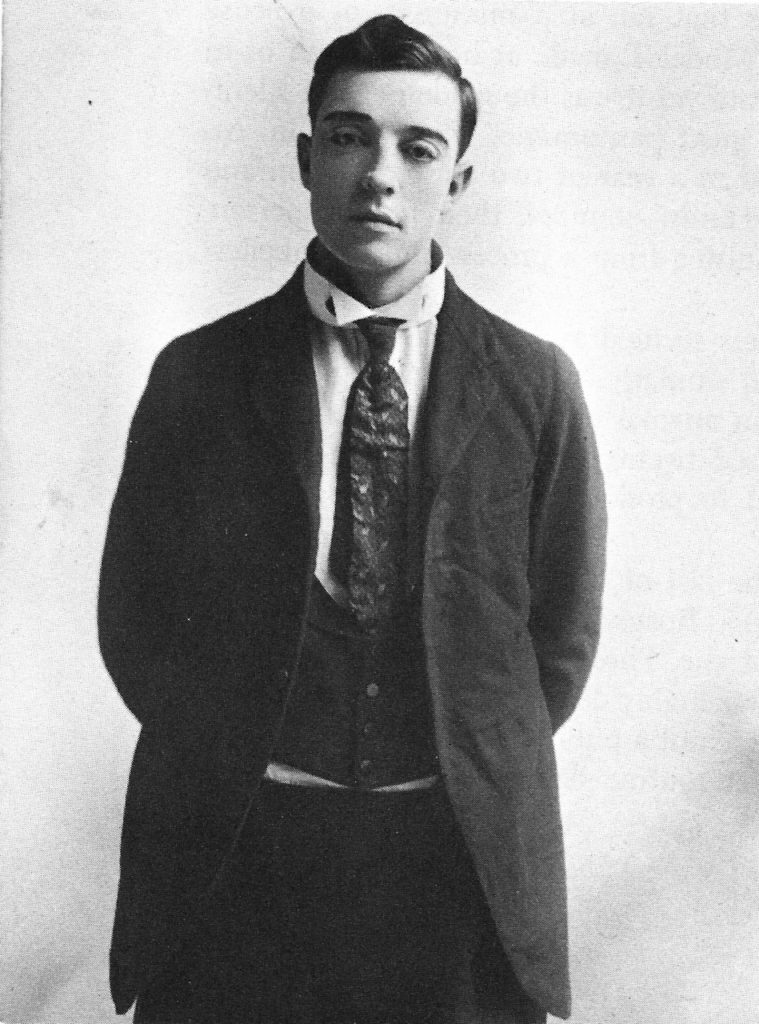 He was hired as a co-star and gag man, making his first appearance in The Butcher Boy. He later claimed that he was soon Arbuckle's second director and his entire gag department. He appeared in a total of 14 Arbuckle shorts, running into 1920. They were popular and, contrary to Keaton's later reputation as "The Great Stone Face", he often smiled and even laughed in them. Keaton and Arbuckle became close friends, and Keaton was one of few people to defend Arbuckle's character during accusations that he was responsible for the death of actress Virginia Rappe.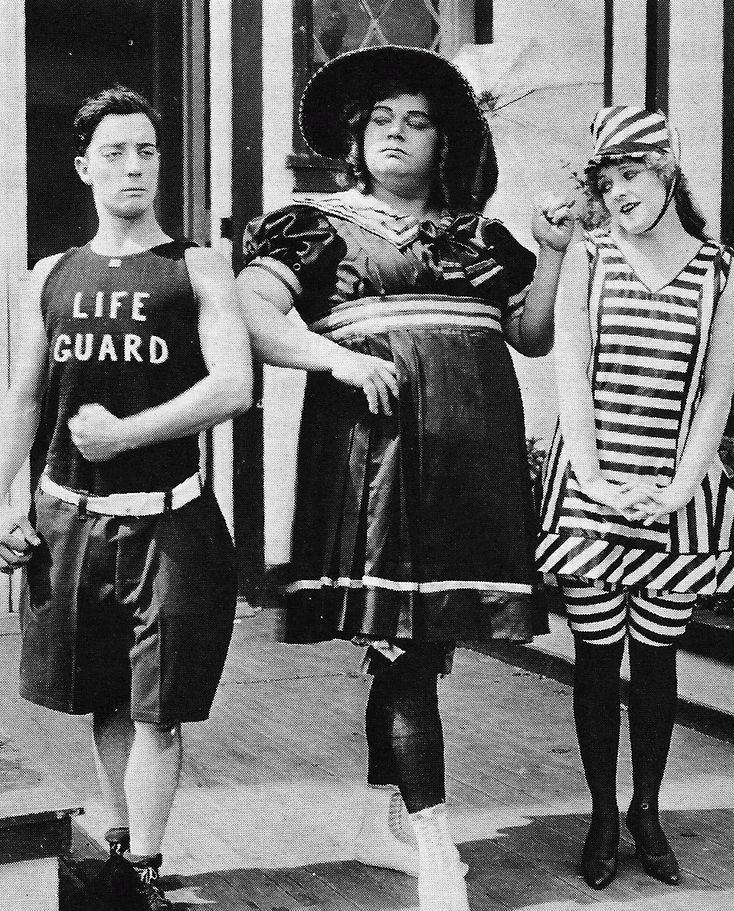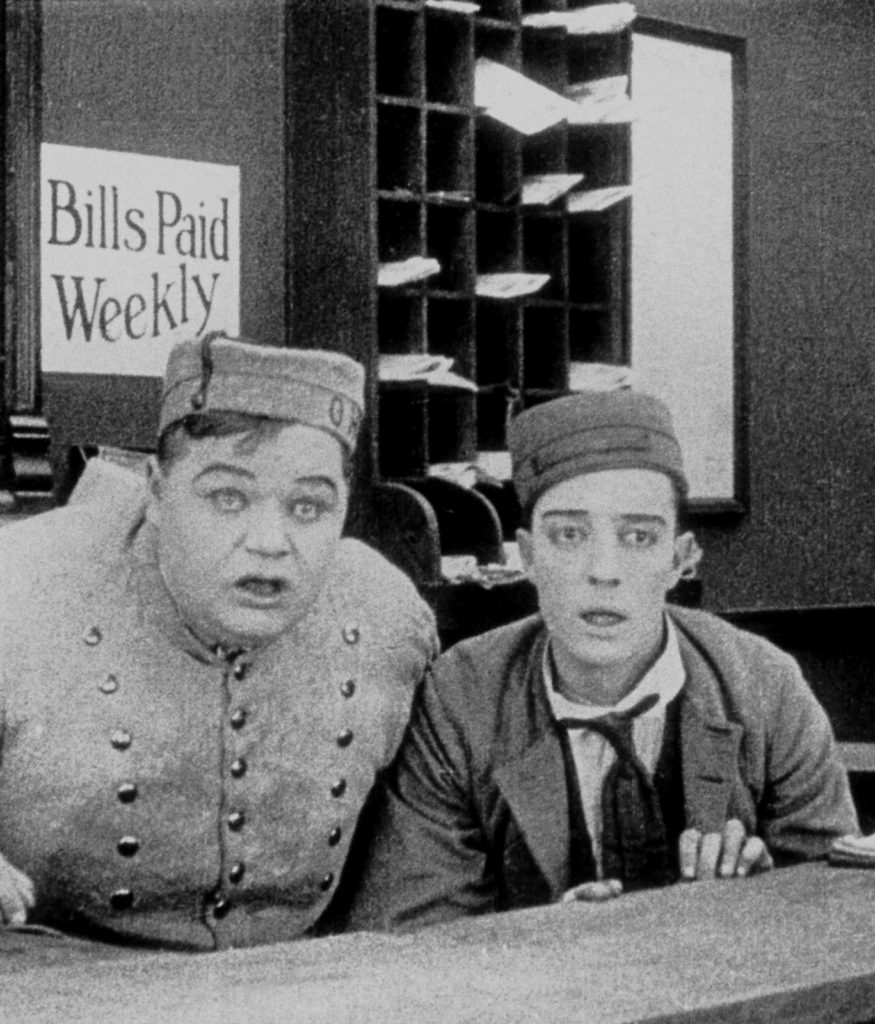 After Keaton's successful work with Arbuckle, Schenck gave him his own production unit, Buster Keaton Comedies. He made a series of two-reel comedies, including One Week (1920), The Playhouse (1921), Cops (1922), and The Electric House (1922). Keaton then moved to full-length features.
In 1921, he married Natalie Talmadge, sister-in-law of his boss, Joseph Schenck, and sister of actresses Norma Talmadge and Constance Talmadge. She co-starred with Keaton in Our Hospitality. The couple had two sons, Joseph, aka Buster Keaton Jr. (June 2, 1922– February 14, 2007),[49] and Robert Talmadge Keaton (February 3, 1924– July 19, 2009). After the birth of Robert, the relationship began to suffer.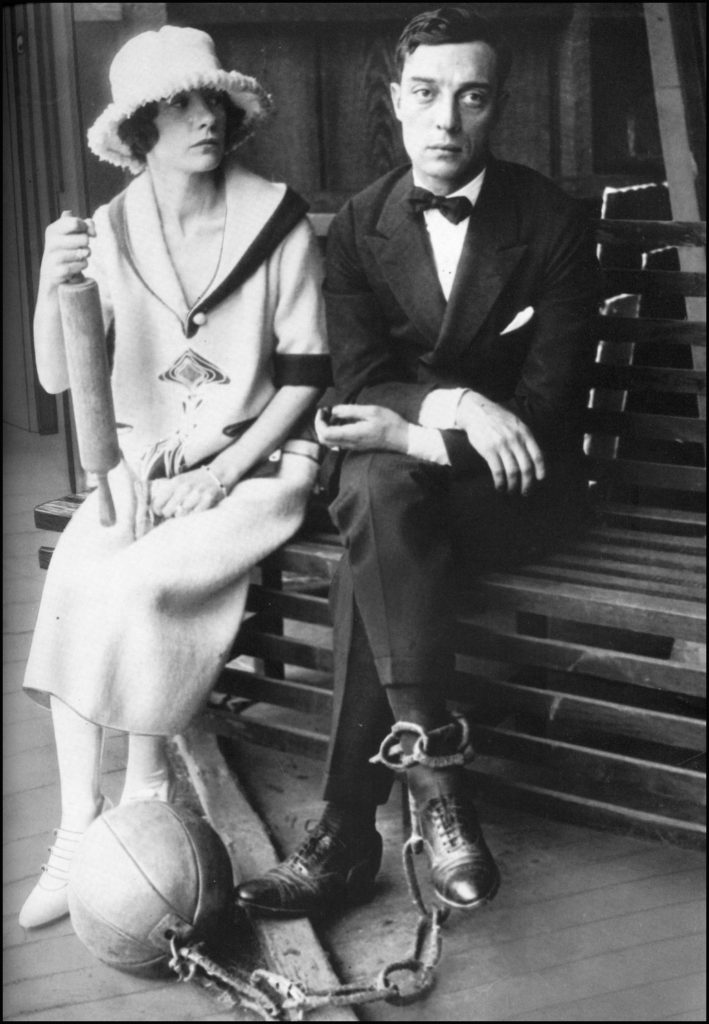 Influenced by her family, Talmadge decided not to have more children, and this led to the couple staying in separate bedrooms. Her financial extravagance (she would spend up to a third of his salary on clothes) was another factor in the breakdown of the marriage.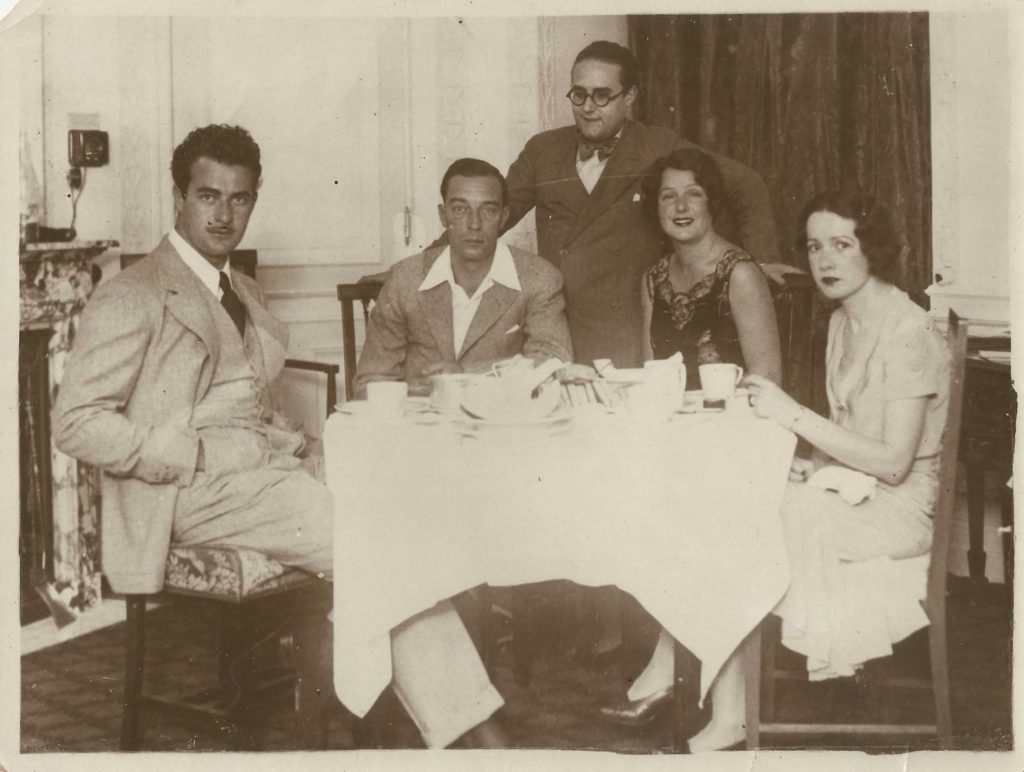 In 1926, Keaton spent $300,000 to build a 10,000-square-foot (930 m2) home in Beverly Hills designed by architect Gene Verge, Sr., which was later owned by James Mason and Cary Grant. His "Italian Villa" can be seen in his film Parlor, Bedroom and Bath. Keaton later said, "I took a lot of pratfalls to build that dump."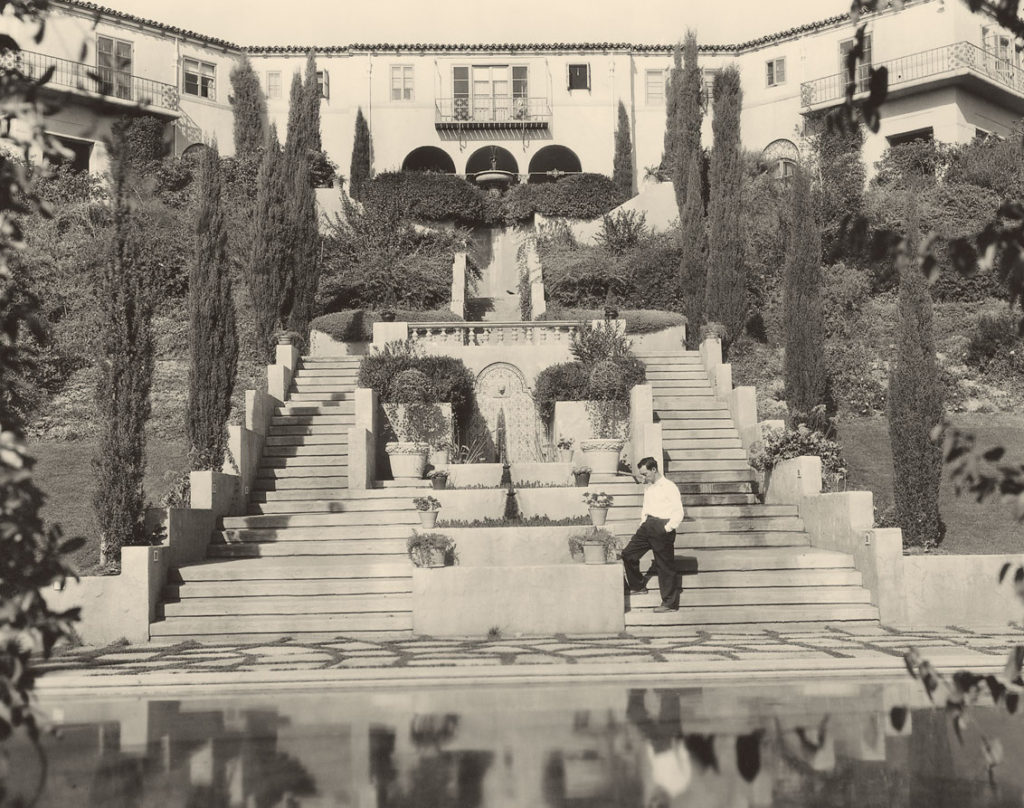 As his marriage was falling apart, Keaton began dating the actress Dorothy Sebastian beginning in the 1920s and later, actress Kathleen Key. After attempts at reconciliation, Talmadge divorced him in 1932, taking his entire fortune and refusing to allow any contact between Keaton and his sons, whose last name she had changed to Talmadge. (He was reunited with his sons about a decade later however, when his older son turned 18.) With the failure of his marriage and the loss of his independence as a filmmaker, Keaton lapsed into a period of alcoholism.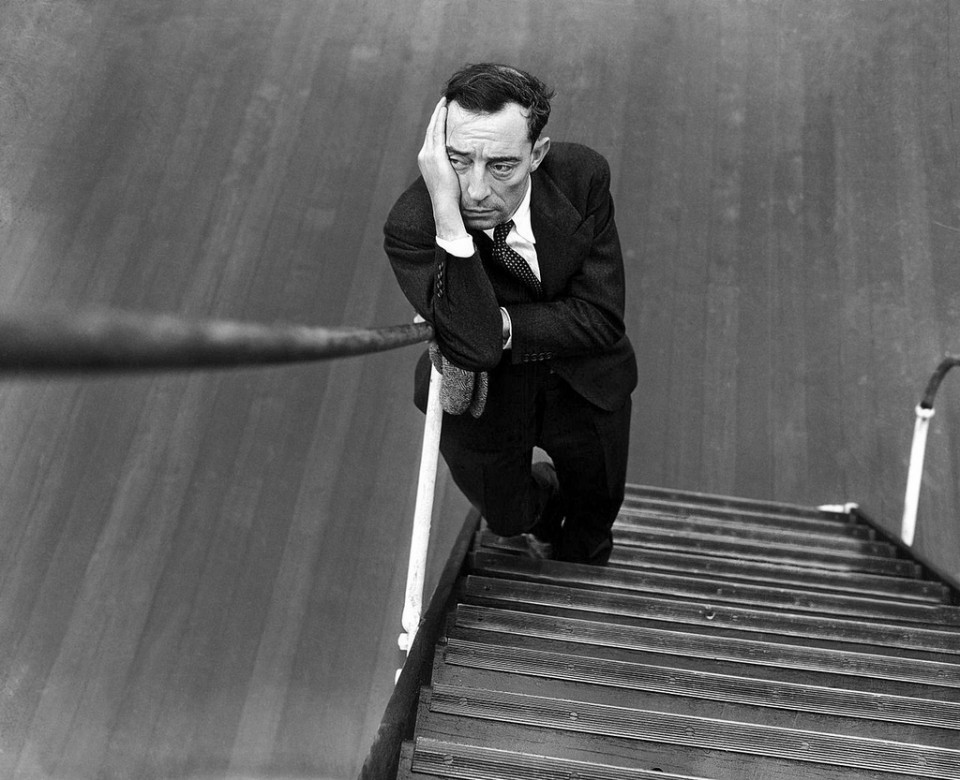 Throughout the 1920's, he learned his craft, developed his style, and was extremely successful and prolific in the new art form of film making. His most enduring feature-length films include Our Hospitality (1923), The Navigator (1924), Sherlock Jr. (1924), Seven Chances (1925), The Cameraman (1928), and The General (1926).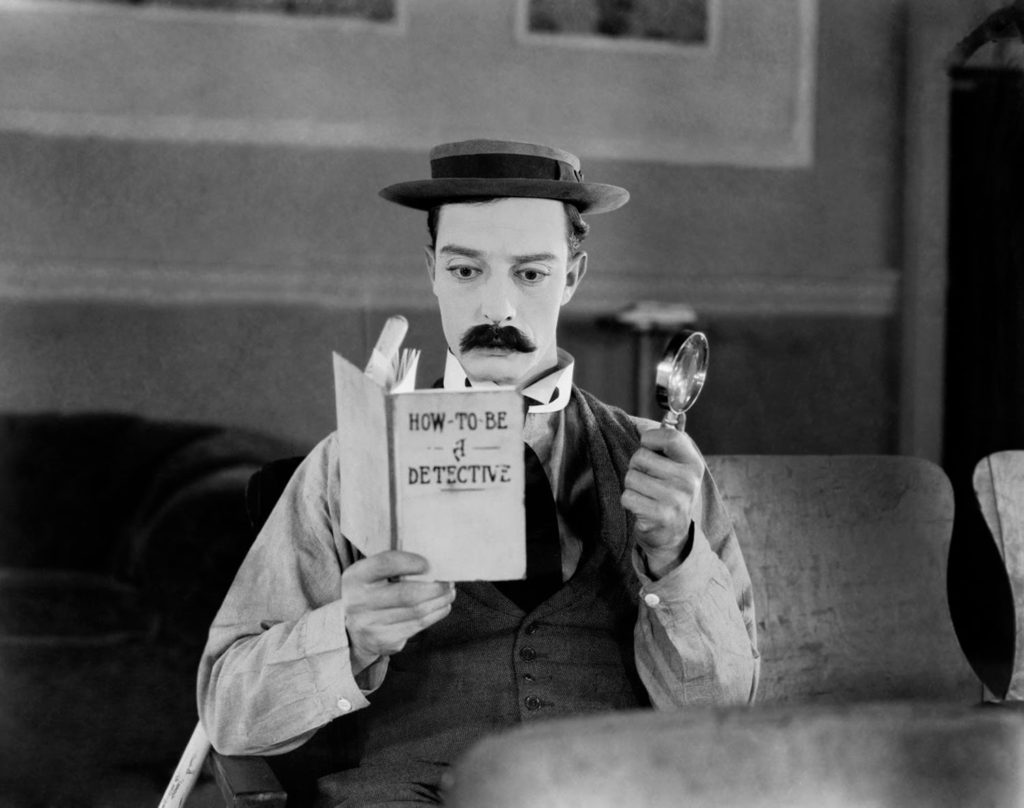 It was during this time also that he made his most famous scene, from the film Steamboat Bill, Jr. Keaton had always insisted on doing his own stunts, his vaudeville training had prepared him for almost anything. But it would be the perfectly choreographed action of a house that falls on him, that would become legend:

The General, set during the American Civil War, combined physical comedy with Keaton's love of trains, including the now famous locomotive chase (excellently restored version seen below) . Employing picturesque locations, the film's storyline reenacted an actual wartime incident. Though it would come to be regarded as his greatest achievement, the film received mixed reviews at the time. It was too dramatic for some filmgoers expecting a lightweight comedy, and reviewers questioned Keaton's judgment in making a comedic film about the Civil War, even while noting it had a "few laughs".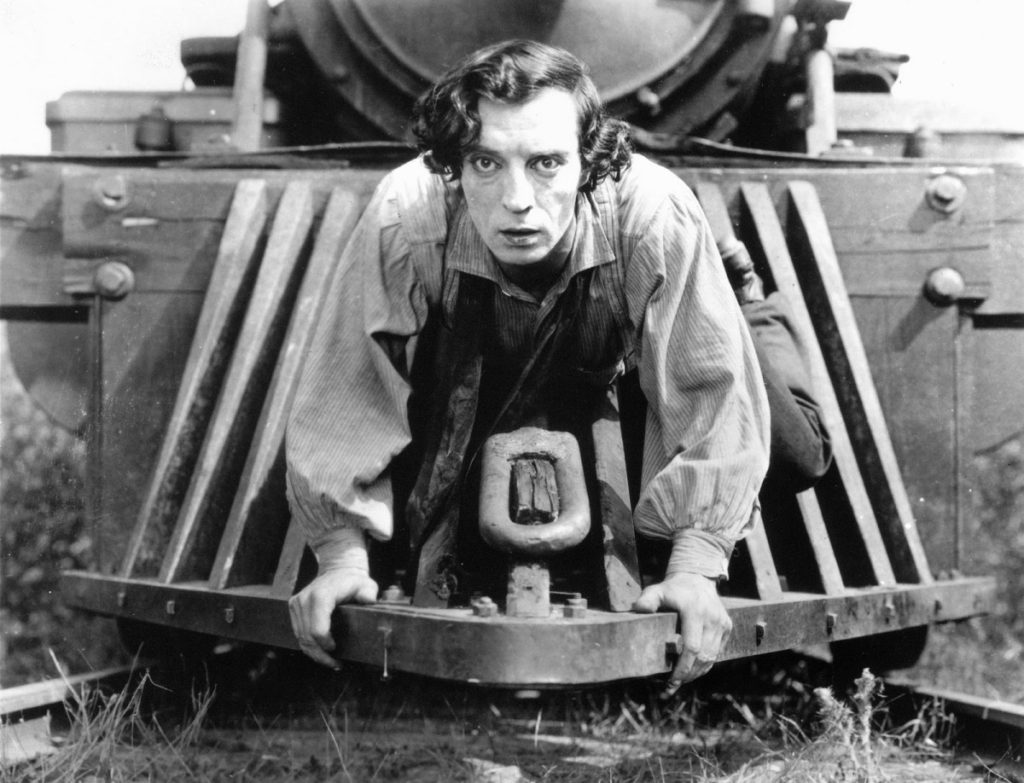 It was an expensive misfire, and Keaton was never entrusted with total control over his films again. His distributor, United Artists, insisted on a production manager who monitored expenses and interfered with certain story elements. Keaton endured this treatment for two more feature films, and then exchanged his independent setup for employment at Hollywood's biggest studio, Metro-Goldwyn-Mayer (MGM). His loss of independence as a filmmaker coincided with the coming of sound films (although he was interested in making the transition) and mounting personal problems, and his career in the early sound era was hurt as a result.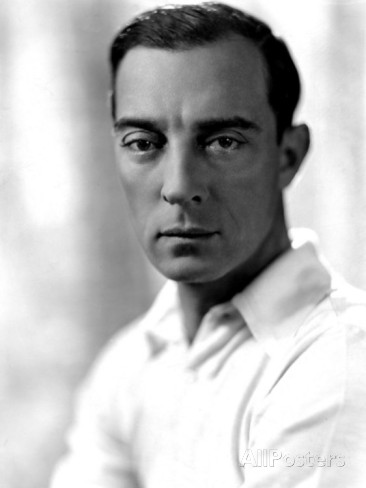 In his first pictures with sound, he and his fellow actors would shoot each scene three times: one in English, one in Spanish, and one in either French or German. The actors would phonetically memorize the foreign-language scripts a few lines at a time and shoot immediately after (seen below, a short clip where he speaks phonetic Spanish…and actually does a rather fine job, actually). This technique is discussed in the TCM documentary Buster Keaton: So Funny it Hurt, with Keaton complaining about having to shoot lousy films not just once, but three times.
In 1932, MGM tried teaming the laconic Keaton with the rambunctious Jimmy Durante in a series of films, The Passionate Plumber, Speak Easily, and What! No Beer?. The latter would be Keaton's last starring feature in his home country.  He was so demoralized during the production of What! No Beer? that MGM fired him after the filming was complete, despite the film being a resounding hit (short clip below).
In 1934, Keaton accepted an offer to make an independent film in Paris, Le Roi des Champs-Élysées (the short clip below features one of his rare on-screen smiles). During this period, he made another film, in England, The Invader (released in the United States as An Old Spanish Custom in 1936).
Due to his continued drinking, financial and relationship issues, combined with his nearly obsessive drive to create, Keaton was at one point briefly institutionalized. According to the TCM documentary So Funny it Hurt, while there, though confined to one, he escaped a straitjacket with tricks learned during his vaudeville days.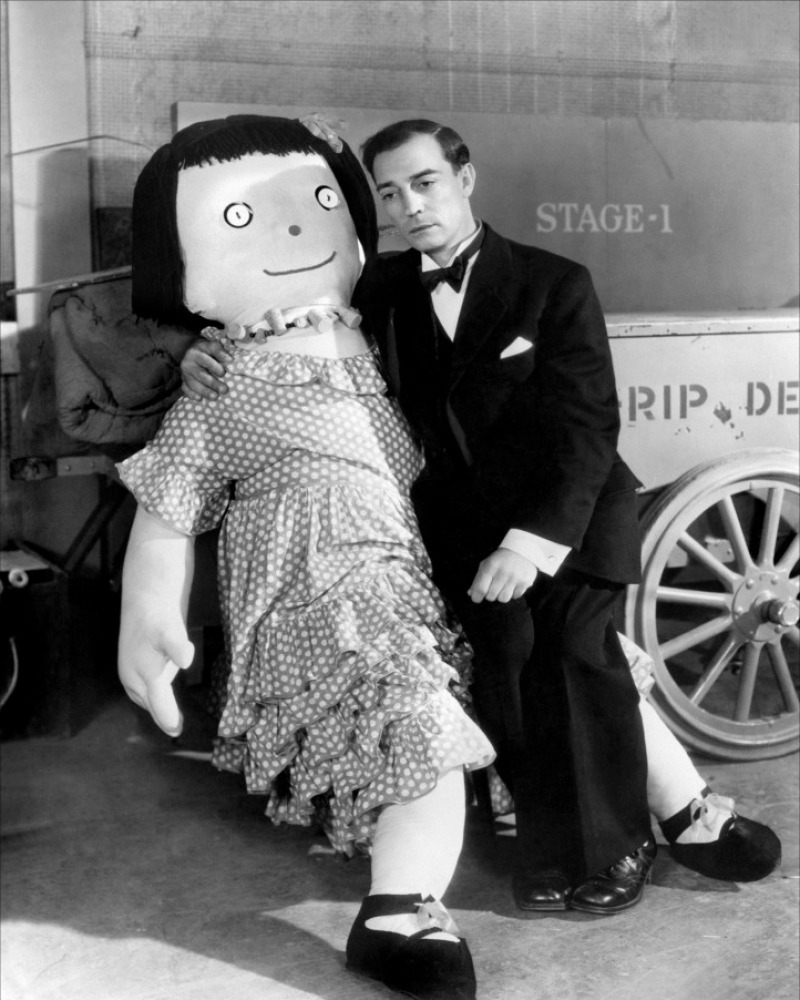 In 1933, he married his nurse, Mae Scriven, during an alcoholic binge about which he afterwards claimed to remember nothing (Keaton himself later called that period an "alcoholic blackout"). Scriven herself would later claim that she didn't know the actor's real first name until after the marriage. The singular event that triggered Scriven filing for divorce in 1935 was her finding him with Leah Clampitt Sewell (libertine wife of millionaire Barton Sewell) on July 4 the same year in a hotel in Santa Barbara. When they divorced in 1936, it was again at great financial cost to Keaton.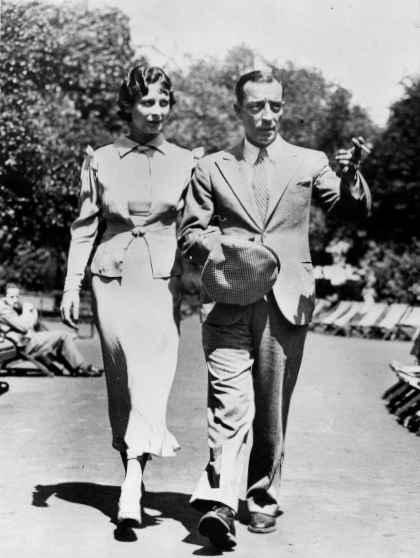 In 1940, he married Eleanor Norris (July 29, 1918 – October 19, 1998), who was 23 years his junior. She has been credited by film historian Jeffrey Vance with saving Keaton's life by stopping his heavy drinking and helping to salvage his career. The marriage lasted until his death. Between 1947 and 1954, they appeared regularly in the Cirque Medrano in Paris as a double act. She came to know his routines so well that she often participated in them on TV revivals.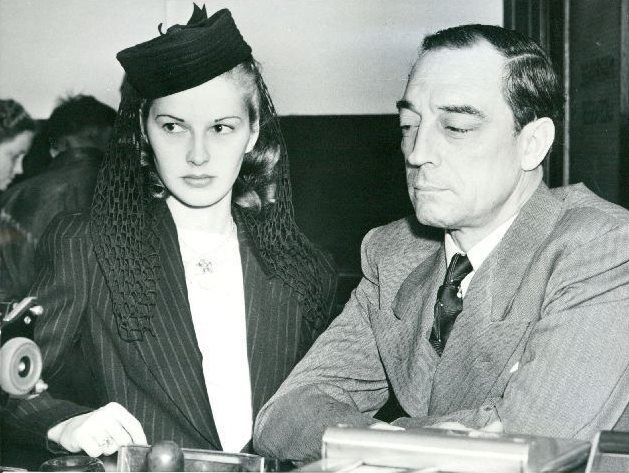 The rest of his life, he continued to make films and he expanded into the world of television as well. He appeared in such programs as The Twilight Zone and the Donna Reed Show, as well as his own successful program The Buster Keaton Show. His last commercial film appearance was in A Funny Thing Happened on the Way to the Forum (1966), which was filmed in Spain in September–November 1965. He amazed the cast and crew by doing many of his own stunts, although Thames Television said his increasingly ill health did force the use of a stunt double for some scenes. His final appearance on film was a 1965 safety film produced in Toronto, Canada, by the Construction Safety Associations of Ontario in collaboration with Perini, Ltd. (now Tutor Perini Corporation), The Scribe. Keaton plays a lowly janitor at a newspaper. He intercepts a request from the editor to visit a construction site adjacent to the newspaper headquarters to investigate possible safety violations. Keaton died shortly after completing the film.
Buster Keaton died of lung cancer on February 1, 1966, aged 70, in Woodland Hills, California. Despite being diagnosed with cancer in January 1966, he was never actually told that he was terminally ill or that he had cancer, he thought that he was recovering from a severe case of bronchitis. Confined to a hospital during his final days, he was restless and paced the room endlessly, desiring to return home. In a British television documentary about his career, his widow Eleanor told producers of Thames Television that her husband was up out of bed and moving around, and even played cards with friends who came to visit the day before he died.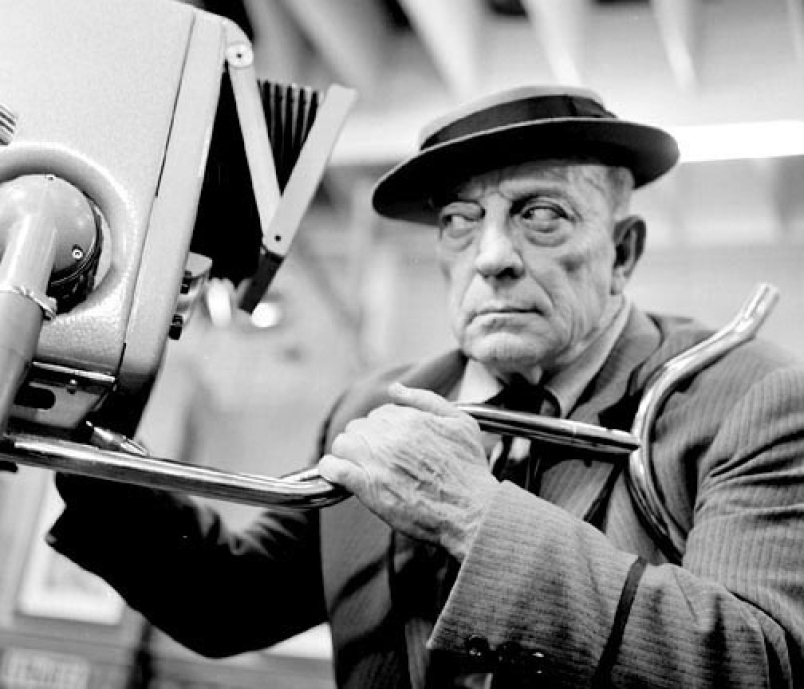 Buster Keaton was interred at the Forest Lawn Memorial Park Cemetery in Hollywood Hills, California.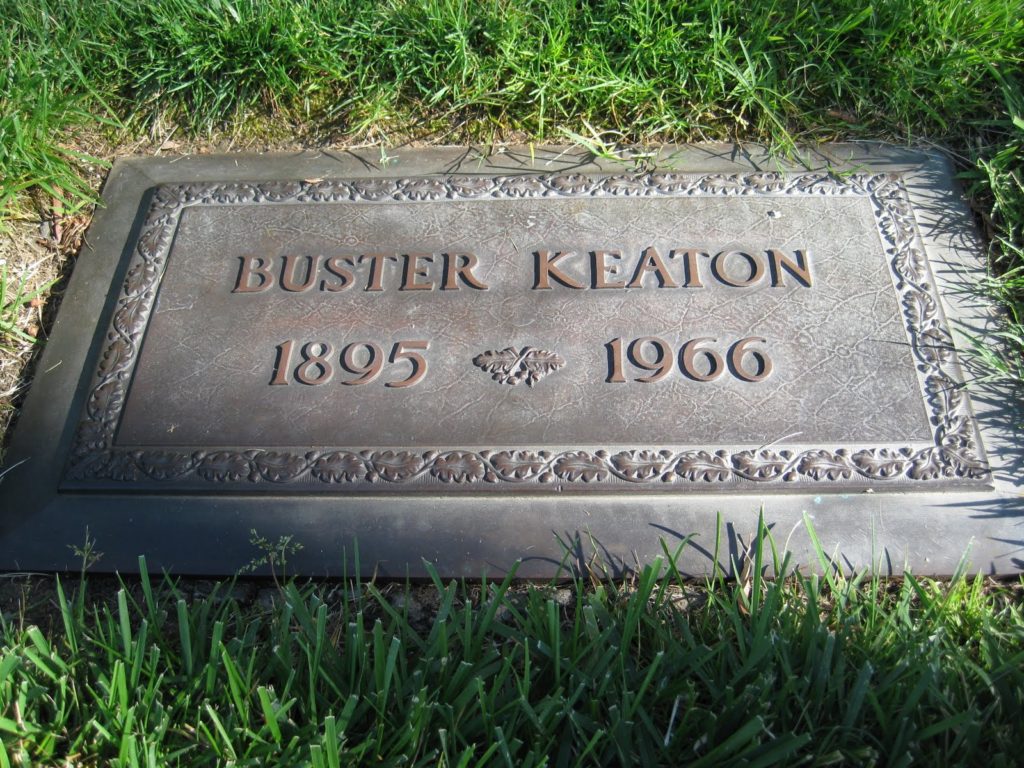 Today, many of Keaton's films remain highly regarded, among his strongest admirers was Orson Welles, who stated that The General was cinema's highest achievement in comedy, and perhaps the greatest film ever made. He was recognized as the seventh-greatest film director by Entertainment Weekly, and in 1999, the American Film Institute ranked him the 21st greatest male star of classic Hollywood cinema.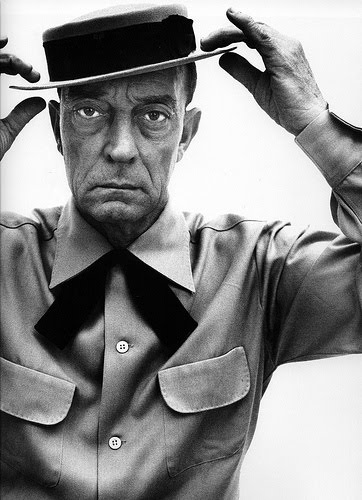 ---
Digital collage portrait by TMLipp
Created for The Artist Birthday Series:
Buster Keaton, October 4, 2016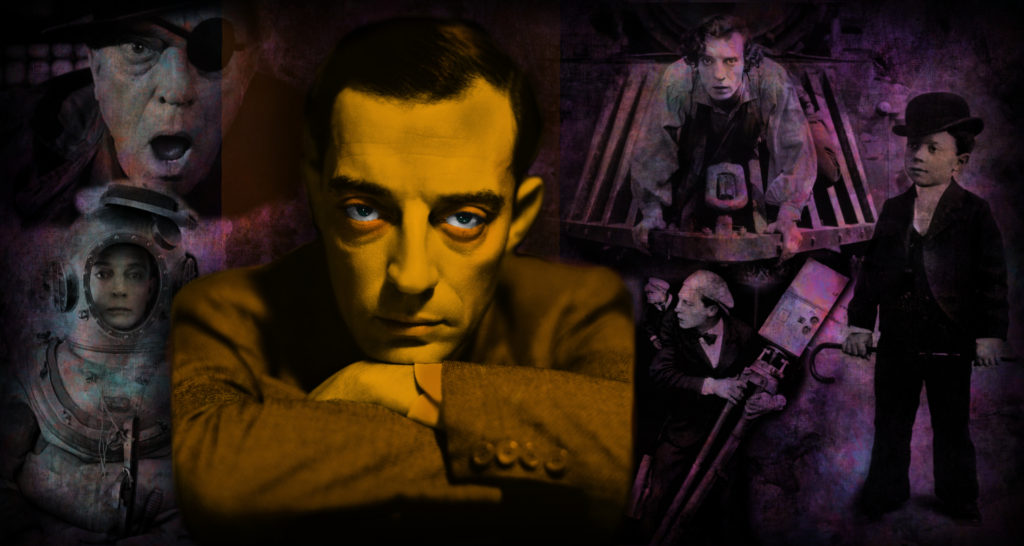 ---
Edited from:
https://en.wikipedia.org/wiki/Buster_Keaton
---
TML Arts aims for accuracy in content and functionality in posts.
Click the button below to let us know about typos, incorrect information, broken links, erroneous attribution,
or additional relative information.
---
---
---
---