Today's Artist Birthday: Baroness Elsa von Freytag-Loringhoven
Baroness Elsa von Freytag-Loringhoven (sometimes also called Else von Freytag-von Loringhoven) (12 July 1874 – 15 December 1927) was a German-born avant-garde, Dadaist artist and poet who worked for several years in Greenwich Village, New York City, United States. Her provocative poetry was published posthumously in 2011 in Body Sweats: The Uncensored Writings of Elsa von Freytag-Loringhoven. The New York Times praised the book as one of the notable art books of 2011.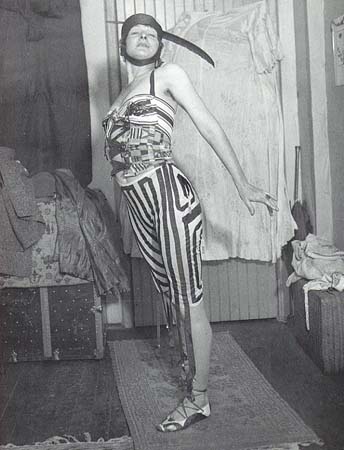 Freytag-Loringhoven was born Else Hildegard Plötz in Swinemünde (Świnoujście), in Pomerania, Germany, to Adolf Plötz and Ida Marie Kleist. Her father, a mason, physically and verbally abused her in her childhood. She trained and worked as an actress and vaudeville performer and had numerous affairs with artists in Berlin, Munich and Italy.