Andy Warhol: artist of many genres
Andy Warhol (August 6, 1928 – February 22, 1987) was an American artist who was a leading figure in the visual art movement known as pop art. His works explore the relationship between artistic expression, celebrity culture, and advertisement that flourished by the 1960s. A successful magazine and ad illustrator who became a leading artist of the 1960s Pop art movements, he ventured into a wide variety of art forms, including performance art, filmmaking, video installations and writing, and controversially blurred the lines between fine art and mainstream aesthetics.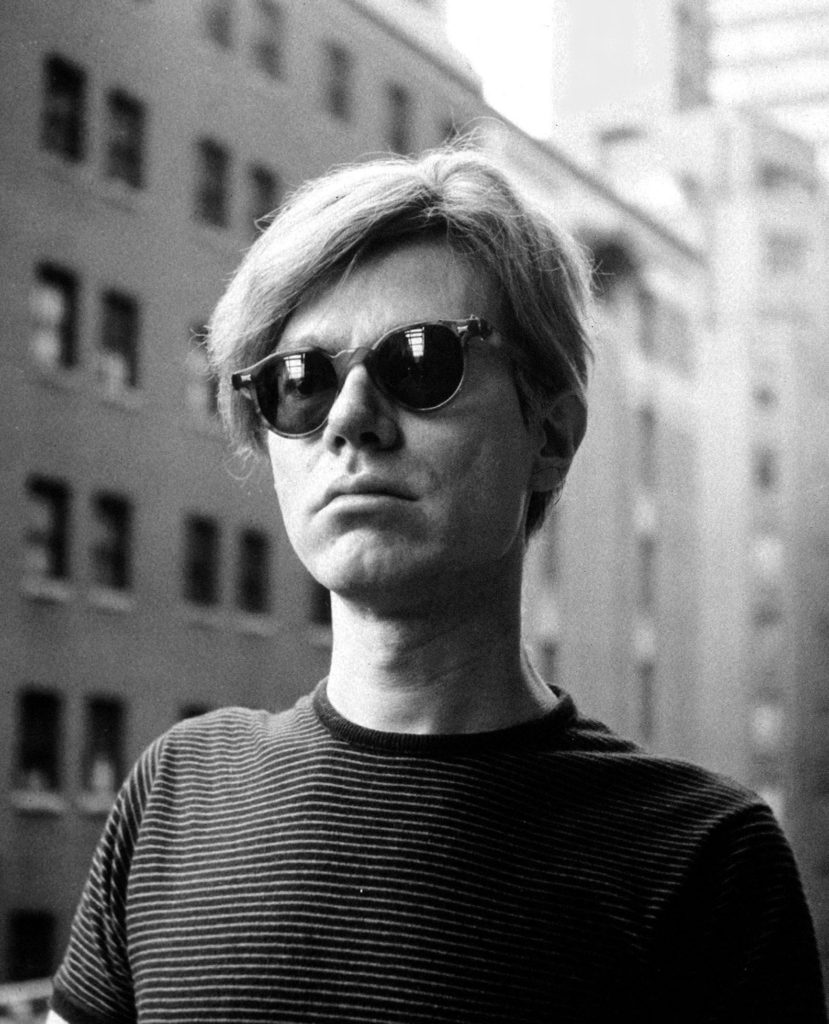 Born Andrew Warhola on August 6, 1928, in the neighborhood of Oakland in Pittsburgh, Pennsylvania. His parents were working-class emigrants from Mikó (now called Miková), located in today's northeastern Slovakia, part of the former Austro-Hungarian Empire. Warhol's father emigrated to the United States in 1914, and his mother joined him in 1921, after the death of Warhol's grandparents. His father worked in a coal mine and his mother was an embroiderer. The family was Byzantine Catholic and attended St. John Chrysostom Byzantine Catholic Church.  Andy Warhol had two older brothers—Pavol (Paul), the oldest, was born before the family emigrated, and Ján was born in Pittsburgh. Pavol's son, James Warhola, became a successful children's book illustrator.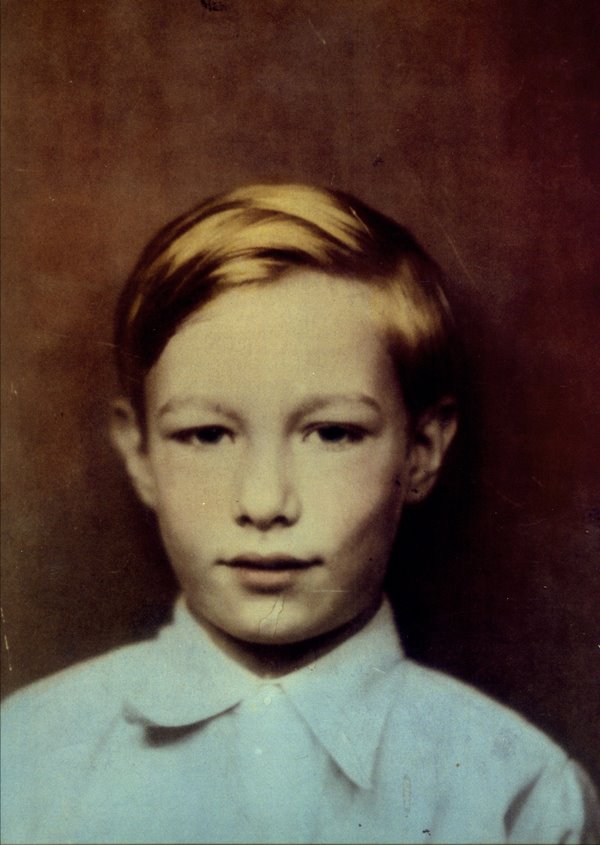 At the age of 8, he contracted Sydenham's Chorea (also known as St. Vitus's Dance) a rare and sometimes fatal disease of the nervous system that left him bedridden for several months. His illness is believed to be a complication of scarlet fever which causes skin pigmentation blotchiness. As a result, he became a hypochondriac, developing a fear of hospitals and doctors. Often bedridden as a child, he became an outcast at school and bonded deeply with his mother, who did all she could to keep her son happy. It was during this initial illness that his mother, herself a skillful artist, gave him his first drawing lessons. Drawing soon became Warhol's favorite childhood pastime. He was also an avid fan of the movies, and when his mother bought him a camera at the age of 9 he took up photography as well, developing film in a makeshift darkroom he set up in their basement. When he was confined to bed, he drew, listened to the radio and collected pictures of movie stars around his bed. Warhol later described this period as very important in the development of his personality, skill-set and preferences.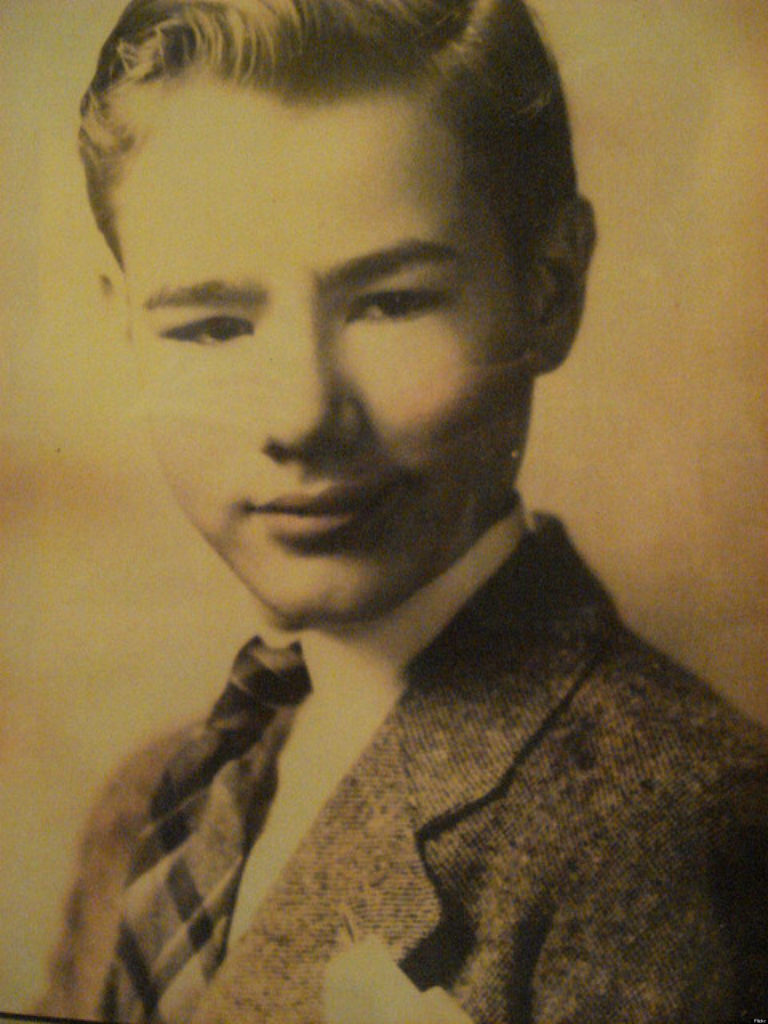 Warhol attended Holmes Elementary school and took the free art classes offered at the Carnegie Institute (now the Carnegie Museum of Art) in Pittsburgh. In 1942, at the age of 14, Warhol again suffered a tragedy when his father passed away from a jaundiced liver. He was so upset that he could not attend his father's funeral, and he hid under his bed throughout the wake. Warhol's father had recognized his son's artistic talents, and in his will he dictated that his life savings go toward Andy's college education. That same year, Warhol began at Schenley High School, and upon graduating, in 1945, he enrolled at the Carnegie Institute for Technology (now Carnegie Mellon University) to study pictorial design.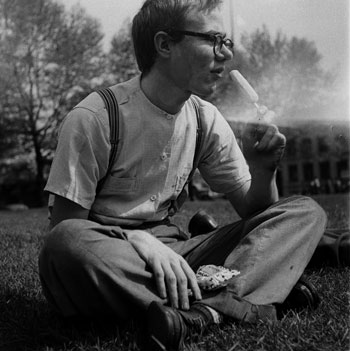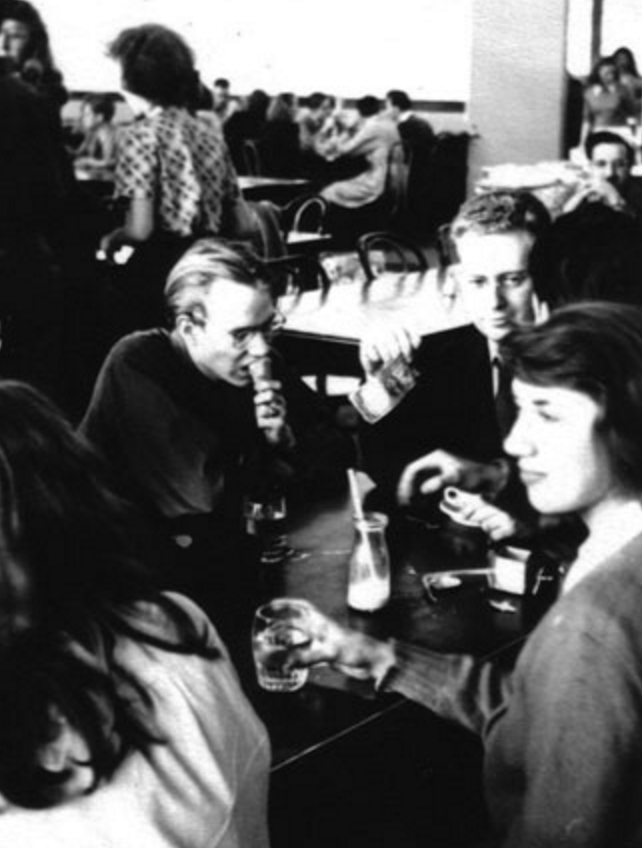 When he graduated from college with his Bachelor of Fine Arts degree in 1949, Warhol moved to New York City to pursue a career as a commercial artist. It was also at this time that he dropped the "a" at the end of his last name to become "Andy Warhol." He landed a job with Glamour magazine in September, and went on to become one of the most successful commercial artists of the 1950s. He won frequent awards for his uniquely whimsical style, using his own blotted line technique and rubber stamps to create his drawings.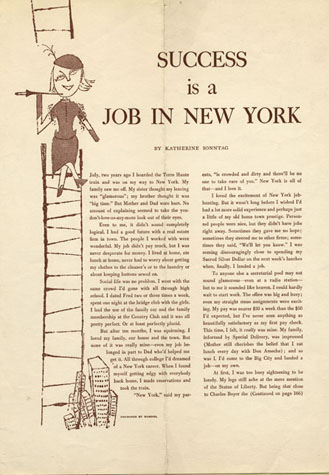 In the late 1950s, he began devoting more attention to painting, and in 1961, he debuted the concept of "pop art"—paintings that focused on mass-produced commercial goods. In 1962, he exhibited the now-iconic paintings of Campbell's soup cans. These small canvas works of everyday consumer products created a major stir in the art world, bringing both Warhol and pop art into the national spotlight for the first time.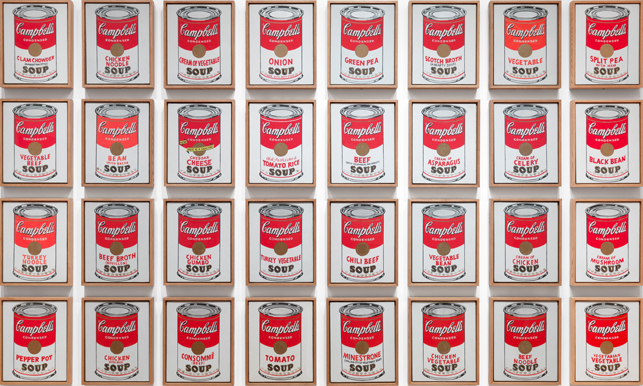 British artist Richard Hamilton described pop art as "popular, transient, expendable, low cost, mass-produced, young, witty, sexy, gimmicky, glamorous, big business." As Warhol himself put it, "Once you 'got' pop, you could never see a sign the same way again. And once you thought pop, you could never see America the same way again."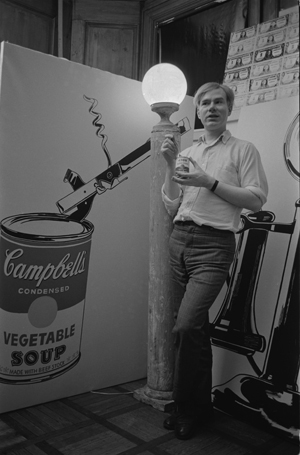 Warhol's other famous pop paintings depicted Coca-cola bottles, vacuum cleaners and hamburgers. He also painted celebrity portraits in vivid and garish colors; his most famous subjects include Marilyn Monroe, Elizabeth Taylor, Mick Jagger and Mao Zedong. As these portraits gained fame and notoriety, Warhol began to receive hundreds of commissions for portraits from socialites and celebrities. His portrait "Eight Elvises" eventually resold for $100 million in 2008, making it one of the most valuable paintings in world history.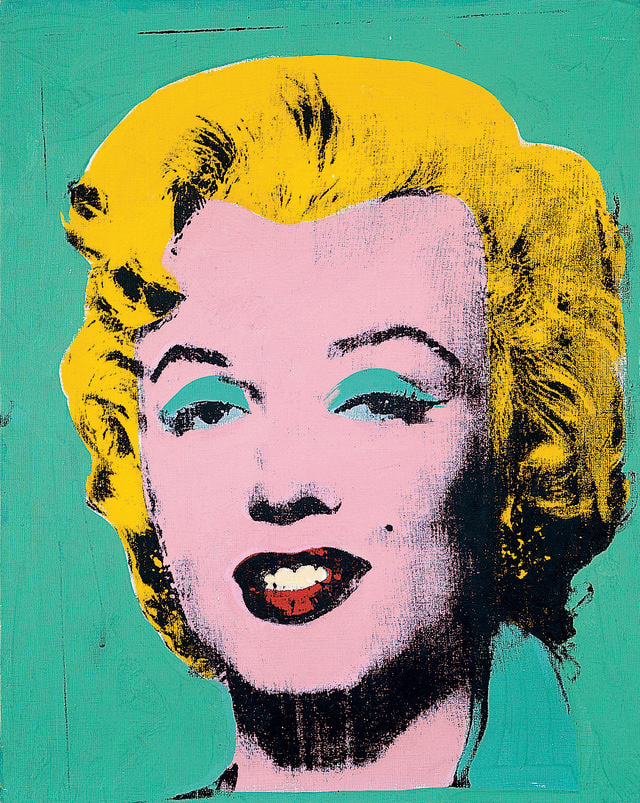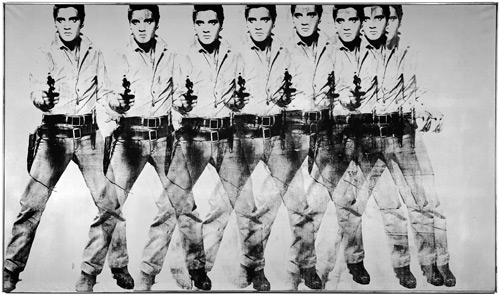 In 1964, Warhol opened his own art studio, a large silver-painted warehouse known simply as "The Factory." The Factory quickly became one of New York City's premier cultural hotspots, a scene of lavish parties attended by the city's wealthiest socialites and celebrities, including musician Lou Reed.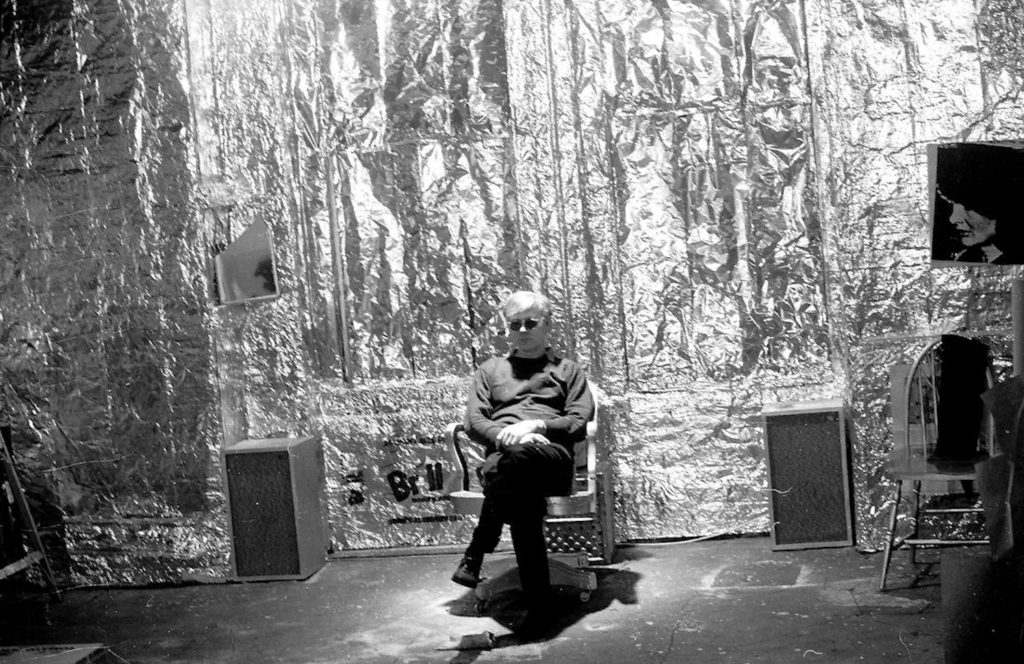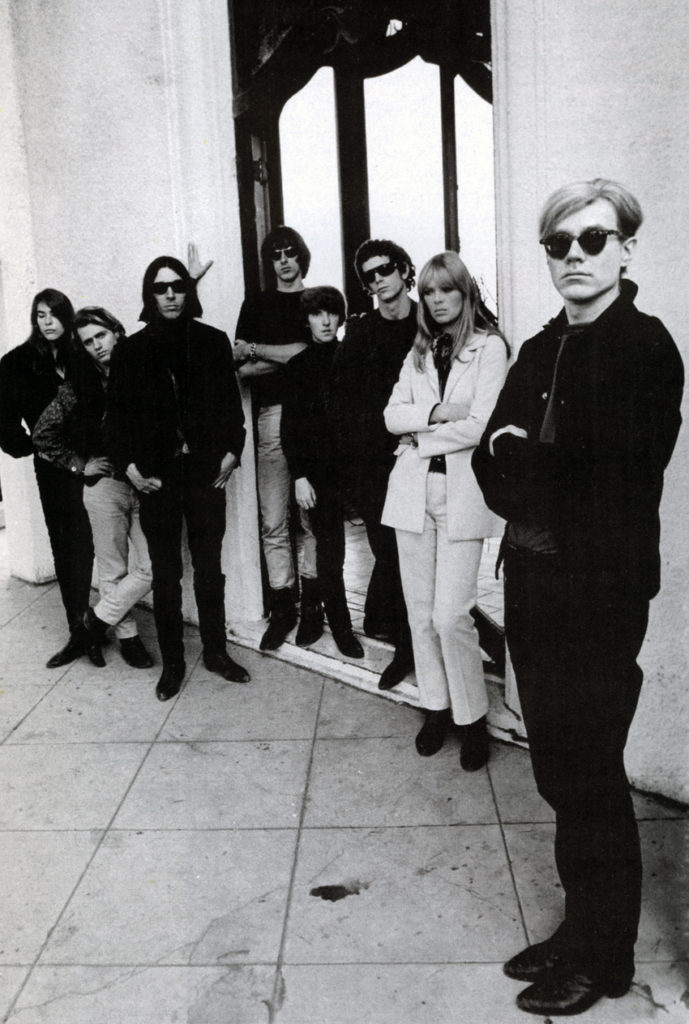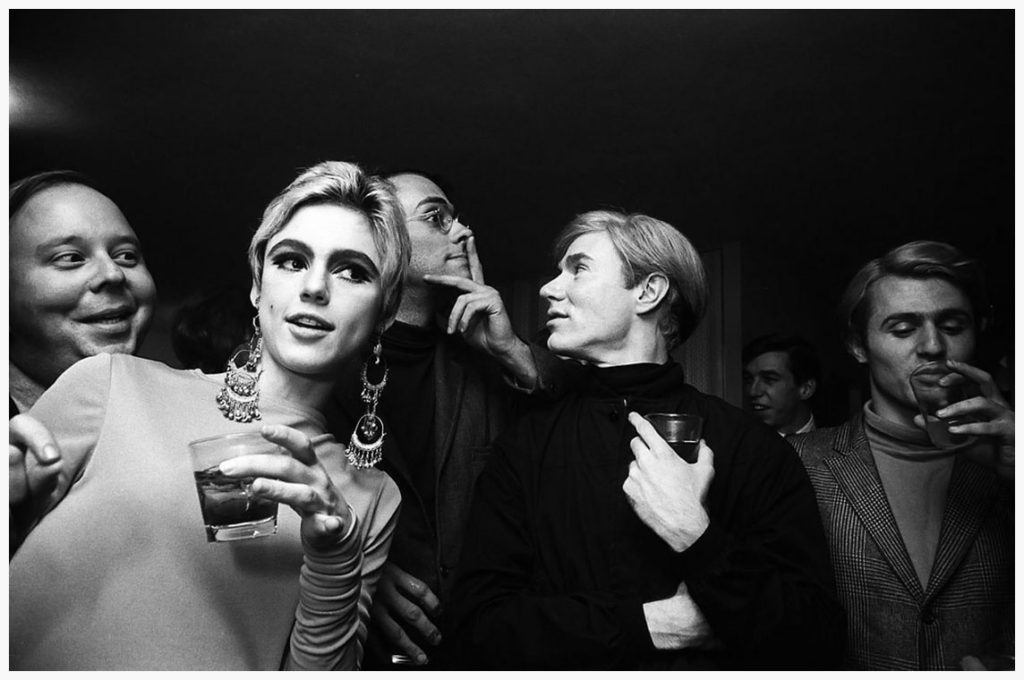 Reed paid tribute to the hustlers and transvestites he'd met at The Factory with his hit song "Walk on the Wild Side"—the verses of which contain descriptions of individuals who were fixtures at the legendary studio/warehouse in the '60s, including Holly Woodlawn, Candy Darling, "Little Joe" Dallesandro, "Sugar Plum Fairy" Joe Campbell and Jackie Curtis. Warhol was a not only a great friend of Reed's, but also managed Reed's brilliant, cutting-edge band, The Velvet Underground. The video below contains some rare footage of some of the Factory's stars mentioned in Reed's song.

Warhol, who clearly relished his celebrity, became a fixture at infamous New York City nightclubs like Studio 54 and Max's Kansas City. Commenting on celebrity fixation—his own and that of the public at large—the artist observed, "more than anything people just want stars." He also branched out in new directions, publishing his first book, Andy Warhol's Index, in 1967.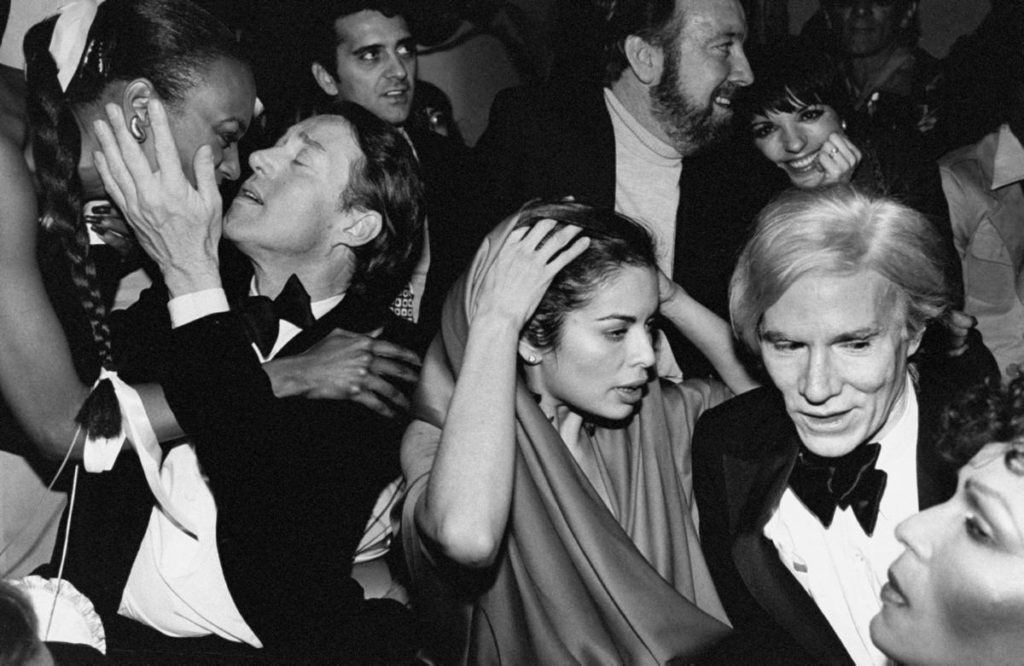 On June 3, 1968, radical feminist writer Valerie Solanas shot Warhol and Mario Amaya, art critic and curator, at Warhol's studio. Before the shooting, Solanas had been a marginal figure in the Factory scene. She authored in 1967 the S.C.U.M. Manifesto, a separatist feminist tract that advocated the elimination of men, and she had appeared in the 1968 Warhol film I, a Man. Earlier on the day of the attack, Solanas had been turned away from the Factory after asking for the return of a script she had given to Warhol. The script had apparently been misplaced.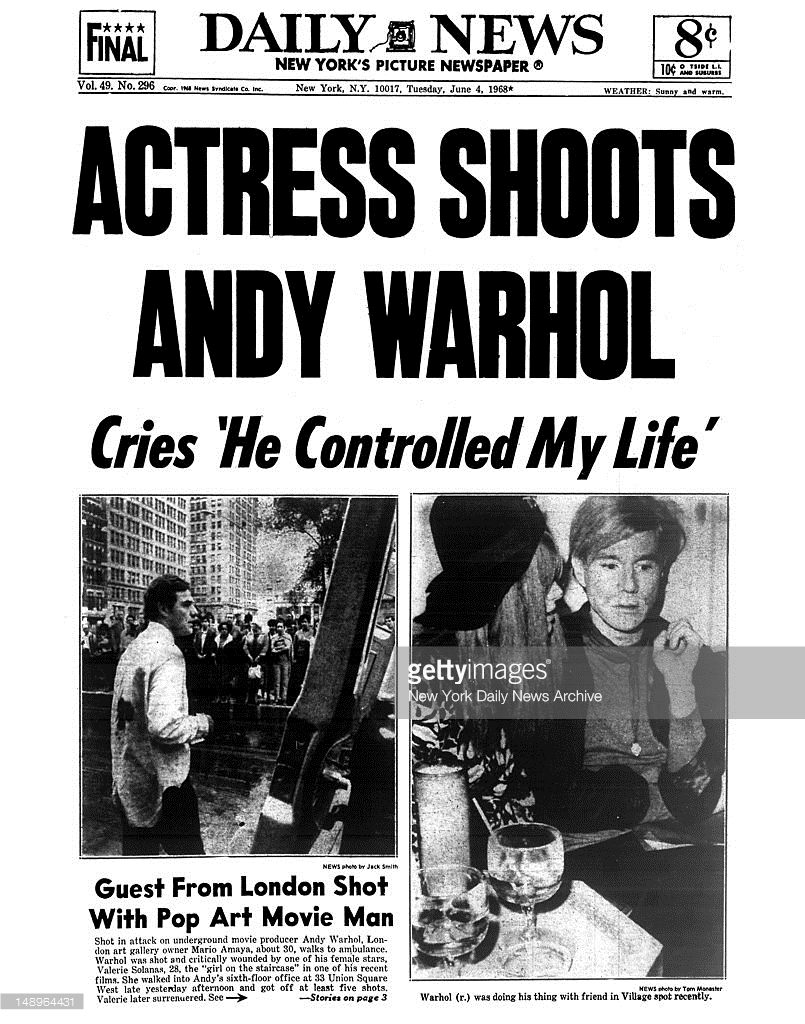 Amaya received only minor injuries and was released from the hospital later the same day. Warhol was seriously wounded by the attack and barely survived: surgeons opened his chest and massaged his heart to help stimulate its movement again. He suffered physical effects for the rest of his life, including being required to wear a surgical corset.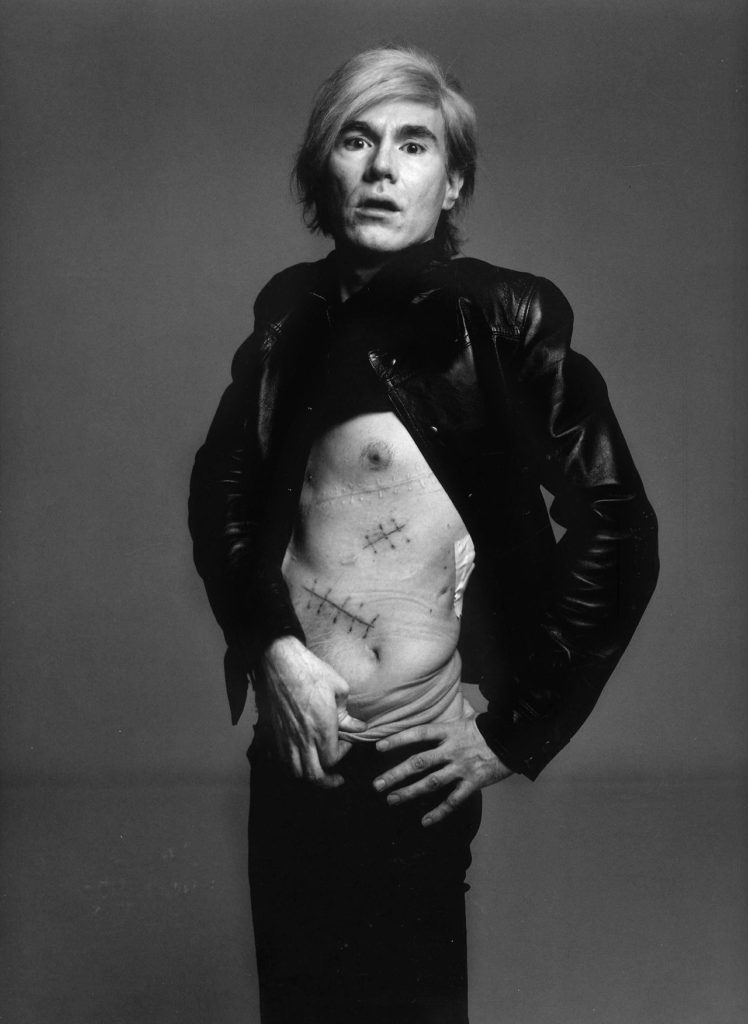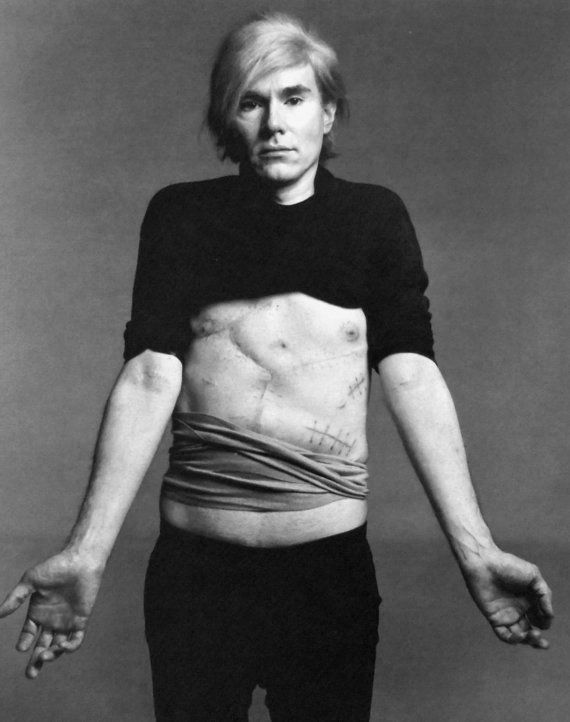 Solanas was arrested the day after the assault, after turning herself in to police. By way of explanation, she said that Warhol "had too much control over my life." She was subsequently diagnosed with paranoid schizophrenia and eventually sentenced to three years under the control of the Department of Corrections.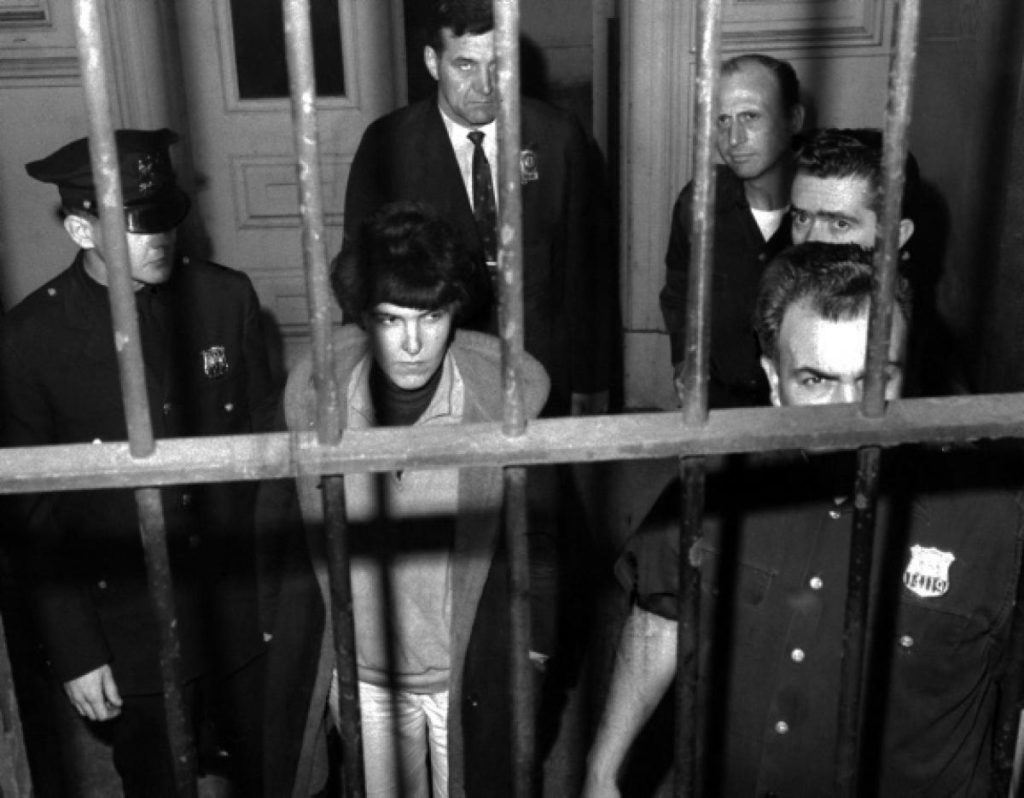 After the shooting, the Factory scene heavily increased security, and with the change in mood and atmosphere in the previously light-hearted and carefree environment, for many the "Factory 60s" ended.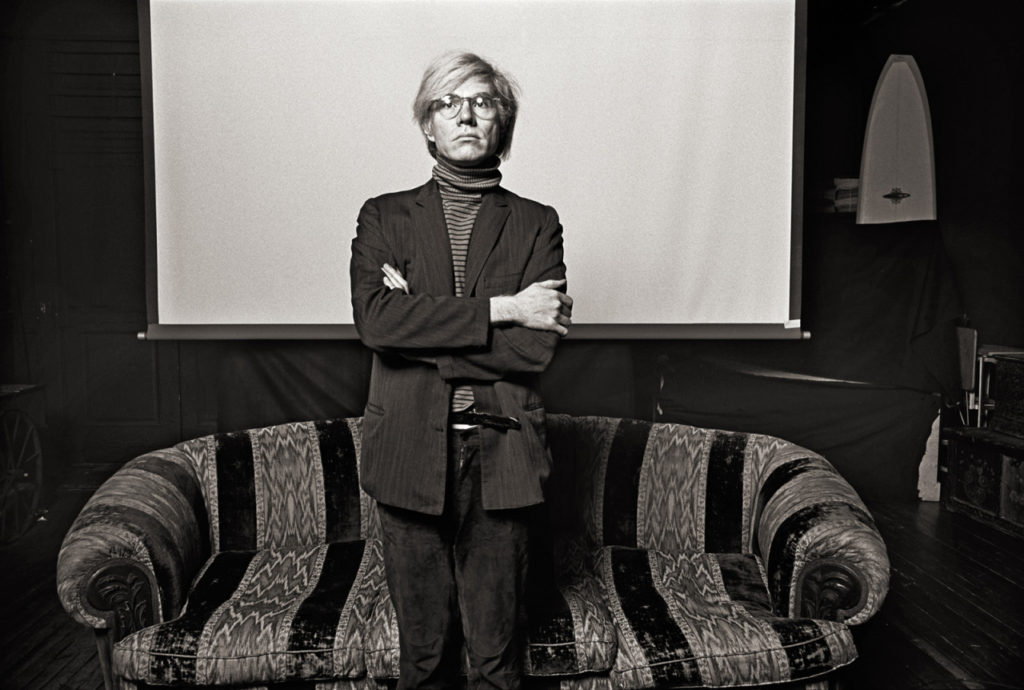 Warhol had this to say about the attack: "Before I was shot, I always thought that I was more half-there than all-there—I always suspected that I was watching TV instead of living life. People sometimes say that the way things happen in movies is unreal, but actually it's the way things happen in life that's unreal. The movies make emotions look so strong and real, whereas when things really do happen to you, it's like watching television—you don't feel anything. Right when I was being shot and ever since, I knew that I was watching television. The channels switch, but it's all television."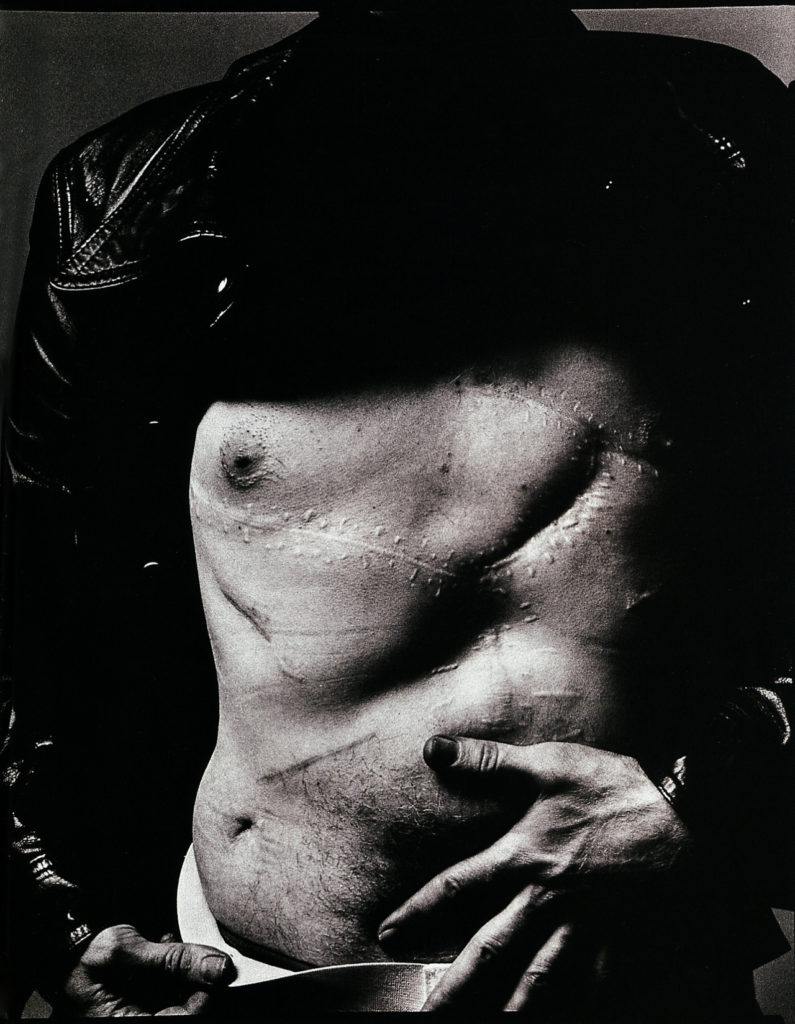 After Solanas was released from the New York State Prison for Women in 1971, she stalked Warhol and others over the telephone and was arrested again in November 1971. She was subsequently institutionalized several times and then drifted into obscurity, becoming homeless and dying at the age of 52 of pneumonia.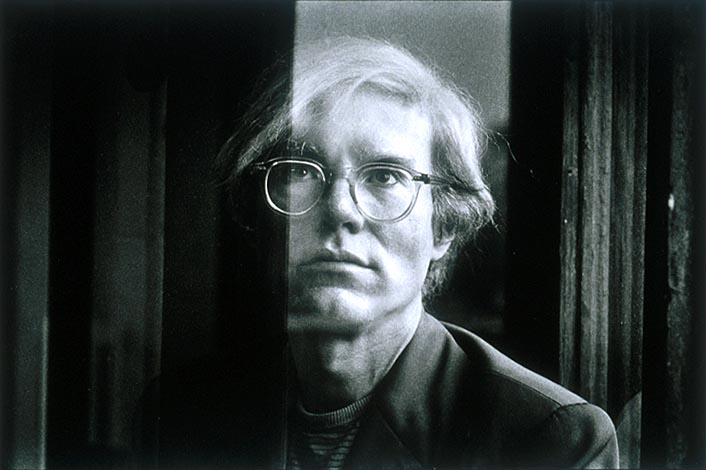 The attack had a profound impact on Warhol and for the rest of his life, Warhol lived in fear that Solanas would attack him again. "It was the Cardboard Andy, not the Andy I could love and play with," said close friend and collaborator Billy Name. "He was so sensitized you couldn't put your hand on him without him jumping. I couldn't even hug him anymore, because it hurt him too much to even to touch him."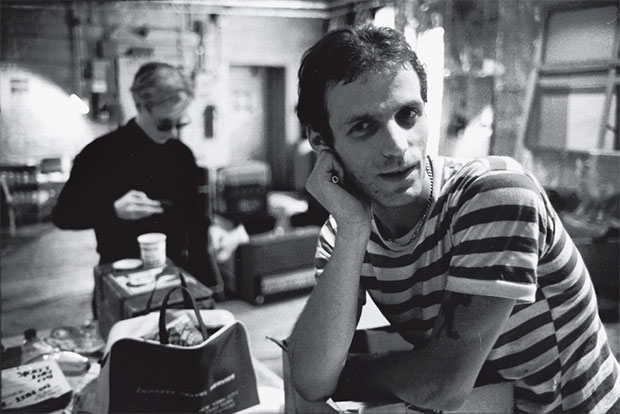 In the 1970s, Warhol continued to explore other forms of media. He published such books as The Philosophy of Andy Warhol (From A to B and Back Again) and Exposures. Warhol also experimented extensively with video art, producing more than 60 films during his career. Some of his most famous films include Sleep, which depicts poet John Giorno sleeping for six hours, and Eat, which shows a man eating a mushroom for 40 minutes.
Despite his continued success, the late 70's and early 80's brought Warhol criticism for becoming merely a "business artist". In 1979, reviewers disliked his exhibits of portraits of 1970s personalities and celebrities, calling them superficial, facile and commercial, with no depth or indication of the significance of the subjects. In hindsight, however, some critics have come to view Warhol's superficiality and commerciality as "the most brilliant mirror of our times," contending that "Warhol had captured something irresistible about the zeitgeist of American culture in the 1970s."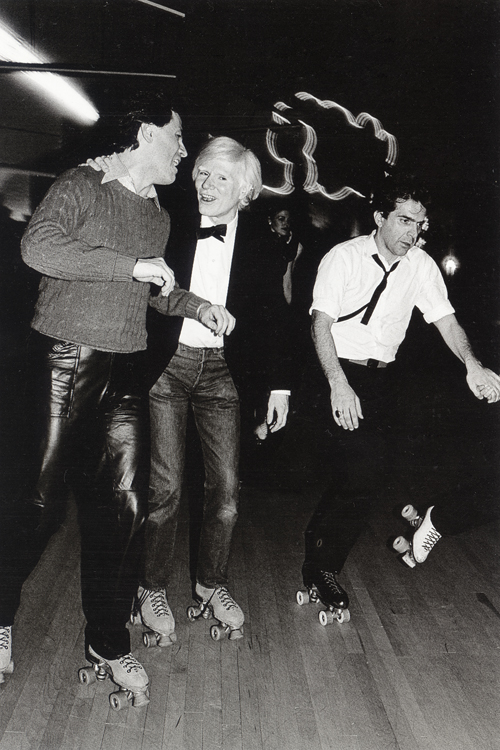 Warhol had a re-emergence of critical and financial success in the 1980s, partially due to his affiliation and friendships with a number of prolific younger artists, who were dominating the "bull market" of 1980s New York art, such as Julian Schnabel, David Salle and other so-called Neo-Expressionists, as well as members of the Transavantgarde movement in Europe, including Francesco Clemente and Enzo Cucchi. Warhol also worked in sculpture and photography, and during this time period he also moved into television, hosting Andy Warhol's TV and Andy Warhol's Fifteen Minutes on MTV.
It was his friendship and collaboration with Jean-Michel Basquiat however, was particularly powerful and brought him the most attention. Basquiat was a fast-rising, new star the art scene and Warhol was beginning to be considered "passé" by many, but their joint front gave Basquiat the artistic validation he needed and Warhol's image was in turn, infused with a youthful, rebellious essence. Their impressive, collaborative collection, created by painting over each other's work, entitled "Warhol, Basquiat: Paintings," is still touring the world today.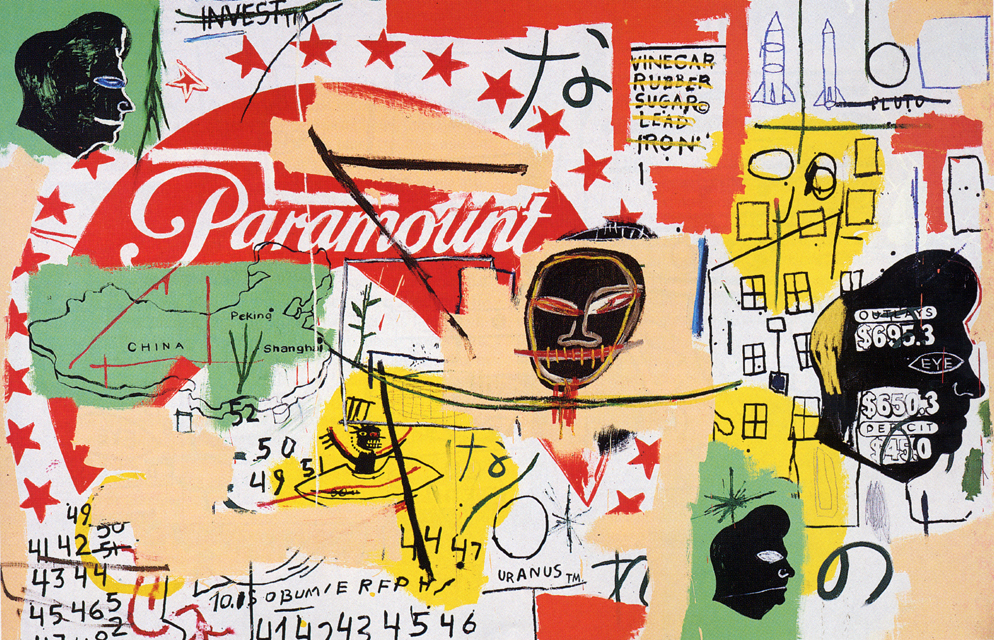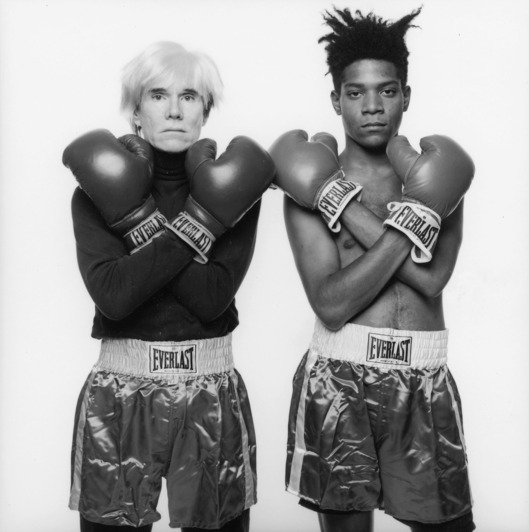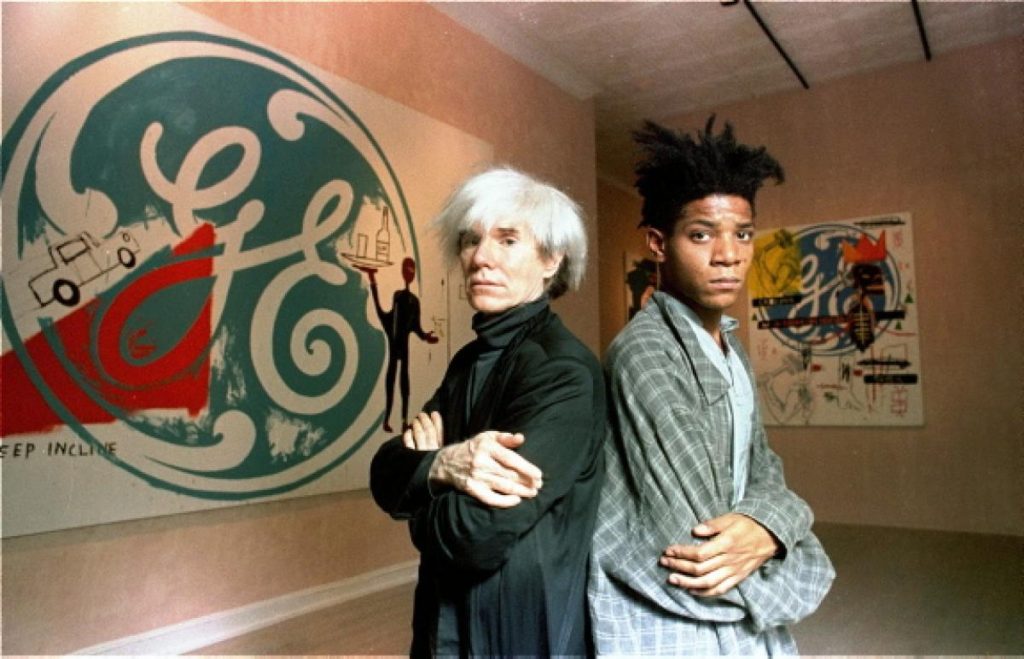 The video below is an excerpt from the wonderful documentary of Jean-Michel, called "The Radiant Child." In this clip (English with Spanish subtitles), the relationship between Warhol and Basquiat is explained in a beautiful way, albeit painful at the same time. The intensity between these two artists was profoundly strong.
Warhol's personal life has been the subject of much debate and consideration. He is commonly believed to have been a gay man, and his art was often infused with homoerotic imagery and motifs. However, he claimed that he remained a virgin for his entire life.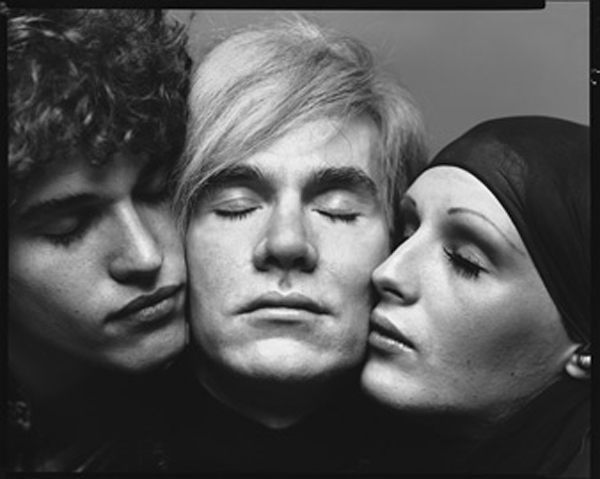 Warhol's life and work simultaneously satirized and celebrated materiality and celebrity. On the one hand, his paintings of distorted brand images and celebrity faces could be read as a critique of what he viewed as a culture obsessed with money and celebrity. On the other hand, his focus on consumer goods and pop-culture icons, as well as his own taste for money and fame, suggest a life in celebration of the very aspects of American culture that his work criticized. He spoke to this apparent contradiction between his life and work in his book The Philosophy of Andy Warhol, writing that "making money is art and working is art, and good business is the best art."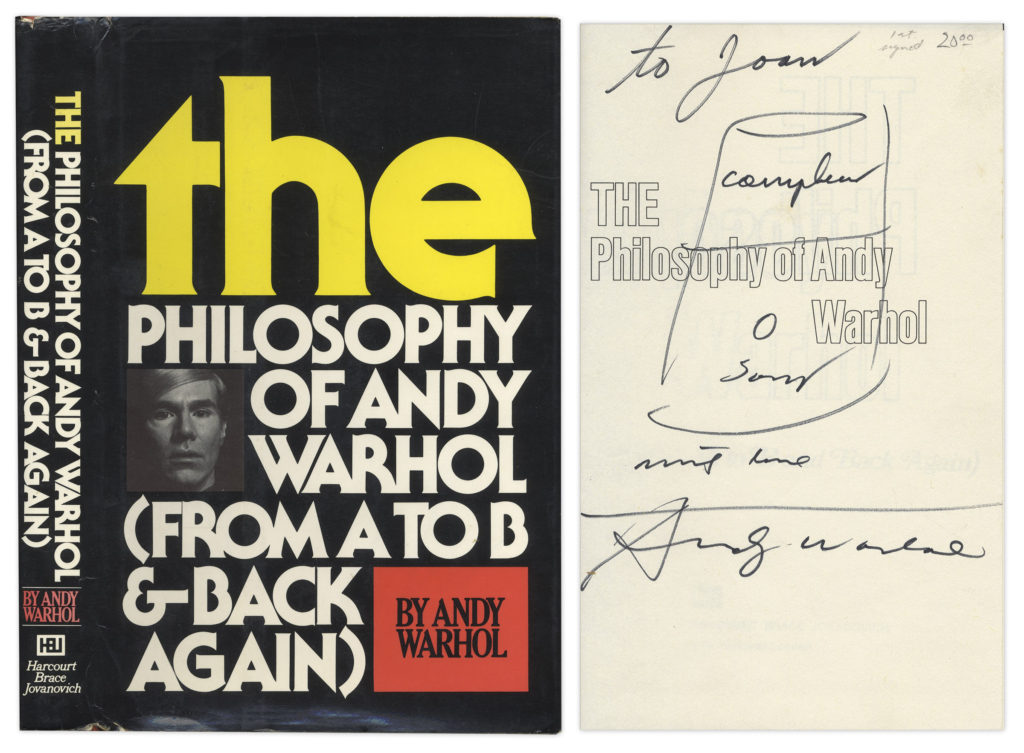 Warhol died unexpectedly in Manhattan, at 6:32 am, on February 22, 1987. According to news reports, he had been making good recovery from a routine gallbladder surgery at New York Hospital before dying in his sleep from a sudden post-operative cardiac arrhythmia. Prior to his diagnosis and operation, Warhol delayed having his recurring gallbladder problems checked, as he was afraid to enter hospitals and see doctors. His family sued the hospital for inadequate care, saying that the arrhythmia was caused by improper care and water intoxication. His family received an undisclosed sum of money.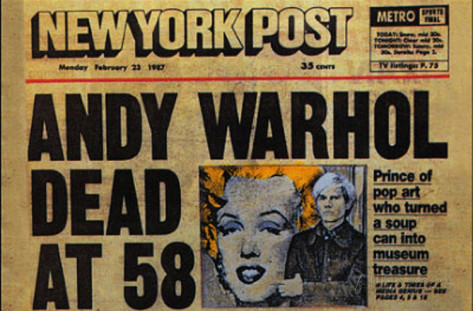 Warhol's body was taken back to Pittsburgh, by his brothers, for burial. The wake was at Thomas P. Kunsak Funeral Home and was an open-coffin ceremony. The coffin was a solid bronze casket with gold plated rails and white upholstery. Warhol was dressed in a black cashmere suit, a paisley tie, a platinum wig, and sunglasses. He was posed holding a small prayer book and a red rose. The funeral liturgy was held at the Holy Ghost Byzantine Catholic Church on Pittsburgh's North Side. The eulogy was given by Monsignor Peter Tay. Yoko Ono and John Richardson were speakers. The coffin was covered with white roses and asparagus ferns.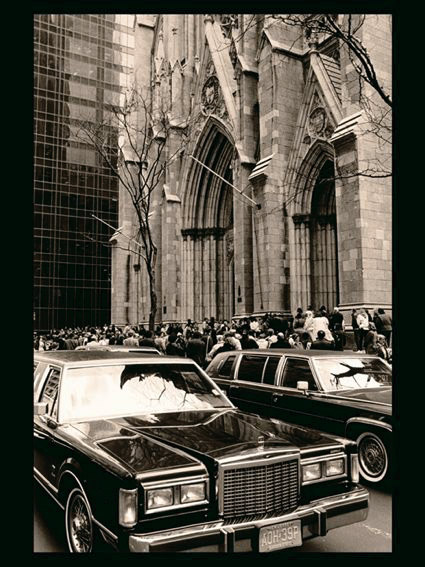 After the liturgy, the coffin was driven to St. John the Baptist Byzantine Catholic Cemetery in Bethel Park, a south suburb of Pittsburgh. At the grave, the priest said a brief prayer and sprinkled holy water on the casket. Before the coffin was lowered, Paige Powell dropped a copy of Interview magazine, an Interview T-shirt, and a bottle of the Estee Lauder perfume "Beautiful" into the grave. Warhol was buried next to his mother and father. A memorial service was held in Manhattan for Warhol on April 1, 1987, at St. Patrick's Cathedral, New York.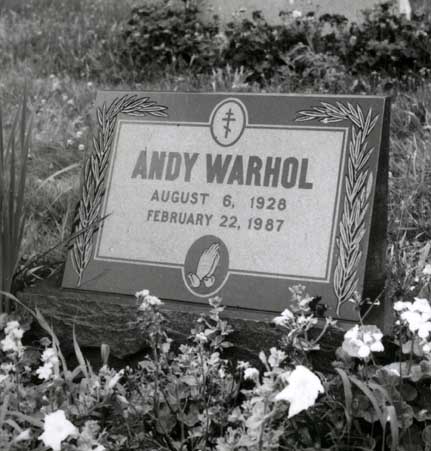 Recently, a joint project between EarthCam, The Andy Warhol Museum and St. John Chrysostom Byzantine Catholic Church has resulted in a very Warholian artistic creation. Alongside artist Madelyn Roehrig, the group has created a 24-hour a day livestream from Warhol's grave, an annual Birthday Party at the site, and Roehrig's photographic documentation of the site, as well as her website, AndyFigment.com.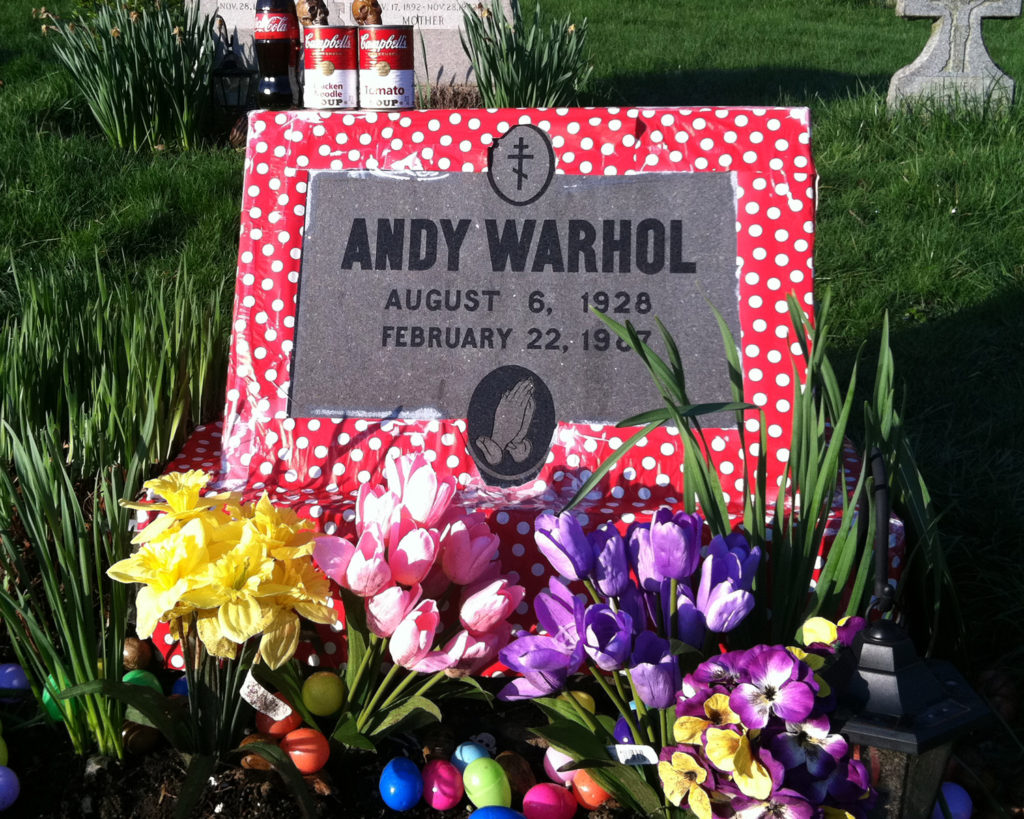 ---
---
Edited from:
See also:
---
TML Arts aims for accuracy in content and functionality in posts. Click the button below to let us know about typos, incorrect information, broken links, erroneous attribution, or additional relative information.
---
---
---
---