Today's Artist Birthday: Albrecht Dürer
Albrecht Dürer (21 May 1471 – 6 April 1528) was a painter, printmaker and theorist of the German Renaissance. Born in Nuremberg, he established his reputation and influence across Europe when he was still in his twenties, due to his high-quality woodcut prints. He was in communication with the major Italian artists of his time, including Raphael, Giovanni Bellini and Leonardo da Vinci, and from 1512 he was patronized by emperor Maximilian I.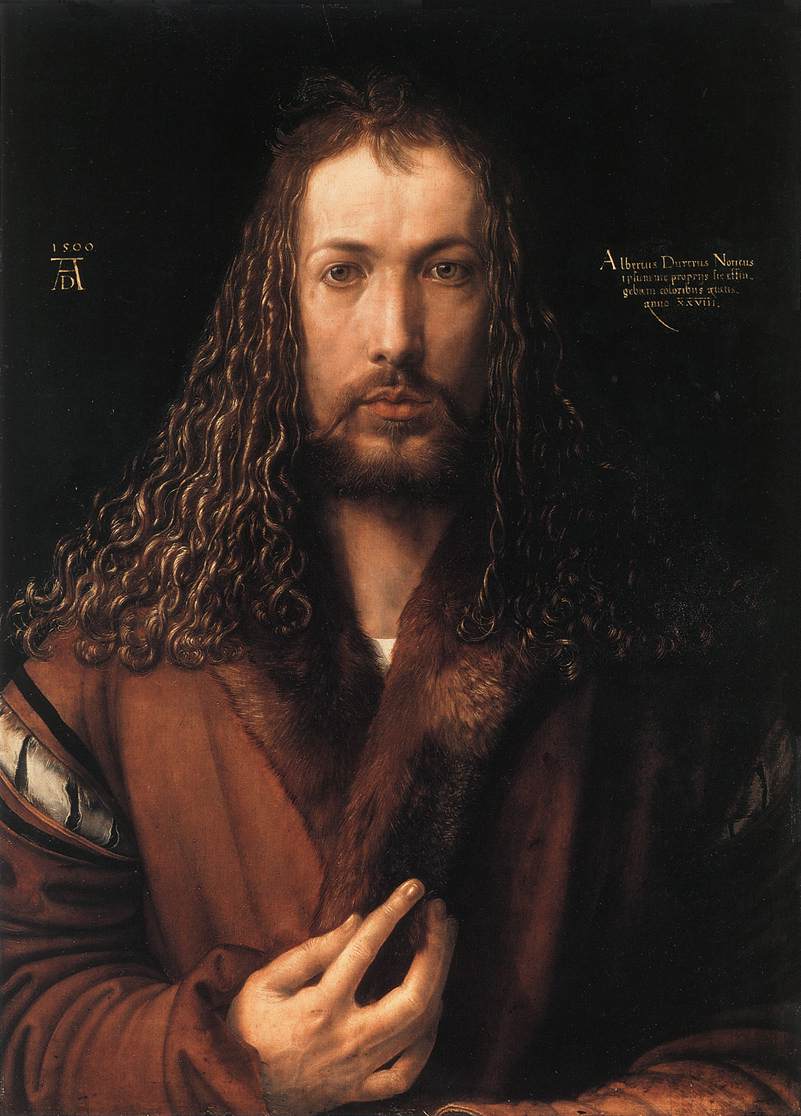 Dürer was born on 21 May 1471, third child and second son of his parents, who had between fourteen and eighteen children. His father, Albrecht Dürer the Elder, was a successful goldsmith, and married Barbara Holper, the daughter of his master, when he himself became a master in 1467. After a few years of school, the young artist started to learn the basics of goldsmithing and drawing from his father. Though his father wanted him to continue his training as a goldsmith, he showed such a precocious talent in drawing that he started as an apprentice to acclaimed printmaker at the age of fifteen in 1486.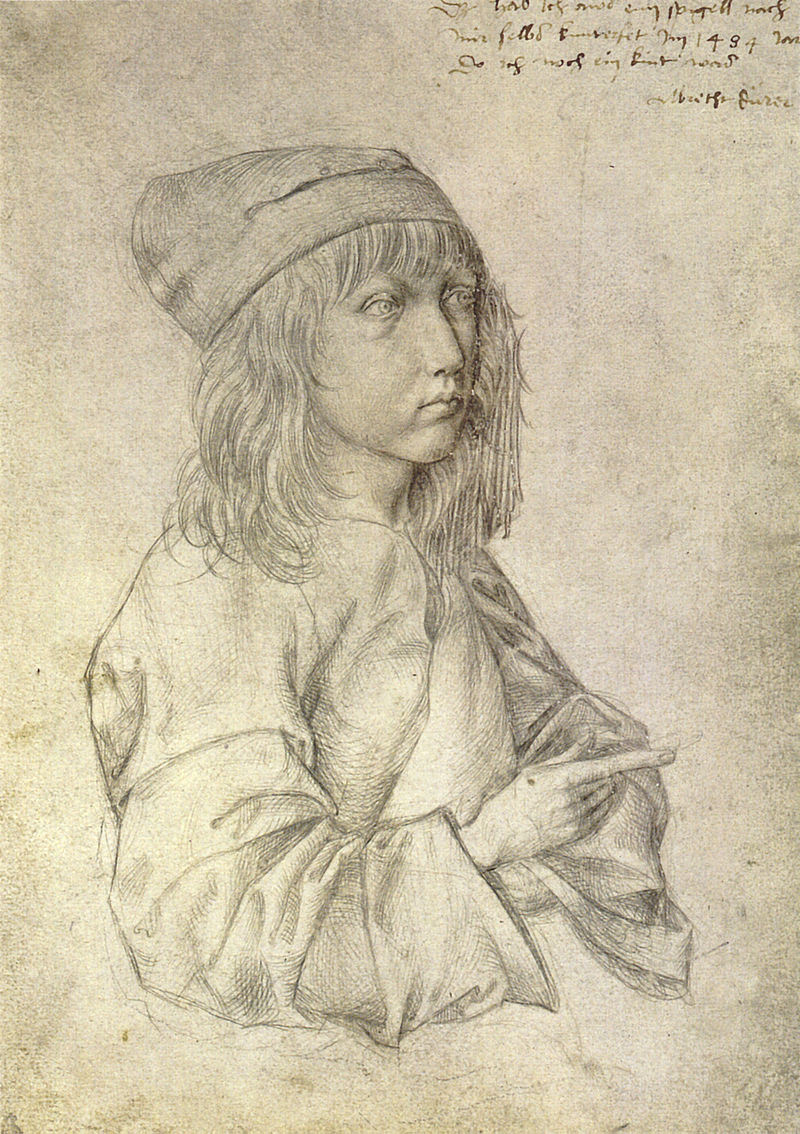 After completing his term of apprenticeship, he followed the common German custom of taking Wanderjahre—in effect gap years —in which the apprentice learned skills from artists in other areas, and spent hour years away from home. In 1493 he executed his first painted self-portrait (now in the Louvre), probably to be sent back to his fiancée in Nuremberg.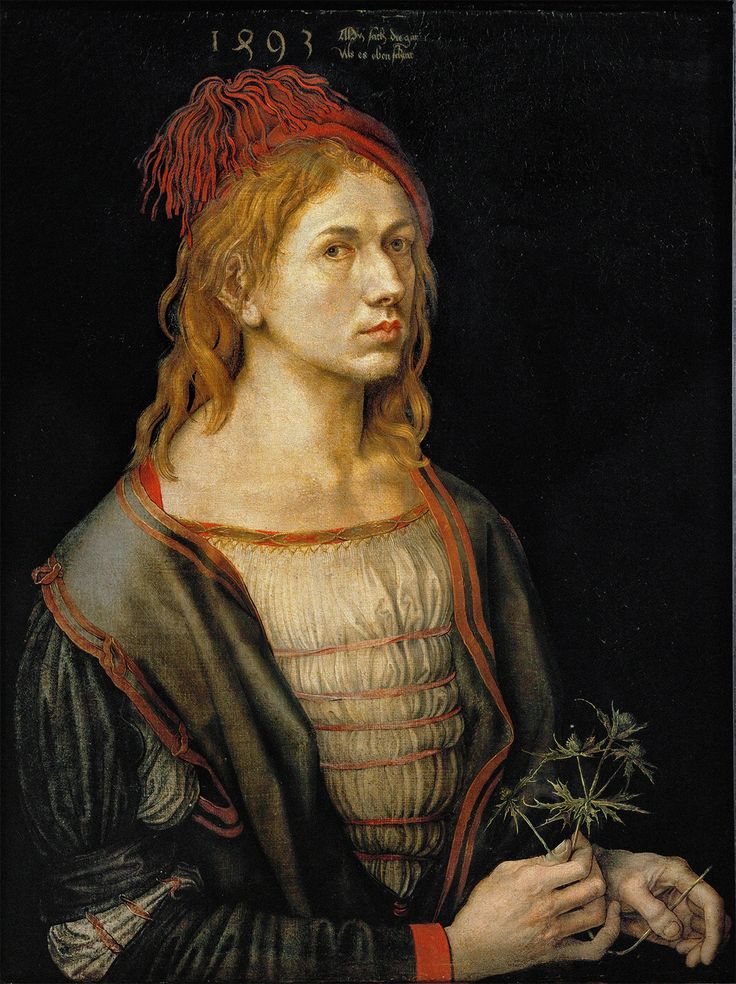 Dürer returned to Nuremberg, and on 7 July 1494, at the age of 23, he was married to Agnes Frey following an arrangement made during his absence. Agnes was the daughter of a prominent brass worker (and amateur harpist) in the city. However, no children resulted from the marriage. Within three months of his marriage however, he left for Italy, alone, perhaps stimulated by an outbreak of plague in Nuremberg. He made watercolor sketches as he traveled over the Alps.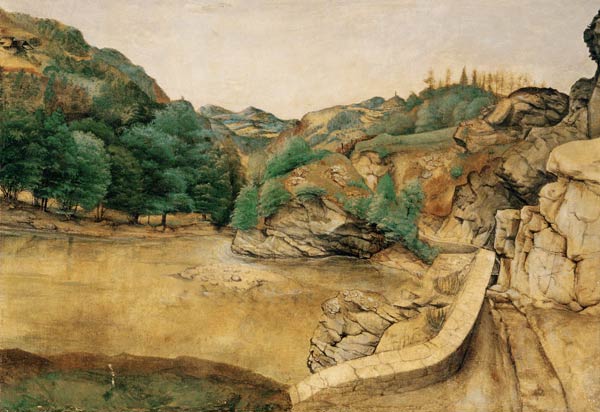 On his return to Nuremberg late in 1495, Dürer opened his own workshop (being married was a requirement for this). Over the next five years his style increasingly integrated Italian influences into underlying Northern forms. His best works in the first years of the workshop were his woodcut prints, mostly religious, but including secular scenes such as The Men's Bath House (ca. 1496). These were larger and more finely cut than the great majority of German woodcuts hitherto, and far more complex and balanced in composition.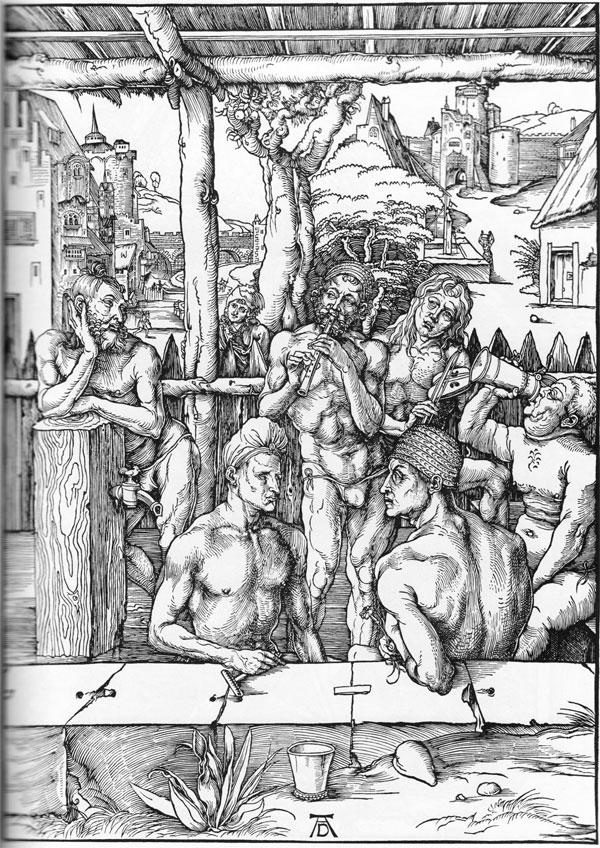 The Venetian artist Jacopo de' Barbari, whom Dürer had met in Venice, visited Nuremberg in 1500, and Dürer said that he learned much about the new developments in perspective, anatomy, and proportion from him. A series of extant drawings show Dürer's experiments in human proportion, leading to the famous engraving of (1504), which shows his subtlety while using the burin in the texturing of flesh surfaces. This is the only existing engraving signed with his full name.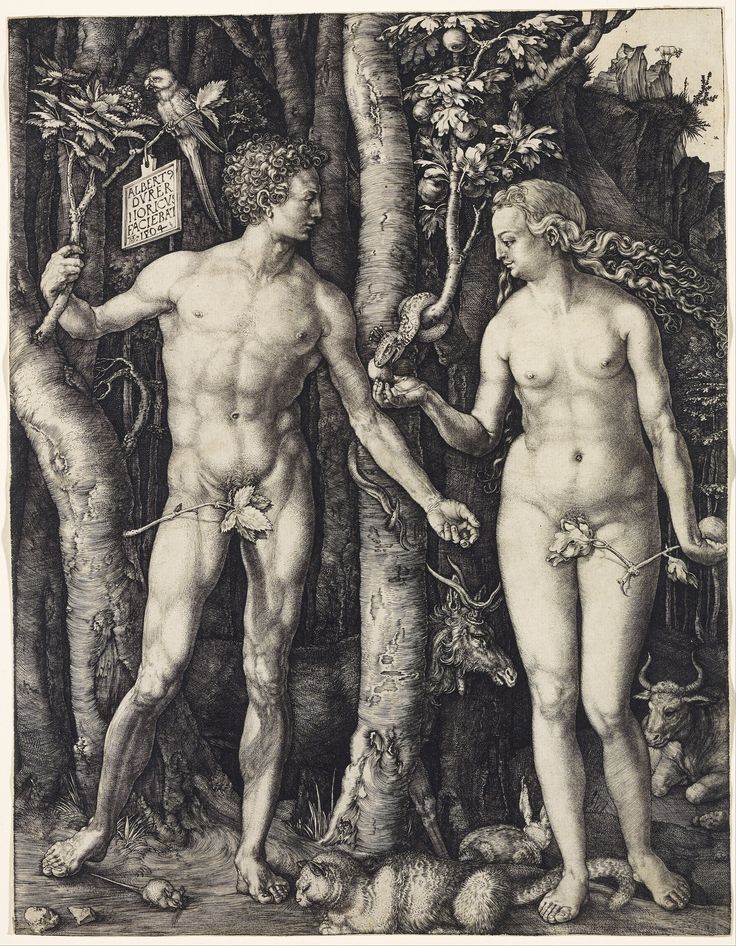 In early 1506, he returned to Venice and stayed there until the spring of 1507. By this time hiss engravings had attained great popularity and were being copied. In Venice he was given a valuable commission from the emigrant German community for the church of San Bartolomeo. This was the altar-piece known as the Adoration of the Virgin or the Feast of Rose Garlands. It includes portraits of members of Venice's German community, but shows a strong Italian influence. It was subsequently acquired by the Emperor Rudolf II and taken to Prague.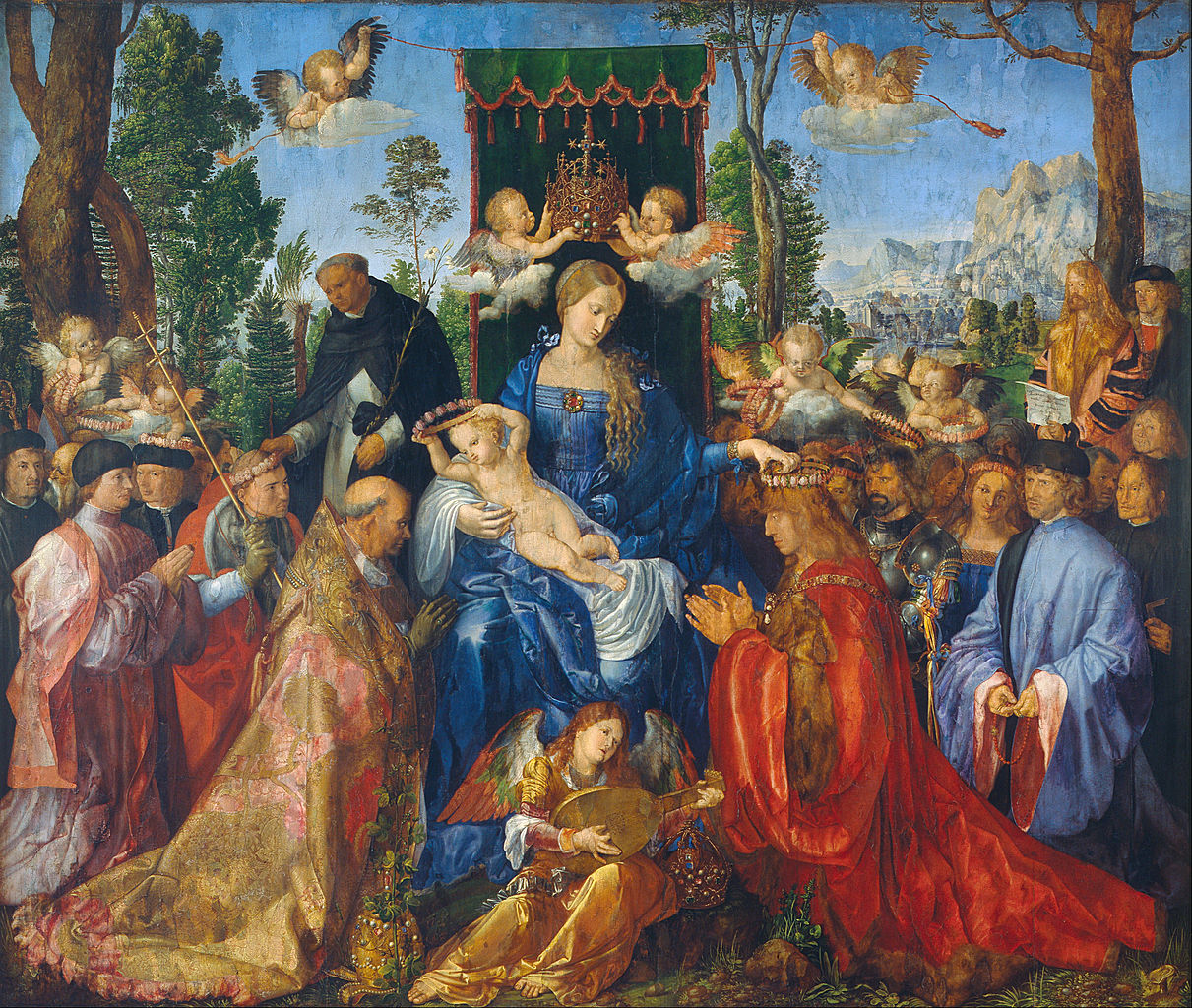 Despite the regard in which he was held by the Venetians, Dürer returned to Nuremberg by mid-1507, remaining in Germany until 1520. His reputation had spread throughout Europe and he was on friendly terms and in communication with most of the major artists including Raphael, Giovanni Bellini and Leonardo da Vinci.
In 1515, he created his woodcut of a Rhinoceros which had arrived in Lisbon from a written description and sketch by another artist, without ever seeing the animal himself. An image of the Indian rhinoceros, the image has such force that it remains one of his best-known and was still used in some German school science text-books as late as last century. In the years leading to 1520 he produced a wide range of works, including the woodblocks for the first western printed star charts in 1515 and portraits in tempera on linen in 1516.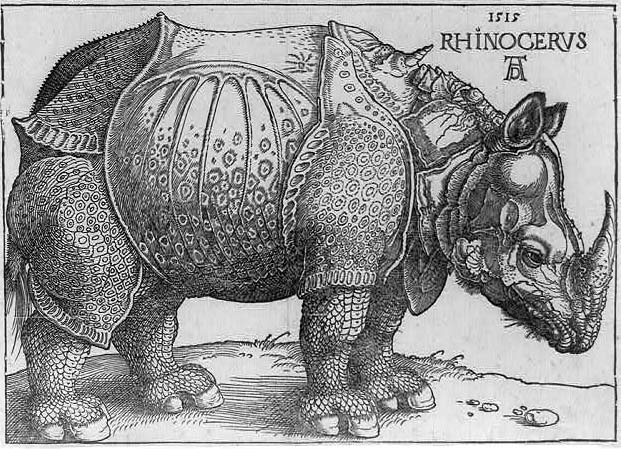 From 1512, the Holy Roman Emperor, Maximilian I, became Dürer's major patron. His commissions included The Triumphal Arch, a vast work printed from 192 separate blocks, and The Triumphal Procession. He also worked with pen on the marginal images for an edition of the Emperor's printed Prayer-Book. His work on the book was halted for an unknown reason, and the decoration was continued by artists including Lucas Cranach the Elder and Hans Baldung. He also made several portraits of the Emperor, including one shortly before Maximilian's death in 1519.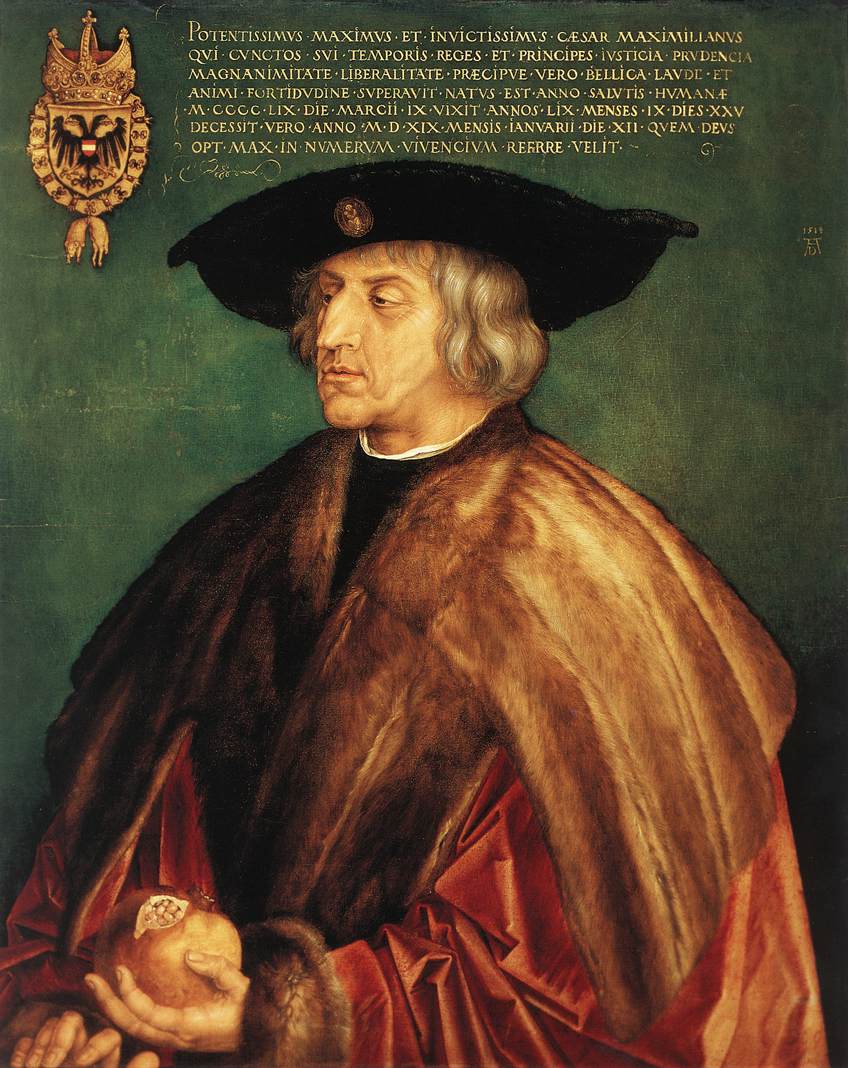 Maximilian's death came at a time when Dürer was concerned he was losing "my sight and freedom of hand" (perhaps caused by arthritis). In July 1520 He made his fourth and last major journey, to renew the Imperial pension Maximilian had given him and to secure the patronage of the new emperor, Charles V. Dürer journeyed with his wife and her maid to attend the coronation, where he was well received and produced numerous drawings in silverpoint, chalk and charcoal.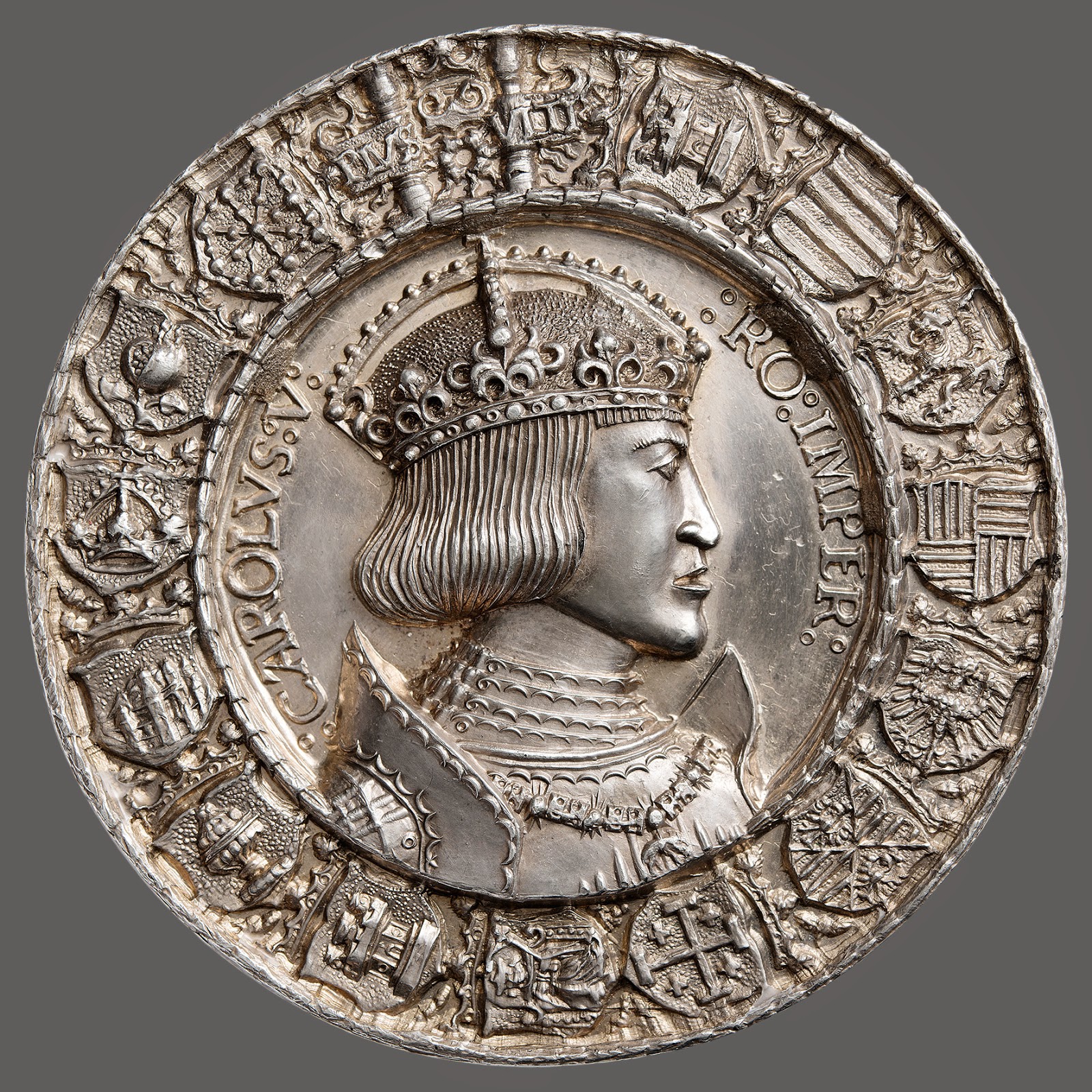 At the request of King Christian II of Denmark, Dürer went to Brussels to paint the king's portrait. There he saw "the things which have been sent to the king from the golden land"—the Aztec treasure that Hernán Cortés had sent home to Holy Roman Emperor Charles V following the fall of Mexico. Dürer wrote that this treasure "was much more beautiful to me than miracles. These things are so precious that they have been valued at 100,000 florins". He also appears to have been collecting for his own cabinet of curiosities, and he sent back to Nuremberg various animal horns, a piece of coral, some large fish fins, and a wooden weapon from the East Indies.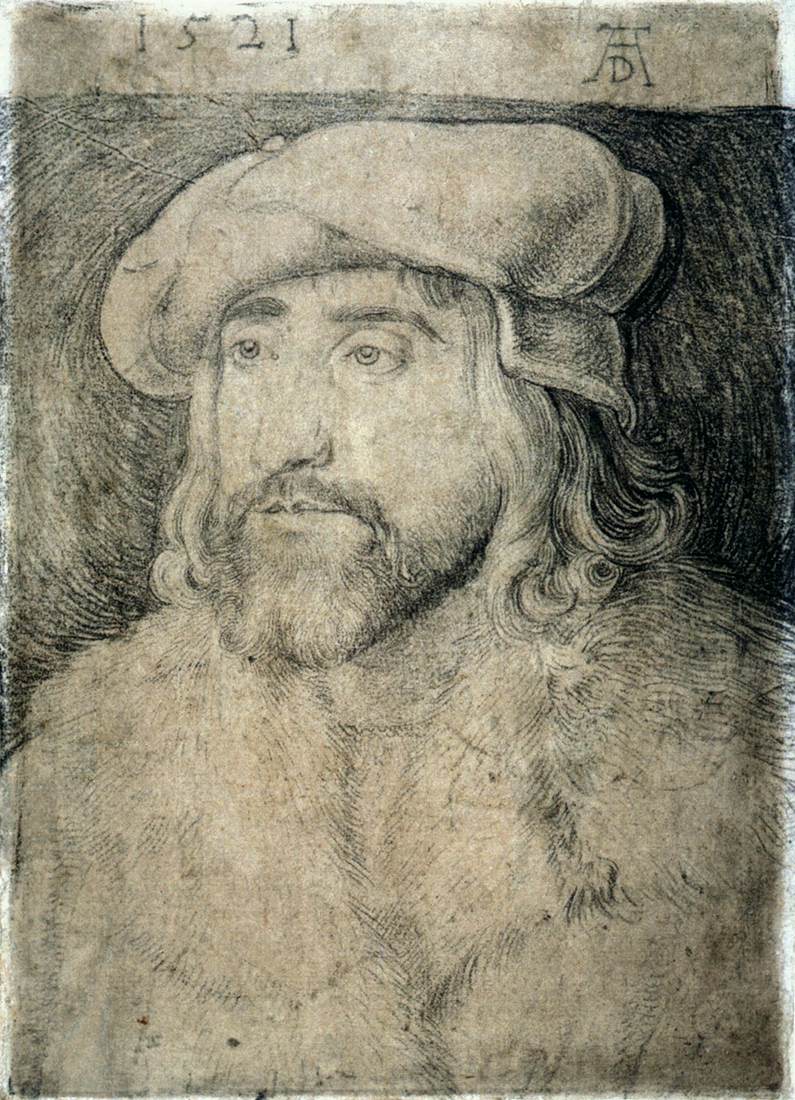 Having secured his pension, Dürer finally returned home in July 1521, having caught an undetermined illness—perhaps malaria —which afflicted him for the rest of his life, and greatly reduced his rate of work.
On his return to Nuremberg, he worked on a number of grand projects with religious themes, including a crucifixion scene and a Sacra Conversazione, though neither was completed. His last great work, the Four Apostles, was given by Dürer to the City of Nuremberg—although he was given 100 guilders in return.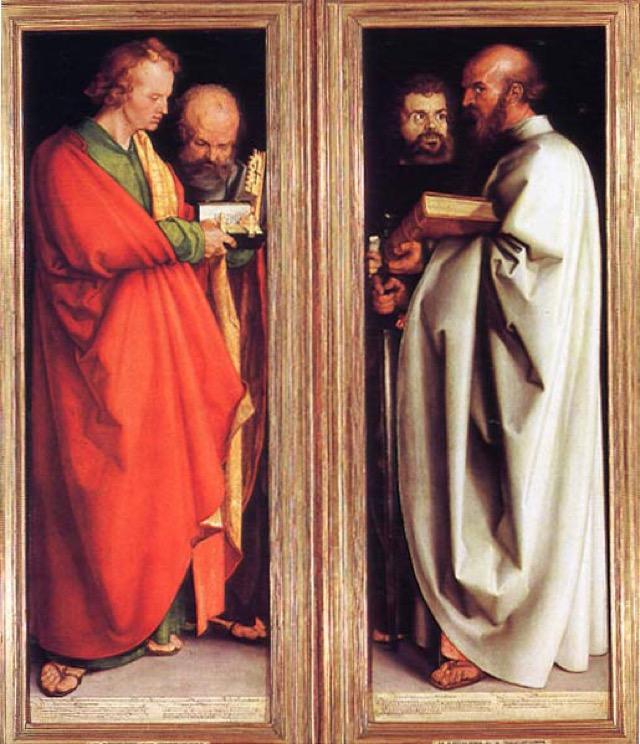 Dürer died in Nuremberg at the age of 56, leaving an estate valued at 6,874 florins—a considerable sum (the value of the florin compared to today's currenct is difficult to calculate, however it would be very roughly close to 1 million US dollars by today's standards). His large house, where his workshop was located and where his widow lived until her death in 1539, remains a prominent Nuremberg landmark. It is now a museum.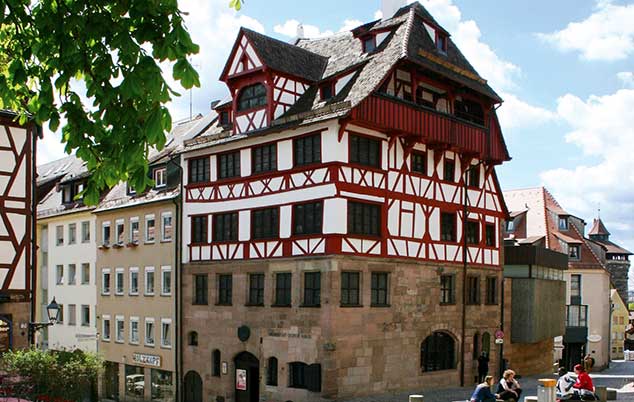 He is buried in the Johannisfriedhof cemetery, and his gravesite is still maintained to this day.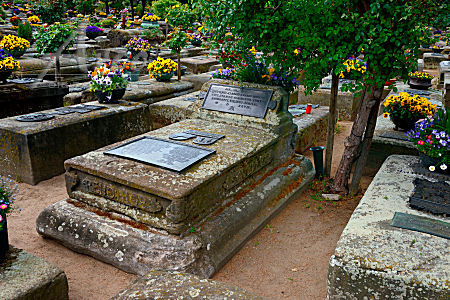 ---
Edited from: https://en.wikipedia.org/wiki/Albrecht_D%C3%BCrer
---
see an error? click here to send corrections!
---