For a long time I've wanted to do a post about the beautiful Colette Lumiere. A few years ago, I ran across a video of her in the process of painting a large scale, segmented, mosaic-style work, in the middle of a street in New York, all the while exquisitely dressed in a white jumpsuit and white chunk-heel boots. I was immediately mesmerized by her and this work, and it was then that Colette was lifted to the realm of Undeniable Awesomeness in my eyes. A bit of Googling and I found out that Colette Justine (better known as Colette and from 2001 Colette Lumiere) is a prolific artist who deliciously blends elements of Dada and avant-garde with a fantasy-based Baroque sensibility, as well as being a pioneer in performance art, guerrilla street art, constructed photography, film, and installation art, to name just a few of her talents. I had wanted to do her bio for the Artist Birthday Series that I have been working on for the past few years, but was never actually able to find a date of birth for her. But now, after seeing her luscious, gorgeous, timeless works of of dreamy, flowing fabric with my very own eyes during a recent visit to New York, I decided to put the birthday aside and just celebrate her brilliance for its own sake.
Colette was a French national born in Tunis, Tunisia, and grew up in Nice, France. She later moved to the United States and became a naturalized citizen. In 1970 she had herself photographed as "Liberty Leading The People," after the famous painting by Delacroix. Later in 1972, she presented the photograph as part of a large performance/installation piece in a gallery in New York, where she converted the space into an other-worldly dreamscape. The gallery had been transformed by yards of silk drapery and indirect/hidden lighting, with the floor painted lavender and inscribed with her own personal "code," as well as audio installation and the centerpiece, Colette herself posing as if a living photograph, as Liberté.
In 1973, the Stefonatty Gallery in New York offered her a solo show, where she exhibited sixteen over-life-sized, 3D mixed media paintings entitled "The Sandwomen," all of which resembled Colette. She also converted the gallery office into an alternate Colette-style reality, with white scrunched silk, hidden lights and no furniture. In this environment she posed as the "Sleeping Gypsy," after the painting by Henri Rouseau, entitling the performance as "The Transformation Of The Sleeping Gypsy Without The Lion." Other performances from the early '70's that employed her now trademark abundance of fabric and passion were "Persophone's Bedroom," for the Norton Museum in Miami, Florida, and "If It Takes Forever I Will Wait For You," for the Idea Warehouse, part of the Clocktower Gallery, in New York.
Long before Banksy, in the early years of the 1970's Colette anonymously created numerous large street paintings, until her identity was discovered by Willoughby Sharp of Avalanche magazine. Shortly thereafter, she was interviewed by the Fluxus artist Al Hansen, while creating one of her works, entitled "The Ear." While filming, the performance was cut short as police arrived and the artists tried to escape. Colette managed to hide herself in a nearby building but Hansen was caught and held for questioning. He refused to give up Colette's name and was eventually released. Her street paintings were ephemeral, never meant to last, but word of mouth spread quickly around the neighborhood's of New York when one of her works magically appeared seemingly overnight. Her work "The Lips" was very well known as it covered the entire intersection of West 57th Street, and her work "It Was Here," covered a very long section of Federal highway in front of the Norton Museum. Her most grandiose street painting performance however was on Friday the 13th, 1974 during a solar eclipse, where she had painted Aristotelian quotes again in the street in front of the Norton, and ended with a sleeping performance on the steps of the Museum. This performance however, the police did manage to interrupt, and though initially held by police she was thankfully not arrested.
Colette Lumiere: "The Ear"
– 1973, New York, parts 1 and 2


Throughout the rest of the 1970's (and really, still through to today), her unique, iconic mode of dress began to influence the fashion world as a whole. Her habit of wearing undergarments such as bloomers, corsets, garters, etc., as her everyday clothing, influenced at first the New York scene but quickly the world. A young Madonna in New York in the late 1970's was one of the most famous of the time to have intentionally or not, absorbed Colette's style and sass into her own wardrobe and persona. More contemporary artists, such as Lady Gaga, can also find the roots of their fashion in the style that Colette pioneered decades before. In 2012 this could not have been more clear when the New York department store known as Barney's, decorated their display window with a Lady Gaga inspired theme. However, the design of the window was nearly identical to windows that Colette had performed in during the 1970's, using undeniably Colette elements, such as her distinctive use of scrunched silk and fabric. This prompted a gentle performance and street-art protest from the artist, in the hopes of elevating conversation in the art world to consider art versus commerce, individual versus corporation, and where the line is to be drawn between inspiration and plagiarism.
From the late 1970's until today, Colette has done nothing but live every breath of her life as art…creating art, breathing art, being art. She has done innumerable performance pieces around the globe, created new characters to tell her ethereal stories at international exhibitions like the Paris Biennale, as well as working with great museums like the MOMA in New York. In 1978, the Italian designer Fiorucci asked her to do one of her famous sleeping performances in a window in New York, bringing her Victorian punk style to the emerging New Wave and Goth movements of the 1980's, leading to today's Steampunk fashion. She was the original Steampunk Goddess.
She adopted and breathed life into several personas from the late 1970's until today. She was Justine, a recording star, fashion designer, inventor & conceptualizer of products. She was Mata Hari, of her living work Mata Hari And The Stolen Potatoes in Berlin, and while living in Munich she became Countess Reichenbach who continued in Colette's alternative reality of sensuous silk, lace, performance, and art.
After the attacks on New York on September 11, 2001, Colette changed her name one more time, this time using the French word for light, "lumiere," as her last name, and Colette Lumiere to this day continues to bring light to the world through her personal, intimate vision of life and all it means to be alive, to be creative, and to live every day with passion and truth to oneself.
In recent years Colette has participated in dozens of international exhibitions, lived as an Artist In Residence in Berlin, starred in the film "Pirates Of Venice," as well as having been the subject of innumerable documentaries, articles, and exhibitions, and remaining gorgeously noble and stylish as always.
Today, Colette spends most of her time between New York and Berlin, but continues to exhibit all over the world. The exhibition I was fortunate enough to see, entitled "Love In The Attic….Mermaid In The Closet," ran from September 12 to October 15, 2017, at the Mitchell Algus Gallery in New York, and won ArtForum's Best Art 2017. In early 2018 she will be exhibiting in Sweden, unveiling works from her "Lumiere's Adventures In ZuluLand," and other collections.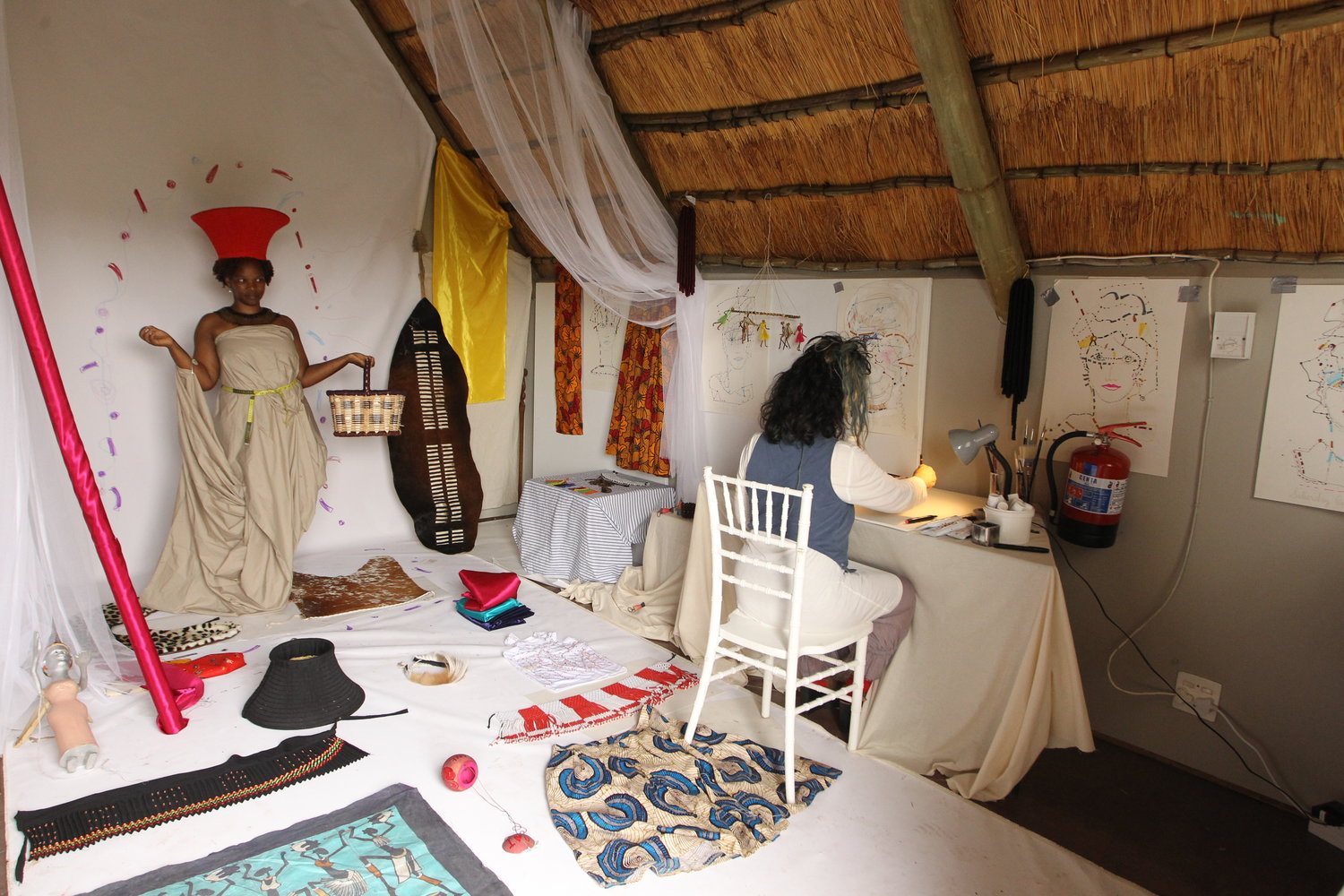 For more information, please check out her website ColetteTheArtist.com, or her Artnet page. I can also recommend her YouTube channel, which contains some of her music videos, interviews, and other delights…such as "Did You Eat?" (below) which makes me squeal with delight every time I see it.
---
Digital collage portrait of Colette Lumiere

by Terri Maxfield Lipp
July 2017
made with love
---
See also:
---
Text edited from:
https://en.wikipedia.org/wiki/Colette_Justine
https://www.youtube.com/watch?v=Va9vkEWujeA
---